Restaurant Review: Pietrasanta Is Still One of Singapore's Best Italian Joints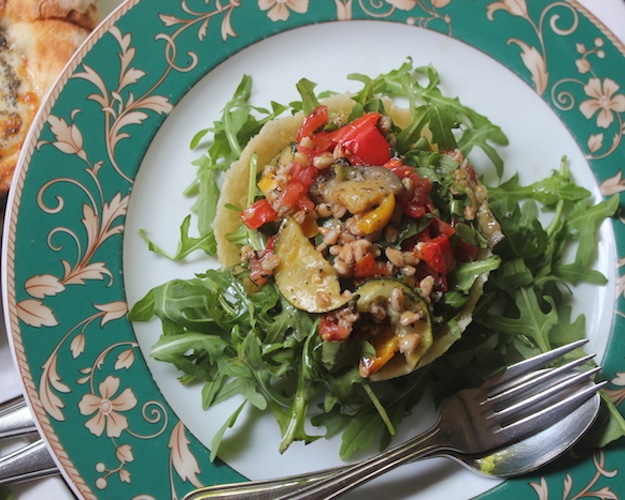 PUBLISHED June 25th, 2015 04:00 pm | UPDATED December 22nd, 2017 03:27 pm
Over the past few months, I've been slowly eating my way through Italian restaurants in Singapore in the run up to our 'Best Italian Restaurants in Singapore' feature. As a side effect, apart from putting on a few pizza kilos around the mid-riff, it's also served as a great opportunity to visits some of the older Italian eateries around the isle to see how they stand compared to all the new, young hip joints of the CBD. One of those on my list to check out based on many word of mouth recommendations was Pietrasanta on Portsdown Road, which I'm a little embarrassed to admit, I'd not been to before.
Set along the quiet lane, Pietrasanta looks 'nice' from the outside; however, it's the interior of the restaurant – think classic, wooden, and rustic – that I thoroughly enjoyed. Especially with the al fresco area in the back, Pietrasanta felt like a complete escape from the hustle of the city centre.
Atmosphere aside, what really impressed me the most was their commitment to good, old-fashioned Italian cuisine.
I've always believed that a complete Italian meal includes the following: 1st – antipasti, 2nd – pasta and/or pizza, 3rd – meat or fish dish, 4th – dessert.
With that in mind, we started off with something less than usual, their Insalata di farro con verdure e tartufo ($18.90), a parmesan cheese basket filled with a variety of treats such as steamed smelt, baked courgette, aubergine, black truffles, and more. Served on a bed of rocket, this not only tasted wonderful, but was beautiful to the eye.
Sadly, the perfectly acceptable insalata di pere e percorino ($16.90 – a salad of pear and thinly sliced pecorino cheese) paled in comparison.
Moving on to pasta, we salivated as the ravioli rossi con burrata al pomodora ($20.90) made it's way to our table. Noticing our table for two, the team kindly (and without us making the request) divided the portion to two places for easy sharing – I love good service! As for flavour, what's not to love? Fresh-made ravioli stuffed with burrata cheese in a savoury tomato sauce, yum.
Things were about to get heavy with Tartufo Nero ($23.90) pizza. I can't help but feel like this might be one of the most unhealthy and rich, but delicious, white pizzas i've eaten. On a soft yet thin doughy base, the mounds of cheese and black truffle swelled. Although something I'd definitely recommend, don't attempt to eat this by yourself. You will feel sick. Order for a group and share.
The main event, Merluzzo al forno con vino bianco, olive nere e pomodorini ($35.90), proved me wrong. I'm not usually that impressed with cod but this tender, flakey fish in a buttery white wine sauce with plump black olives and semi-cooked tomatoes did it for me. If you like your fish, this is an absolute must-order.
Unfortunately our stomachs could take no more, so we didn't make it to dolce. That will have to wait for the next time we journey to the West for another excellent meal at one of Singapore's most loved Italian restaurants.