Restaurant Review: SKIRT Fires Up More Than Just Steaks at W Singapore – Sentosa Cove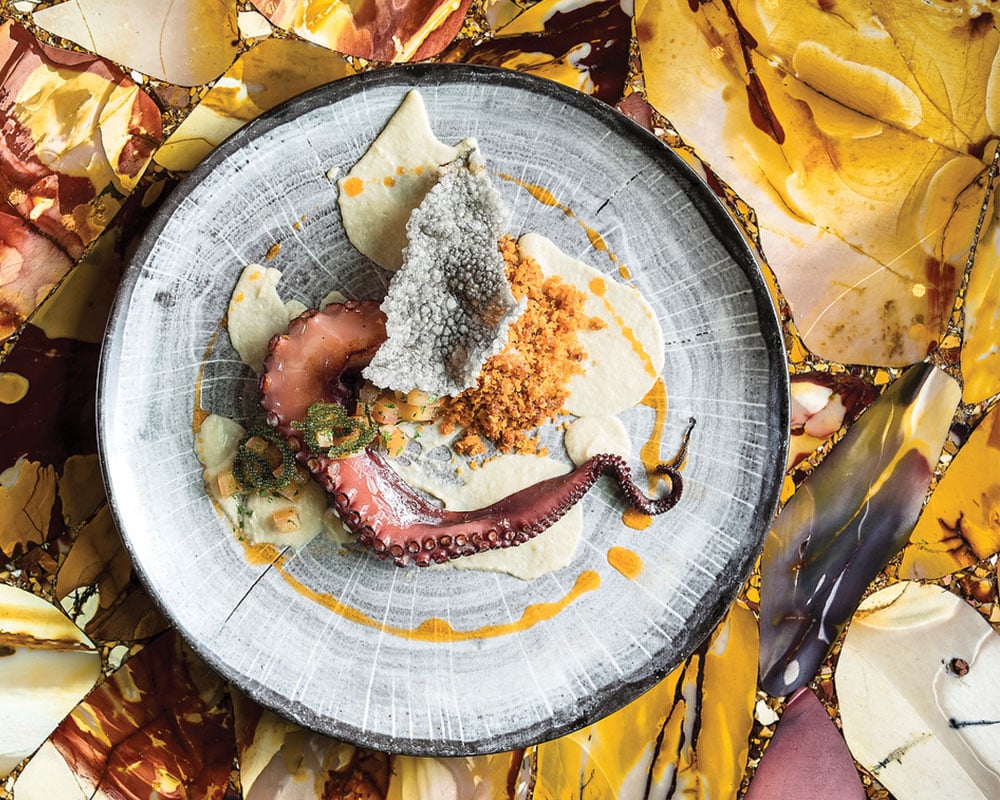 PUBLISHED August 16th, 2018 05:00 am

Craving for a hearty, indulgent meal? Escape to the capacious interior of W Singapore – Sentosa Cove, where you'll discover SKIRT, a hidden jewel down the lobby. Priding itself as a modern European restaurant with Asian overtones, it's long earned itself a reputation of being a trailblazing grill house that leaves a smoky barbecue aftertaste on our tongues, courtesy of its centrepiece parrilla grill.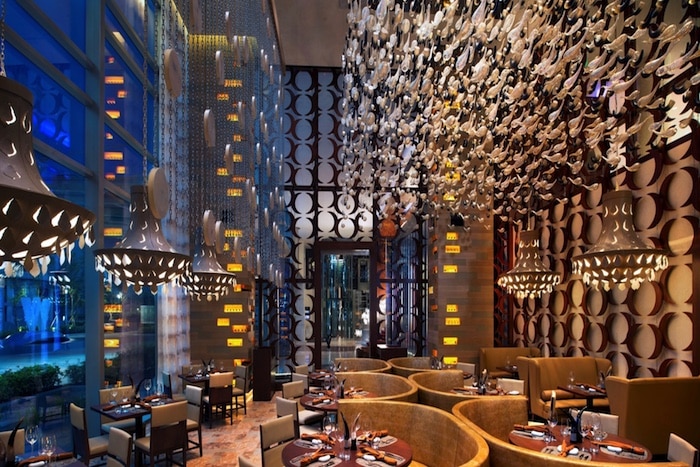 The restaurant is cavernous without being gloomy; its soothing golden hues and polished concrete flooring providing all the shine you need. Cool chandeliers and large windows give you a glimpse of the marina, and there is an open-concept kitchen for you to observe Chef Justin Dingle-Garciyya, who earned his stripes in various Michelin-starred restaurants, at work.
SKIRT started us off on the right note with complimentary Focaccia Bread accompanied by smoked salt and luscious duck fat butter that provide an ounce of flavour. Fresh out of the oven, biting into the fluffy bread was almost effortless. Then, we got the Sri Lankan Crab & Caviar Broth ($32), a tangy cold shellfish soup that's flavoured with lemongrass and coconut. With generous bits of crab and caviar, it's almost like an elevated tom yum.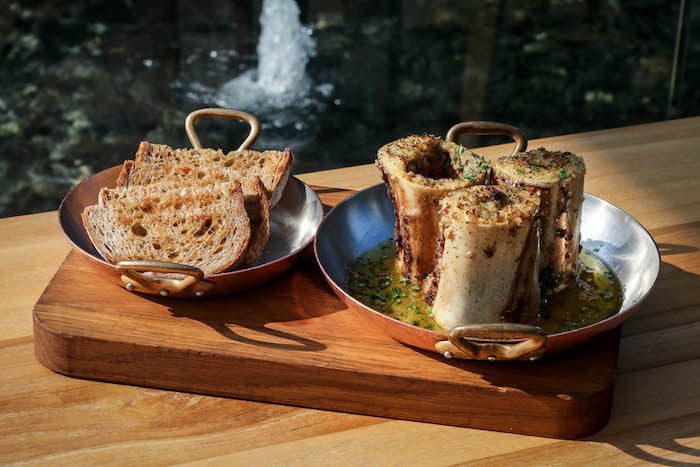 Moving down the menu, we came face to face with the Truffled Beef Tartare ($28). The Saturday lunchtime special is served with small spoonfuls of smokey chipotle dressing, which is good, but also with thin glutinous rice crackers that have a tendency to stick onto the teeth – not so good, unless you're already all buttered up with the plump Bone Marrow Escargot ($45), juicy snails dripping in golden Café de Paris butter sauce. Tucked inside sections of chunky bone that's placed atop a mountain of creamy potato mash, the dish was quite a visual treat. A sinful one at that, but quite delicious.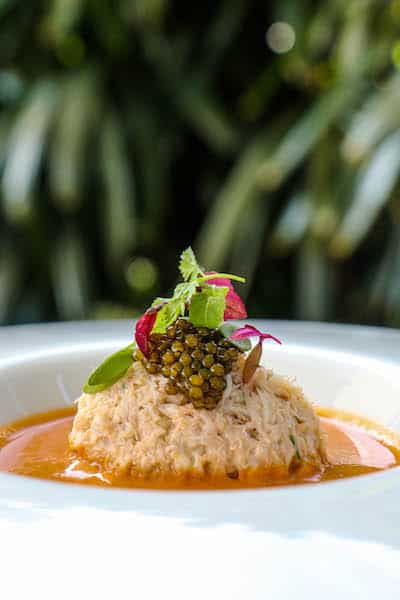 When you come here, the steaks are a must. With the Cape Grim Sirloin ($55), we were immediately on board the hype train for SKIRT's premium cuts, dry-aged on site for a rich, beefy flavour profile. Grilled on mesquite wood fire to a perfect smokiness, the steak was in perfect harmony with the accompanying sun-choke foam and truffle mushroom sauce.
If you're willing to break the bank, SKIRT also has a particularly well-marbled Black Market Sirloin ($82) from Rangers Valley and Sher Wagyu F1 Ribeye ($88) produced by the award-winning Sher farm.
The sides are also great. Think sweet Brocollini ($11) tossed onto a plancha for a lovely char, Lobster Truffle Mac & Cheese ($19) loaded with grilled pork belly and chunky lobster, and Beets and Blunt ($21), a fascinating plate of chopped up carrots blunts, earthy beets, and bittersweet tarragon curd.
All you need is a generous pour of Malbec and you're good to go for the evening.
After that array of savoury delights, we managed to save a spot for the Banana Pistachio Pizza ($18). A thin freshly-baked tart layered with thin banana slices and bits of caramelised pistachio, the scoop of vanilla bean ice-cream on top enveloped the flaky buttery crust with its deep flavour. It was dessert, but also one of the star dishes of the night.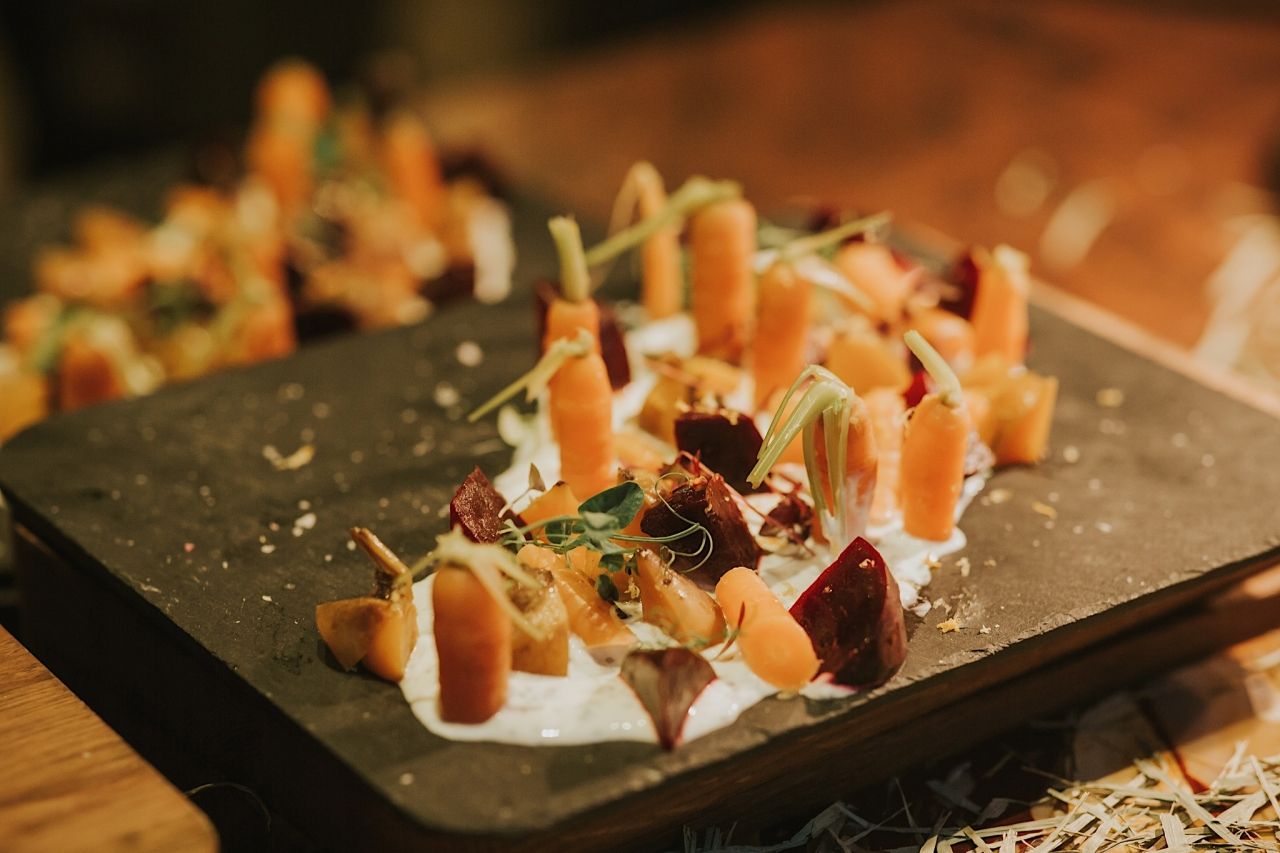 SKIRT might not be your first choice for a wholesome healthy meal, but there's a particular finesse in its execution that makes you want to go back whenever the munchies call. Elegant and classy vibe without being too over-the-top or pretentious, this is one restaurant that's a lot of fun to dine at.

SKIRT is located at Sentosa Cove, 21 Ocean Way, Singapore 098374, p. +65 6808 7278. Open Mon-Thu 6pm – 9.30pm, Fri-Sat 6pm – 10.30pm, Sun 6pm – 9.30pm.