7 Uniquely Local Food Experiences To Have When in Singapore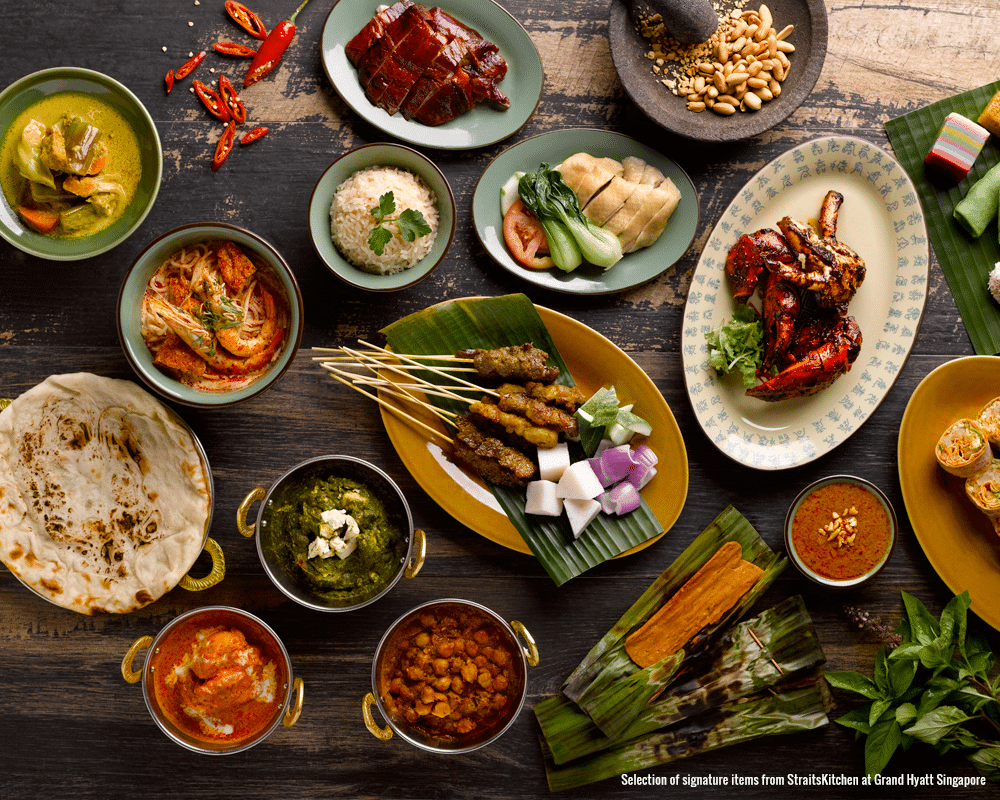 PUBLISHED August 16th, 2018 06:30 am | UPDATED May 18th, 2020 04:23 pm
Singapore might have just turned 53, but this young nation state is a foodie's paradise, no doubt about that. Each day, the city's many eateries, cafes, restaurants, and bars serve up everything from All-American fare to traditional Japanese and contemporary European dishes. When it comes to enjoying local flavours, there's no beating these seven yummy ways. New to the country or been living here your whole life? It doesn't really matter, as long as you eat, drink, and repeat.
An endless buffet spread at StraitsKitchen

StraitsKitchen, at Grand Hyatt Singapore, is one of the go-to buffet restaurants for a sublime spread of distinct Singaporean dishes, whether you're talking ethnic Chinese, Indian, Malay, or Peranakan cuisines. Apart from perennial favourites such as Laksa, Popiah (spring roll), Tandoori Murgh, and fresh Crab (chilli, salted egg, green peppercorn, black pepper and gam hiong, depending on the day of the week during dinner), chefs stationed at individual live theatre kitchens will personally prepare freshly-roasted dishes and meats straight from the sizzling grill. And that's not all – don't miss out on more than 10 varieties of mouth-watering Nonya kuehs and traditional desserts like Orh Nee (sweet yam paste) and Ice Kachang!

StraitsKitchen is located at Grand Hyatt Singapore, 10 Scotts Rd, Singapore 228211, p. +65 6738 1234. Buffet Lunch ($52++ per adult, $28++ per child) Mon 12pm – 2.30pm, Sat-Sun and PHs 12.30pm – 3pm, Buffet Dinner ($62++ per adult, $35++ per child) Mon-Sun 6.30 pm – 10.30pm.
Classic 'zi char' dishes at Kopi Tiam

One of the key players in local cuisine are zi char stalls, ​a type of eatery that serves up a wide selection of common and traditional dishes in a home-cooked style. For us, that comfortable cooking is best encapsulated at Kopi Tiam: for the last 31 years, no less. This is where you'll find all sorts of timeless classics that reflect Singapore's multi-cultural heritage, from classic Teochew-Style Steamed Whole Seabass ($36) simmered in fragrant stock to a robust Penang-Style Prawn Noodle Soup ($22), brimming with sweet prawns, tender pork ribs, and fish cake. Want to bite into a crispy blanket of spicy oats and fresh prawns? The perennial favourite Cereal Prawns ($24) is a must-order, alongside signature sweet desserts like Pisang Goreng ($9) and Chendol ($8). Sumptuous!

Kopi Tiam is located at Level 2, Swissôtel The Stamford, p. +65 6431 6156. Open Mon-Fri 11.30am – 2.30pm, 6pm – 10.30pm, Sat-Sun 12pm – 2.30pm, 6pm – 10.30pm.
Singapore-style fine dining at Restaurant Labyrinth

You've had dishes like chicken rice and rojak before, but you haven't had them like this. Known for his modern interpretations of Singaporean flavours, Michelin-starred Restaurant Labyrinth's Chef Han Li Guang takes traditional recipes and transforms them into extraordinary gastronomic adventures. Signature dishes include the aforementioned Labyrinth Rojak, an aromatic pile of herbs, greens, and fruits tied together with fermented shrimp paste, Batam honey, and the obligatory sprinkling of peanuts. Try the "Ang Moh" Chicken Rice, inspired by the chef's grandmother's recipe made during the colonial era, as well as the Local Wild Caught Crab, which sees the return of Labyrinth's popular chilli crab ice cream. Read our review here.

Restaurant Labyrinth is located at #02-23 Esplanade Mall, 8 Raffles Ave, Singapore 039802, p. +65 6223 4098. Open Tue-Fri 12pm – 2.30pm, Tue-Sun 6.30pm – 11pm.
Drink locally inspired cocktails at Nutmeg & Clove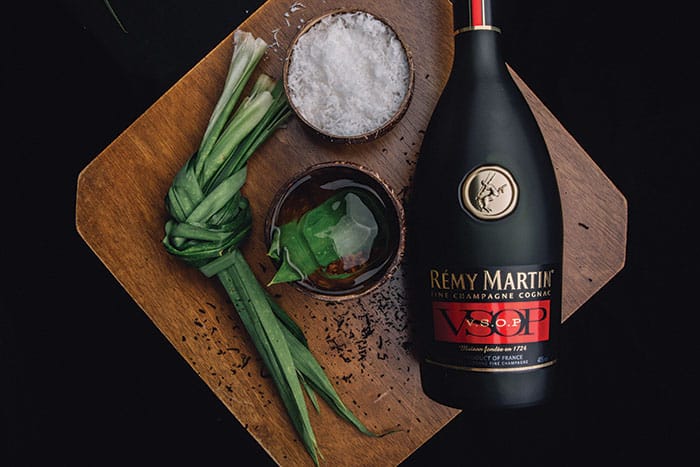 Bet you didn't know Singaporean flavours could be recreated in cocktails, did ya? Residing in the heritage enclave of Ann Siang Hill, Nutmeg & Clove boasts an avant-garde cocktail list that pays homage to the diverse cultural and culinary heritage of Singapore – from our colonial outpost days to modern metropolis. Fun creations include a coconut fat washed cognac-based Old Fashioned in Call Me Old Fashion ($22) and You're One in a Melon ($22), a level-up from the Gin Fizz ($18) made with butterfly pea flower infused gin and clarified watermelon juice.

Nutmeg & Clove is located at 10A Ann Siang Hill, Singapore 069789, p. +65 9389 9301. Open Mon-Thu 6pm – 1am, Fri-Sat 6pm – 2am.
Hawk it out like a local at Newton Food Centre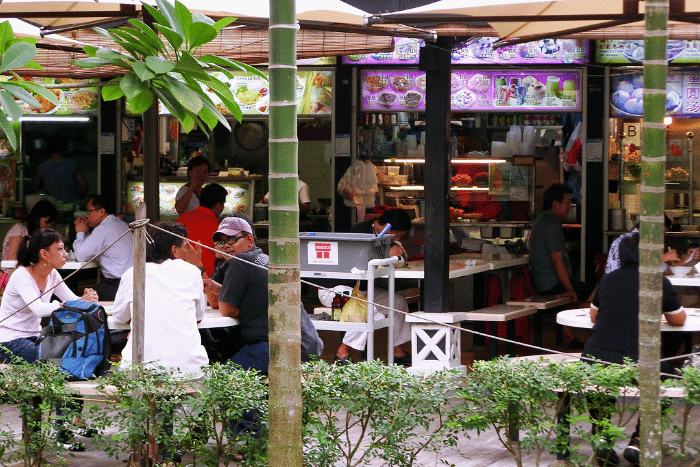 When it comes to variety, there's no beating the local hawker centres. Home to over 30 individual food stalls peddling everything from sugar cane juice to oyster omelettes at extremely affordable prices, Newton Hawker Centre is one of Singapore's premiere hawker centres. Sit down anywhere or share your table with someone else for the genuine Singapore experience, then order some Satay (grilled meat skewers), Barbequed Chicken Wings, Fish Ball Noodles, and pretty much anything your heart fancies. Chances are, there'll be multiple stalls selling the same thing so when in doubt, do what the locals do and head to the one with the longest queue!
Newton Food Centre is located at 130A Clemenceau Ave, Singapore 239928. Opening times differ according to individual stalls.

Café comfort at Dong Po Colonial Cafe

If you've ever wondered what your parent's era was like, you can now savour the taste of the past with Dong Po Colonial Cafe, which uses only authentic recipes dating back to the 50s. In a quaint room filled with ancient toys and knick-knacks, sink your teeth into items like the Nyonya-style Spicy Shiok Otak-otak Toast, signature Apple Aloe Vera Cake, and Hainanese Chicken Rice, with new dishes popping up each season. It's not just local flavours either – find a delicious Cottage Pies (beef or chicken) and Australians Lamingtons. Set menus start from $4.50 for a simple Kaya Butter Toast with coffee and two eggs.
Dong Po Colonial Cafe is located at 56 Kandahar St, Singapore 198904, p. +65 6298 1318. Open Mon-Thu 8am – 6pm, Fri-Sat 8am – 10pm, Sun 8am – 8pm.
Fresh takes on the Singapore Sling by international bartenders

You know the Singapore Sling, right? That delicious gin cocktail with Cointreau, pineapple juice, grenadine, and cherry liqueur? Celebrating the country's 53 years of independence, Cointreau has brought together six bartenders from different corners of the world to put their own spin on this uniquely Singaporean cocktail. From Korea, Anti:dote's Bannie Kang creates a Mija's Sling ($23) that uses omija (five-flavour berry), an ingredient frequently used in Korean cooking, in her housemade pomegranate syrup. There's also Bubble Sling ($18), created by Summerlong's Taiwanese bartender Summer Chen. Like the iconic bubble tea, the drink features chewy tapioca pearls that've been infused with sangria. For a rich and sweet Thai twist, how about trying the Thai Teh O Sling ($18) by Tess Bar's Bell Paradee?
Available at Anti:dote, Tess Bar, Summerlong, Caffe Fernet, Publico, and Kuvo.
Top Image: Kopi Tiam
---
Like this article? Check out our roundup of Food & Drink Trends You'll See in Singapore in 2017 and Traditional Coffeeshops in Singapore to Visit Before They Disappear.