Restaurant Review: Thai Bistro Bangkok Bold Kitchen Serves Up Long-Forgotten Recipes by the Chao Praya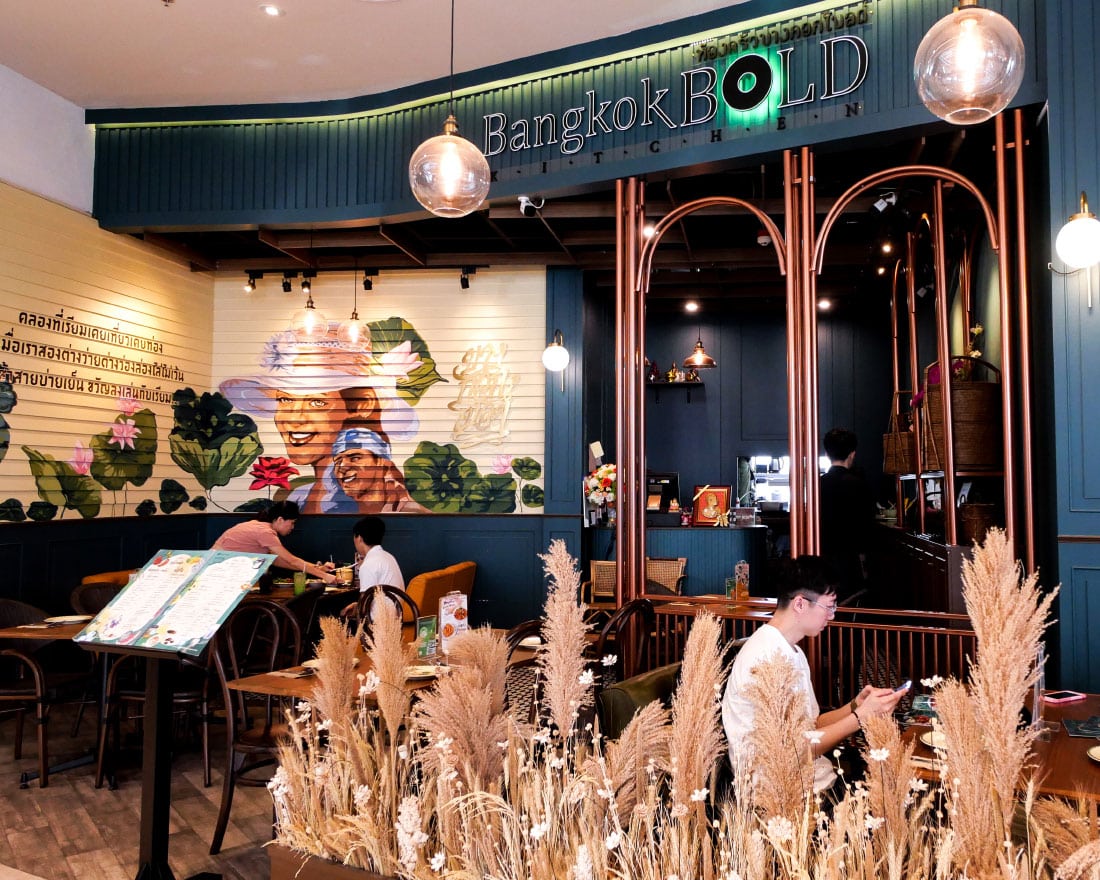 PUBLISHED June 1st, 2019 06:00 am | UPDATED May 18th, 2020 07:10 pm
Bangkok Bold, also known as Joh Bangkok, wasn't always a restaurant. It started out as a food blog by Chortip "Nhoi" Ouypornchaisakul, who would journal inspirational stories about eating and cooking cultures around the world. Of course, she later graduated with a certificate in the culinary arts from the States, opening Bangkok Bold Kitchen at The Riverside Plaza, Central Embassy, and Singha Complex.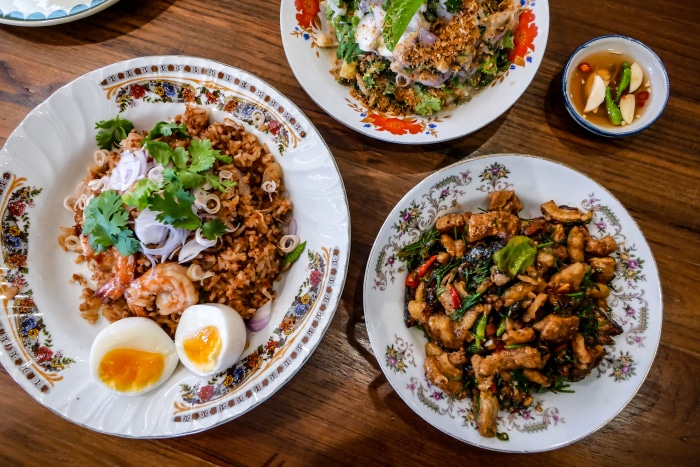 The space is cosy and looks like an old school Thai diner, but with a contemporary touch. Don't expect much in the way of privacy, especially in the Singha Complex branch, which sits on the second floor of the mall. A look through the menu reveals typical local dishes like Thai omelette and grilled pork neck, but also recipes that are rarely seen today. Nhoi uncovers forgotten ingredients and indigenous techniques to create her own precise style of Thai cooking that's sincere and fun. Her Massaman Curry uses beef cheek and sweet potatoes, while her naem khao tod, or Rice Croquette Salad, mixes rice cracker with fermented pork and betel leaves.
A good dish to start with is Grilled Pork in Coconut and Mushroom Soup (THB200), a creamy and garlicky soup with strong notes of coconut, lemongrass, and galangal. It tastes like a rather mild green curry, but sweeter and less spicy. You'll want to ladle this rich broth over steamed jasmine rice. Then, order the Thai Mackerel and Chillies (THB190), stir-fried with mildly earthy acacia leaves and crunchy crackling. This is a rather strong and porky dish, but it's balanced out by the salty chilli and sweet vegetal greens.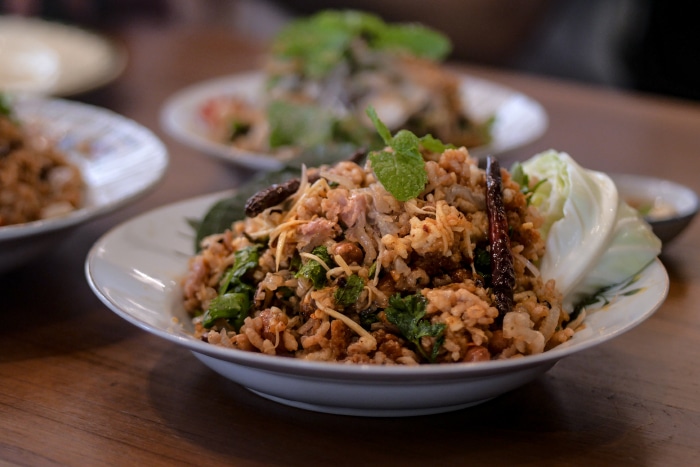 Can't feel your tongue? Soothe your tastebuds with a bowl of Fermented Rice Noodles (THB25), or khanohm jeen, in its butterfly blue pea-coloured glory. It's a hard-to-find dish nowadays, and can be intimidating due to its sour smell, but we love the springy texture. A must-try is the Shrimp Paste and Toasted Coconut Fried Rice (THB190), fluffy grains of rice toasted to peak fragrance and coated in a slightly sweet shrimp space — basically a match made in heaven. This is intensely spicy, so proceed with caution.
Bangkok Bold Kitchen offers a small selection of local and imported beers, but it's the delight Butterfly Pea juice (THB55) you want to order. That, or their signature Thai Melon Smoothie (THB85), guaranteed to refresh and impress. For dessert, the rich Coconut Cake (THB150) is made with layers of pandan chiffon cake, coconut cream, and young coconut flesh. It's rather basic, but that's just what the restaurant wants to be: "basic" and "bold".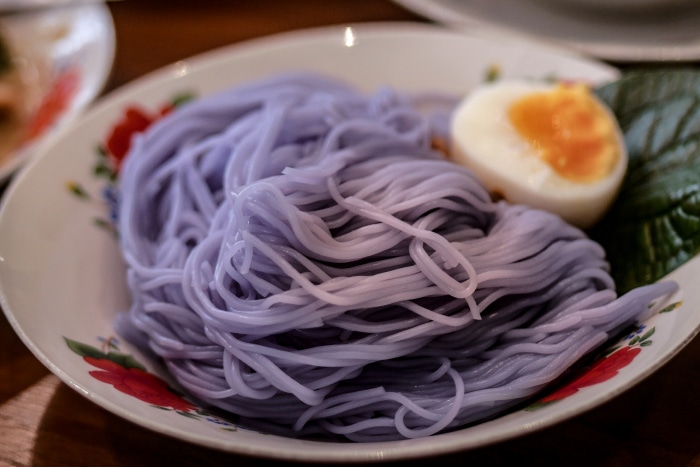 If you want an affordable place that doesn't compromise on authenticity and flavour, this is it. In fact, you can even learn to cook said dishes at Bangkok Bold Kitchen's The Riverside Plaza branch, conducted by experienced chefs and Thai gastronomy professionals.
Bangkok Bold Kitchen is located at Riverside Plaza, 2/F, Charoen Nakhon Rd, +66 96 626 4519; Singha Complex, 1788 New Petchaburi Rd, +66 2 088 9099; and LG/F Central Embassy, 1031 Phloen Chit Rd, +66 91 424 4292. Open daily 11am – 10pm, 10am – 9pm respectively, and 10am – 10pm respectively.
All photos courtesy of Jessica Chan.