Singapore Staycation Spotlight: Outpost Hotel in Sentosa Wants To Be An 'Adults Only' Pool Paradise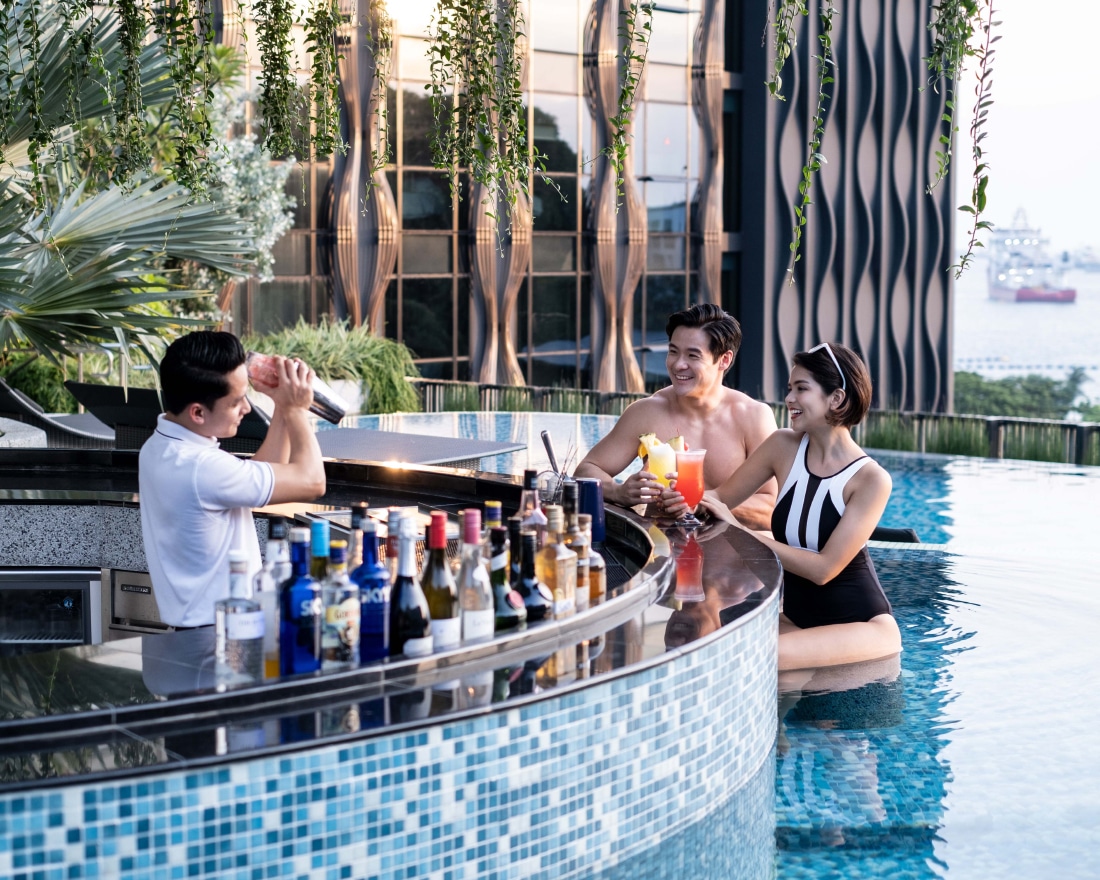 PUBLISHED December 13th, 2019 05:00 am | UPDATED March 26th, 2020 03:24 pm
Each person looks out for different things when booking a hotel for a staycation. Soft beds — preferably with a varied pillow menu — are a given, of course, alongside round-the-clock butler service and stellar breakfast options. Pools may not be on the top of every staycationer's list, but if that's the case for you, the fairly new Outpost Hotel in Sentosa is the one to check out.
Location & Space

The first thing to know about Outpost is that it shares a complex together with two other hotels: the just-opened Barracks, and older sibling, the family-friendly Village Hotel. It's the awkward middle child whose entrance is tucked away inside a car park, but that's not to say the rest of the hotel isn't quite grand. The lobby is decked out in various shades of textured grey and accents of gold and copper, and the reception is less a formal affair, more a casually-designed communal area to get you comfortable quickly.
Situated within a few minutes' walk of Sentosa's Imbiah monorail station, the hotel is as central as you might find on the island – close enough to the warm sandy beaches as it is to the bustle of Resorts World Sentosa and Universal Studios Singapore.
Rooms
Outpost is one of those properties that offer only one room category, but before you go screaming with indignation, know that it was always intended to cater to adults and couples rather than big families – they welcome guests aged 13 years old and above. At an average size of 24 sqm, the 193 stylish Deluxe Rooms come in three different configurations for some variety. Throw open the curtains and you might see an expansive vista of the South China Sea, guests frolicking in the Pamukkale Pool, or other attractions around Sentosa.
Otherwise, what we get is relatively similar: from the black and white wall photographs inspired by the island's history to the traditional colonial colours of your furniture. Pampering pillow mist kits during turndown service, along with bespoke tea blends from Pryce Tea, lull us to sleep. There's even a customisable complimentary minibar that's delivered to our room — our choice of Hershey's white chocolate bars and orange juice took us a long way. The more environmental-conscious of us lot will appreciate the convenient Hyflux filtered water tap right at the sink.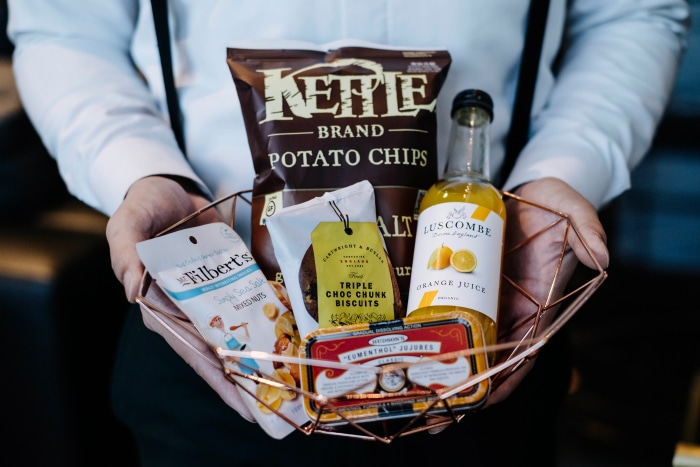 The spacious bathroom left us especially impressed, because how many times have we loved a hotel only to be frustrated by the complicated showers? The one here is as simple as pressing a button: one for your rain shower or regular shower, and another to adjust the temperature. Complete with toiletries kit by Australian beauty brand APPELLES (think rosemary and ylang ylang) and a Japanese TOTO Electronic Washlet for keeping your bottom warm, we were pretty much in toilet paradise.
Facilities & Services
Is there really an excuse for not using the majestic pool here? We spent an afternoon suntanning on wicker daybeds at the third floor Pool Deck. The shallow Adventure Pool is good for younger guests, but the Pamukkale Pool is where you want to be seen — the cascading terraces look great on Instagram and come inspired by the surreal silver terraces in Turkey. Then, pick up a donut float and get swept away down the Lazy River Pool under drizzling rain curtains. It's not quite the tranquil Amazon River, but it's nice.
We didn't spend time at the gym, but a quick peek inside reveals a whopping eight cardio machines ranging from treadmills to bikes and ellipticals, a full weight rack and benches, and a dedicated space for a calming yoga sesh. Oh, it's open 24 hours a day too.
F&B
One of the joys of staycations is not having to get out of bed for breakfast, but so is waking up to a delicious spread. We make our way up to 1-V:U on the rooftop for decent croissants and a DIY congee station, as well as hot dishes such as a tasty Tomato Shashuka and Korean-style Bangers & Hash .
The multi-concept F&B destination will also feature a rooftop pool once it officially opens in January 2020, along with a curated entertainment and nightlife programme that focuses on deep house, soul, nu-disco, and vocal house that progresses from day to night. On the food front, look forward to Northeast Asian-influenced signatures like Lion's Head Asian Hamburg and Glazed Beef Flat Iron Steak. We've yet to try the full menu, but if previous projects by the 1-Group are anything to go by, we're in for a treat.
Elsewhere in the hotel complex, you'll find Chef Patrice Godino's Native Kitchen, known for their Asian sharing platters, and a generous Progressive Indian dinner buffet at Royal Taj.
Outpost Hotel is located at 10 Artillery Avenue #03-01 Palawan Ridge, Singapore 099951, +65 6722 0801. Rates start from S$360 per night.