Restaurant Review: yì by Jereme Leung Is Raffles Hotel Singapore's New Chinese Restaurant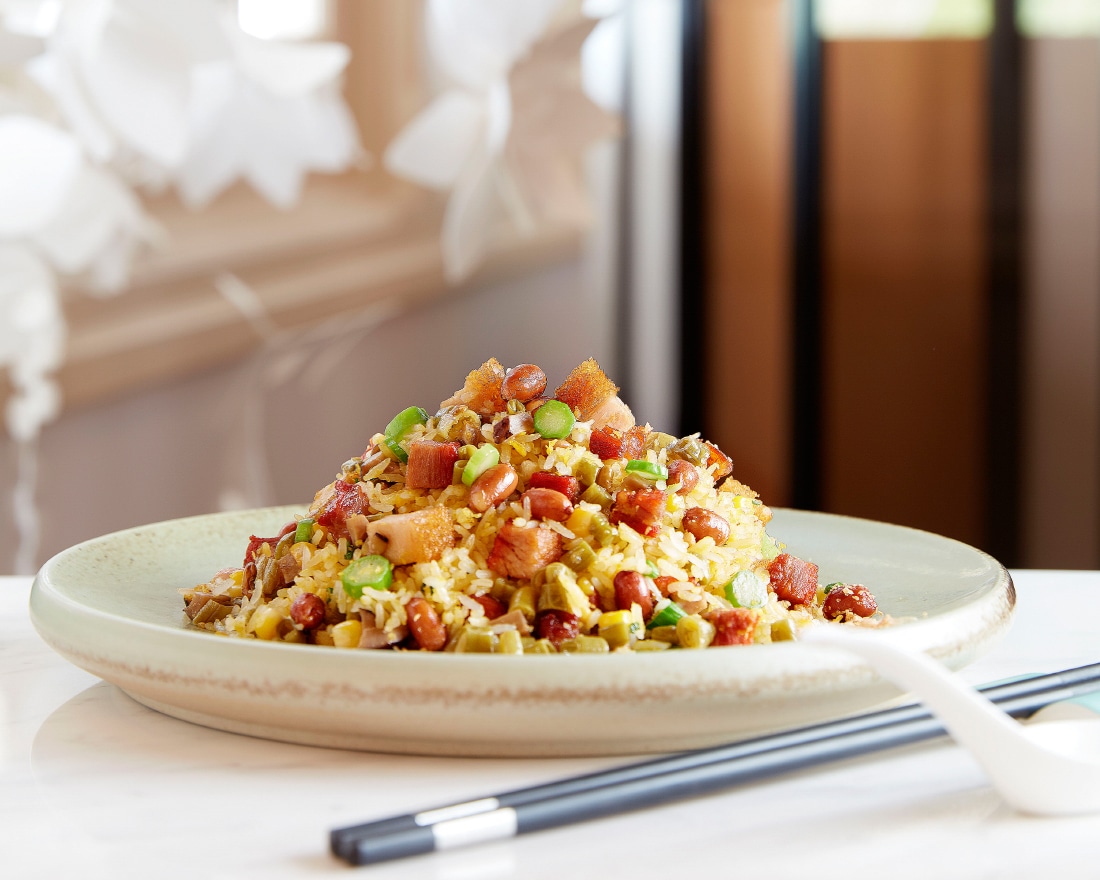 PUBLISHED December 14th, 2019 05:00 am
The thing about being in this line of work is that I eat at restaurants a lot, and over the years, there's only been a few instances where I've been really floored by the entrance of one. Even then, none are quite as stunning as the one at the new yì by Jereme Leung in Singapore. Then again, a 90-feet-long art installation of 1,000 white origami flowers — titled "Pale Garden", no less — is pretty hard to beat.
Opening around the same time as La Dame de Pic and BBR by Alain Ducasse, the 111-seater yì is the latest demonstration of how the freshly-restored Raffles Hotel stays at the forefront of global cuisine. The namesake Chef Jereme is one of the most influential chefs in the modern Chinese culinary movement, and he even once starred as a judge on MasterChef China.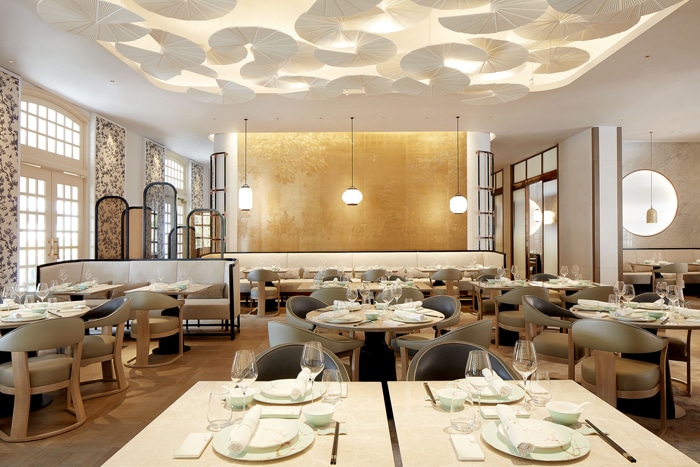 Jereme himself isn't based in the restaurant, but he leaves it in the trusty hands of Chinese Executive Chef Vincent Chen and Chef de Cuisine Baron Xiu, who he's worked with for close to a decade. Both are are strong representatives of Jereme's culinary philosophy, which is to take his guests around China's vastly diverse regions in a gastronomic journey — and what a trip it is. They bring out a Sichuan Spicy Chicken & Luncheon Meat (S$10) that comes from, well, Sichuan, while the Hundred-ring Cucumber & Poached Sea Whelk (S$26) is a classic dish found in China's Northern region during warm summer months. The latter is finished off with a tangy and refreshing soy vinaigrette.
Most of Jereme's creations leverage on the art form of fine dining to stimulate the senses. His new signature dish is a holy trinity of Brined Duck Breast, Beef Tripe & Ox Tongue (S$26) dressed in a Sichuan chilli dressing that's atypical in the streets of Chengdu. The duck is sous vide, and the ox tongue creates more texture. Then there's the Golden Roasted Duck (S$48/half), his extravagant take on the classic Peking dish. He serves this with a housemade fermented bean sauce that contains hand-pressed Yunnan's dali rose extract for sweetness and aroma, complemented with five rainbow pancakes in different flavours.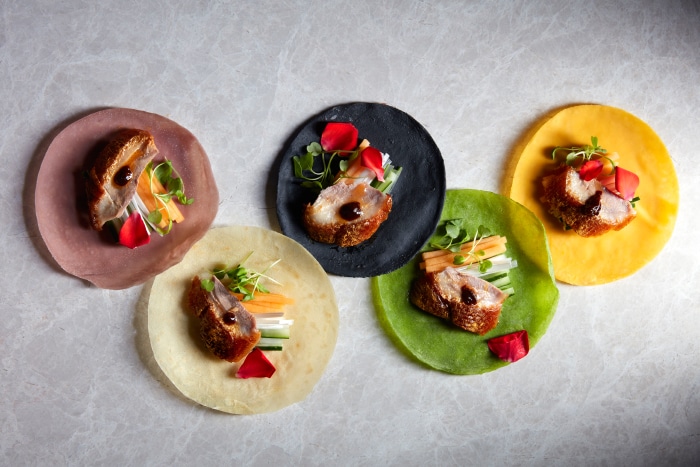 The gelatinous mouthfeel (think chicken feet) has always been inaccessible to many a foreigner, but it's worth giving it another chance for the Braised Beef Cheeks, Tendon & Oxtail with Sorghum Grains & Wine (S$42) — three cuts timed perfectly to deliver a trifecta of tender soft beef. It's perfection. You might even want to eat this with Jereme's Fried Rice with Char Siew, Pork Belly & Pickled Long Beans (S$22), which we learn is a riff on a traditional Cantonese dish popular among immigrants from Guangdong.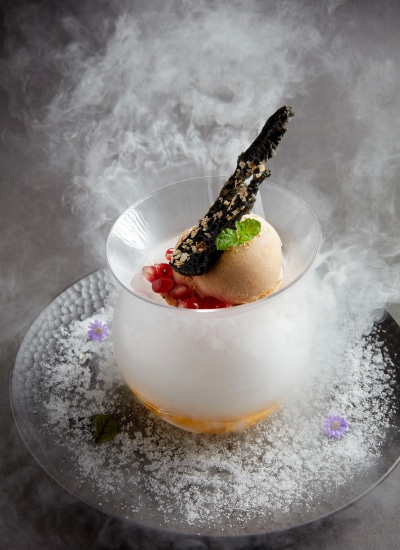 The Satay-spiced Ice Cream (S$8) is one of those nasty sounding things that turns out to be delicious. Imagine a rich salty peanut butter ice cream with that comes with spices for a tantalising aftertaste, before being coated in peanut dust with nuts and fruits. There's also the Swan-shaped Durian Pastry (S$12/three), which is a tad gimmicky. But Chinese restaurants are known for such things, so forget that and enjoy the buttery lard-rich filo pastry stuffed with creamy durian paste. It's the richest bite of the meal.
yì by Jereme Leung is located at 328 North Bridge Rd, Raffles Arcade, #03-02, Singapore 188719, p. +65 6337 1886. daily 11.30am – 2pm, 6.15pm – 10pm.