Pangdemonium's The Pillowman: A Darkly Hilarious & Compelling Tale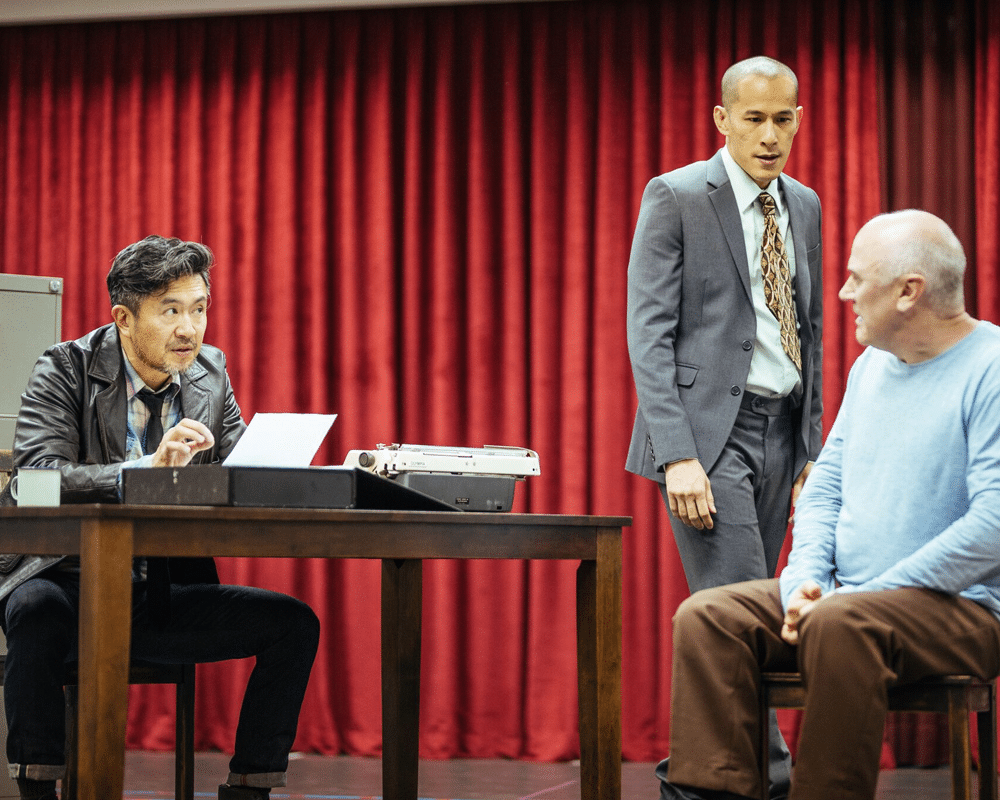 PUBLISHED February 25th, 2017 09:18 am
The critically acclaimed and award-winning play The Pillowman returns to the stage this week with most of its original cast members, having been previously staged in 2007 by the Singapore Repertory Theatre. Fast forward one decade, and Pangdemonium is thrilled to launch its 2017 Season with this spellbinding stunner of a play. The show will also see the reunion of three of the four original leads, Adrian Pang, Daniel Jenkins and Shane Mardjuki.
Written by the celebrated Irish dramatist Martin McDonagh, The Pillowman marries unrelenting comedy and psychological drama. Set in an unnamed totalitarian state, Katurian – a fiction writer of gruesome fairy tales – has been dragged in by the police for interrogation about crimes committed in his community. They bear an uncanny resemblance to his books. As the interrogation progresses, tensions mount and the divide between real and fictional worlds blur. The result is a vicious whirlpool of dazzling storytelling and an unflinching examination of the very nature and purpose of art.
We speak to Director Tracie Pang and some of the cast of The Pillowman for their take on the play:
What attracted you to this play?
Tracie: The absurdist, warped, very dark humour. Every line is surgically constructed to be gold for each actor. There are laughs, shocks and new mysteries on every page, and the "fairy tales" that are told within the play are just mind-blowing. Underneath it all, there is an incredible pathos, pain and poignancy in each character, which will creep up and surprise you. It really is one of the best pieces of writing I have had the privilege to work on.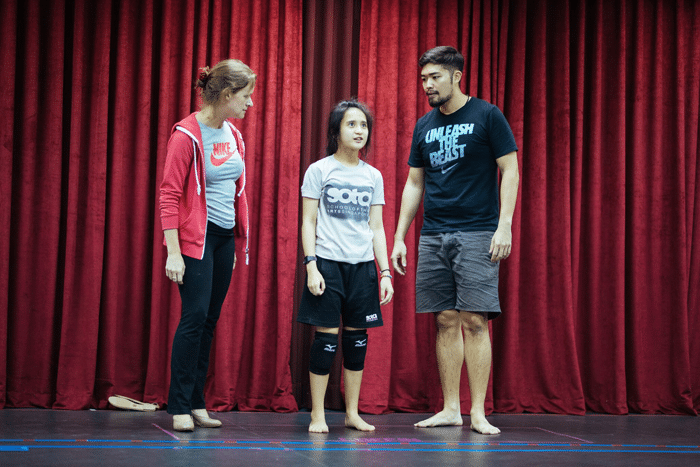 How does The Pillowman fit in with Pangdemonium's 2017 season?
Tracie: Our 2017 Season is unofficially subtitled: "Family (and other natural disasters)". As storytellers, one theme we hold close to our hearts is "family" – something delicate, to be treasured, and to work hard at preserving but human nature being infinitely imperfect, even a seemingly "perfect family" is a potential natural disaster waiting to happen. The Pillowman, which revolves around the story of two brothers facing odds that threaten to push them over the edge, is a fitting opening to an eclectic 2017 Season, where we will explore the fragility, complexity and tragi-comedy of family.
You directed the play for the SRT more than 10 years ago. How different will this production of The Pillowman be compared to the previous production(s)?
Tracie: Surprisingly, everything is coming back to us quite fast, which has given us time to explore some new character options with the actors. Also, in working with Andy Tear, who is taking over from Michael Corbidge in the role of Michal, we have the chance to start afresh and give the character a different feel. I am also working with and entirely new design team so the set and visual designs are all being updated and refined.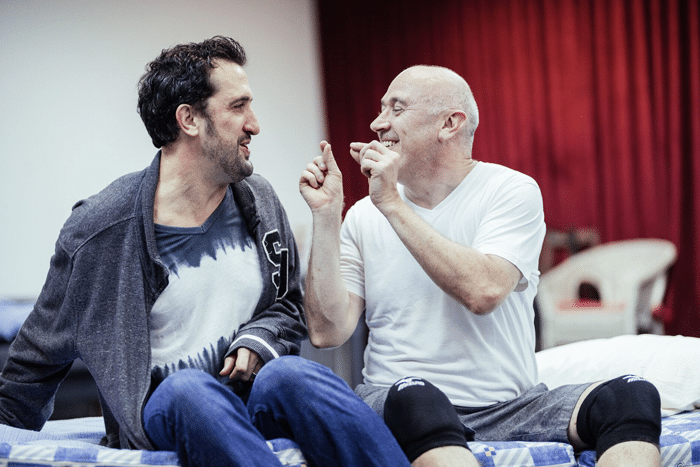 [To Daniel Jenkins] What is the name of your character?
Daniel: I play Katurian Katurian Katurian. A strange name chosen by his stranger parents.
What are the similarities and differences between yourself and your character in The Pillowman?
Daniel: We are both male, we both have a big brother, we are both artists (Katurian is a writer), we both care passionately about the work we produce. Fortunately, my childhood was very different from Katurian's. I was brought up by my mother in a loving and supportive home. Katurian's parents, although very supportive and encouraging with regards to his writing, were far more interested in mental and physical abuse. I'm glad to say my mother wasn't.
What are some of your favourite aspects about the play?
Daniel: The Pillowman is without a doubt one of the best scripts I've ever had the pleasure to work on. The writing is so smart, witty, dark and beautifully crafted that it draws the audience in and surprises them at every turn. It could also be described as 'in yer face' theatre. Theatre that grabs you by the balls and doesn't let go. As an actor it's always exciting to be part of a blood, guts and gore production. Any opportunity to play with guns, blood and violence is always surprisingly fun.
[To Adrian Pang] What is the name of your character?
Adrian: Detective Tupolski, a high-ranking police detective in a totalitarian dictatorship somewhere near you.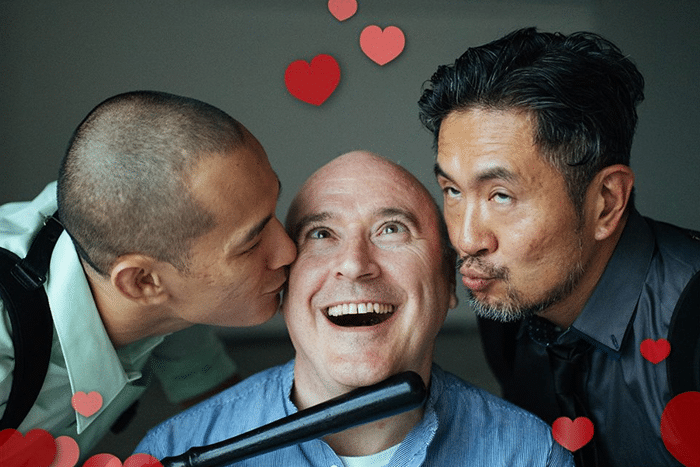 What will excite audiences about this play?
Adrian: It is full of surprises. One of which being how bloody funny it is. You be laughing despite the horror unfolding in front of you. The stories will have you on the edge of your seats. The unfolding plot will keep you guessing right till the end and just when you think you've figured something out, you'll find you're wrong. It's the most fun you'll have being scared out of your pants.
[To Shane Mardjuki] What is the name of your character?
Shane: My character is named Ariel. Detective Ariel. In my own head I have given him a first name. Nobody else knows this. You will be the first to know. That name is Matitiyahu. I just chose it because it amuses me.
How do you go about building your character?
Shane: We had done a lot of homework for the first two runs. From accent work to childhood back stories. So the more challenging work in this run is to try and forget all of that and to try and take a fresh perspective and see how that informs the work. Much harder than it sounds.
The Pillowman is running from 24 February to 12 March 2017 at the Victoria Theatre. Tickets are priced at $45, $55, $65, $75, available via SISTIC. For more details, check out the Pangdemonium website here.