Singaporean Artist ANTZ talks Tiger Beer's Air-Ink Project: A Creative Way to Curb Air Pollution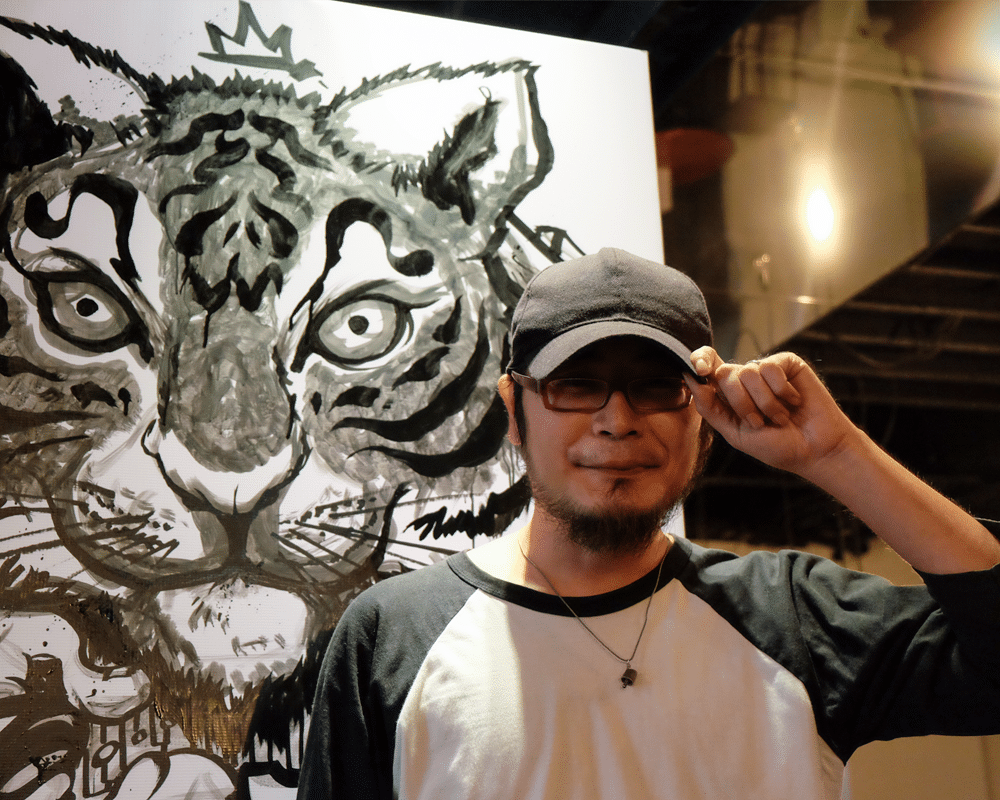 PUBLISHED April 3rd, 2017 11:13 am
Anthony Chong, better known by his pseudonym ANTZ, has been painting the streets in and out of Singapore for the last 11 years. The street artist majors in oriental art and its related concepts; in fact, he's known by his peers and supporters for a particular character – the Chinese monkey king Sun Wukong. His portfolio is impressive to say the least, including collaborations with Adidas, Nike, and MTV Asia.
Though he's worked with many forms of mediums in the past, his latest project is based around a unique tool that's not even gone commercial – Tiger Beer's Air-Ink™.
Simply put, it's the world's first ink created from air pollution around the world, conceptualised by Graviky Labs and supported by South East Asia's favourite lager, Tiger Beer. Following a pilot edition in Hong Kong last year, the project has since gone global to the likes of Berlin and New York, involving world-renowned artists like Buff Monster, Paul Davis, KristopherH, and Die Dixons.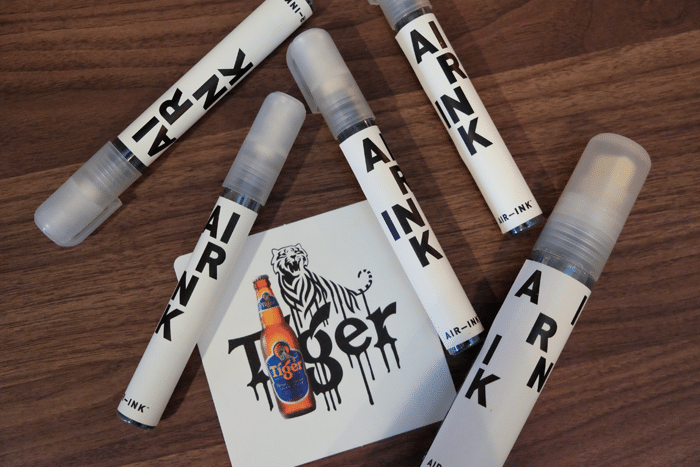 Closer to home, resident artist ANTZ took up the mantle last Wednesday at Emerald Hill's Acid Bar. For someone whose primary medium is the street, it makes sense how the Air-Ink™ project aligns with his goals, "whacking the idea of how air pollution is messing up our system, and to see how we can make the best out of it."
Over three hours, he laboriously works on his piece: an intimidating two-metre tiger painting that infuses elements from the proverbial monkey into the figure. Talking about his responses to his unique style, he says "every piece has its value and memorable story behind it, but in general it's nice to see young children actually recognise a Chinese mythological hero."
According to Tiger, more than 770 litres of Air-Ink™ have been harvested to date from vehicles and chimneys in Hong Kong, India, and also London – cities where air pollution is an increasing problem. If you think about it, that's equivalent to over two years worth of C02 emissions from a single diesel vehicle!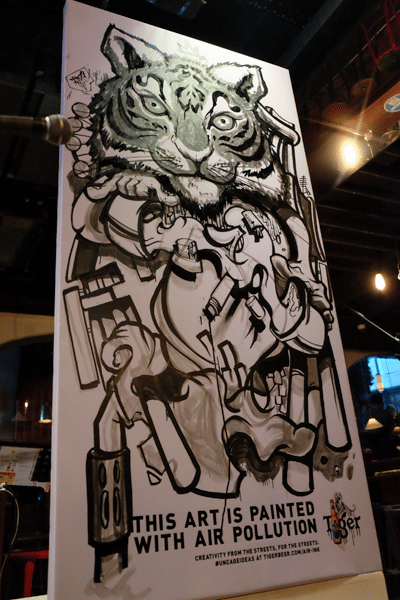 When asked what else he'd like to see with the project, he says "Air-Ink is a good start towards curbing air pollution. Maybe, try reproducing more mediums and materials from all kinds of pollution, like super compressed or plastics, and create a full range of colour palette."
Tiger Beer may be first and foremost a brewing company, but its responsibility to provide a platform for issues that affect everyone remains the same. And in a way, ANTZ feels the same way about artists.
"Artists are kind of like the inner voice of the people. We tend to understand and see things in a very different view, challenging the same concepts made by men. We are like an underground radio channel that hacks into mainstream media."
Ultimately, the Air-Ink™ project is part of the beer brand's ongoing support to empower positive changes in the community with unconventional ideas, and what better place to do so than the same streets where Tiger was born?
Check out the artwork for yourself in the heart of Orchard Road at Acid Bar, alongside another piece by fellow artist MessyMsxi outside orchardgateway@emerald (MessyMxsi's painting will be on display until 3 April 2017.)
Moving on, follow ANTZ on his mission to get children and new audiences interested in Chinese and Asian culture, be it poems or stories of heroes and love. As he declares, "Not all bedtime stories have to be The Three Little Pigs or Little Red Riding Hood". There's the story of Sun Wukong and his journey to the west too, preferably illustrated with air made from pollution.
View a film about the global Air-Ink™ initiative here, or show your support and spread the word here.
This post is sponsored by Tiger Beer.