10 Lunch Spots In Singapore's CBD For F'east-ing With Your Colleagues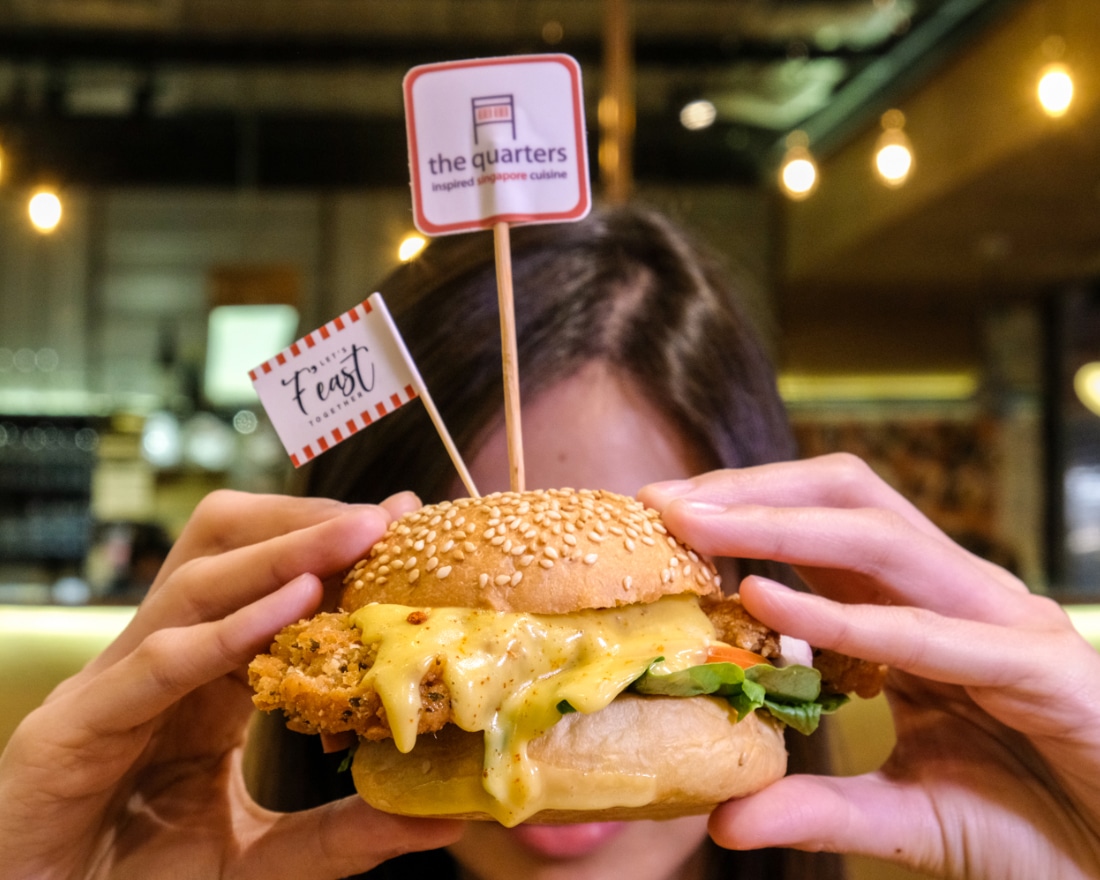 PUBLISHED July 25th, 2019 03:19 pm
You know the drill: it's time for lunch with your colleagues, and someone in the office will ask, "Where to eat ah?" Well, we've got you covered with these 10 crowd-favourite lunch spots around Singapore's Central Business District, from homely Chinese restaurants to healthy grain bowls. Because what better chance to bond with your work buddies than over a hearty meal?
Restaurants
Xu Ting Restaurant
If we know anything about comfort food, hotpot ranks high on the list. Xu Ting Restaurant offers a hearty dining experience for your loved ones and friends – dig in to free flow soup dumplings and heartwarming favourites like the Herbal Golden Soup Set Meal (S$14.90++) and Hotplate Pepper Beef Set Meal (S$14.90++). Each set comes with a crispy fried pumpkin cake and a bowl of chilled dessert for a sweet finish.
F'east Promotion: Each Minipot Lunch Set Meal (U.P. S$12.90++ to S$14.90++ each) goes for S$10++, valid till 4 August 2019
Xu Ting Restaurant is located at #01-01 Far East Square, 19 China St, Singapore 049561, p. +65 6443 1255. Open Sun-Thu 11.30am – 3pm, 5pm – 10.30pm, Fri-Sat 11.30am – 3pm, 5pm – 12am.
Zui Yu Xuan Teochew Cuisine 醉宇轩经典潮膳

With its string of highly successful seafood restaurants, you know that any concept by the JUMBO Group of Restaurants is synonymous with top-notch meals in a stunning ambience, and Zui Yu Xuan Teochew Cuisine 醉宇轩经典潮膳 is no exception. Try the signature Teochew Oyster Omelette (S$13++) which comes with a crispy outer shell encasing soft tender egg and plenty of fresh plump oysters, as well as the Wok Fried 'Kway Teow' with Diced 'Kai Lan' and Preserved Radish (S$18++) loaded with smoky wok hei aroma and crunchy radish. For dessert, the Sugar Encrusted Deep Fried Yam Sticks (S$18++/eight) will wrap up your meal on a sweet note – whether it's a family meal, corporate luncheon, or momentous celebration.
Zui Yu Xuan Teochew Cuisine 醉宇轩经典潮膳 is located at Far East Square, 130/131 Amoy Street, Singapore 049959, p. +65 6788 3637. Open daily for lunch at 11.30am – 3pm and dinner 6pm – 11pm. Reservations are recommended, especially for private rooms.
Chao Ting 潮亭
Chao Ting 潮亭 is one of JUMBO Group of Restaurants' more casual quick-service establishments specialising in Teochew pao fan: fragrant rice cooked to silky perfection and slowly simmered in a seafood broth before being topped with crispy rice and fried egg floss for a huge flavour and texture boost. It's the kind of food you want on a chilly day at the office, as you indulge in tummy-warming bowls like King Prawn 'Pao Fan' (S$11), Sliced Fish 'Pao Fan' (S$9), and Fried Fish 'Pao Fan' (S$9). They sell out quickly each day so come early to avoid disappointment!
Chao Ting 潮亭 is located at Far East Square, 132 Amoy St, Singapore 049961. Open Mon-Fri 11.30am – 3pm, except on Public Holidays.
MARU

Satisfy your craving for Japanese Donburi bowls with MARU's delicious Truffle Beef Cube Bowl (S$25++) in red wine garlic shoyu, or the signature char-grilled BBQ Pork Belly Bowl (S$18++) in soy-mirin glaze. Both options come pipping hot served atop premium Japanese steamed rice. This lively modern yet casual eatery hosts an extensive All-You-Can-Eat salad bar with up to 20 selections, perfect for filling any missing gaps in your stomach. Best of all, the free-flow salad buffet comes complimentary with any main course order.
MARU is located at #01-05 to 11, Icon Village, 12 Gopeng St, Singapore 078877, p. +65 6327 1123. Open daily 11am – 9pm.
DEAN & DELUCA

Thinking of western fare for lunch? Stop by DEAN & DELUCA for a gourmet meal after work – or during, if you can. Having opened their first outlet in New York in 1977, this epicurean eatery is no stranger to the food biz, or local cafe scene for that matter. Don't miss out on their classic All American Breakfast (S$23) and Sirloin Steak and Fries (S$18), and save a little space for a Rainbow Cake (S$8.50) dessert.
F'east Promotion: Get 1-for-1 Bottled Beer (U.P. S$7 to S$10 each), valid on weekdays from 4pm-8pm, valid till 4 August 2019
DEAN & DELUCA is located at #01-01 Far East Square (47 Pekin St), Singapore 048777, p. +65 6265 6005. Open 7am – 8pm on weekdays, and 7am – 12pm on weekends.
Quick Bites
Scrambled
Imagine starting a stall that serves up the best scrambled eggs around. More specifically, scrambled egg burgers with various main ingredients and their own uniquely and specially-paired sauces. Running the kitchen are chefs Hayden and Ju Lih, and between the two, they've worked in Michelin-starred kitchens like Gold in Hong Kong, Bacchanalia in Singapore, Jean Georges in New York, and Odette in Singapore. Things to try include the Smoked Salmon (S$11.90++) burger paired with mentaiko mayo, or the Scrambled Stack (S$14.90++) with creamy avocado.
Scrambled is located at #01-33/34 Icon Village, 12 Gopeng St, Singapore 078877, p. +65 6221 0289. Open Mon-Fri 8am – 2.30pm and 5pm – 8pm, Sat-Sun 10.30am – 3pm.
The Quarters
Love fusion food? Look no further than The Quarters, which celebrates the evolution of  Singapore cuisine through the years with fresh takes on old and new dishes. The Fwah! Foie Gras with Kaya Toast and Scrambled Egg (S$18++) takes the beloved Singaporean breakfast to a whole new dimension, and there's nothing that says Peranakan representation like the Ayam SHiok Burger (S$14++) – oat-battered chicken in a choice of three sauces: salted egg, lemak curry, and buah keluak.
The Quarters is located at #01-09 Icon Village, 12 Gopeng St, Singapore 078877, p. +65 6834 4174. Open Mon 10am – 5pm, Tue-Sat 10am – 10pm. Closed Sun.
Healthy Fare
Nature's Nutrition
There are good deals all around, even if you don't have time for a full sit-down. Swoop by Nature's Nutrition for a quick-service Quinoa Bowl to take away. No lunch comas here, as each bowl comes with a specialty base of organic quinoa and a variety of nutritious toppings freshly made every day. Hit your protein quota with Roasted Chicken Tikka Quinoa Bowl (S$9.40++) and Baked Salmon Quinoa Bowl (S$10.90++). Meatless Monday? Opt for the Portobello Mushroom with Cheddar Cheese Quinoa Bowl (S$9.40++) instead. Before you go, don't forget to pick up Nature's Nutrition's own Kombucha brews (made from a series of organic teas) to add wellness into your body.
F'east Promotion: Get 1-for-1 Kombucha (U.P. S$4.90++ each), valid from 2pm to 5:30pm and limited to the first 100 redemptions via the ShopFarEast Mobile App, valid till 4 August 2019
Nature's Nutrition is located at #01-04 Far East Square, 137 Amoy St, Singapore 049965, p. +65 8684 4552. Open Mon-Fri from 8am – 6pm with lunch from 11.30am – 2pm.
Mission Juice
Stop by Mission Juice for your daily boost of natural cold-pressed juices (from S$6) if you're looking for something refreshing that doesn't keep you up till the wee hours. Grab a Mean Green hulk of a blend with kale, spinach, green apple, and celery: the pick-me-up you want and need. Alternatively, the Super Citrus – Grapefruit, Pineapple, Orange, Lime – will give you that ultimate hit of Vitamin C.
F'east Promotion: 1-for-1 Mission Blends, valid till 4 August 2019
Mission Juice is located at #01-29 Icon Village, 12 Gopeng St, Singapore 078877, p. +65 8202 1355. Open Mon-Fri 8am – 7pm and Sat 12pm – 5pm. Closed Sun.
---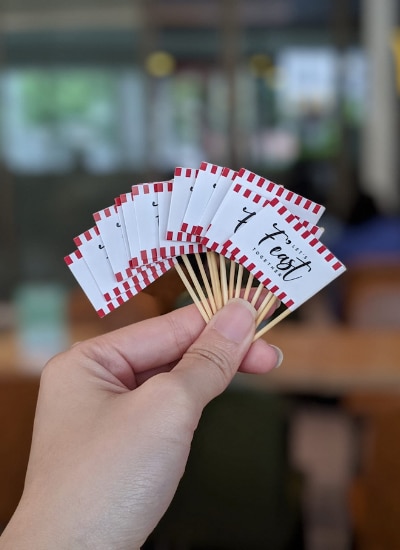 From now till 4 August, it's the season of feasting as Far East Malls host 'Let's F'east Together', an event where you get to enjoy amazing dining deals across their 13 malls.
Want to win mind-boggling prizes like a GoPro Hero 7, Nespresso machine, or shopping vouchers? Participate in the #LetsFeastTogether social media contest by grabbing a F'east flag from any of the malls and simply uploading a photo of the flag on your food together with the hashtag.
Don't forget to sign up for the ShopFarEast app to claim rewards and app exclusive deals!