Vegan, Vegetarian, and Vegetarian-Friendly Restaurants in Singapore For Meat-Free Feasting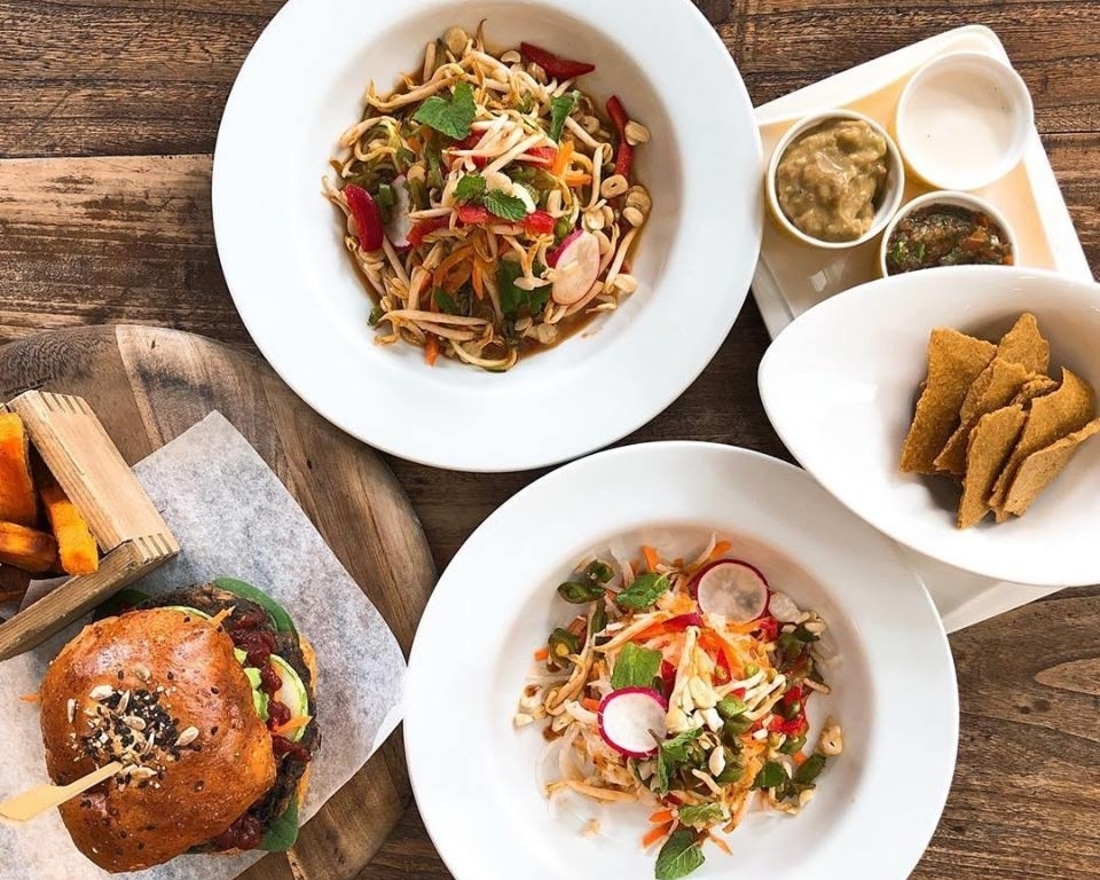 PUBLISHED October 7th, 2019 06:30 am | UPDATED January 8th, 2020 10:31 am
There was once a time when tired mounds of salad were all that vegetarians and vegans had to choose from, but those days are (thankfully) gone. The leafy lifestyle is really catching on, and we've got a world of cuisine on our meatless plates – Peranakan, Italian, Japanese, Middle Eastern, and everything in between. If you're looking for fresh options which don't skimp on flavour, here's our veggie-forward guide to the best vegetarian and vegan restaurants in Singapore.
Vegetarian Restaurants in Singapore 
Original Sin


Despite the name, there's nothing sinful on the menu of this Holland Village gem. Named after Michelangelo's famous fresco, Original Sin serves up artful vegetarian plates with unique Mediterranean and Middle Eastern touches. Indulge in the Spanakopita (S$29), a fusional mix of vegetable ratatouille and filo pastry, or get tipsy on the Absolut Pasta (S$28), a penne pasta flamed with Absolut vodka. Many dishes can also be prepared vegan or gluten-free – just give your friendly servers a heads-up about what you'll need.

Original Sin is located at Blk 43 #01-62 Jalan Merah Saga, Singapore 278115, p. +65 6475 5605. Open Mon-Sun 11.30am–2.30pm, 6pm–10.30pm.
Sufood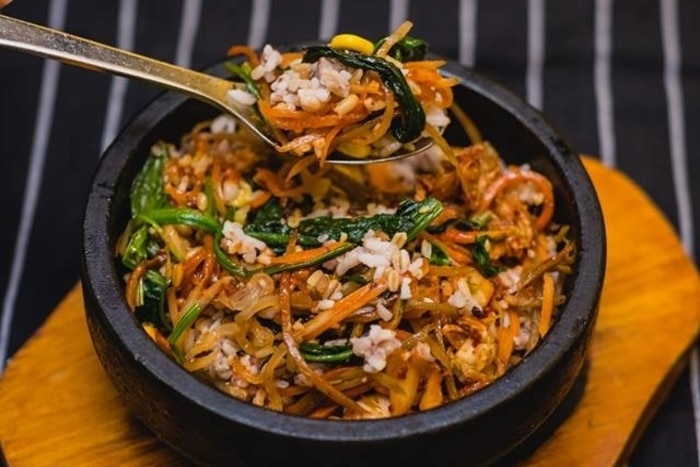 One of the peskiest myths that vegetarians face is how we don't get enough protein, and that's a myth that Sufood is keen to bust. Its Italian-inspired menu focuses on protein-rich, nutrient-dense foods like potatoes and macademias, transforming them into power-packed creations.  An indulgent 5 Grain Rice with Black Truffle & Mushroom or some Cheesy Pita Pockets with Potatoes & Carrot Curry are sure to keep you going for hours.
Sufood is located in #02-19 Raffles City Shopping Centre, 252 North Bridge Rd, Singapore 179103, p. +65 6333 5338. Open daily 11.30am–3pm and 5.30pm–10pm.
Artemis Grill & Sky Bar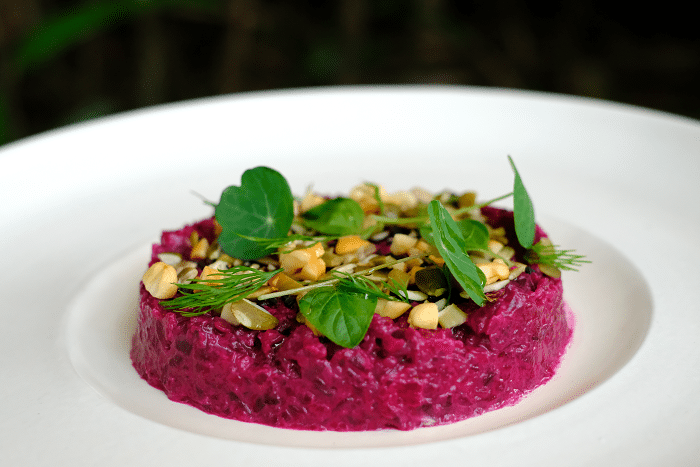 Whether you're a gentle green soul or hot-blooded carnivore, everyone appreciates a good char on their food. At Artemis' Sky Lounge at Market Street's CapitaGreen skyscraper, you get just that: the immense menu comes loaded with vegetarian options (and even a separate vegan menu). Get in on the action with Roasted Squash (S$32++) with seaweed, miso, and pecan nuts, and finish off with a sweet Trio Of Sorbets (S$16++): coconut, apricot, and lemon basil dressed with an assortment of fresh berries.
Artemis Grill & Sky Bar is located at 138 Market St, #40-01 CapitaGreen, Singapore 048946, p. +65 6635 8677. Opens Mon-Wed 11.30am-11pm, Thu-Fri 11.30am-12am, Sat 5.30pm-12am. 
Annalakshmi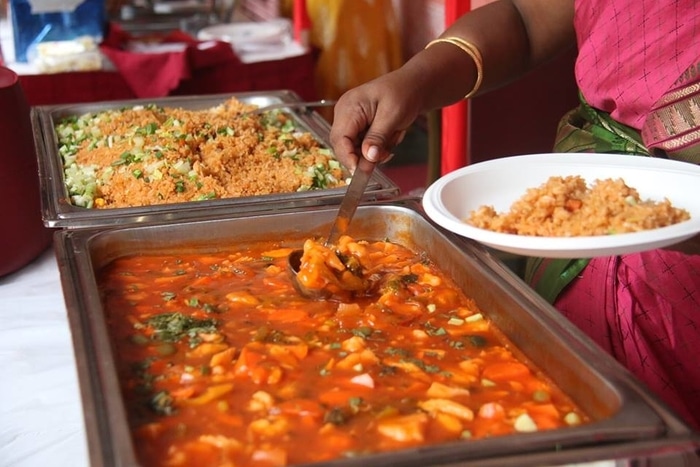 This Indian vegetarian gem is run on a unique concept: pay as you wish. Mostly run by passionate volunteers, Annalakshmi has neither fixed menu nor price – you serve yourself from a mouthwatering buffet spread and pay the amount you care to. Of course, it's more than worth opening your pockets for their fluffy basmati rice, crispy dosa, and refreshing lassi. All that, plus a cosy ambiance and the chefs' heartwarming generosity? Priceless.
Annalakshmi has two outlets in Havelock Road and Amoy Street. Annalakshmi (Havelock) is located at 20 Havelock Rd, #01-04 Central Square, Singapore 059765, p. +65 6339 9993. Open daily 11am–3pm and 6.15pm–9.30pm. 
Annalakshmi Janatha is located at 104 Amoy St, Singapore 069924, p. +65 6223 0809. Open Mon-Sat 11am–3pm. Closed Sun.
The Boneless Kitchen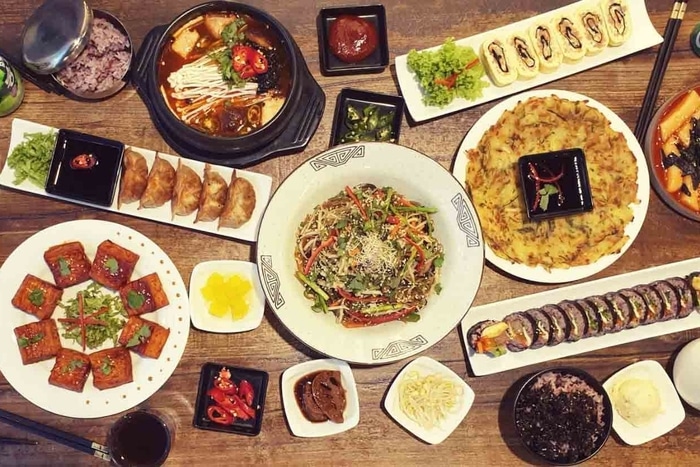 Rediscover your favourite Korean dishes in vegetarian form over at The Boneless Kitchen. This homely eatery makes its own sauces from scratch, ensuring that they're completely free of meat, seafood, and alliums. Stew lovers can slurp their fill of the Kimchi Jjigae (packed with enoki, radish, and seaweed) or the Korean Army Stew, while the Kimchi Pancake and Soybean Paste Hotpot are great for sharing.
The Boneless Kitchen is located at 1 Irving Place #01-31, The Commerze @ Irving, p. +65 8457 6464. Open daily 12pm–9pm.
Elemen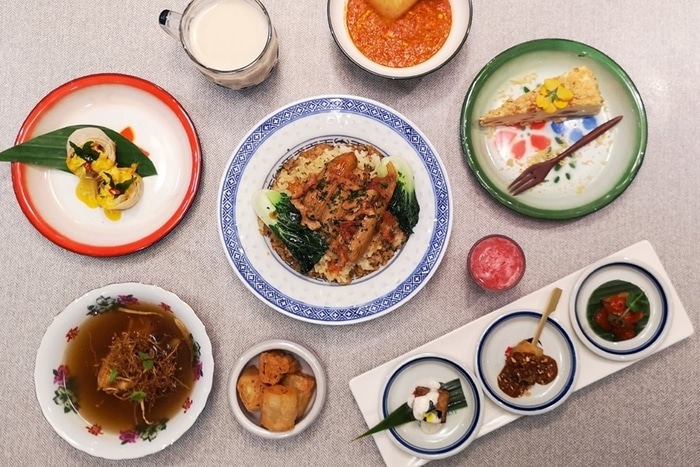 Where else would you find udon, ee fu noodles, curry with roti, and calzone pizza all in one menu? Elemen brings together a daring assortment of Asian and Western fare under one vegetarian flag, with options to satisfy every meatless craving.  The Sizzling Quinoa Brown Rice (S$15.80) is a savoury winner, while the Tempura Tofu with Avocado Roll (S$15.80) is an inventive take on sushi.
Elemen has four outlets in Singapore, including Millenia Walk, Harbourfront Centre, and Paya Lebar Quarter. See here for more details.
Vegan Restaurants in Singapore
Afterglow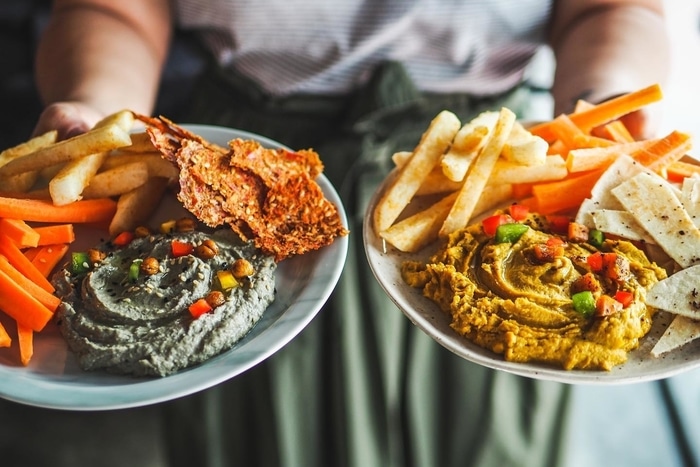 This Keong Saik eatery is bringing sexy back to veggies with its colourful creations, made using locally-sourced and eco-friendly ingredients. Its gluten-free, dairy-free cuisine draws inspiration from an eclectic mix of cultures – from Afterglow Kimchi Avo Rolls (S$14) made with almond sushi 'rice' to 'Mac and Cheese' Cauli Bites (S$10) slathered with cashew 'cheese' sauce. There're plenty of keto-friendly options as well, such as the signature Raw Pizza (S$22) – a pizza crust ingeniously made from gluten-free oats and topped with seasonal veggies.

Afterglow is located at 24 Keong Saik Rd, p. +65 6224 8921. Open Mon-Sat 12pm– 10.30pm. Closed Sun.
nomVnom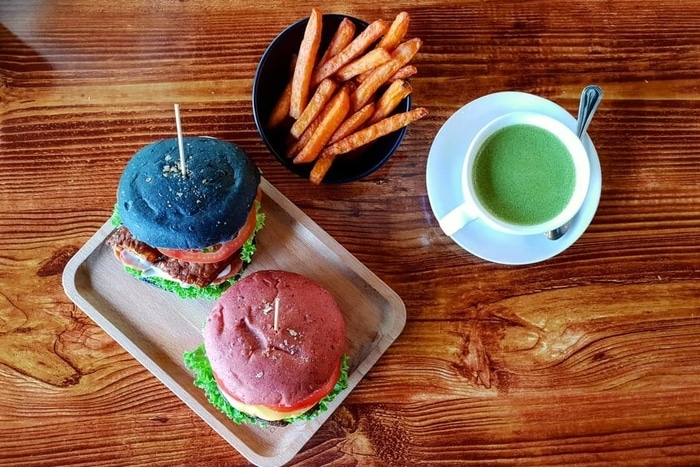 Who says fast food can't be healthy? Vegan burger joint nomVnom provides tantalising 'fast food' to feed your clean cravings, with burger buns homemade from all-natural ingredients and patties crafted from plant bases like soy, potato, or mushroom. And yes, you can still have your side of fries – nomVnom offers no less than three wholesome types of sweet potato fries, along with Yam Fries with Date Dip (S$6.50)
nomVnom is located at 6 Eu Tong Sen St #03-105, Singapore 059817 & 18 Tai Seng St, #B1-02, Singapore 539775, p. +65 6224 4996 and +65 6384 9678 respectively. Open daily 11am–10pm (Eu Tong Sen), daily 9am–9pm (Tai Seng).
Whole Earth

A proud awardee of the Michelin Bib Gourmand, Whole Earth also bears the distinction of being Singapore's first and only Peranakan-Thai vegetarian restaurant. Signatures here include the XO Rice, which has all the spice of traditional XO sauce with none of the seafood, and the Handmade Yam Treasure Ring, a treasure trove of healthy greens like lily bulbs and celery.
Whole Earth is located at 76 Peck Seah St, Singapore 079331, p. +65 6221 6583. Open daily 11.30am–3pm and 5.30pm–10pm.
Teng Bespoke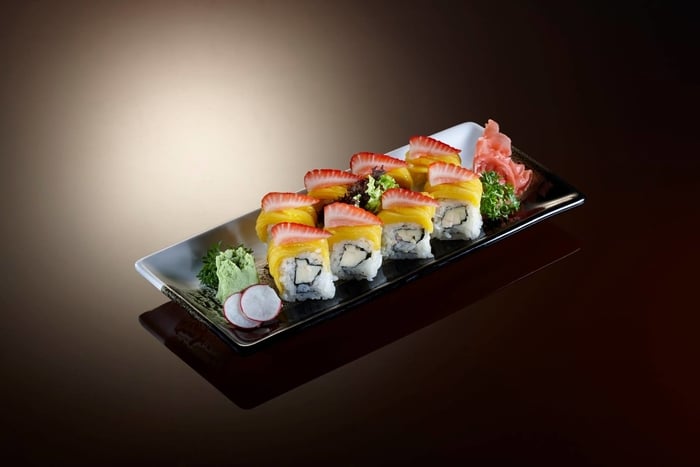 If you can't give up your sushi and sashimi, Teng Bespoke has just the vegetarian fix for you. This Japanese restaurant does a mock meat 5-Kind Sashimi Set with all the freshness and chewiness of the real thing, along with Japanese Gyoza dumplings filled with springy mushrooms. Star sushi options include the Avocado Maki, a delectable mouthful of creamy avocado overlaid on mock prawn.
Teng Bespoke is located at 91 Bencoolen Street, #01-50 Sunshine Plaza, Singapore 189652, p. +65 6337 7050. Open Mon-Fri 11.30am–3pm and 5.30pm–10pm, Sat-Sun 11.30am–10pm.
VeganBurg

Meatless doesn't mean tasteless, as VeganBurg is out to prove. This San Francisco-based chain brings to Singapore its signature organic buns and soy-based patties, way juicier and more succulent than the stuff you'd get at McDonalds. Get your comfort food fix with hearty burgers like Char-Grilled Satay and Hawaiian Teriyaki, and make it a meal with a side of Shrooms Pops or Creamy Garlic Fries.
VeganBurg is located at 44 Jalan Eunos, Singapore 419502, p. +65 6844 6868. Open daily 11.30am–10pm.
Smoocht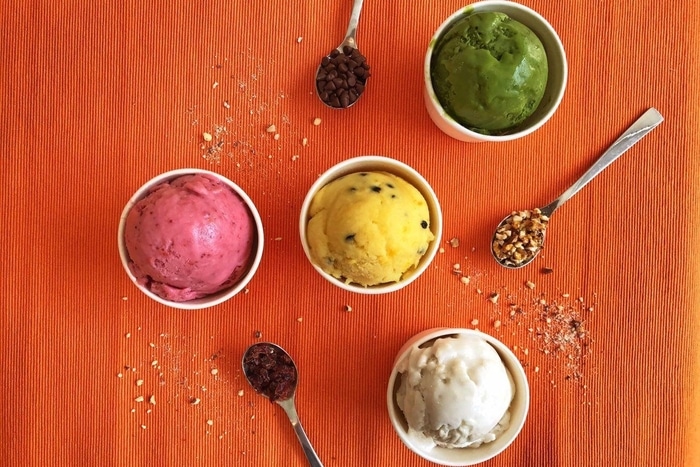 Run by the folks behind Brownice, Smoocht offers scoops of vegan ice-cream goodness. Their creamy treats contain less than 5% fat, thanks to being handcrafted from organic crystal brown rice, evaporated sugar cane juice, and real fruit. Indulge in classic flavours like matcha and earl grey, or stuff yourself guilt-free with one of their ice-cream cakes.
Smoocht has two outlets in Singapore. Smoocht (Sin Ming) is located at 8 Sin Ming Road, #01-03 Sin Ming Centre, Singapore 575628, p. +65 6456 6431. Open Mon-Thurs & Sat 12pm–10pm, Fri-Sat 12pm–10.30pm.
Smoocht (Jurong East) is located at 319 Jurong East Street 31 #01-58, Singapore 600319, +65 6266 6591. Open Mon-Thurs & Sat 12pm–9pm, Fri-Sat 12pm–9.30pm.
Vegetarian-Friendly Restaurants in Singapore
The Botanic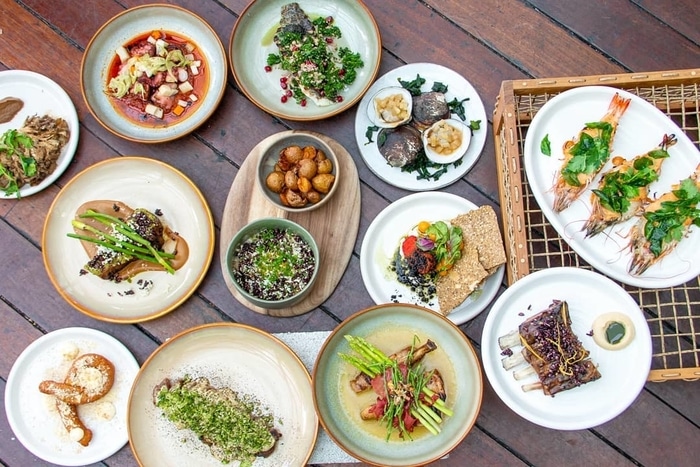 This elegant, light-filled restaurant welcomes diners of all tastes, be you vegan, vegetarian, or pescatarian. The Botanic is committed to sourcing for organic, sustainable produce, which wind up in delicious fusional creations on your plate. Feast on the Smoked Eggplant (S$20) dressed with black bean sauce and curry leaf, or bite into some Ricotta Dumplings (S$25) and enjoy a burst of pomelo and pumpkin seed miso in your mouth. Check out our review here.
The Botanic is located in #01-22A Raffles City Shopping Centre, 252 North Bridge Rd, Singapore 179103, p. +65 9827 0131. Open Sun-Wed 11.30am–11pm, Thurs-Sat 11.30am–11.30pm.

The Garden Club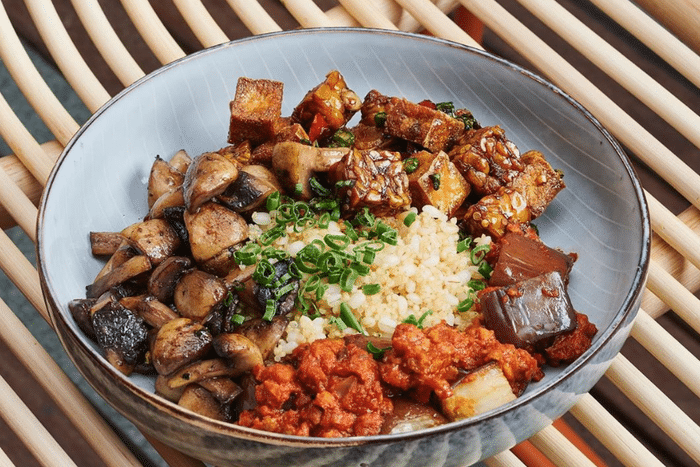 This CBD rooftop escape is the perfect spot for a plant-based lunch or after-work drinks. Set atop OUE Downtown Gallery, The Garden Club offers a vegetable-forward menu of hearty mains like the Vegetable Ragu Fettucine (S$15) and Quinoa Porridge with Grilled Butternut (S$12), along with quick-serve salad bowls for those in a hurry. By night, hit up this breezy terrace for cocktails and healthful bar snacks.
The Garden Club is located at 6A Shenton Way, OUE Downtown Gallery #05-01, Singapore 068815, p. +65 6971 8265. Open Mon-Fri 10am–12am. Closed on weekends.

The Living Café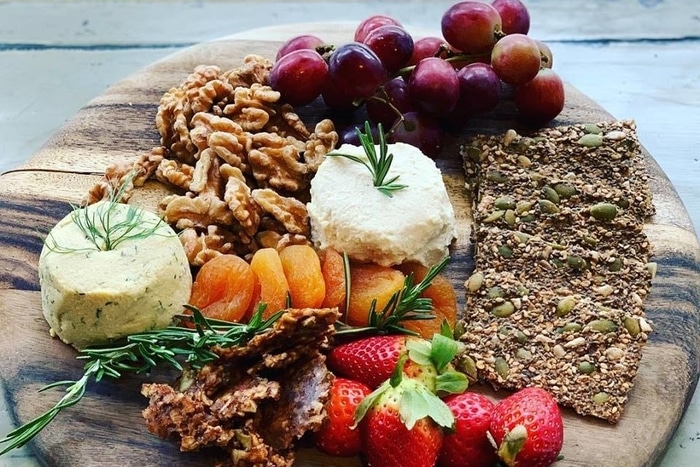 The brainchild of master nutritionist Dana Heather, The Living Café boasts raw food and dishes made with zero red meat, dairy, and refined sugar. Give your body some TLC with nourishing grub like the Sesame Crusted Organic Tofu Burger ($18) and the Zucchini Lasagne ($16.50), an aromatic affair of taco 'meat', macadamia cheese, and creamy cashew mayo. Those with alternative dietary restrictions are also welcome – the menu features gluten-free bread and nut-free options.
The Living Café is located at 779 Bukit Timah Rd, Singapore 269758, p. +65 6468 4482. Open Mon-Tues 10am–7pm, Wed-Fri 10am–8pm, Sat-Sun 9am–8pm.
Pollen

Nestled in a lush corner of Gardens by the Bay, Pollen serves up its own garden of beautifully plated greens with a French-Mediterranean focus. This elegant restaurant features dedicated vegetarian and vegan menus, along with plant-based 'stories' crafted around chef Steve Allen's culinary adventures. Let chef Allen regale you with Sea & Sand, an intriguing concoction of zucchini, seaweed, carrot, and fennel, or enjoy a hearty Pearl Barley Risotto over breathtaking views of the Marina Bay skyline. Check out our review here.

Pollen is located at the Flower Dome, #01-09 Gardens by the Bay, 18 Marina Gardens Dr, Singapore 018953, p. +65 6604 9988. Open Wed-Mon 12pm–2.30pm, 6pm–9.30pm. Closed Tues.
Moosehead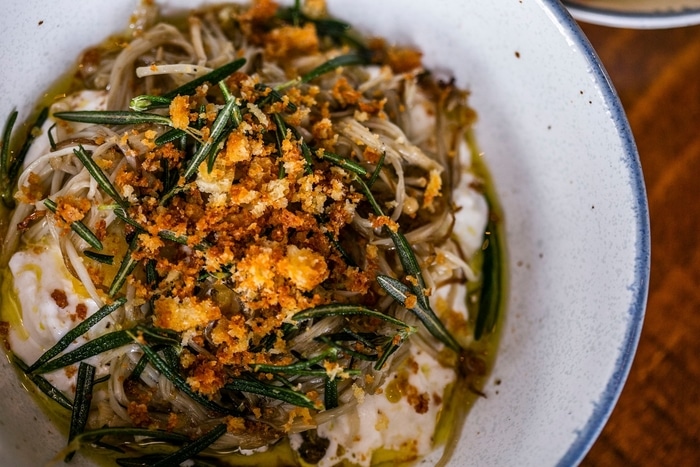 Moosehead Kitchen-Bar describes itself modestly as 'elevated street food', and it shines with its unpretentious yet creative fare. The Middle Eastern-inspired menu has vegetarian-friendly dishes aplenty, from a meze board (S$24) with olives, feta, and flatbread, to the Pumpkin Ravioli ($18) jazzed up with Greek yoghurt and burnt butter. Check out our review here.

Moosehead Kitchen & Bar is located at 110 Telok Ayer Street, Singapore 068579, p. +65 6636 8055. Open Mon-Sat 11.30am–2.30pm and 6pm–10.30pm. Closed Sun.
Verde Kitchen

Hilton Singapore's Verde Kitchen is keeping the healthy food trend strong with a top-notch array of gluten-free, vegetarian, and raw food options. 98% of its menu items are made from scratch with locally sourced ingredients, including greens from the hotel's own Vertical Garden – so you know everything is as fresh as it gets. With their unique Impossible meat creations, such as Thai Basil Impossible™ Meat Balls (S$26) or Impossible™ Meat Rissoles Pasta (S$26) made with gluten-free corn fusilli, you won't even have to give up your meaty fix.
Verde Kitchen is located at L2 Hilton Singapore, 581 Orchard Rd, Singapore 238883, p. +65 6730 3397. Open Mon-Sat 10.3am–4.30pm (only desserts and drinks served from 2.30pm onwards.) Closed Sun.
Humpback
Humpback is beloved for its sumptuous oysters and tasty cocktails, but it boasts a spread of equally scrumptious vegetarian nosh. Pair your tipple with something fresh from the 'Garden' section of the menu, featuring plates like Caramelised Cauliflower ($17) tossed with brown butter, and Burrata ($20) with sourdough and pine nuts. Check out our review here.

Humpback is located at 20 Bukit Pasoh Rd, p. +65 9772 9896. Open Mon-Thurs 5pm–11pm, Fri 3pm–11pm, Sat 12pm–11pm, Sun 12pm–5pm.
Bees' Knees @ The Garage
Set within Singapore Botanic Gardens, Bees' Knees is an eden of lush scenery and chill vibes. Refuel yourself after a Gardens stroll with the refreshing Veggie Goat Salad (S$16) – a nutritious medley of quinoa, caramelised goat's cheese, and roasted pumpkin – or the Shrooms Pizza (S$25), a mushroom lover's heaven of truffle bechamel and sautéed mushrooms. Good news for keto fans: gluten-free spaghetti and no-carb salad options are also available upon request. Check out our review here.

The Bee's Knees is located at 50 Cluny Park Rd, Singapore 257488, p. +65 9815 3213. Open daily 8am–10pm.
Top Image: The Living Cafe