Vegetarian Fine Dining Makes an Entrance at Joie by DOZO: Review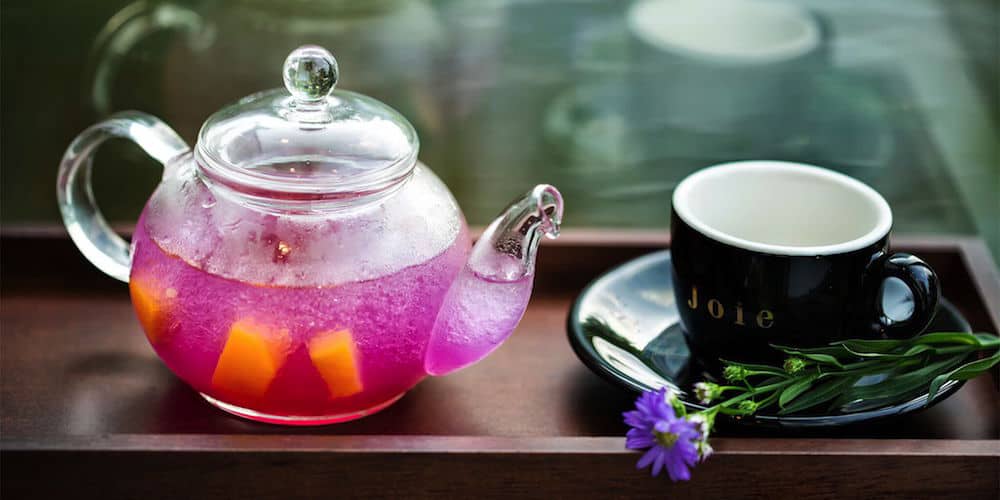 PUBLISHED September 30th, 2015 05:06 pm | UPDATED June 2nd, 2020 04:15 pm
Vegetarian? Fine dining? Yes, that's right. Located at the upper most region of Orchard Central, Joie by DOZO dubs itself as a 'meatless' restaurant.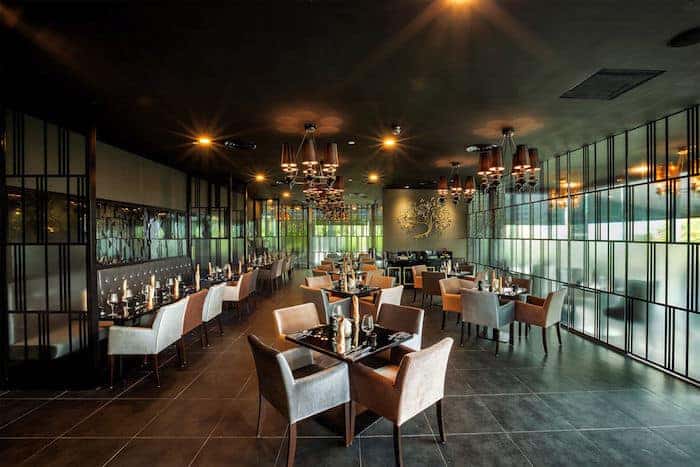 Interior of Joie by DOZO
Whilst vegan, non-GMO, vegetarian, gluten-free yadda yadda restaurants have swept most of the Western world's culinary scene, with more and more diners being both health conscious and 'morally aware' of the food industry in general, Singapore, for all its culinary genius and progress has sadly fell behind in this area. Vegetarians restaurants are often relegated to the Chinese Buddhist types with perhaps a few expections around the island (Teng's Japanese at Sunshine Plaza and Original Sin in Holland Village come to mind). With that, Joie stands out as a very, very unique concept.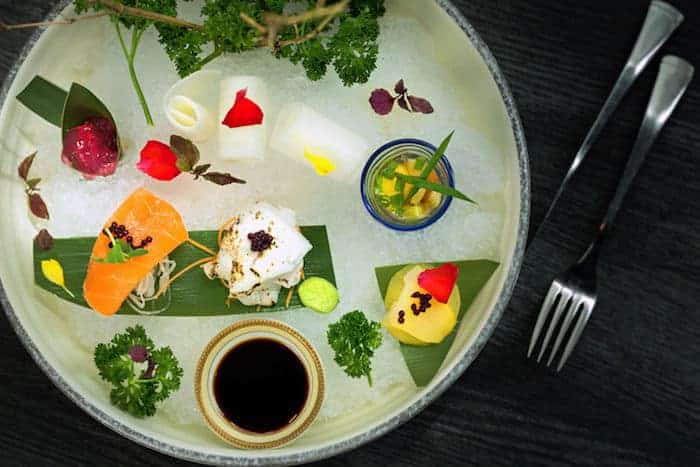 Vegetable Sashimi at Joie by DOZO
So what can you expect at Joie? The interior is quite grand with heavy leather chairs, large tables, and a few sections for private dining, giving it a rather 'posh' feel. The food itself follows a similar line with Joie serving up a dishes which fuse Japanese, Chinese, and Western inspirations. An example of this can be seen glaringly in my first course, a round of the Chef's Selections including a piece of carrot that was magically transformed to resemble salmon sashimi and a mushroom embedded on to a seaweed cracked that distinctly resembled an oyster. Visually very cool, and the taste was above average.

Tartare Platter Au Naturel at Joie by DOZO
The second course kept up appearances with the black charred Tempura Platter on Mash, served with a sour sesame sauce.
The following Tartare Platter Au Naturel course, while inventive and a beautiful flurry of colours was sadly unimpressive, as was the Snow pear and Nappa cabbage consumme, which didn't really deliver despite the flavourful broth. Having said that, the other soups ordered to our table looked quite fabulous.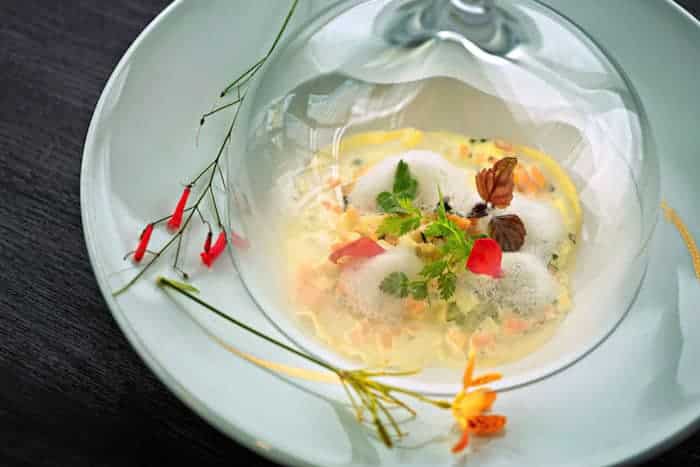 Duo Ravioli Platter at Joie by DOZO
Nonetheless, the main events definitely punched above their weight. The Duo Ravioli Platter was delicious, despite looking more wontons than ravioli. The two large morsels were coated in a light creamy that offered richness without flamboyance. The Grilled Bai-ling Mushroom Steak was another great dish. Served sizzling on a stone, the zen presentation is only matched by its flavour.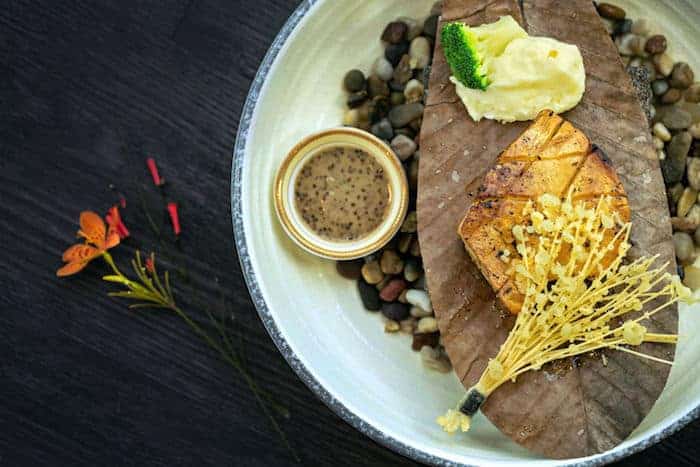 Grilled Bai-ling Mushroom Steak
For a sweet finish, Joie offers a classic selection of Cheese cake, Crème brûlée or Chocolate cake. All of which make for a pleasant ending to the meal, but don't expect any fireworks on your palate.
Whilst Joie has its hits and misses menu-wise, the concept is strong and I suspect that it will be able to draw a mixed crowd of curious foodies, vegetarians or both! On a final note, the six-course lunch and seven-course menus are priced at $38.80++ and $68.80++ making it a very affordable dining experience worthy of experimentation.