Where To Find The Best Lobster Rolls in Singapore All Year Round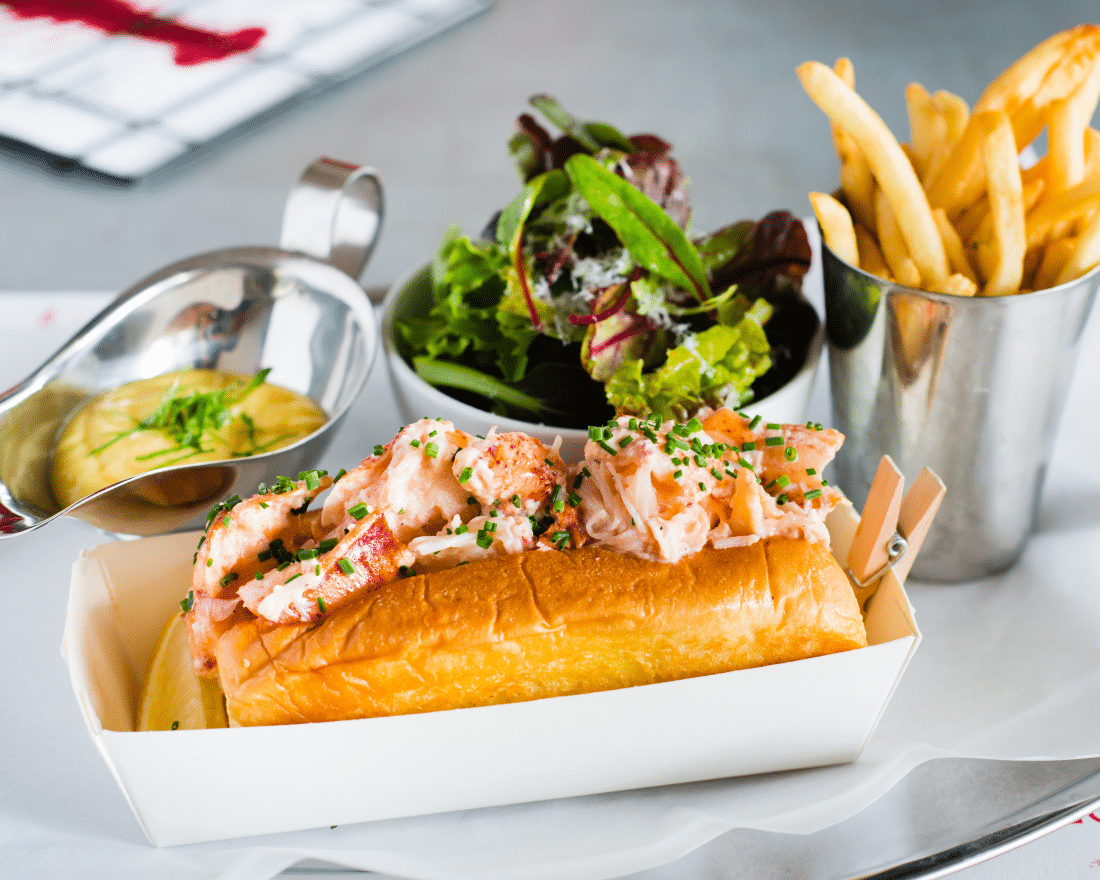 PUBLISHED October 18th, 2018 07:00 am
Let's be real: lobster rolls in Singapore cost a lot of money, and that means there's no room for sub-standard ingredients or lousily-prepared crustaceans. And regardless of which style of lobster rolls you prefer – from the mayo-laden New England-type buns to something more exotic – there's no denying we got the very best versions in town on this list.
Pince & Pints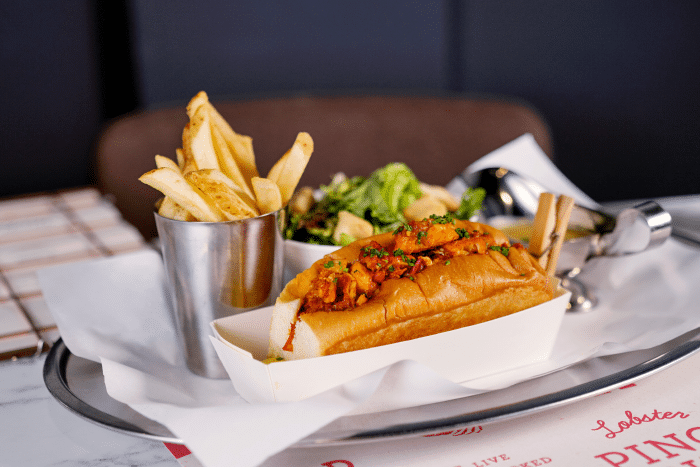 One of the first restaurants to bring the lobster roll to Singapore years ago, Pince & Pints sources its fabulous lobsters from the Atlantic Coast. Each bite is full of fresh, chunky meat (from live lobsters) and fluffy brioche bun, which justifies the somewhat higher prices. Now, they've created signature flavours like Truffle Lobster Roll ($68) with freshly shaved black truffles and Nonya Chilli Lobster Roll ($58), a fragrant and fiery creation inspired by the rich Peranakan food culture. Want something more unique? The Wasabi Lobster Roll ($58) balances the mild kick of wasabi with the meat's natural sweetness.
(Duxton)
(Katong)
Pince & Pints is located at 32-33 Duxton Rd and 95 East Coast Rd (Katong). See here for full outlet details.
Humpback

The freshest seafood offerings can be found at Humpback, and the lobsters are no different. Found on both their a la carte and new Sunday brunch menu, their delicious Lobster Roll ($45) is generously topped with flying fish roe (tobiko) and served with yellow frisee salad and crunchy fries on the side. You might even like to get some oysters (half price during happy hour!) or a white spirit cocktail to go along with all that goodness. Read our review here.

Humpback is located at Humpback is located at 20 Bukit Pasoh Rd, Singapore 089834, p. +65 9772 9896. Open Mon-Thu 5pm – 11pm, Fri-Sat 12pm – 11pm, Sun 11am – 3pm.
db Bistro & Oyster Bar

Oysters may be the star at this award-winning restaurant by Daniel Boulud, but in our experience, its Maine Lobster Roll ($42) cuts pretty close. Known for mixing traditional French bistro techniques with contemporary American flavours, this glorious roll in particular features perfectly toasted brioche roll (baked in house, of course) and a harmonious salad of fresh Maine lobster meat, avocado chunks, chilli, and celery.

db Bistro & Oyster Bar is located at 2 Bayfront Ave, B1-48, Galleria Level, The Shoppes at Marina Bay Sands, Singapore 018956. Open Tue-Fri 12pm – 11pm, Mon 12pm – 10pm, Sat 11am – 11pm, Sun 11am – 10pm.
The Market Grill

A Lobster Roll at this fun joint features a whopping 500 grams of juicy lobster meat packed in a warm, buttery brioche bun with light herb mayonnaise sauce. Rich and aplenty, The Market Grill's lobsters are first grilled for maximum flavour on a specially-imported Wood Stone charbroiler — the same one used to cook their best-selling beef patties. And at $48, we can only say: how absolutely worth it.

The Market Grill is located at 208 Telok Ayer St, Singapore 068642, p. +65 6221 3323. Open Mon-Wed, Fri-Sat 11.30am – 2.30pm, 5.30pm – 10pm, Thu 11.30am – 2.30pm, 6pm – 10pm. Closed Sun.
Chunky Lobsters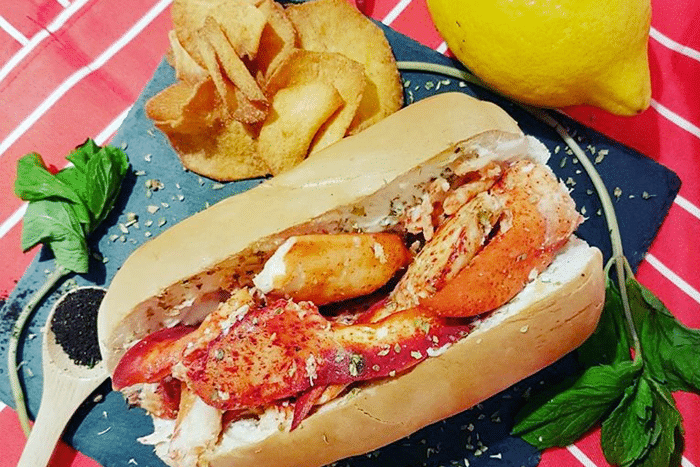 Can't believe that you can get affordable lobster rolls in the CBD? Well, Chunky Lobsters is more of a takeaway kiosk than a restaurant, but with rolls going at a mere $16, we're not complaining. There are three styles: Original (herb lemon butter and mayo) Connecticut (simply melted butter, for purists), and Cheezy served in a soft buttered bun – nothing too fancy. Just tasty snack-sized portions with a decent amount of succulent Canadian lobster bits to satiate your cravings.
Chunky Lobsters is located at 138 Robinson Road #02-03, Oxley Tower, Singapore 068906. Open Mon-Fri 11am – 7.30pm. Closed weekends.
Adrift by David Myers
If you thought the rolls at Chunky Lobsters are cheap, you might go crazy for the $8 ones at Adrift by David Myers. But there's a catch: these are bite-sized starters that you eat in a few seconds. Filled with wasabi mayo, togarashi, and shiso flowers, it's an unusual combination for sure, but so very tasty. We can almost guarantee you want to order more.

Adrift by David Myers is located at 10 Bayfront Ave, Hotel Lobby Tower 2, Marina Bay Sands, Singapore 018956, p. +65 6688 5657. Open daily 7am – 2am.
Anti:dote
Anti:dote is that stylish cocktail bar at City Hall where the concoctions are progressive and artistic as heck. Naturally, it extends to their lunch menu with an easy Lobster Roll ($28) that tastes as good as it looks. An entire claw of fresh Maine lobster draped with mayo and a bit of caviar, then served in a cool charcoal or multi-grain bun. Completing the magic: housemade potato chips!

Anti:dote is located at L1, Fairmont Singapore, 80 Bras Basah Rd, Singapore 189560, p. +65 6431 5315. Open Mon-Fri 12pm – 2.30pm.
Top Image: Pince & Pints