B Burger Singapore: The Latest Hangout for Burgers and Frozen Dessert in Orchard, Singapore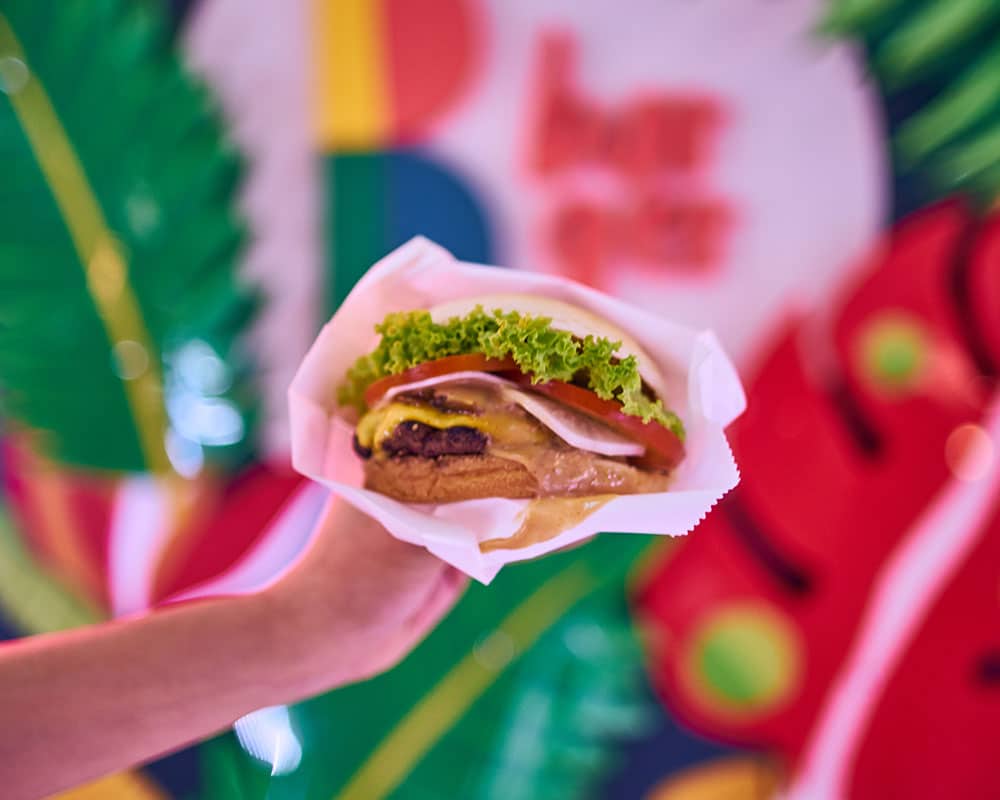 PUBLISHED December 30th, 2017 06:00 am | UPDATED March 14th, 2018 03:06 pm
Good burgers are difficult to come by. As such, the hunt for the best burger in our humble island goes on, but some restaurants we've visited do come pretty darn close, including this ground level spot in Cathay Cineleisure Orchard serving up the classic American patty-in-a-bun with some cleverly done Japanese twists.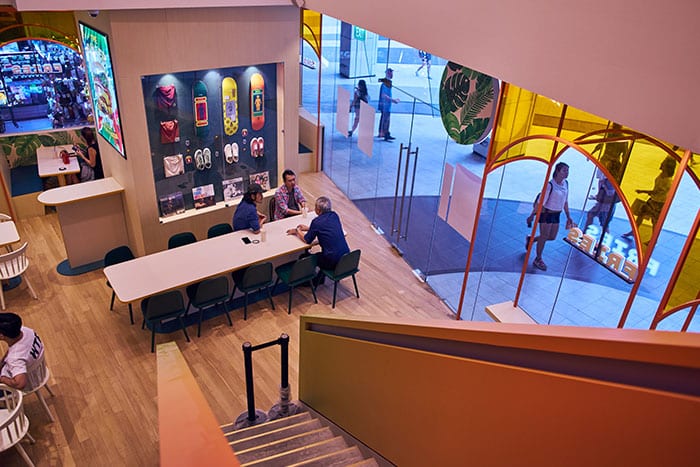 Fashioned to look like a contemporary American burger bar with a tropical vibe, B Burger is the second F&B concept under the Benjamin Barker Group, after café The Assembly Ground in The Cathay, and situated under the Benjamin Barker boutiques on level two and three with a staircase leading up. With palm tree-designed walls and a number of neon lights hung around the joint, it's the first place you see as you enter the mall, with large glass panels to peer in as you stroll by to check out the grub everyone else has bought. That's not to say there's no manner of privacy though – tables are comfortably spread apart enough to ensure conversations won't be overheard.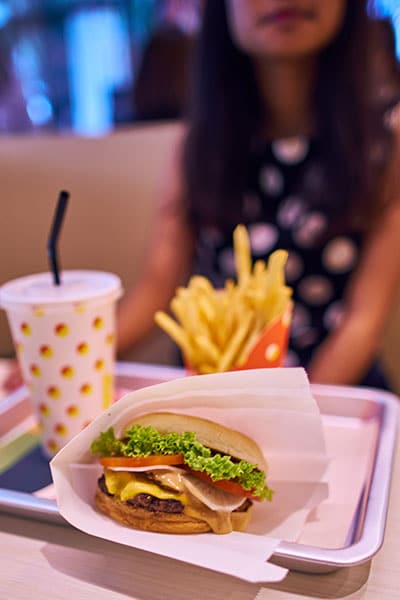 The offerings on the menu include the eponymous burgers, sides (with a 'premium' tag on some), as well as homemade concretes, a frozen dessert similar to ice cream that includes eggs in the churning process, made in-house. With thick, creamy milkshakes and other drinks available to wash grub down, we were definitely in for a treat when we dropped by B Burger in anticipation for lunch.
The B Supreme ($9.90) was a sumptuous combination of beef patty, sautéed mushrooms, aged cheddar and truffle mayonnaise. Unlike other burgers, the bun was soft and chewy, yet firm enough to hold all the ingredients within its confines and soak in the sauce. The beef patty was grilled to a well-charred crust, and slathered with savoury sautéed button mushrooms that was mouth-watering. A spread of truffle mayo on both halves of the bun meant every inch of the burger had just that bit of sauce to complement the patty.
For those preferring chicken with their bread, we recommend the Bomchika Wow Wow ($10.90), starring a Japanese-inspired chicken karaage in a charcoal bun. Put together with wafu slaw, daikon pickles and a fried egg, the sriracha honey and truffle mayonnaise meld together with both a sweet and savoury tang, with neither overwhelming the other. We were especially impressed with the daikon pickles, which worked similarly to the German sauerkraut that often comes with roast sausages or pork – as B Burger works towards halal certification, we figure the chicken makes a good substitute.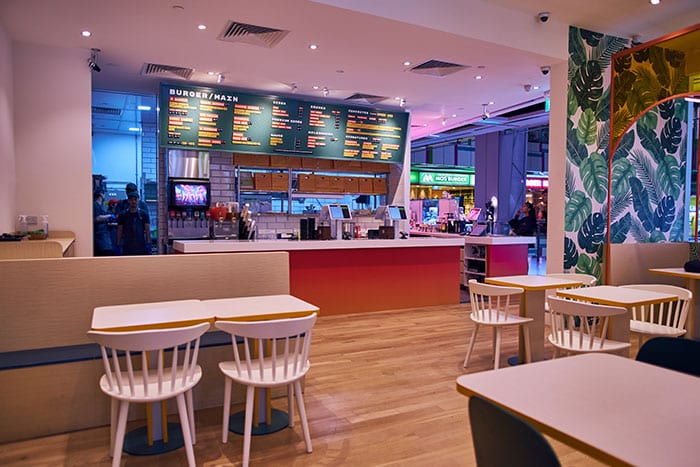 Our favourite sides were the Curry Beef Fries ($5) and Nacho Soup ($3). The Curry Beef Fries had a sweet spice found in Japanese-style curry, and the minced beef in the sauce were a great addition in texture to the crisp fries. Meanwhile, the Nacho Soup was a play on the nachos and cheese dip – the cheese was made into a soup and topped with nacho bits for crunch. Mix in some corn and a dash of Mexican tobasco sauce, and you have yourselves a treat. Top up $3.50 to get these sides and a soft drink with your burger!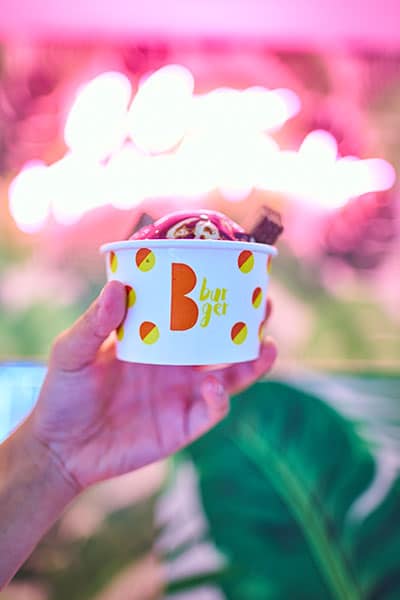 Save some space for the dessert concretes, created for sharing due to the density of the frozen custard and amount of toppings. While you can customise your own, the signatures featured some of the best combinations you could get with the toppings on offer. Death by Chocolate ($7.50) was a decadent serving of chocolate frozen custard, oreos, hersheys, chocolate wafers with a sprinkle of sea salt – the chocolate cream was thick and rich, and the best bet for chocolate lovers. For something a tad lighter but no less creamy, try the Camp Fire ($7.50), which featured vanilla concrete, speculoos bits, chocolate and a few toasted marshmallows to give this mix its name. The sweet vanilla and crumbly speculoos bits combined well with the soft marshmallows and spelt a sweet end to the satisfying meal.
A great space to hang out in town, B Burger resonates with youth and the young at heart, and could be the reason that crowds return to Cathay Cineleisure Orchard, which has seen a quiet spell among compared to the other malls in Somerset. Even if you're not in the area or seldom pass by, check it out if you're a fan of good grub – after all, who doesn't love a burger done right?
B Burger is located at 8 Grange Road, #01-01/02 Cathay Cineleisure Orchard, Singapore 239695. Opens daily 12pm – 10pm.