Bali's Best Restaurant And Bar Openings Of 2019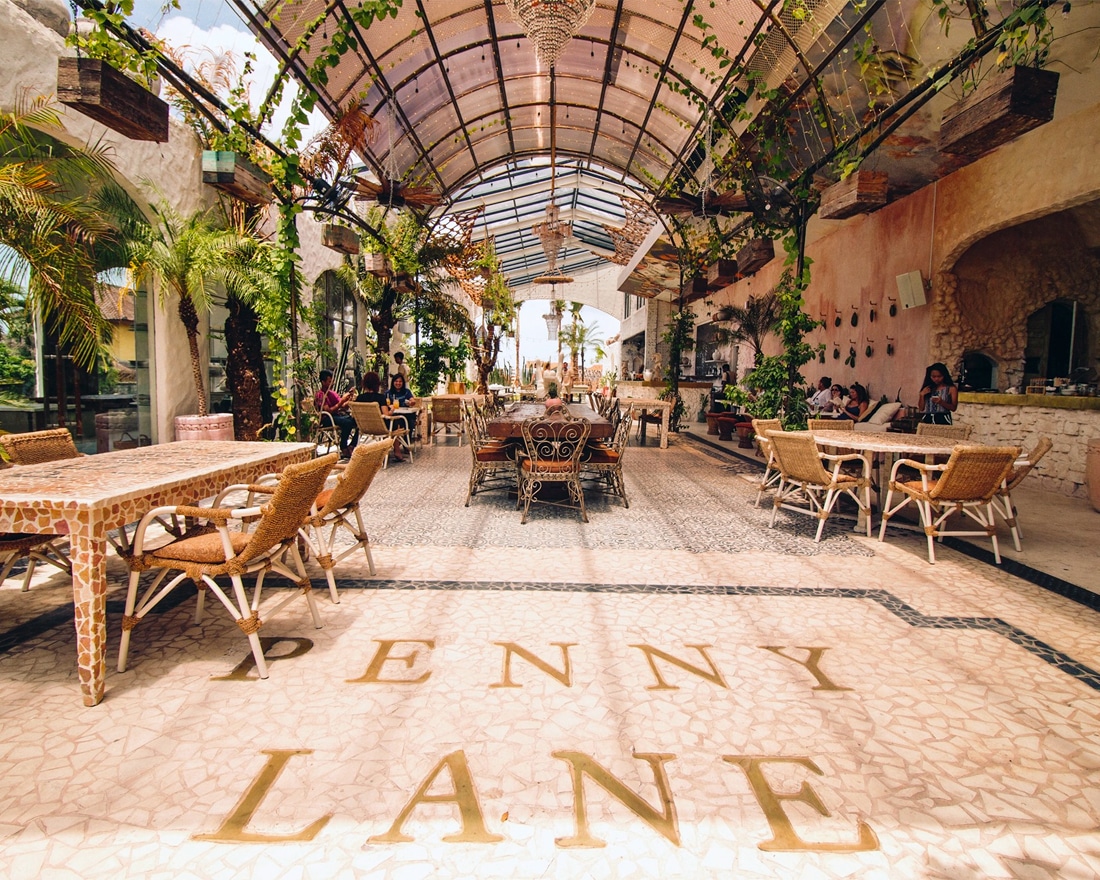 PUBLISHED December 18th, 2019 02:10 pm | UPDATED May 18th, 2020 07:14 pm
Is Bali the food capital of Indonesia? It might just be the case, since the island paradise sees one of the most diverse makeup of nationalities and cultures in the country. Of course, that applies to the culinary scene as well, and aren't we happy for it! This year sees a bumper crop of new restaurants and bars joining the fray, and if you're wondering which to check out, you've come to the right place. Here are our choice picks of Bali's best openings of 2019.
[button color="blue" size="normal" alignment="none" rel="follow" openin="samewindow" url="http://www.tkqlhce.com/click-9211920-13787505″]A hand selection of luxury Bali villas with customised personal service. Book now.[/button]
Kyoka, Ubud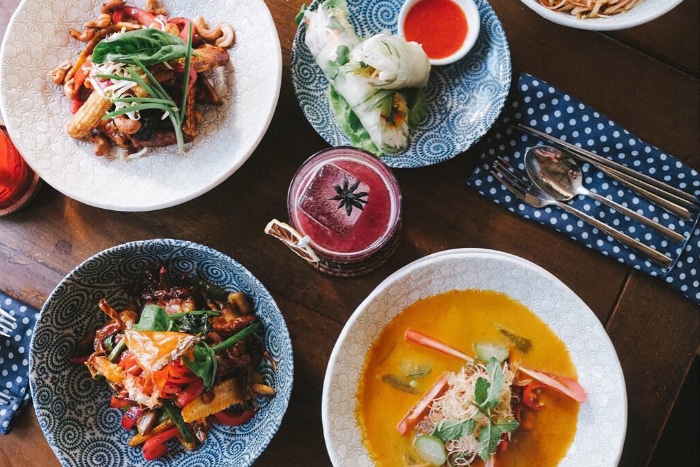 The sister restaurant to IBU SUSU, Kyoka first appeared in the charming locale of Dewi Sita Road in Ubud's centre earlier August. This Kyoto homestyle & modern Japanese diner showcases high-quality ramen and udon creations accompanied by just as stunning of a cocktail menu as IBU SUSU's – one of Ubud's hottest cocktail bars to date, with a cozy space and cool wall murals to boot. Make sure to try Kyoka's sake selection and Japanese whiskies, as well as cocktails like the Yuzu Mule, Sakura Tini with its green tea-infused vodka, and Ginger Geisha, featuring dry sake with clarified green tea punch.
Kyoka is located at Jl Dewisita, Ubud, Bali, +62 361 971056. Open daily 11am – 11.30pm.
Sama Bar & Kitchen, Canggu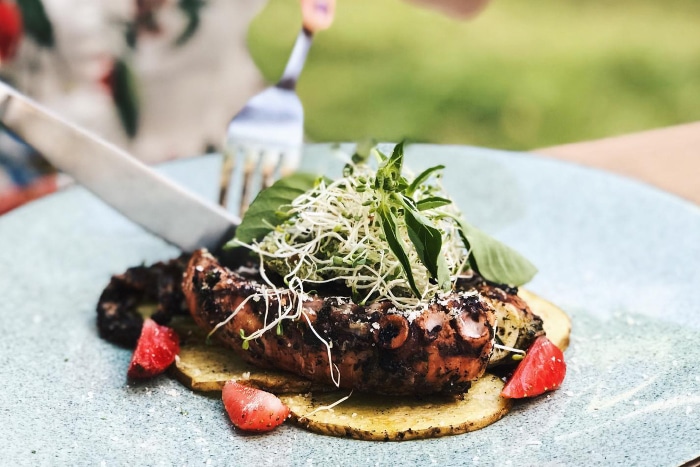 Here's one from Canggu's ever-growing repertoire of eateries and bars. This new spot in surf town lets you load on Chicken Pesto Sandwiches for breakfast, chow down on Pho Boy Fish Burgers for lunch, and binge on  cheap Sangrias on any day of the week. Sama Bar & Kitchen is the place you want to visit for straight-up comfort food with integrity, with great attention to the details, whether its pairing your chips with lemongrass tartar and wasabi mayo or a serving of rich curry on the side of your burger. Stay tuned on their social media pages for updates on weekly movie nights!
Sama Bar & Kitchen is located at Jl Pantai Batu Mejan No.72, Canggu, Bali, Open Sun-Thu 9am – 12am, Fri-Sat 9am – 1am.
Embers, Ubud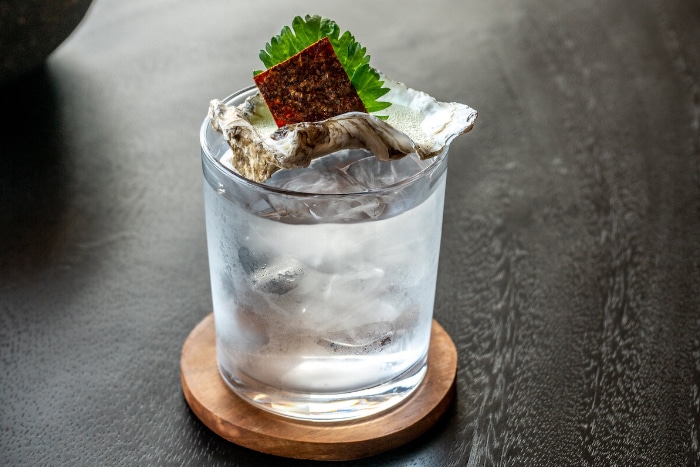 Looking at the food served at Embers, some things you imagine are sophistication, freshness, and tropical vibes. A homage to the flavours of Mediterranean cuisine, Embers also boasts an in-house organic farm called The Conservatory & Farm that sprouts fresh produce that are then handpicked and made into beautiful meals by the skilled kitchen team. Look out for bold Mediterranean flavours and a traditional take that's rustic yet simple. Meanwhile, their collection of drinks come inspired by the herbs, spices, fruits, and plants that once passed through the ancient trade routes, utilising age-old techniques while keeping the Balinese twist strong.
Embers is located at Bisma Eight, Jl Bisma No. 97, Ubud, Bali, p. +62 361 9088 888. Open daily 7am – 11pm.
Backyard Seminkak, Seminyak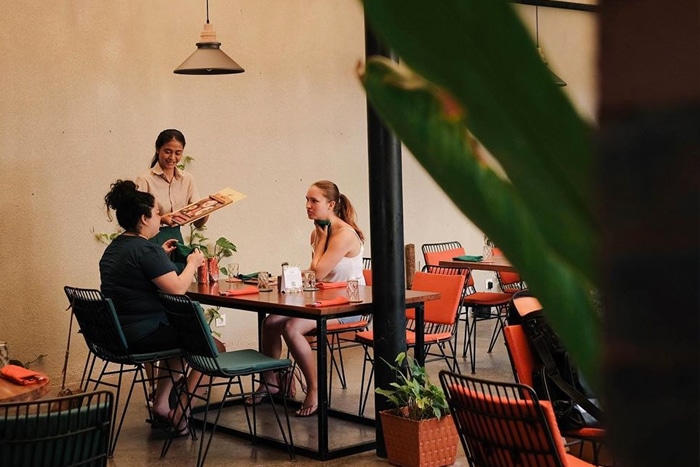 Make your way to this secret oasis in Camplung Tanduk and kick back to some pretty amazing food and cocktails. Inspired by the nostalgic backyard of every Indonesian's childhood home, The Backyard is an opportunity to for you to be yourself over a picture-perfect menu of modern fusion cuisine, from an Asian-style Prawn & Pomelo Salad with tamarillo dressing to their popular Filet Mignon served with Bordelaise sauce and cheesy mushrooms. Classic cocktails can be found in the dozens, but it's the signatures, like a Snake Fruit Mojito with housemade snakefruit jam, that you want to try.
Backyard Seminkak is located at Jl Camplung Tanduk No.15X, Seminyak, Bali, p. +62 898 3180 000. Open daily 11am – 12am.
Uni Restaurant & Bar, Berawa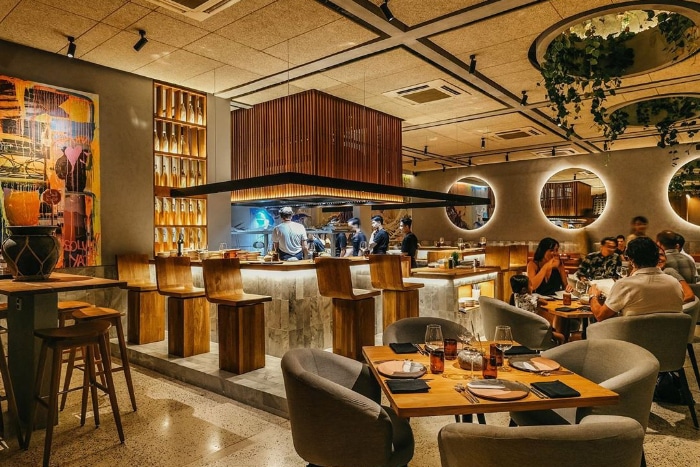 Industries veterans chef Steven Skelly and drinks guru Nicolas Lento has joined hands to open the modern fine diner Uni Restaurant in buzzing Berawa. And it's a very sophisticated and design-conscious place too. The Asian inspiration is obvious on the menu, and you can look forward to locally-sourced seafood and vegetables prepared with Japanese and French techniques, from a Seared Hamachi with seaweed salad and shallot dressing to Crispy-Skinned Sea Bream with wilted radicchio and agro dolce. Oh, and char siew lobster buns are always nice, best enjoyed with the experimental cocktails, natural wines, and even tea pairings on hand.
Uni Restaurant & Bar is located at Jl Pantai Berawa No. 99, Bali, p. +62 811 388 3371. Open daily 6pm – 10.30pm.
[button color="blue" size="normal" alignment="none" rel="follow" openin="samewindow" url="http://www.dpbolvw.net/click-9211920-13787533″]Book your luxury stay in Lombok with Elite Havens here[/button]
Penny Lane Bali, Canggu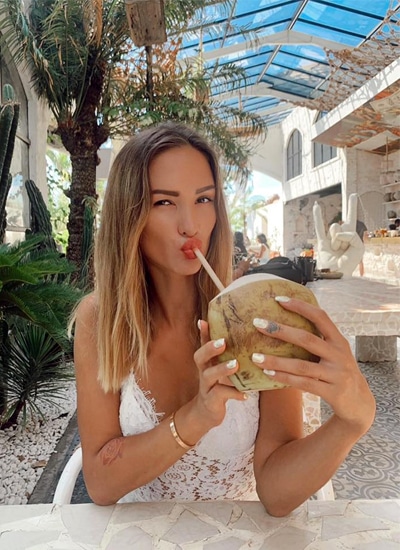 Think Santorini and Morocco with a little jungle twist: that's what walking into Penny Lane feels like. The bright, desert-inspired lush space gives a hint about the Mediterranean-influenced food menu here. From their big breakfast menu comes things like Shuksuka Baked Eggs, Popeye's Buttermilk Fried Chicken Burger, Smoothie Bowls, and even a DIY breakfast. As for mains, you can look forward to Mediterranean roast vegetables, Crispy Gnocchi & Burrata, and a heaping Greek Chicken Shared Plate. Their drinks menu is just as massive, with self-professed 'crazy shakes', kombucha, and novelty cocktails like Snickers Old Fashioned, Wu-Tang Whiskey Sour, and an Espresso Yo' Self Martini.
Penny Lane is located at Jl Munduk Catu, Canggu, Bali, p. +62 852 3877 7786. Open daily 8am – 12am.
Koral Restaurant, Nusa Dua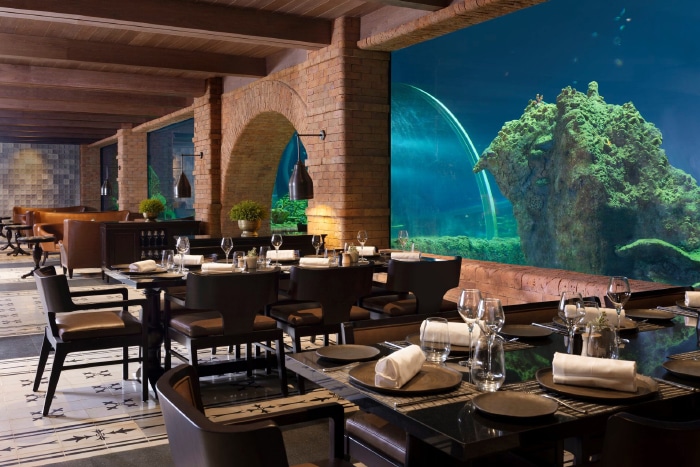 Bali's first aquatic dining experience is worth treating yourself to. Koral Restaurant, an 'underwater restaurant' situated within The Apura Kempinski Bali, features a selection of fresh-from-the-ocean dishes inspired by the archipelago's prized seafood. Grilled and barbecued seafood are dressed in elegance by the restaurant's Executive Chef Imam Fayumi, and must-tries include Tomatoes Bedugul (ripe tomato consommé with vegetables and mozzarella), and Stuffed Jumbo Prawn classically paired with spicy dabu-dabu salsa and gnocchi. Tables are tight, so make sure you make reservations at least 24 hours in advance!
Koral Restaurant is located at The Apurva Kempinski Bali, Jl Raya Nusa Dua Selatan, Sawangan, Nusa Dua, Bali, p. +62 361 209 2288. Open daily 6pm – 10.30pm.
Simply Social, Ubud
The chic, inviting interior and entrance stairway of Simply Social makes it possibly the most head-turning new spot in the heart of Ubud. Located along the main road of Ubud Raya, this is where you'd want to indulge in hearty brunch treats, Indonesian-inspired big platters to share, and a cheeky jumble of small bites. This makes Simply Social an absolutely perfect place to make that dinner party that you've been planning with friends happen. Aside from their outstanding breakfast dishes, some stars of the table would be the Kingfish Tartare, Crispy Pork and Prawn Salad, and a Beef Shin and Ricotta Ravioli. Stick around for signature cocktails such as the vodka-based Fairy Queen and the Arak-infused Small Island. Did we mention free coffee during breakfast hours this December?
Simply Social is located at Jl Raya Ubud No. 14, Ubud, Bali, p. +62 823 592 88889. Open daily 7.30am – 11pm.
555 Thai, Canggu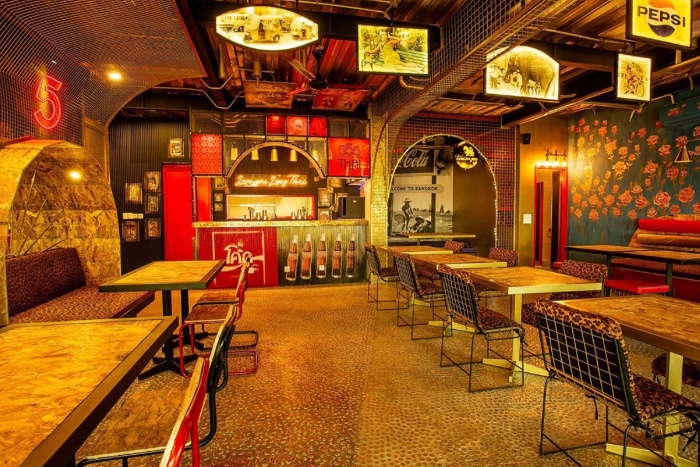 Wong Kar Wai fans will love this warm neon-lit restaurant for its intriguing decor and cinematic vibes, while Thai food lovers would like it simply for its specialty of authentic, home-style Thai fare. Get your palates ready for appetisers like Po Pia Tot (egg spring rolls) and Toong Tong ("pockets of gold" with chicken and garlic) along side an array of curries, soups, stir fries, and noodles. And it wouldn't be a complete Thai experience without some serious Thai-inspired cocktails. Choice picks from their beverage programme would be Ong Bak – spiced rum, Thai basil, ginger and elderflower – and the vodka-based cocktail that's been infused with tom yum soup, Tom Yummy.
555 Thai is located at Jl Raya Semat, Canggu, Bali, p. +62 878 8778 7555. Open daily 5pm – 10.30pm.
Current, Ubud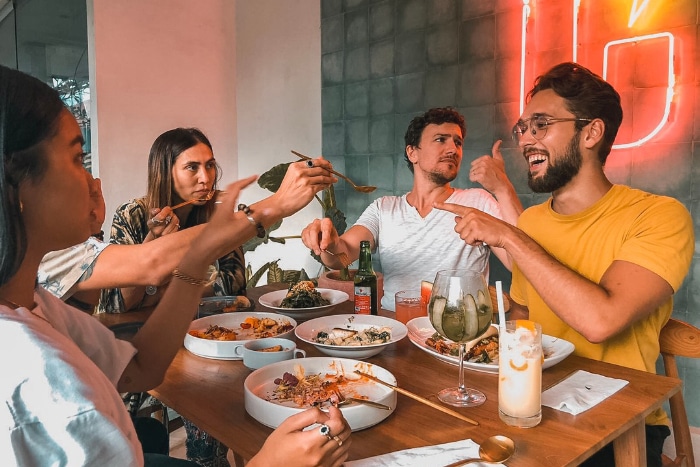 "That homey, pink-lit place that's always giving away whiffs of delicious something and a bar area that's always blasting good music" would be how we'd describe Current, the newly opened restaurant attached to Outpost Co-working Space and Villa in Ubud. They have some of the tastiest Smoothie Bowls, the fluffiest Baja-style Bao Buns to share, and the prettiest Gin & Tonic renditions. Current also serves Singaraja beer and sees a lineup of weekly musical acts by Bali-based musicians that tend to spark up the place every once in a while. This is also an excellent semi-open space for enjoying coffee and whiling your day away.
Current is located at Jl Nyuh Bojog, Mas, Ubud, Bali, p. +62 361 971377. Open daily 7.30am – 11pm.
Top Image: Penny Lane Bali