Sustainability in Singapore: Restaurants Leading the Zero-Waste and Farm-to-Table Revolution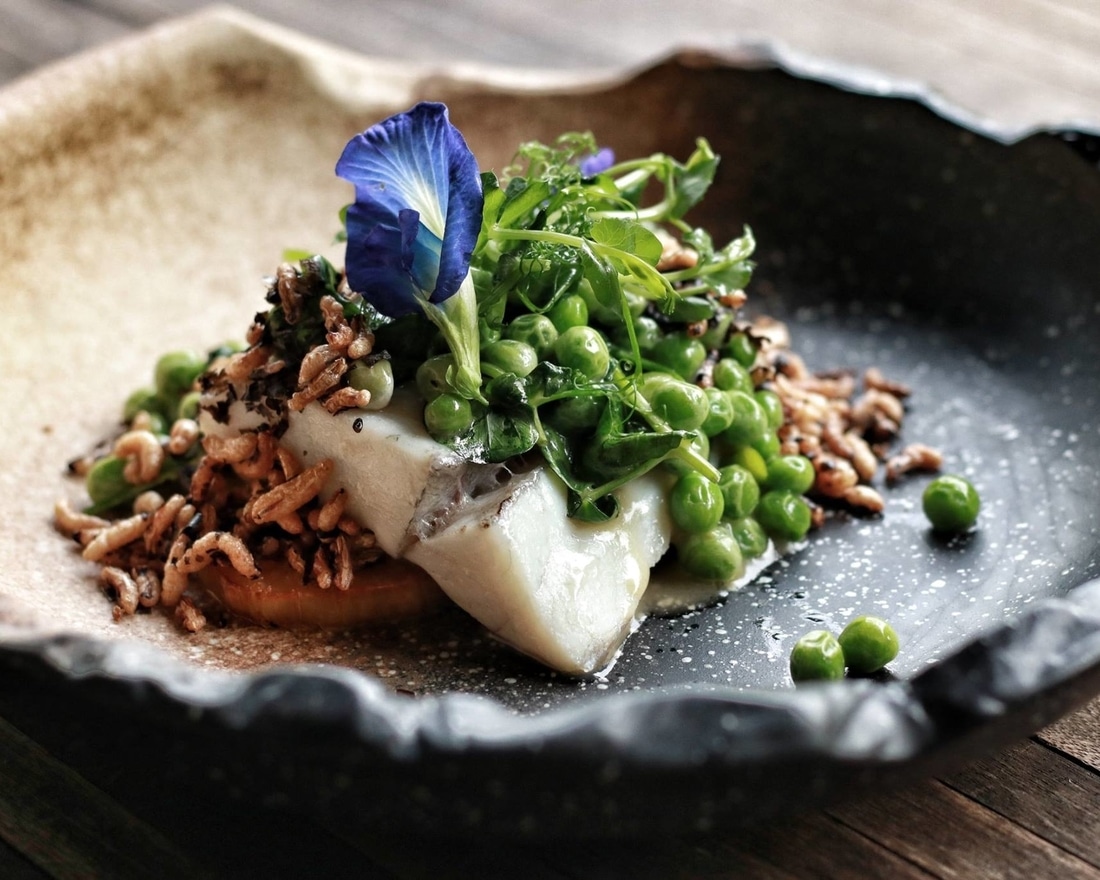 PUBLISHED December 19th, 2019 07:10 am
Cutting out single-use plastic straws is quite the trendy gesture in Singapore these days, but it's clear going green takes more than that. Your average restaurant generates a hefty carbon footprint at each step in the supply chain from farm to fork. From sourcing local and organic produce, to finding creative uses for waste, to investing in eco-friendly yet costly materials, practising sustainability requires quite the overhaul in culinary norms. Fortunately, many of Singapore's finest restaurants are rising to the eco challenge – without scrimping on the delish factor.
mezza9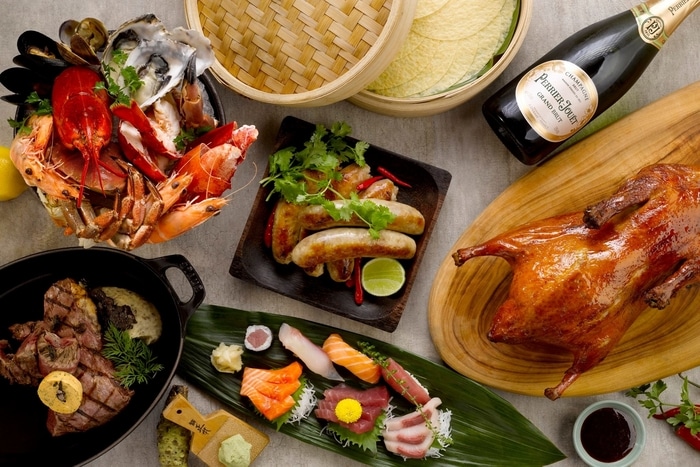 You've got a world of green cuisine on your plate with mezza9's nine show kitchens, be it the sustainable seafood counter, yakitori grill or Thai deli. Most of its juicy ocean gems – think Maine Lobster and Wild Alaskan Salmon – are certified sustainable by the Marine Stewardship Council (MSC) and Aquaculture Stewardship Council (ASC). The sprawling menu also features organic greens from co-op farms in the region, as well as organic herbs picked right from Grand Hyatt Singapore's rooftop gardens. What's more, these very gardens are fertilised with restaurant waste – Grand Hyatt's in-house machine converts 1,000 kg of food waste each day into fertiliser. Check out our review here.

mezza9 is located at 10 Scotts Rd, Grand Hyatt Singapore, Singapore 228211, p. +65 6732 1234. Open Mon-Thurs 12pm–3pm and 6pm–10.30pm, Fri-Sat 12pm–3pm and 6pm–11pm, Sun 12pm–3pm and 6pm–10.30pm.
Kausmo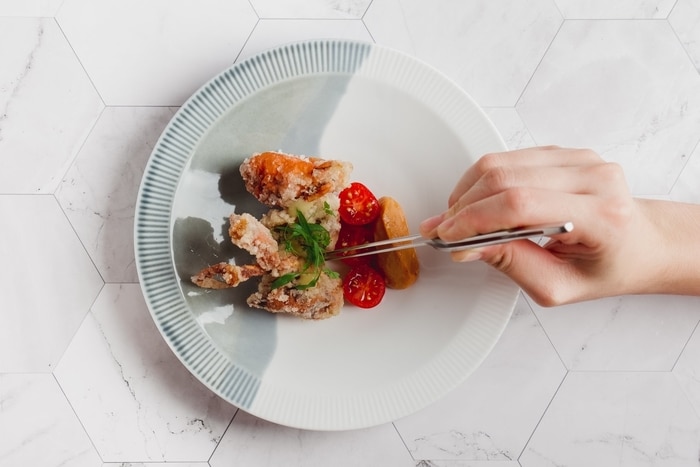 Kausmo is located at 1 Scotts Road, Shaw Centre, #03-07, Singapore 228208, p. +65 8126 8538. First seating is at 6.30pm, with the second at 8.30pm. Closed Mon and alternate Sundays.
The Summerhouse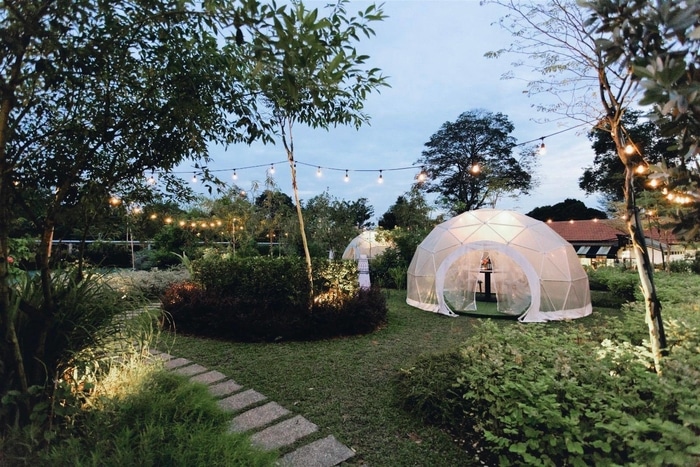 Farm-to-table chic defines The Summerhouse. Dine under the stars in one of their romantic garden domes, or make your way to the graceful colonial bungalow housing their Dining Room for a memorable feast. All ingredients you find on your plate are sourced fresh from regional farms and kelongs. Some, such as Baby Spinach and Sweet Potato Leaves, are also plucked straight from the in-house edible garden. They even churn their own butter in-house, which tastes deliciously silky atop their Grilled Rye Bread (S$5++). Check out our review here.

The Summerhouse is located at 3 Park Lane, Singapore 798387, p. +65 8809 5840. Open Wed-Fri 6pm–10pm, Sat-Sun 12pm–3pm, 6pm–10pm. Closed Mon & Tues.
Labyrinth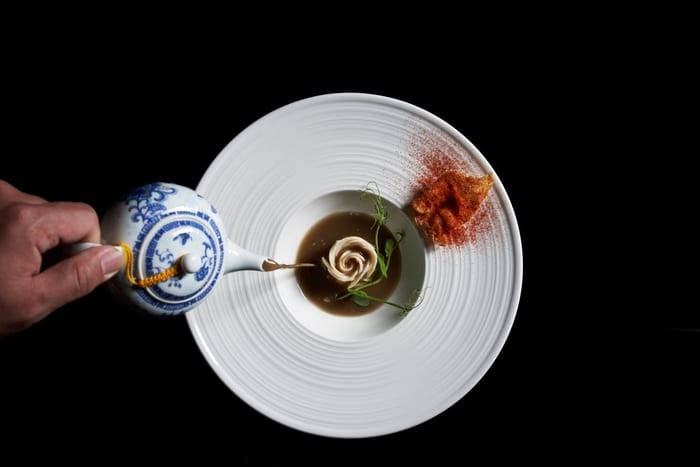 With exquisitely zany treats like chili ice-cream and oolong tea eggs, dining at Labyrinth is always an adventure. This one-Michelin-starred restaurant sources most of its produce from local farmers and fisheries, drawing out their true-blue Singaporean flavours in contemporary ways. The crowd-favourite Local Wild Caught Crab, for instance, is plated with Sustenir Farm strawberries from Sustenir Farm and ribbons of egg white from The Freedom Range Co, producing an intriguing medley of textures. Check out our review here.

Labyrinth is located at #02-23, Esplanade – Theatres on the Bay, 8 Raffles Avenue, Singapore 039802, p. +65 6223 4098. Open for lunch Tues-Fri 12pm–2.30pm, pre-theatre menu Thurs-Sat from 6pm (last order 6.15pm), and dinner Tues-Sun 6.30pm–11pm (last order 8.45pm). Closed Mon. 
Artemis Grill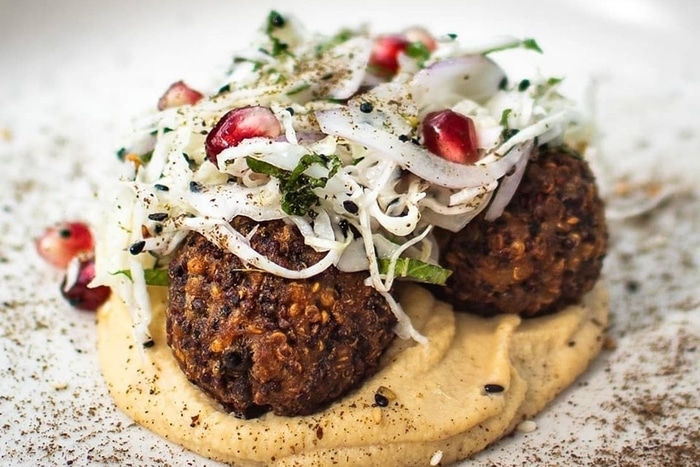 This sky-high grill dishes up modern Mediterranean grub with grass-fed beef and responsibly-sourced seafood, topped off with spectacular views over Marina Bay. Kick off your meal with a glass of organic wine at the outdoor terrace bar, under the shade of eco-friendly Tulip umbrellas – designed to drain rainwater into the ground for recycling purposes. For a change from their meaty signatures, check out their new vegan menu for surprises like crisp Chickpea Fries (S$14) and an eye-poppingly purple Beetroot Tartare (S$12).

Artemis Grill is located at #40-01 CapitaGreen, 138 Market St, Singapore 048946, p. +65 6635 8677. Open Mon-Fri 11.30am till late, and Sat 6pm till late. Closed Sun. 
Strangers' Reunion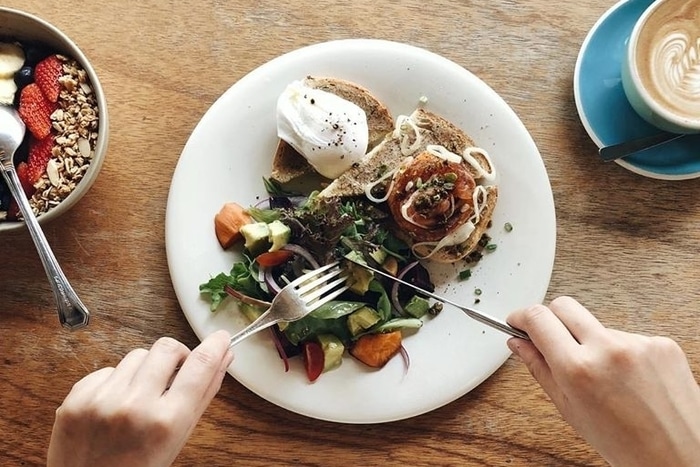 Most restaurants discard heaps of perfectly edible scraps at the end of the day. However with a little creativity, popular brunch spot Strangers' Reunion is transforming this trash into treasure. Its irresistible Salmon Skin Chips (S$11.90) make use of salmon offcuts from other dishes, deep-fried to crunchy perfection and trimmed with coffee-smoked salmon puree. Another upcycled hit is the Pork & Broccoli (S$21.90), which brings together underused pork collar and slow-roasted broccoli stems in one hearty dish.
Strangers' Reunion is located at 35 Kampong Bahru Rd, Singapore 169356, p. +65 6222 4869. Open daily 9am–6pm.
Poison Ivy Bistro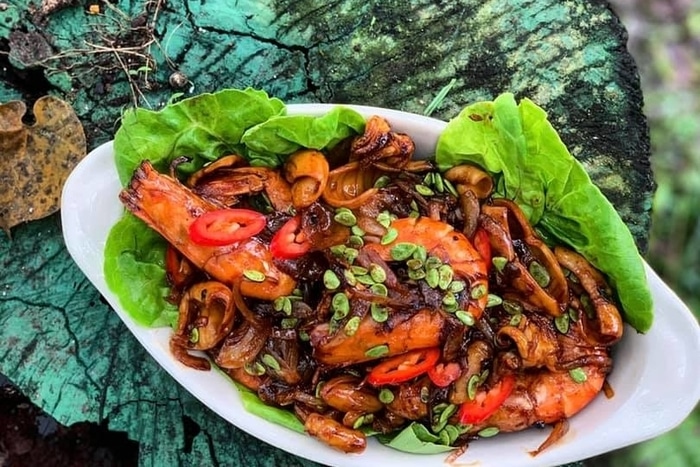 Tucked away in the Kranji countryside, Bollywood Veggies is quite the rustic farm retreat. Its wide range of organic veggies and herbs blossom into scrumptious creations at its in-farm eatery, Poison Ivy Bistro. You'll find local comfort grub like Laksa, Nasi Lemak, and kueh on the menu, along with seasonal specials and fresh brewed teas. It doesn't get much more farm-to-table than this.
Poison Ivy Bistro is located at 100 Neo Tiew Rd, Singapore 719026, p. +65 6898 5001. Open Wed-Fri 8am–5.30pm and Sat-Sun 8am–6.30pm. Closed Mon & Tues.
Verde Kitchen
With Hilton's 2030 masterplan to cut its carbon footprint by half across its hotel chains, it's no surprise that Verde Kitchen is doing eco-friendly eating right. 60% of its seafood is certified sustainable, so you can chow down on delights like Almond-Crusted Salmon (S$34) in good conscience. Half of its menu items use locally-sourced ingredients, including greens from the hotel's very own Vertical Garden. Most recently, Verde Kitchen has partnered with Impossible Foods to cook up a slew of plant-based, climate-friendly offerings. Juicy Thai Basil Impossible Meat Balls (S$26), anyone?
Verde Kitchen is located at Hilton Singapore, Level 2, 581 Orchard Rd, Singapore 238883, p. +65 6730 3397. Open Mon-Sat 10.30am–4.30pm. Closed Sun. 
NOKA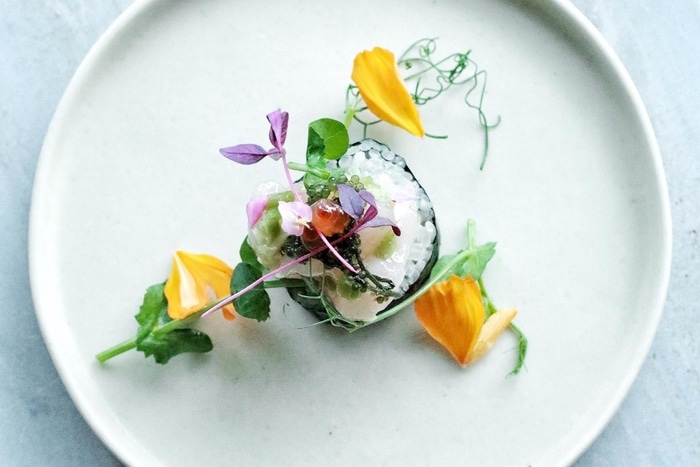 NOKA sums up its philosophy in one pithy maxim: 'Waste is the enemy of taste'. Perched atop Funan Mall, this Japanese restaurant harvests herbs and veggies from Southeast Asia's first urban rooftop garden – located right next door. In each of NOKA's elegant signatures, organic local produce like basil and blue pea flowers shine alongside fresh catch from Japan. From eco-conscious napkins to minimizing water consumption, no detail here is spared in making dining planet-friendly. Check out our review here.

NOKA is located at Funan, 109 North Bridge Rd, #07-38/39, Singapore 179097, p. +65 6877 4878. Open daily 11.30am–2.30pm and 6pm–10pm.
Open Farm Community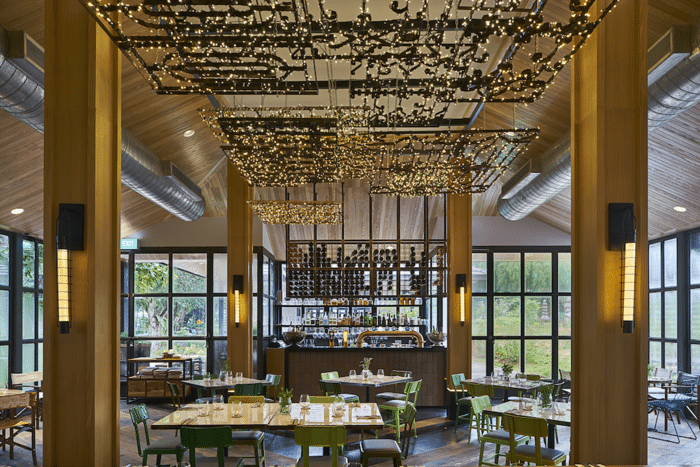 A pioneer in Singapore's locavore movement, Open Farm Community is all about reconnecting you with the origins of your food. Visitors are welcome to explore the edible garden with its sprawling fruit and veggie plots, winding their way slowly to the rustic dining room at its heart. From Cauliflower Wings (S$16) glazed with tamarind miso to Sumatran Crab Tagliolini (S$36), the nosh here is indulgent, eclectic, and sourced from a Southeast Asian network of growers. It's a lovely place, too, to linger over a bottle of natural wine – all olive hues and floor-to-ceiling windows that flood the space with natural light. Check out our review here.

Open Farm Community is located at 130E Minden Road, Singapore 248819, p.+65 6471 0306. Open Mon-Thurs 12pm–4pm and 6pm– 11pm, Fri 12pm–4pm and 6pm– 12am, Sat 11am–5pm and 6pm–12am, Sun 11am–5pm and 6pm–11pm. 
Top Image: Open Farm Community