Catch These Inspiring Artists At Affordable Art Fair Singapore's Young Talent Solo Exhibitions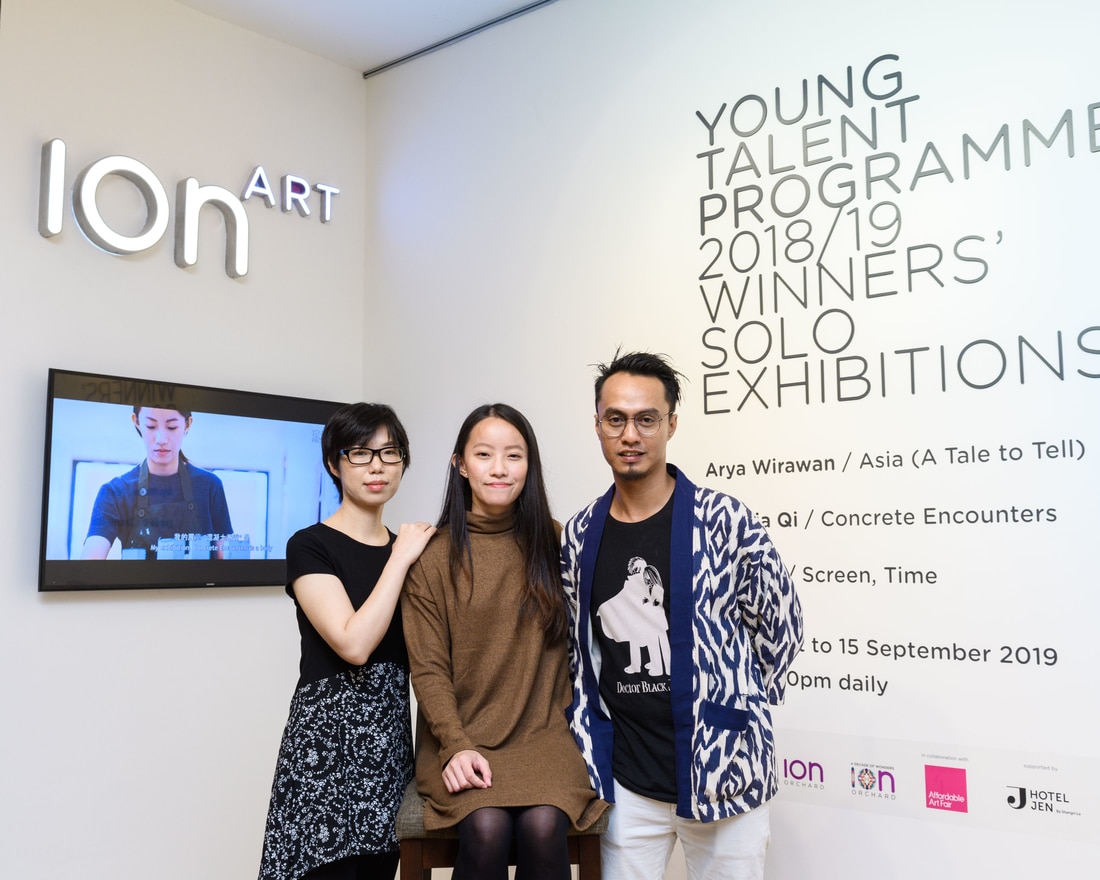 PUBLISHED September 4th, 2019 07:00 am
The Affordable Art Fair Singapore is the highlight of any art lover's calendar, but before that, there's the Young Talent Programme Winners' Solo Exhibitions to get you geared up. A joint initiative by AAF Singapore and ION Art, the Young Talent Programme nurtures budding artistic talents in Southeast Asia below the age of 35.
This year's winners − Liu Ling, Lim Jia Qi, and Arya Wirawan − are staging a two-week exhibition at ION Art Gallery. All displayed works are available for sale, at affordable prices of course. From explorations of technological change to reconstructions of HDB spaces, their insightful pieces will have you rethinking many aspects of our cultural reality. And if you're keen to learn more about their techniques, the artists are also conducting workshops each Saturday of the exhibition run!
Screen, Time by Liu Ling
These days, we can hardly imagine life without smartphones − how easy it is to forget that a mere generation ago, it wasn't so. In her nostalgic series Before in After, China-born web designer and artist Liu Ling presents a row of 'smartphones' displaying old family photos. The black-and-white photos appear uncanny behind the sleek screens, inviting us to reflect on how swiftly technology has changed in a mere few decades. Another series of charcoal drawings mimics the editing of personal close-ups with Photoshop − a fascinating examination of technology's power to manipulate our appearance and reality today.
Concrete Encounters by Lim Jia Qi
Cold and uniform, Singapore's HDB flats don't typically speak much to our imagination or affections. In her series Concrete Encounters, LaSalle Fine Arts graduate Lim Jia Qi reimagines these urban spaces we take for granted.
Drawing on her training in printmaking, she reconstructs public housing structures with materials like carved concrete and stone, producing forms which seem warped yet familiar. Another series of woodblock paintings present HDB facades from strange angles and in unusual colours, challenging us to re-examine the emotions we associate with our everyday spaces.
Asia (A Tale To Tell) by Arya Wirawan
Remember the folktales we heard as kids, like the mischievous Monkey King or Momotarō, the boy born from a giant peach? Indonesian artist Arya Wirawan resurrects these beloved Asian heroes in his intricate illustrations, in order to reflect on how their moral values remain relevant to modern life.
Painted on the traditional medium of wood, Asia (A Tale To Tell) draws out folklore's enduring ability to empower us with the courage to face modern challenges. By calling up these timeless stories, Wirawan ultimately encourages us to hold on to a continuing sense of cultural identity amidst our globalising world.
Affordable Art Fair Young Talent Programme – Winners' Solo Exhibitions 2018/19 is happening from 30 August to 15 September 2019 at ION Art Gallery, ION Orchard Level 4, 2 Orchard Turn, Singapore 238801. Admission is free. Sign up for artists' talks and workshops here.
Affordable Art Fair Singapore 2019 is happening from 22 to 24 November 2019 at F1 Pit Building, 1 Republic Boulevard, Singapore 038975. Tickets are priced from S$16.