Designs On Asia: ATT 19 Gallery Is A Collector's Dream Home In Charoenkrung, Bangkok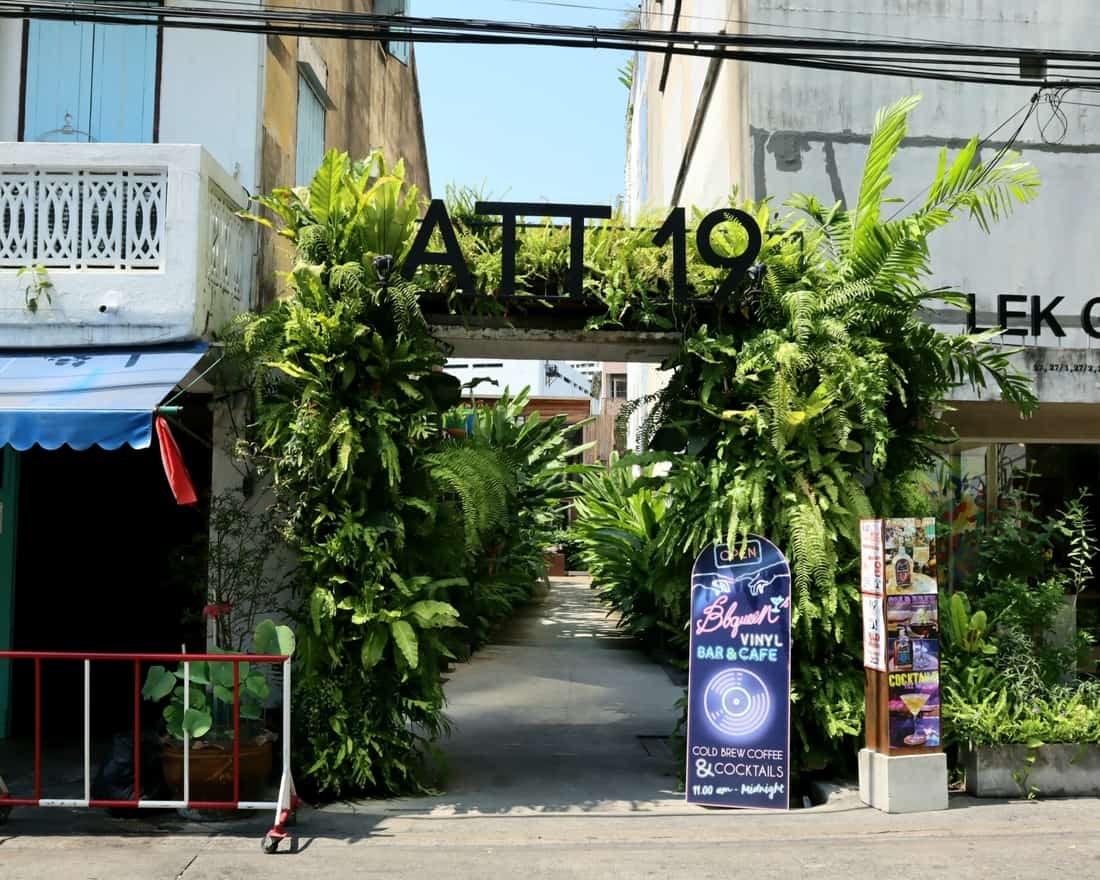 PUBLISHED April 3rd, 2020 05:00 am | UPDATED May 18th, 2020 06:43 pm
There are galleries that house art, and then there are galleries which are art – so tasteful and eclectic as to be part of the art experience. One of the newest faces to Bangkok's creative enclave of Charoenkrung, ATT 19 certainly belongs to the latter camp. Tucked a stone's throw from gallery cool kids like Warehouse 30 and Speedy Grandma, this arts and retail hub marries the antique and the cutting-edge in superb style.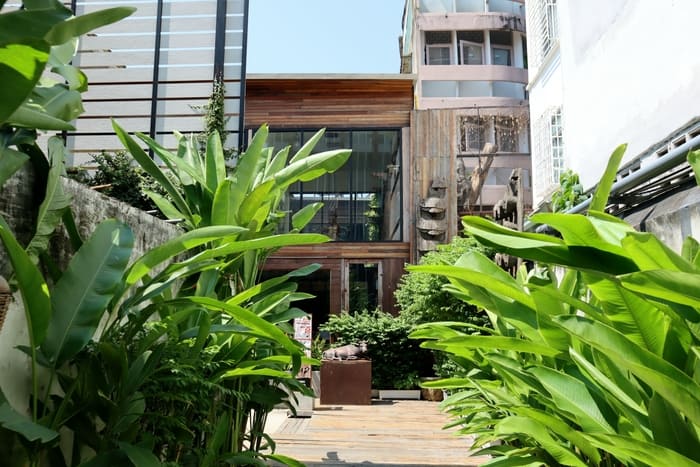 Founded by the prominent Attakanwong family, ATT 19 makes its home in a 120-year-old compound – a heritage gem reborn two years after Arthorn Suksa Chinese School closed its doors in 2017. Pornthep "Lek" Attakanwong – also the founder of celebrated Lek Gallery next door – was the brains behind the restoration project, drawing exclusively on reclaimed wood and tiles. Meanwhile, his daughter Porntip "Mook" Attakanwong is the creative force behind the 2,000 sqm gallery. She curates the one-of-a-kind curios which deck the retail space on the first floor, along with the rotating cast of art shows on the second floor.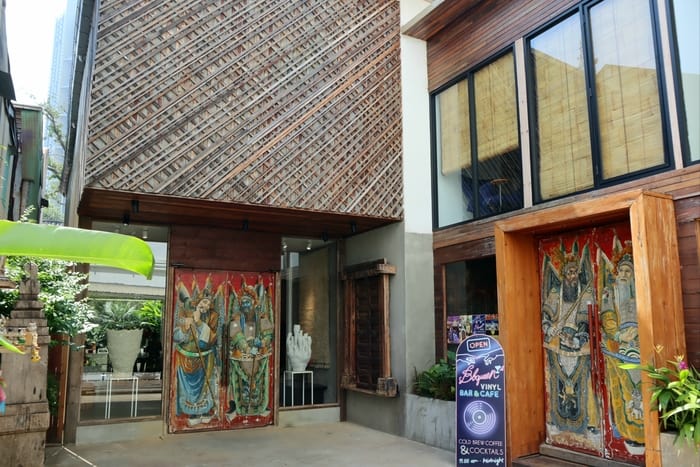 It begins as soon as you step through the gate. Standing sentry along the narrow pathway are lines of carved, humanoid columns, which quaintly put us in mind of modern-day moai. Further on, masses of luxuriant palms brush our shoulders, before an abrupt turn brings us face-to-face with the ancient building. A serene mix of time-weathered teak and full-length glass, its facade oozes the rustic charm of a spa resort.
At the entrance, we're greeted by unexpected guards – a painted pair of Chinese door gods, repurposed from a Chinese temple and still vibrant with colour. Get past this fearsome pair of deities, though, and a lofty, sunlit space awaits. The ground floor is entirely dedicated to retail, but it has the welcoming ease of a living room; room after treasure-filled room unfolds with the graceful air of a collector's home.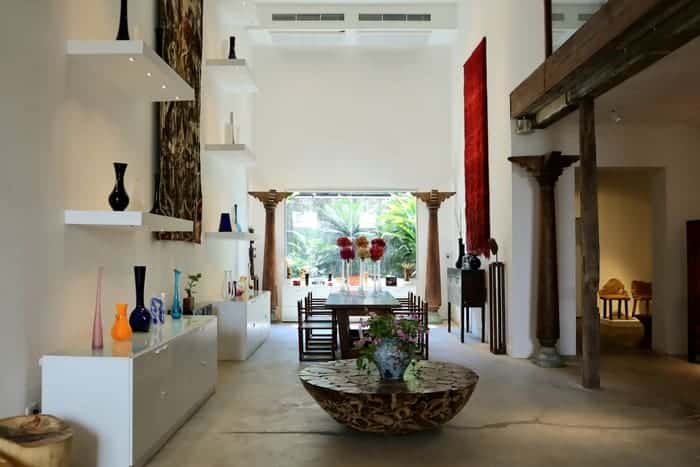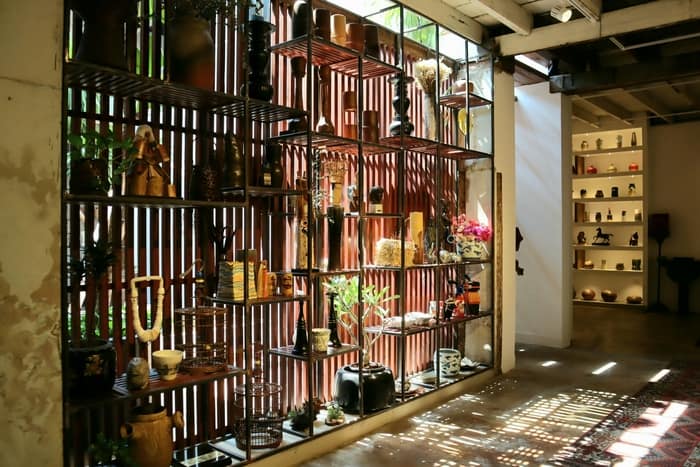 Lek and his restoration team took care to preserve traces of the building's heritage, and you can see this in aged wood elements, patches of raw brick, and even the ghostly outlines of long-gone staircases. These old-world touches mingle harmoniously with the overall modern tone set by whitewashed walls and concrete floors.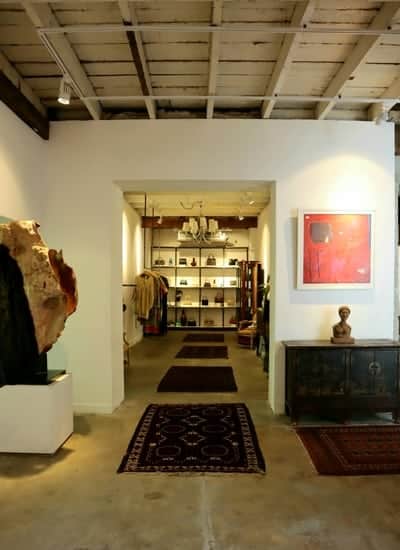 Just as broad-ranging are the wares on display, which run the gamut from fashion to furniture, ceramics to carvings. Here, blown glass vases pose beside totemic figurines, abstract paintings hang over antique Ming sideboards, and glitzy racks of vintage threads segue into serene shelves of Japanese pottery.
It might all so easily become chaotic, but it never does. In curator Mook's capable hands, each room balances in equipoise between diverse times and cultures.
Upstairs lies the tranquil exhibition space, with a verdant courtyard at its heart and a sunroof that lets in floods of light. Under its exposed teak ceilings, an ever-changing roster of exhibitions are housed for one to two months, offering a sanctuary for acclaimed Thai artists and budding talents alike.
At the time of our visit, the current exhibition was A Room Full of Women in honour of Women's History Month. Indeed, the sunlit rooms were filled with women – in photographs, paintings, and other mixed media works – through the empowering eyes of Thai female creatives, from Atelier Pichita creative director Teema Rucksajit to performance artist Kawita Vatanajyankur.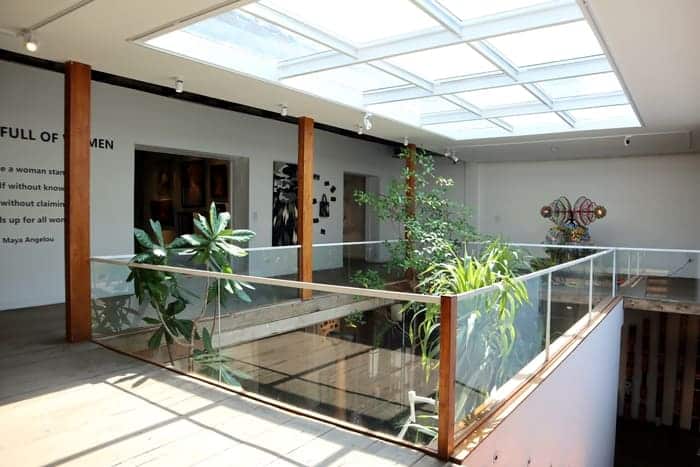 Once you've had your fill of artistic palettes, there's also an in-house restaurant for you to indulge your palate. Run by Mook's sister Puntip "Cher" Attakanwong, Mad Beef is a sleek, meat-focused restaurant that embraces a nose-to-tail philosophy. Boasting a lush wall of greenery and striking carved wood columns over the bar, it's every bit as exotic as the gallery space. At ATT 19, it seems, art truly is a lifestyle.
ATT 19 is located at 19 Captain Bush Ln, Khwaeng Bang Rak, Bang Rak, Bangkok 10500, Thailand, p. +66 2 639 5871. Open Mon-Sat 11am−7pm. Closed Sun.  
*In light of Thailand's COVID-19 measures, ATT 19 will be closed till 12 April 2020.
All photos captured with the Canon EOS M6 Mark II