Etna Italian Restaurant & Pizzeria – Review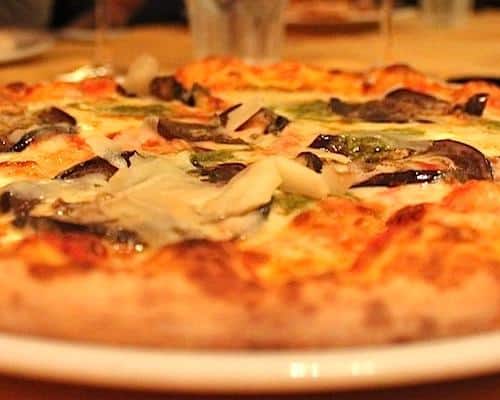 PUBLISHED December 29th, 2011 11:51 am | UPDATED February 28th, 2021 06:48 am
It's high time I write about what is hand-on-heart, my favourite Italian restaurant in Singapore. With an unassuming location on Duxton Rd, you could easily walk by and miss Etna Italian Restaurant & Pizzeria…but step inside and a memorable dining experience awaits. I'm very pleased to say that on this occasion I had the pleasure of going there to celebrate the impending marriage of two great friends of mine.
To be straight-up, what I like about Etna is that it's one of the only places I've been in Singapore which feel like a local Italian. It's not a 'fine dining' establishment so the prices are surprisingly reasonable and it's a cozy place, divided into two distinct areas. Seating no more than 40 at a time, it feels like someone's extended living room.
So why do I rate Etna so highly? 2 main reasons.
1 – The food is simply excellent. The quality of ingredients used is apparent every dish, and portions are relatively generous.
2 – The service. I really mean this, it is possibly the restaurant with the best service I have been to in Singapore. I've been there over 6 times now and the service is flawless every time. The staff are friendly, knowledgeable. The dishes arrive and leave together, and your glass is never empty. Basically, they rock.
Ok, down to the meal itself… We arrived ravenous and decided to take the edge off with a liquid amuse-bouche – In this case, their Moscato d'Asti. A light and sweet wine. Only 5.5% alc. AWAS, this stuff is very, very drinkable and it won't inebriate you in a hurry, so watch your wallet! If you are a little unfamiliar with wine in general, a bottle like this is an easy introduction, and for those with a sweet-tooth, well worth it. It costs $62.
Thankfully, my dear friends M&A decided to take the lead and order some appetizers for us all. In this case, a few rounds of favourites; Parmigiana di Melanzane (Eggplant parmagiana) – $18, and Mozzarella Caprese (tomato and mozzarella salad) – $16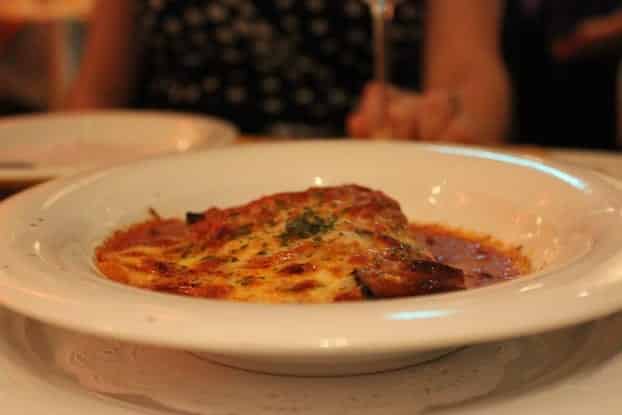 This is eggplant dish is simply divine. As mentioned previously, you can tell the Chef really uses top ingredients, cooked to perfection. The eggplant is soft, savory with a touch of sweetness, removing any natural bitterness that might have once been there, the baked cheese and tomato sauce is gorgeous. This is the kind of dish you unabashedly lap up the remnants of the cheesy tomato sauce with some steaming focaccia bread.
The Tomato and Mozzarella Salad on the other-hand was not quite as impressive. Let me explain – it is my no means sub-par. It's a good, simple dish… just a little bland for my liking. I added a dash of balsamic and it really brought out the natural flavours. Note: there are two tomato/mozzerella dishes on the menu. The other, not shown here uses the more expensive buffalo mozzarella. It's spectacular.
Next up, was something of a naughty treat for me as I don't usually indulge fruits of the sea (well the kind with shells anyway). However this was the second time I've had this dish Sauté di Vongole (Sautéed clams in a white wine sauce with garlic and olive oil) – $16. If you are a seafood lover, this is a must. It goes down very easily and the sauce is so good you might end up drinking it as a soup. Best to share though as it's quite filling.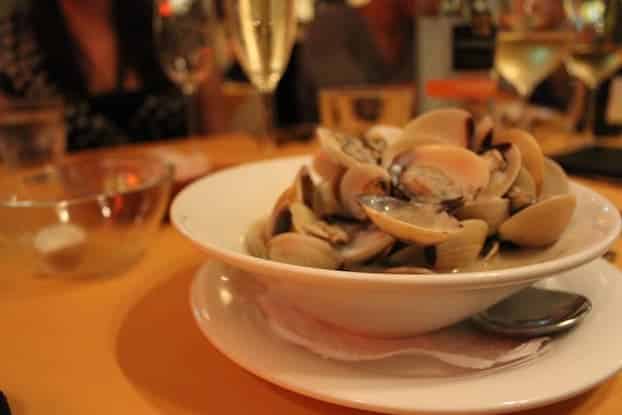 And thus begins the second bottle of wine. This time, a relatively inexpensive Italian Chardonnay from Farnese – $48. Honestly, I somewhat regret the choice. It wasn't unpleasant by any stretch, but I lamented not ordering their unusual Sicilian Pinot Noir to pair with the main courses which only runs at $55. Oh well…No point crying over drunk wine.
Anyway, here is a rundown of some of the mains we had the pleasure of sampling:
Sicilian fried Dory with a ripe tomato sauce – Ripe, excellent textures and great balance of flavours. A good option for those on a diet.
Gnocchi Quattro Formaggi – For those who throw the diet out the window then run outside and stomp on it repeatedly. This Four-cheese classic makes my mouth water every time I think about it. To put it simply, ORDER IT! But share, as it's rich, gooey heaven.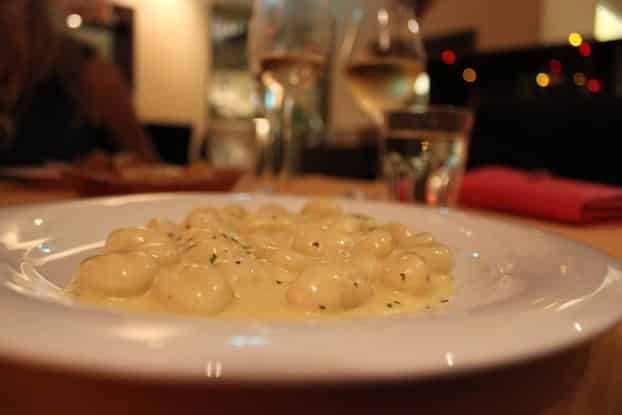 Penne alla norma – This Vegetarian option of al dente penne with a topping of eggplant, tomato and parmesan – simple and elegant. You can't go wrong.
Margarita – (Friend playing on Iphone not included)
. An old acquaintance of mine once said that the real test of Italian restaurants is how well they cook the most simple of dishes. It's no surprise then how quickly this pizza was inhaled that night.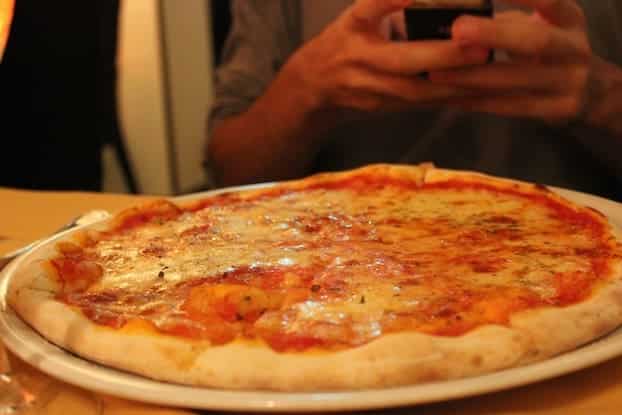 Pizza Sicilian Bella – A vegetarian tomato-based pizza furnished with pesto, baked eggplant and thick Parmesan cheese. This is pretty much my standard pizza order when I come here for lunch. With a rich centre encircled by a contrastingly crispy outer crust – this pizza visibly made some of my co-diners jealous – Hahahaha.
Ok, after a long culinary journey. We finally arrived at the dessert options.
Generally speaking I don't have much of  a sweet tooth…but then generally speaking, I never resist the chance for eating good tiramisu.
Just a wee recommendation on my part. Have their Tiramisu and order a scoop of pistachio gelato to join it. It will be the perfect end to your meal.
Craving Italian? Check out our list of the best Italian restaurants in Singapore.