The Marmalade Pantry comes to the Stables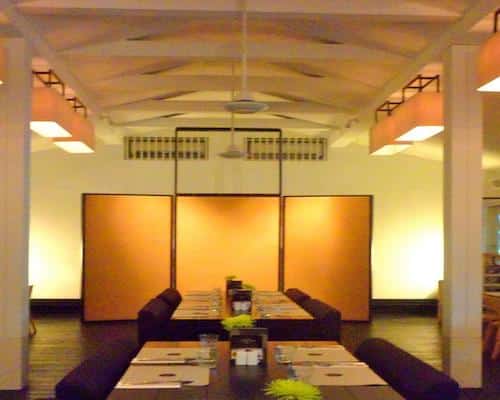 PUBLISHED December 27th, 2011 03:55 am | UPDATED February 28th, 2021 06:49 am
Most of you will be familiar with The Marmalade Pantry as the favourite pit stop for brunch, lunch and of course cupcakes at ION Orchard when all that shopping has left you trying to keep hangry (a.k.a. hungry anger) at bay.
Well The Marmalade Pantry has shown that it is definitely not a one-trick pony (excuse the pun!) with its second outlet which recently opened up at The Stables, offering up all time favourites, as well as new signatures exclusive to this second establishment.
I was keen to take up the invitation to check out the new addition because a) The Stables is a fab little spot which hopefully most of you will have checked out at least once –  think a lush green enclave tucked away by Bukit Timah Saddle Club and b) Because it's taken oven the premises of a once favourite of mine – Mimolette.
It's hard not to feel relaxed surrounded by nature and relaxed you will feel whether you chose to wind down on the laid back alfresco terrace or chill out in the  breezy interior peppered with Alvar Aalto chairs.
And what better to further ease you into that relaxed mood than a cheeky cocktail. If you're feeling hot and bothered you can opt for the zingy T.M.P cocktail ($16) or otherwise, this little Frozen Raspberry Daiquiri ($16) is the bees knees and the perfect combination of fruity, sweet and tart – delicious!
Now on to the starters. One word. Haloumi! Now I'm a gal that usually loves my haloumi unadulterated and squeaky. However, the Pan Seared Haloumi Salad ($21) which had a lovely fusion of flavours thanks to the roma tomato and watercress herb salad and accompanying red wine dressing which gives the dish a nice kick meant I was more than happy to make an exception.
If you're not a haloumi fan, the Mexican Chicken Salad ($22) is a great alternative with its combination of creamy avocado and zesty spicy flavours which come through in the salsa. Oh and it's served on a crispy tortilla which gives the dish a nice bit of crunch.
For a bit of comfort food, the Roasted Pumpkin Soup (from the 3-course set dinner menu at $38++) with it's velvety smooth texture and hint of chili will do just the trick.
Now for the mains. I'm a bit of a steak addict, and the Steak & Eggs ($38) here does not disappoint. A clear brunch favourite and served on a skillet, the steak is juicy and flavoursome accompanied by a smidge of tangy smashed peas – apparently the secret to why these peas are just so delicious is that they are prepared with truffle oil.
For fish lovers and those wanting something a little bit lighter on the waste line, the Pan Roasted Red Snapper ($28) with parsley herb crust is served up with beautiful ratatouille, shaved fennel and Mediterranean flavour just like so…
Now the desserts here are so yummy, it's for sure worth making a trip up to the Stables just to indulge in them alone.  Despite being totally stuffed by this time, in the name of desserts that make you go "mmmmmmm" it was time to plough on.
If you can, come here in a group and order as many as you can because they are all delicious and you will not regret it. But if you are forced to only order one, make it the Sea Salt Caramel Cheesecake ($8). Despite my tummy getting to dangerously full levels, this was one I just could not stop eating. The combination or the caramel, sea salt and creaminess is delicious to the point of swooning. Oh come here cheesecake and let me have my wicked way with you again..
Other deserts which definitely deserve some taste bud time are the Granny Smith and Stem Ginger Pudding ($13) which paired with salted caramel ice cream equals truly scrumptious…
and the Lemon Brulee Tart ($14) which just as the name suggests is a fabulous combination of flamed top crust sitting atop a base of a lemon tart – a wonderful combination of two very different textures.
Yes hold on in there because that's one more and that's the Chocolate Ganache Tarte (from the set dinner menu) and if you are a chocoholic I strongly advise you get friendly with this sumptuous sweet thing!
No feasting is complete without a tea to round it all off and at The Marmalade Pantry is where I had my first Gryphon Tea experience.  Now why am I excited about these teas? Well let me explain. How many times have you rounded off a meal with a mint tea only to wonder why you are drinking some kind of vaguely perfumed water? Well I had the Marrakesh Mint Tea ($6.50) and was pleasantly surprised at how good and wonderfully aromatic and yes – tasty –  it was. The perfect end to a hearty meal.
What??? No mention of cupcakes?! Well quite frankly.. do you think I had any room for cupcakes by this point?! Obviously the answer to that is no but fret not, there's an all day bakery meaning if you are hankering after a Red Velvet or Elvis cupcake, it's there for the taking.