Extra Virgin Pizza: It's good for you! We promise.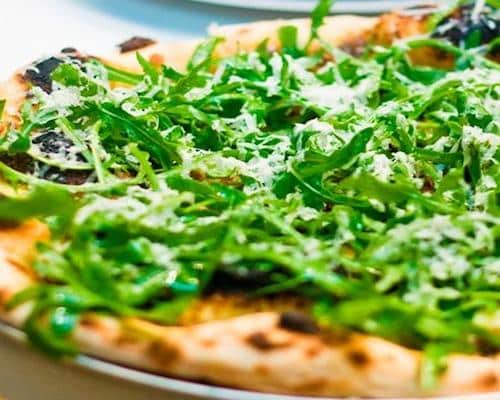 PUBLISHED October 31st, 2013 02:07 am | UPDATED May 30th, 2016 02:34 pm

Being healthy and eating pizza are most commonly, mutually exclusive. Eat a pizza = taste carnival, but then for most of us the 'oh my goodness, did I really eat all that?' guilt hits you pretty soon afterwards. And yes it feels so good at the time but pizza is ultimately bad for you…or is it?
What if we told you that you could eat a whole pizza, it would taste delicious – no scrimping on flavour – but it would be healthy… genuinely healthy? Well, no wonder those yummy mummies over at Novena's United Square are keeping so yummy, because they have been keeping this secret all to themselves for quite some time now!
Having originally operated as more of a 'quick-stop-bite' joint at Asia Square, Extra Virgin Pizza opened its second outlet, a roomy, bright, airy and comfortable diner at United Square Shopping Mall about 6 months ago. We stopped by for a munch and a chat with Head Chef Matthew White intrigued by the notion of a healthy pizza! And secretly wondering, if it's so healthy…can we eat it everyday? Mmmmmm.
Chef Matt has lived and worked in Michelin-starred restaurants in the US and Europe. He learnt the art of bread and Neapolitan Pizza making and took over a small pizzeria in downtown Philadelphia which quickly became one of 'Philly's Top 50 Restaurants' within six months. Having come to Singapore as Consulting Chef for The Lo & Behold Group, he moulded the concept of Extra Virgin Pizza into a combination of all his passions: fine ingredients, great taste, sustainability, organic produce wherever possible and a very globally-ethical and health-conscious approach. He himself is (and I don't mean to sound pervy here) exceptionally fit! Doing iron man competitions and runs for fun- yes that's right…for fun! But apparently he eats his pizzas everyday. How so!?!
Well, Extra Virgin pizzas are handmade with globally sourced, fresh and premium ingredients like the Italian Caputo double-zero flour, regarded as the best pizza flour in the world shipped from Naples; and the California organic Saporito tomatoes. There are no artificial hidden additives or nasty preservatives, just honest and necessary ingredients. Wherever possible organic is used (apparently it's just the odd ingredient that sometime has to be nonorganic if needs dictate) and with the thin crust and easy hand with the toppings, the pizzas are light rather than carb-ladenly heavy. Ok so far, so good, but how do they taste?
We had the Margherita Pizza ($16) and a fabulous Pistachio Pesto ($24) which was as tasty as it sounds intriguing. Made with a pistachio pesto base, topped with baby arugula and finished with lemon vinaigrette, the flavour was lovely, nutty and peppery just as you would expect from a good pesto, but also zingy and light from the lemon. Not one to eat demurely while trying to have a conversation though! The arugula, whilst a flavourful addition does end up all over the place. Best halt the chat while you devour this! The Margherita was zesty and light, with a very pure flavour of basil and tomato coming through, and only a hint of cheese. At under 800 calories for the entire pizza though, every bite was guilt-free!
We also had the Veal and Ricotta Meatballs ($14) off their small plates menu which were delicious, rich and flavourful with a beautiful tomato sauce and melty parmesan cheese. If we had been feeling exceptionally greedy, the Oven-Roasted Brussel Sprouts ($12), Cauliflower Romesco ($12) and Oven-fired Clams ($18) also caught our eye. To drink, was a homemade Raspberry Mint Soda ($6) which was refreshing, fruity and disappeared in about 2 minutes.
So, our verdict?  It's much more than a gimmick! While some places will talk about their healthy version but really we all know it tastes terrible, Extra Virgin Pizza is really very good. The pizzas taste great and there's no heavy feeling afterwards, just a happy, floaty-light contented tummy. We love Chef Matt's commitment to clean, wholesome ingredients, and the fact that he's thinking about every aspect, not just the finished dish…because what that means is, safe in the knowledge that we're eating organic, healthy ingredients, we can just chow down. That pizza never tasted better!
---
Written by Heh Zee
On this occasion, the meal and photographs were compliments of Extra Virgin Pizza.