Restaurant Review: ADRIFT by David Myers Brings You The Best Of All Worlds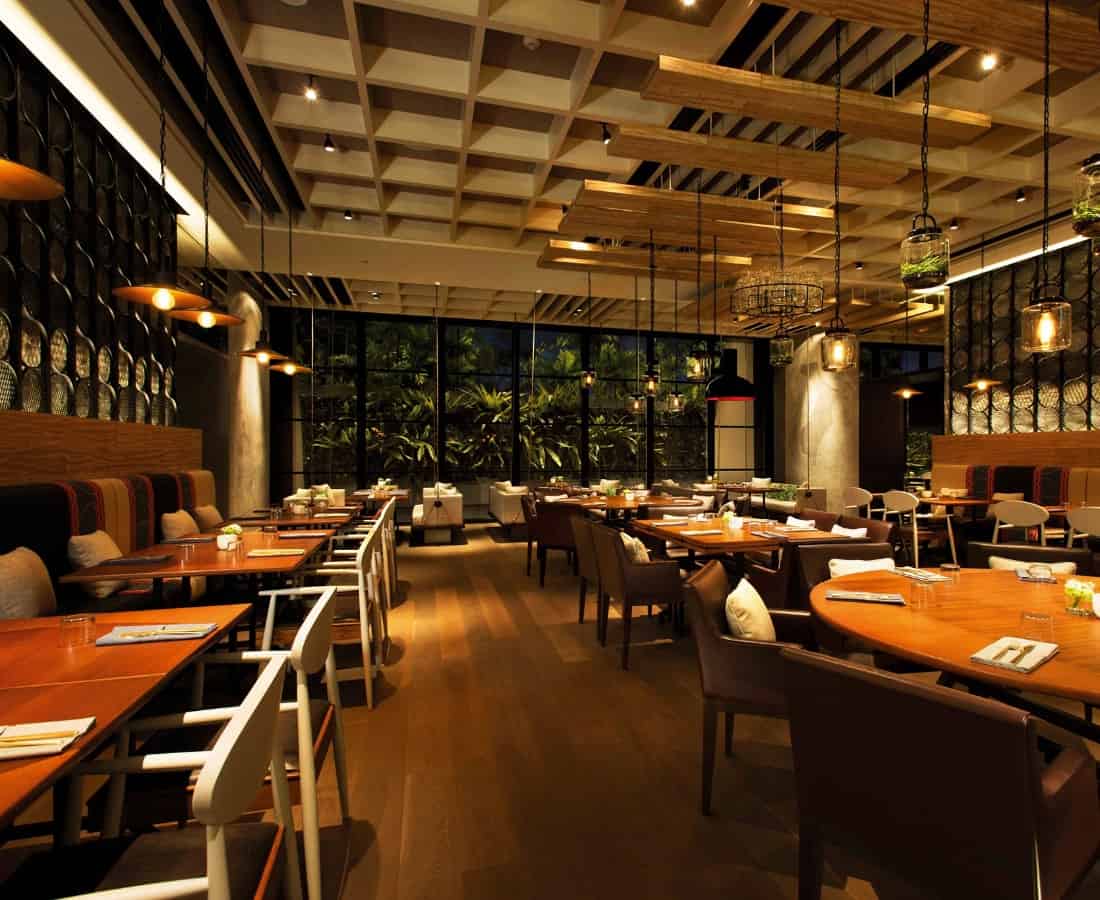 PUBLISHED October 10th, 2020 06:00 am
The chic and elegant wood-panelled interior of ADRIFT by David Myers might seem a little at odds with the strains of hip-hop (or something else just as eclectic) playing from the speakers, but this is an establishment that truly lives up to its name, unmoored and untethered to a single concept. Rather, it brings together a mish-mash of influences (courtesy of celebrity chef-owner David Myers' far-ranging travels) to create a singular experience. Their new menu proves just that, bringing in some DIY yakitori, hearty yet refined mains, and some rare tipples.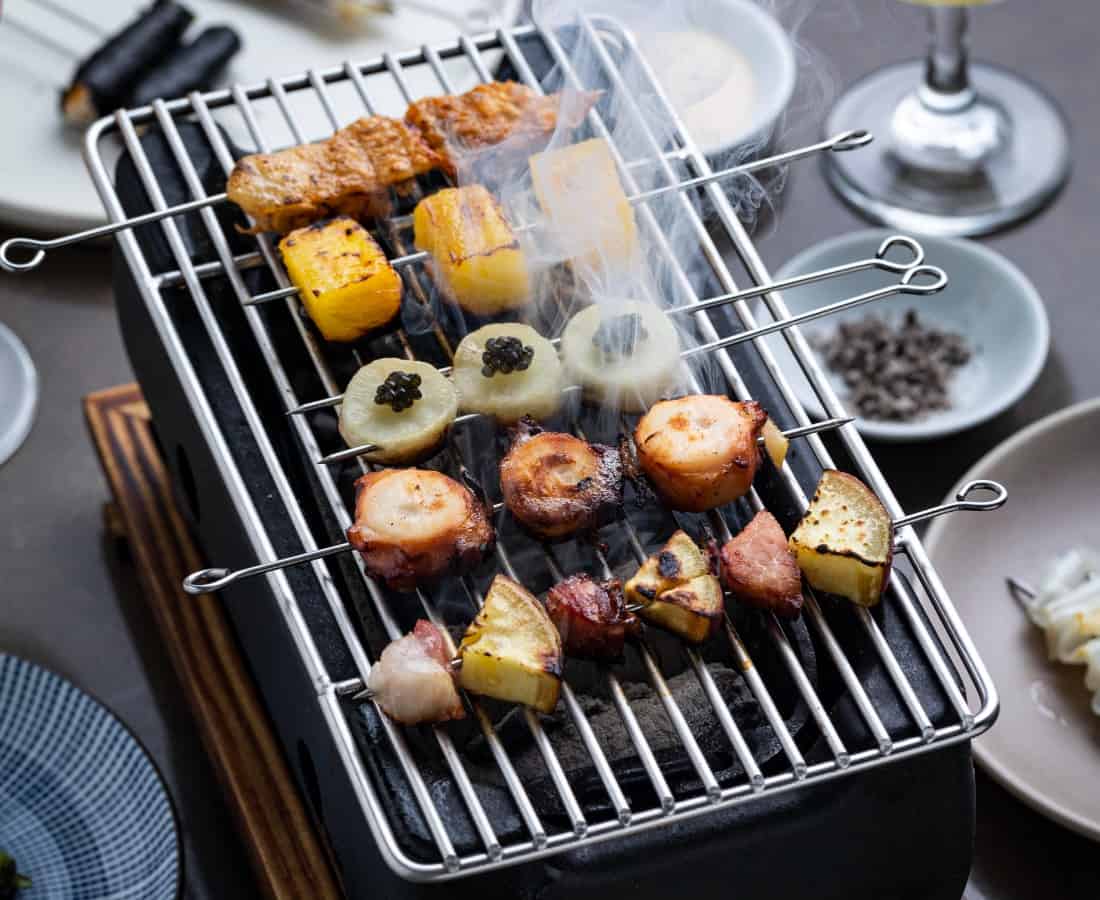 The first order of the evening was getting our hands dirty and donning the chef's hat (metaphorically, and just for a second) with some DIY yakitori skewers. A smoldering yakitori grill was delivered to our table alongside a platter of skewers for us to try our hand at the grill. Thankfully for us, Executive Chef Peter Smit was kind enough to lend a hand and explain how to cook the different skewers.
Skewers like the delicate Uni Roe in Celeriac were oh-so lightly grilled, just until the creamy uni was warmed through, bursting with creaminess on your tongue as you bite into it. The moreish Stone Axe Wagyu Striploin does better with a little more time on the grill, allowing the sides to sizzle and get just a little crispy, complementing the perfectly-cooked interior.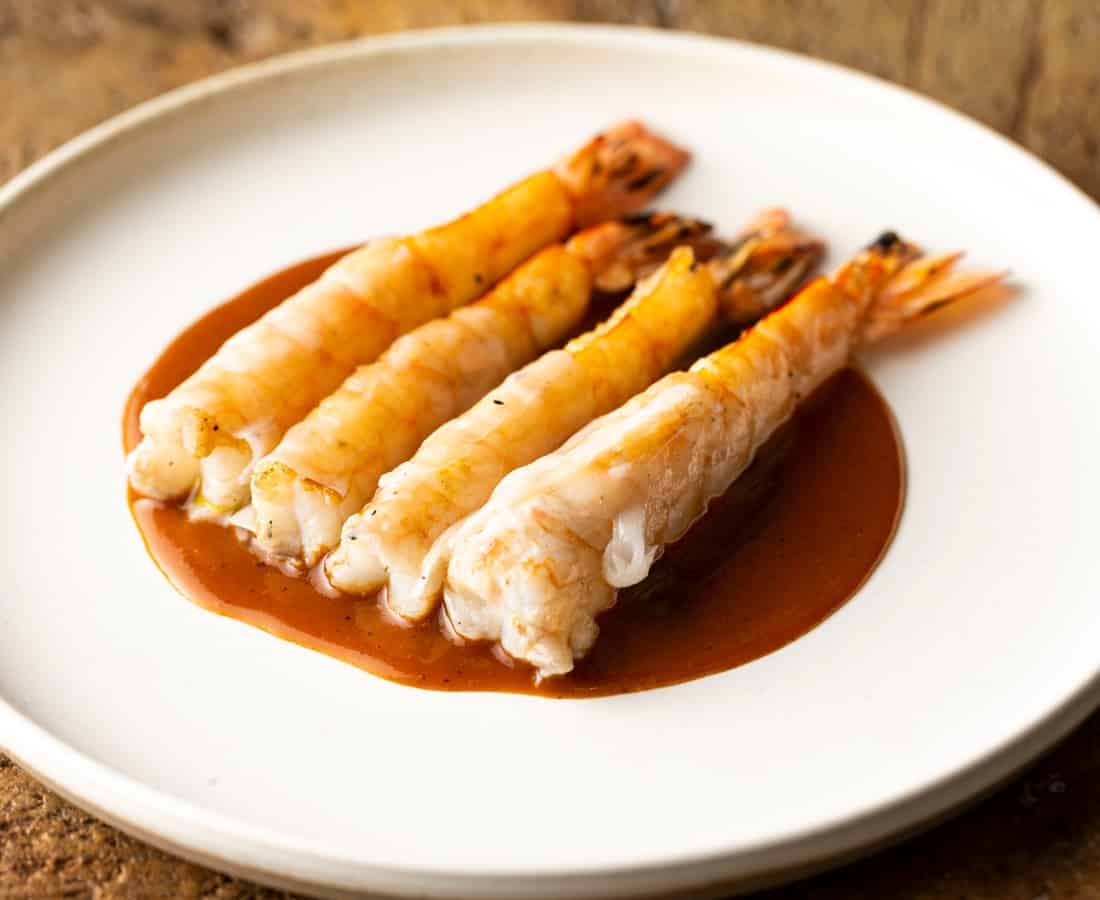 Our sea-themed starters soon followed, paired with a 2019 Nautilus Sauvignon Blanc bursting at the seams with notes of passionfruit, melon, and citrus. This perfectly complemented the sweet and savoury notes of the Spencer Gulf Prawn, smothered in a hearty bisque, and the succulent Kingfish topped with shallot and caviar.
An unexpected favourite was also the deceptively simple Kombu Sourdough with Miso Butter. Grilled until toasty warm with some melty miso butter on top, this dish is full of a deep umami flavour that's carried beautifully by the fatty butter and wholesome bread.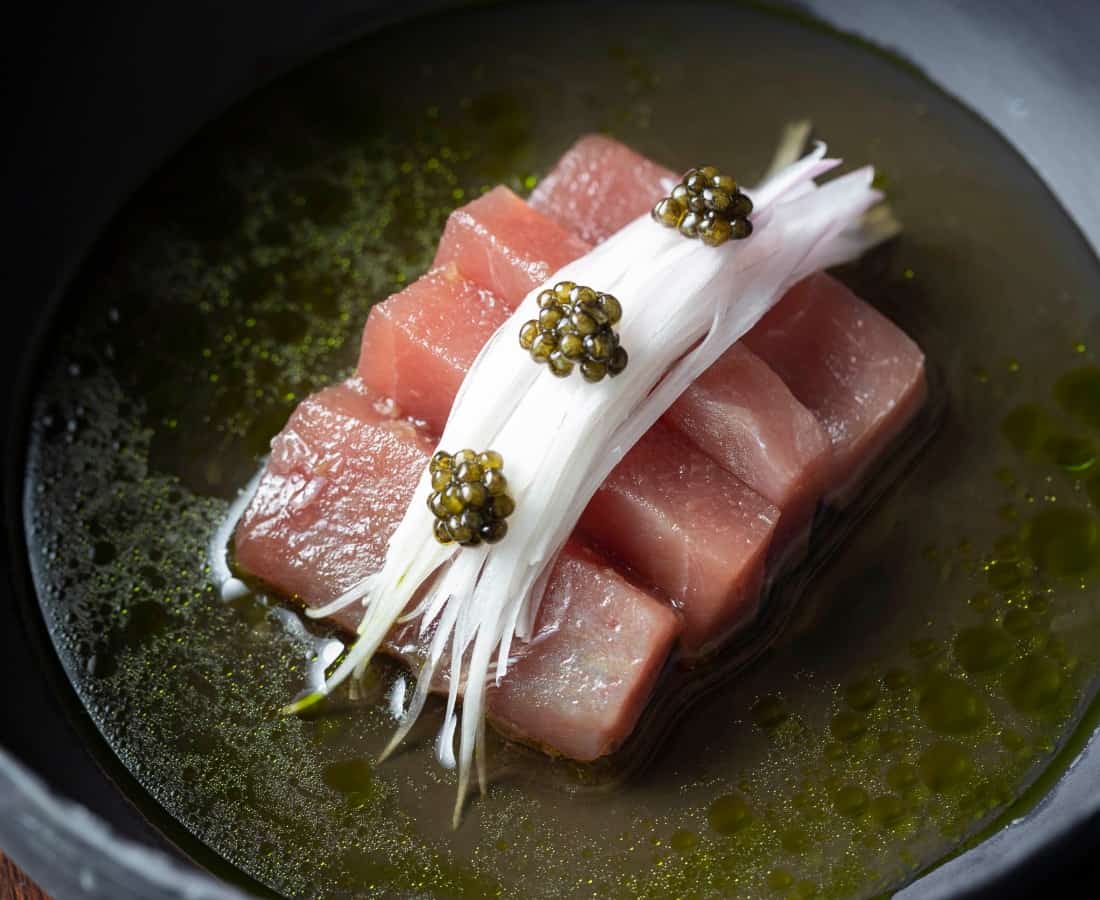 We were almost too full for the mains until we saw the delicious main courses. And if there was ever an indulgence that was worth it, it's ADRIFT's Organic Chicken with wild rice, bok choy and a superior sauce; an inventive chicken rice, if you will. The chicken is juicy, succulent, and flavourful on its own, but is taken to another level when dipped in the complex superior sauce. The wild rice and bok choy add a bit of crunch and a depth of flavour to this dish, making it a winner in our books.
For an ultra luxurious experience, pair this one with the 2014 Lucien Le Moine Bourgogne Blanc, a Burgundy wine brimming with toasty butterscotch notes but with a touch of acidity to balance out the flavour.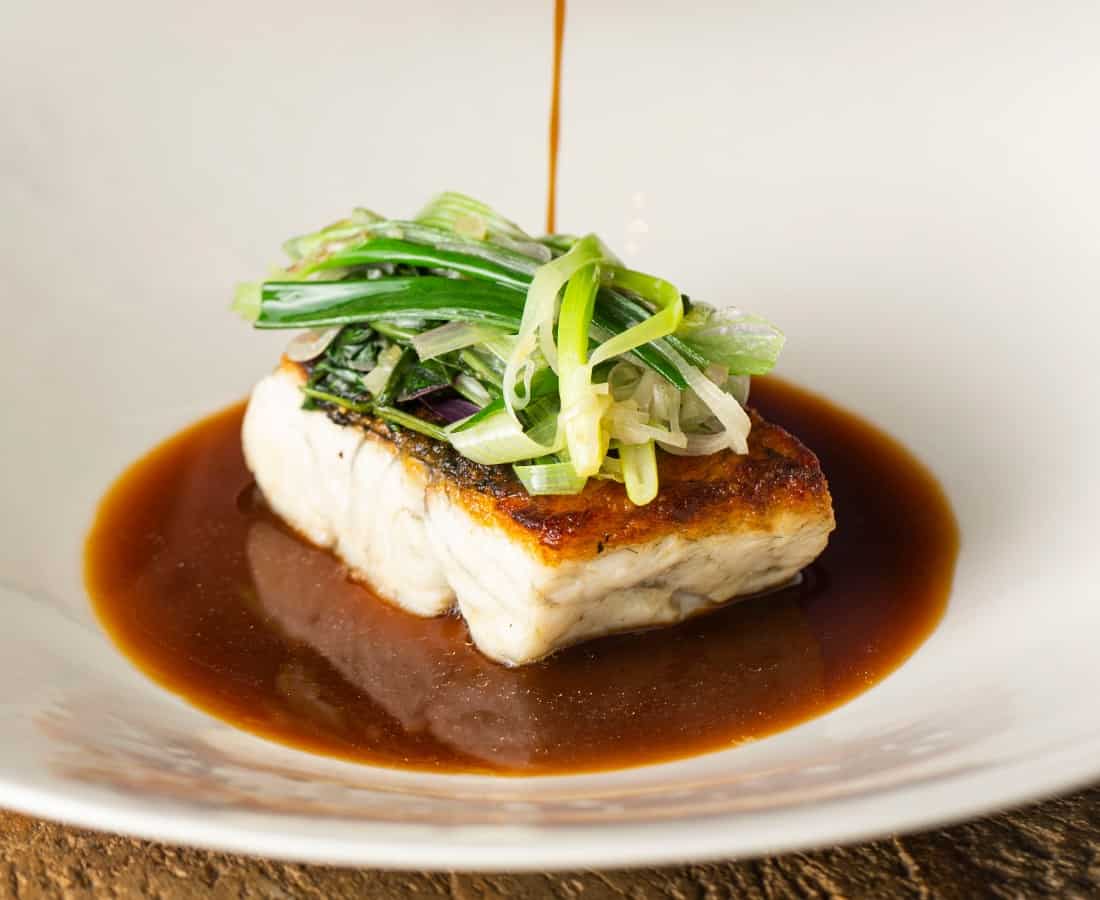 Honourable mentions also go out to their Braised Short Rib and Local Barramundi, cooked to perfection. The barramundi especially was falling-off-the-fork tender, and the velvety bone broth wasn't too strong as to overpower the fish, allowing it to shine.
Of course, no meal is complete without dessert, and their dessert menu is an exquisite ode to tropical fruit. The Woodfire Roasted Pineapple is smoky, sour, and sweet all at once, sitting atop a bed of soft crème frâiche cake with smoked coconut. For something with a bit of a kick, their Spiced Pear gets an extra burst of flavour from yuzu and ginger, with a sweet and creamy white chocolate base to round things out.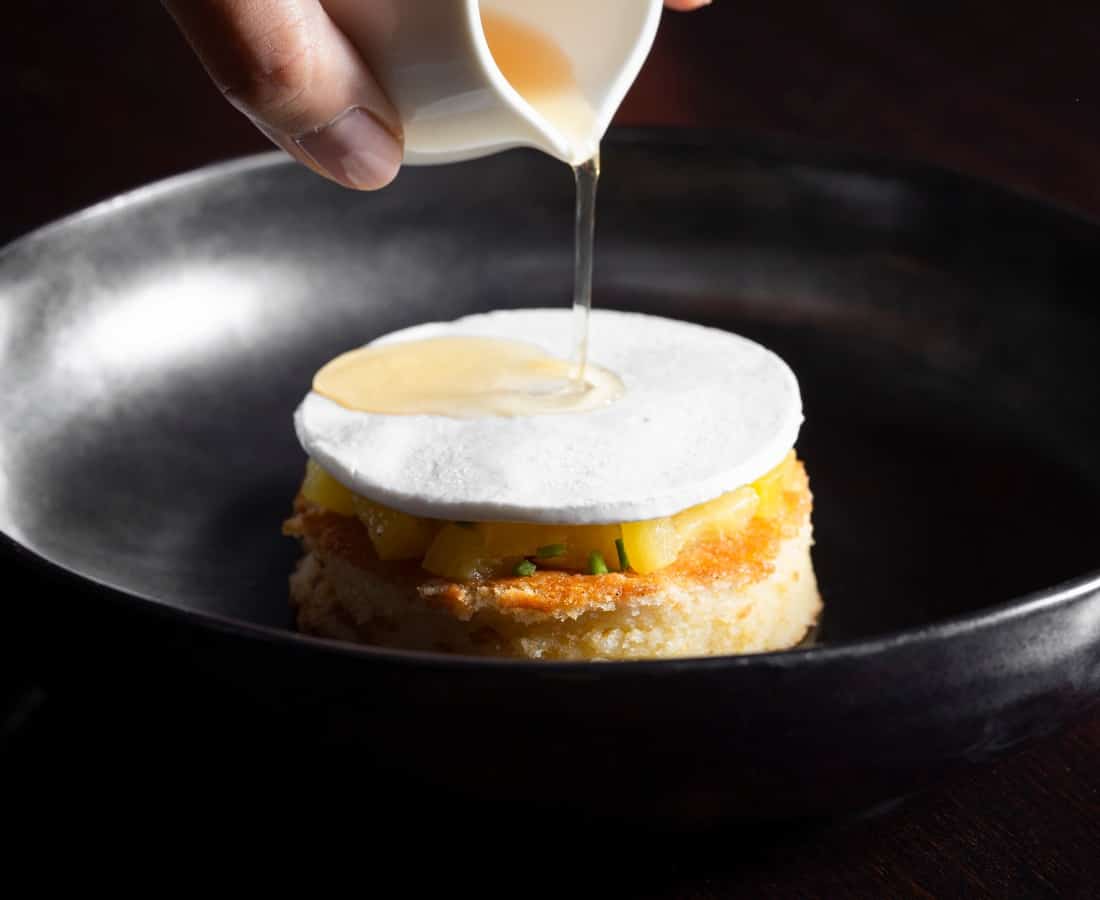 If you're the kind that prefers to drink your dessert, a glass of the Graham's 10 Years Old Tawny Port is the perfect way to end your evening. Be sure to sip and savour slowly (but also finish before 10.30pm).

ADRIFT by David Myers is located at Marina Bay Sands, 10 Bayfront Ave, Lobby Tower 2 Hotel, Singapore 018956, p. +65 6688 5657. Open daily 11.30am — 10.30pm. Reservations required.