Eye Candy: We Chat with Founder of The Yard, Rosanna Trigg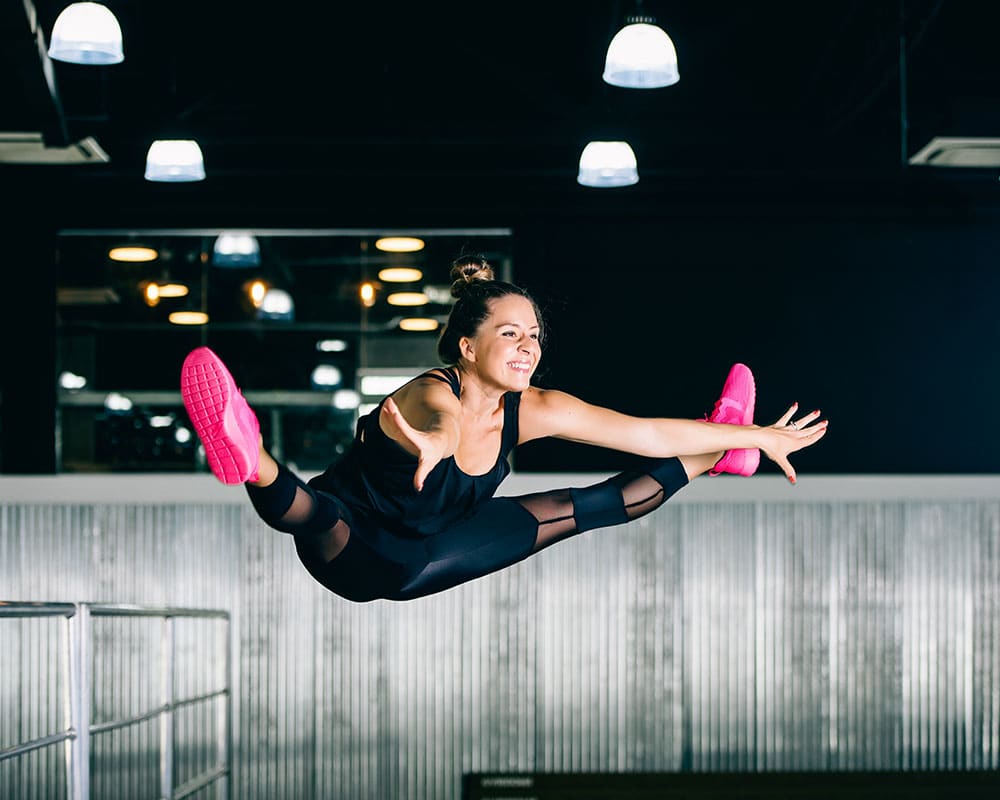 PUBLISHED April 21st, 2017 07:00 am | UPDATED March 26th, 2019 05:43 pm
A highly experienced and internationally qualified gymnastics coach, Rosanna Trigg has been involved in the sport as a competitive gymnast and coach for more than 20 years in Singapore, the UK, and Mexico. Well-known in Singapore and Southeast Asia in gymnastics circles, Rosanna has taken the next step in her sporting career with The Yard – Singapore's largest and first ever urban acrobatics and gymnastics training facility – in 2016.
Rosanna and The Yard team are set to revolutionise fitness culture, raising the bar for the standards of competitive and recreational acrobatic sports in Singapore. In this edition of Eye Candy, Rosanna shared with us the health benefits for doing acrobatic sports.
Where are you from?
Like most expatriates, this is always a complicated story. I was born in London to a Mexican mother and a British-German father. Needless to say, my dual nationality paved the way for a very colourful upbringing. As a very young child, my family split our time between the UK and Northern Mexico. Once in primary school, I was based in South East London until the age of thirteen, after which my parents sent me on a cultural discovery to Mexico, to live with my grandparents for a year. Whilst based in Baja California (Northern Mexico) my father was transferred to the Singapore office of his company, and my parents have been here ever since.
Singapore has been my home for the best part of 20 years, I have been back and forth whilst studying at university for my degree and Master's, but it was always the place I came back to to be with family and now have my own family firmly rooted here.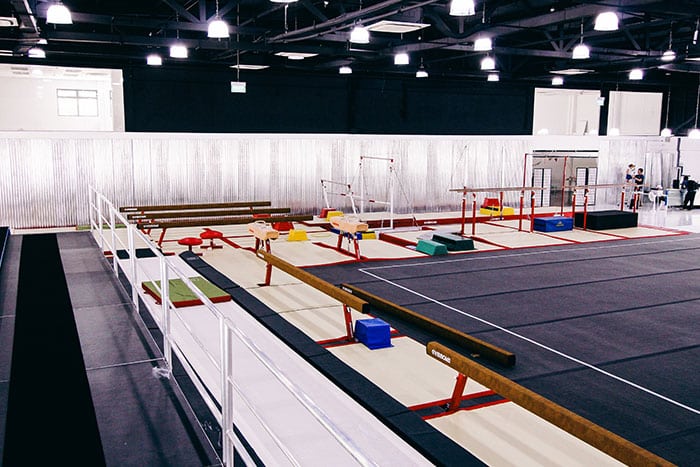 Tell us more about your professional background.
My career has definitely been a marriage of two loves, firstly my passion for sport, more specifically gymnastics (which I have been competitively involved in since the age of 4) and secondly, business. Toward the end of my Sports Science degree I developed keen interest in the business component of the sporting industry which spurred me to do a Masters in Strategic Marketing. Fresh out of uni, I got a job in London working for a small online company as a digital marketing executive. It was an eye opening experience. Being such a small company I had so much access to all the facets of running that business that quickly presented opportunities to show how I could be an effective player in the organization.
In 2010, my husband got a professional opportunity in Singapore. Needless to say, I jumped at the chance to move home. A combination of timing and circumstance brought me back to my gymnastics roots, and presented me with an opportunity to build a program for one of the top international schools in the country. As much as it wasn't what I had anticipated to do with my life, I took a leap and in October of 2010, "Gym With Me" was born. Six years later, 9 schools later and 35 staff later, I was looking for the next big challenge – to build our own center.
What made you start The Yard?
After starting Gym With Me in 2010, it was always a dream of mine to have my own center. I was so overwhelmed by the response to our programs. After establishing a demand, I really wanted to have a space where I could offer gymnastics in a way that no one had experienced it before in the region. For a long time gymnastics has been perceived as very elitist and old fashioned sport in its delivery and environment. I had a vision of a place where we could play with the aesthetic of space, offer value added services such as beauty, rehabilitation and studio classes, a place for relaxation in our members lounge and most importantly create an environment that engages whole families to take an interest in active lifestyles together.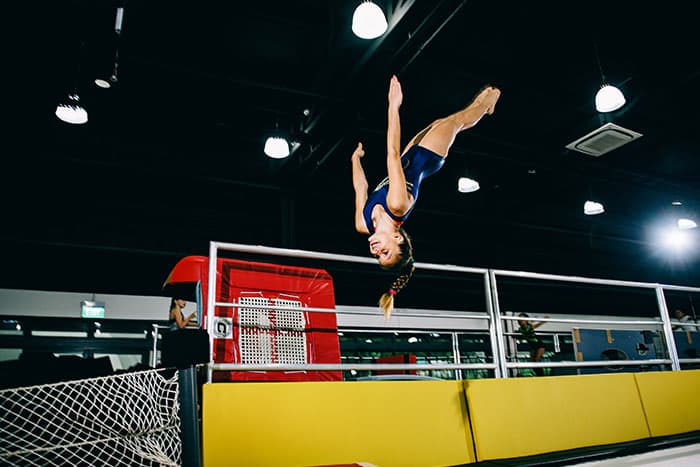 What are some of the health benefits for acrobatic sports?
There are many, for young children. Disciplines like gymnastics pave brilliant athletic foundations, building strength, coordination, balance and flexibility – skills that are all transferable to any athletic activity. For adults, acrobatic activities such as gymnastics, trampolining and freestyle all require a solid amount of physical preparation, cardiovascular fitness and dynamic strength to perform various skills-sets. The approach to training is very efficient and combines the working of many muscle groups in single exercises – as this is how you need them to function when performing a trick. So you get a much fuller total body work-out and develop some pretty impressive party tricks at the same time – not to mention it is SO much fun!
The weight bearing nature of the sport provides great benefits for older generations for keeping the effects of osteoporosis at bay, whilst the strong emphasis on core-strength building can minimize the impact of chronic aches and pain from daily office life and posture.
How would you describe The Yard to someone who has never once done acrobatics and gymnastics training in their life but is definitely interested in checking out?
The Yard is an acrobatics center like nothing you've experienced before. Its cool urban aesthetic is a welcoming environment for adults looking to experience a unique approach to getting fit and strong. The Yard offers a diversity of programs from Gymnastics, Trampolining, Freestyle to Gym Acro for children and adults, designed to take you through the fundamentals at any level of experience.
Our friendly qualified coaches will take you through all the progressions to help you reach your individual fitness and skill goals. As one of the top facilities on the island with trampolines, tumble tracks, an oversized sprung floor, multiple bars and balance beams, climbing ropes and more – there is never a dull moment at The Yard.
After a hard session in the gym, members can enjoy a moment of zen with our diverse menu of studio classes (Yoga, Pilates, Reformer), have an hour of pampering in the Beauty Bar or enjoy a nice relaxing coffee in the Lounge. We are also the only acrobatics center in Singapore to offer fully equipped shower and changing facilities, with salon quality hair dryers and a towel service to match – perfect for freshening up to get back to the office or an evening out with friends.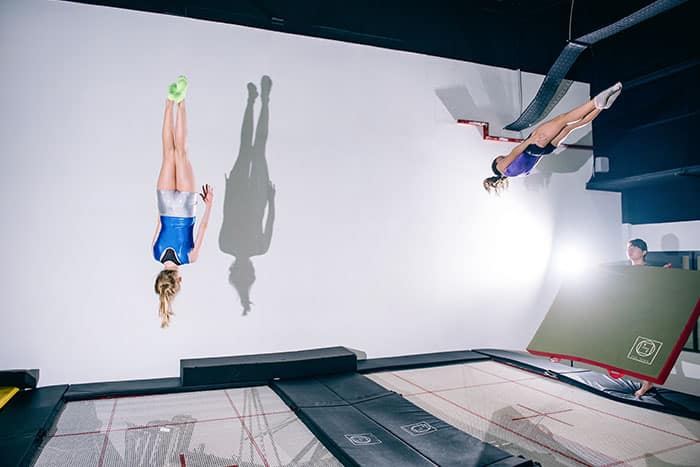 Fitness aside, what's one healthy and eating plan that you always go by?
For me, I believe strongly in all things in moderation. Having a core eating plan that involves plenty of vegetables, protein and reduced carbohydrates for your main meals is a good place to start. I would always recommend reducing your intake of refined sugars, complex carbohydrates and processed food wherever you can; it will do wonders for your health and energy levels. That said, we live in Singapore a haven for amazing food, a sweet treat, an indulgent meal or nice glass of wine is unavoidable and also and great for the soul.
The best thing everyone can do is listen to their bodies – tiredness, irritability, lack of energy and persistent sickness are all symptoms of your body not receiving the right nutrients in one way or another. Learn how to read nutritional labels and look out for sugar content. You'd be surprised how much sugar is in "healthy" branded food. If you'd like to learn more about how to transform your diet, The Yard offers individual diet plans and expert nutritional advice to meet your health and well-being goals.
Any shouts?
For anyone looking to come down to see what it's all about The Yard offer adult drop-in sessions Mondays to Wednesdays 7.30-9.30pm, no booking required. Just let our reception staff know that it's your first time and we will show you the ropes….literally!
Get in touch on +65 6816 8022 or email enquiries@theyard.com.sg