Highball Singapore: Low in ABV, Rich in Flavour
PUBLISHED April 21st, 2017 06:00 am | UPDATED May 18th, 2020 04:26 pm
Whether you love or hate highballs, you have to agree that Kino Soh is one ballsy (pun intended) bartender. Not only did she open Singapore's first highball-focused bar in the quieter neighbourhood of Spottiswoode Park-Everton Park – most cocktail bars here are concentrated in the CBD-, Highball also boasts the only all-female bar team in town.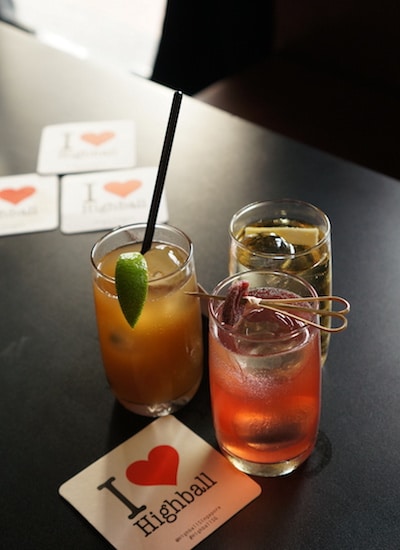 The most straightforward definition of a highball is serving a spirit and a carbonated mixer in an ice-filled highball glass. Although it was made popular in Europe in the 1700s, the highball, with Japanese whisky or shochu, became ubiquitous in the izakayas of Japan by the mid 1900s, where it was an alternative to beer for businessmen to get buzzed. This combination is arguably more suitable for Singapore's weather as compared to more spirit forward cocktails, so Highball is definitely a place to get that thirst quenched.
If you're familiar with the Jim Beam Citrus Highball (basically Jim Beam and soda on tap), you'll be surprised by how much more flavour the drink can carry with a few additions, such as yuzu juice with the Jim Beam Yuzu Citrus Highball. Though the alcoholic kick might be not as strong as one of Kino's highball creations, it's easily one of the cheapest cocktails you'll ever get in Singapore at $10 each.
Highballs on the menu here is categorized neatly by the base spirit. A must-have if you enjoy sweet-savoury combination is the Kyoho Fizz ($15), a gin-based tipple with Kyoho grape liqueur, lemon juice, and soda. Leave your sour plum garnish in the cocktail for a slight salty kiss at the end of each sip. If you're looking for something with rum, Highball's Dark & Stormy ($15) packs a real, complex gingery kick with both black ginger shrub and ginger beer. Those after something classic and refreshing can opt for the Kaku Highball ($10) made with Suntory Kakubin whisky with soda and garnished simply with lemon peel.
With more or less 40 highballs on the menu, you're pretty much spoilt for choice but we also noticed that there was also a list of non-highball style cocktails created by members of Kino's team. The Yuki No Hana ($12) was like an alcoholic Calpis soda with sake, yogurt liqueur, honey, and milk. Sweet and creamy, it needed a little acidity for balance.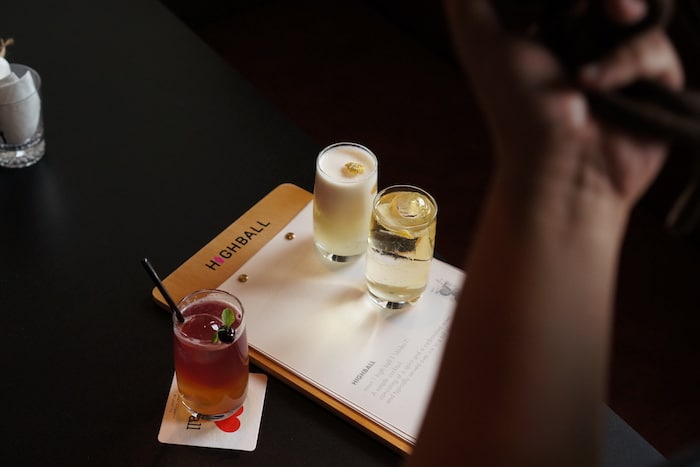 Earl grey tea cocktails have the potential to taste a little soapy, and thankfully, Earl Fleur ($15) didn't go down that road. However, the combination of gin, earl grey tea, rose, and lemon juice shaken with egg white might come off as a little medicinal for some. The most spirit-forward cocktail we tried at Highball was the Commodore 79 ($15), where chocolate bitters and Cabernet Sauvignon float over cognac, lemon juice, and soda.
There's finally a bar alongside the funky restaurants, coffee shops, and KTVs in this somewhat gentrified neighbourhood off Outram Park. It's a little out of the way if you work in the CBD, but no matter what day it is, Highball is great for easing into a long, raucous night of drinks.

Highball is located at 79 Kampong Bahru Road, #01-01, Singapore 169377, p. +65 6222 0179. Open Mon-Sat 4pm-12am. Closed Sun and public holidays.
All images courtesy of Sylvester Fedor.