Singapore Staycation Spotlight: Oakwood Studios Singapore's Luxury Serviced Apartments in Orchard Road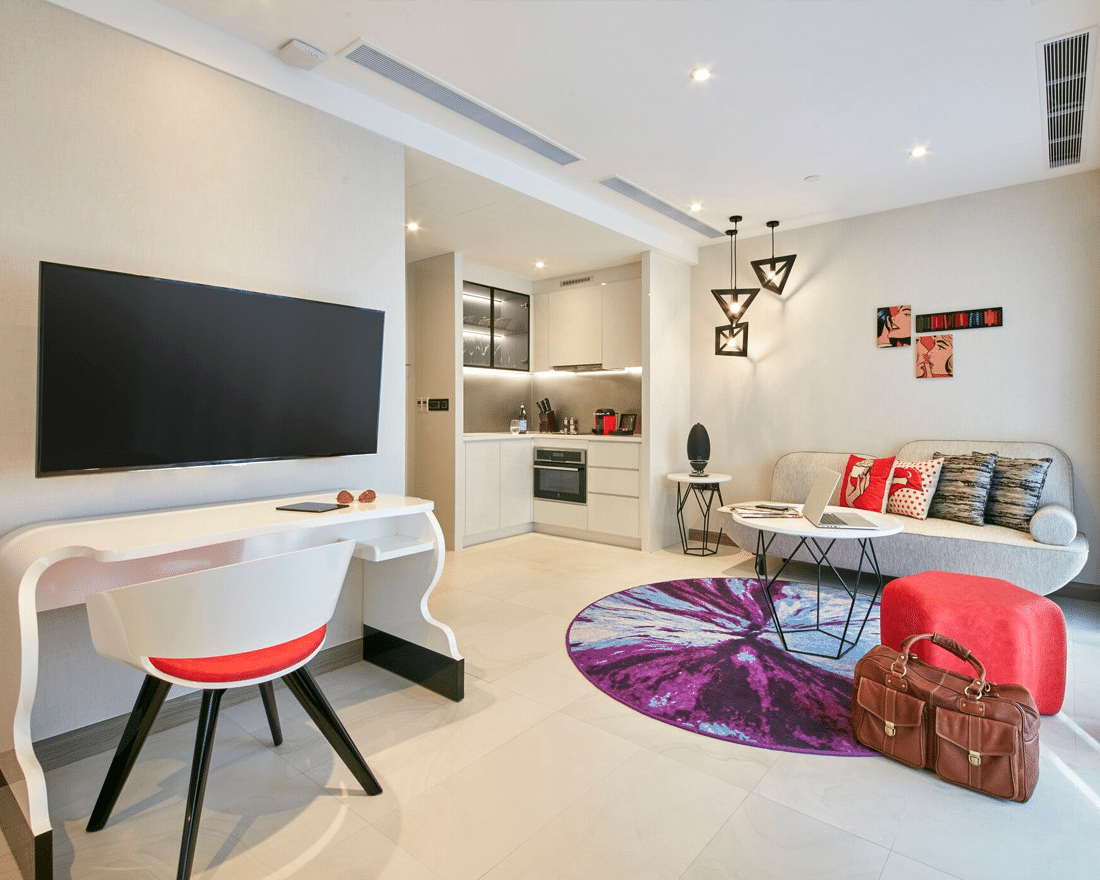 PUBLISHED August 24th, 2017 06:00 am | UPDATED March 28th, 2019 11:18 am
While it's a given for hotel staff to wear uniforms, it's less usual for them to swap out their uniforms three times a day – in the morning, afternoon, and at night – to convey different moods. This is just one of the little touches and surprises at the newly opened Oakwood Studios Singapore – the world's first Oakwood Studios, and the brand's first property in Singapore.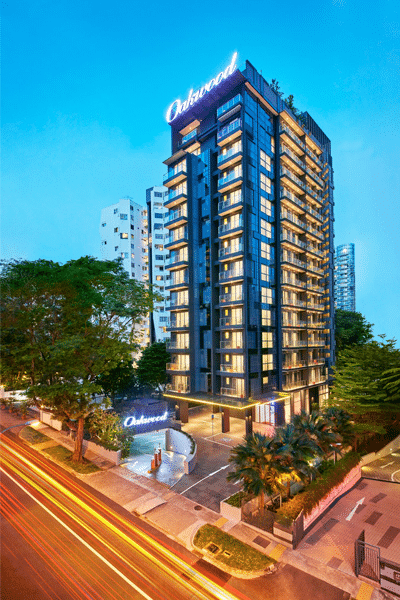 It took quite some time to build, and it shows in the details. Conveniently situated just off Orchard Road (the city's prime shopping belt) behind Paragon and Lucky Plaza, step into the lobby and you're greeted with a contemporary light installation comprising tubes of red and white acrylic LED lamps in the shape of a 'thumbs up'. Bright red pods serve as check-in desks, and at the lift lobby, more LED diodes and stylish neon signs made it clear: this was going to be a fun stay.
Winner of Best Interior Design at the recent Serviced Apartment Awards 2017, the stylish and modern vibes here are reminiscent of W Singapore, though Oakwood is not so much risqué than it is quirky. The property is designed by local firm FBEYE (they've also done work for the Saint Pierre restaurant and Westin Singapore), and a majority of the rooms here are Studios, as was mine. There are also over 20 One-Bedroom and two Two-Bedroom apartments.
The Studio, which is the smallest by floor area, is still abundantly spacious; it's like a bachelor pad – large for one, perfect for two. Each apartment comes with a fully-equipped kitchen (microwave oven, knives, induction hob, hood, and even salt and pepper) which is great for longer-staying guests. A cosy toilet is stocked with Imperial bath amenities, which is new, considering the brand primarily focuses on men's barber products. You will find a spacious refrigerator, television, Samsung R7 Bluetooth-speaker, and a phone that provides complimentary data and local calls even outside the property.
You know how you'd usually have to call down to the concierge to request for additional shampoo or to pick up the laundry? A handy tablet on your bedside table allows you to do that, and so much more – order from Deliveroo or UberEATS, reserve a table outside with Chope, buy a ticket for that new musical, surf the net, check flight information, book a limo, see what's up around Singapore, and even read manuals for operating your room's complimentary Nespresso machine.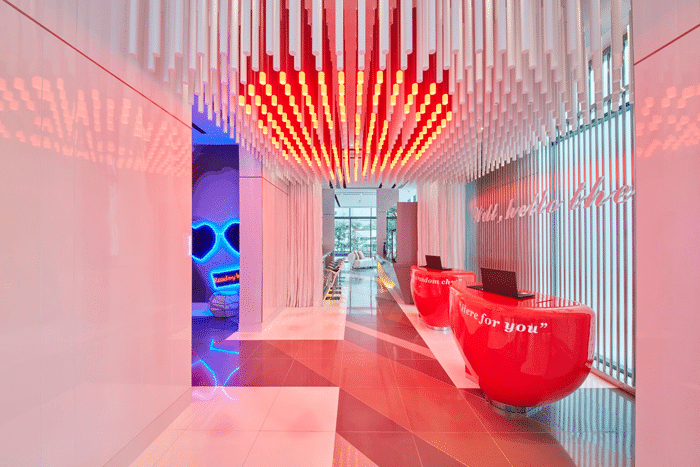 At this point, I should point out that Oakwood Studios also curates experiences by following up on each booking with a brief questionnaire to ascertain your lifestyle and interests. Play the piano? You'll have the option of renting an upright piano (designed by Steinway & Sons, no less) in your room. Eat an egg for breakfast every morning? A personalised grocery shopping service means a tray of them will be found in your fridge when you check in. Do note that these pre-arrival curated services are currently only for long-term stays, though guests on short visits can still request for them on the spot via the tablet.
On the fifteen floor rooftop, there is a barbecue pit on the rooftop for alfresco dining under the stars, next to a sizeable pool and small (but functional) gym overlooking various parts of town. Elsewhere, a Resident's Lounge next to the lobby is a good place to mingle and connect, amongst eclectic marble furnishings, an open kitchen and bar, and an intriguing mirror TV wall that lets you comb your hair while watching the news.
If the weather is good, head outside to lounge on cabanas in the middle of the otherwise buzzing neighbourhood. At the corner, a photo-worthy spiral staircase leads up to the Retreat, an open-air garden terrace that's apt for a good book or yoga mat.
While it may seem like the tech-enabled Oakwood Studios is targeted towards millennials, this place is really for anyone who's young at heart, from the fun-loving family to the prudent but open-minded business traveller looking for a dynamic accommodation. Even the staycation-ers will love this one, owing to the property's proximity to Singapore's trendiest neighbourhoods and star attractions. With highly affordable e-scooter rental services available as well, there aren't many other properties that make such a good base for your adventures.
Oakwood Studios Singapore is located at 18 Mount Elizabeth, Singapore 228514. Rates start from SGD$228 per night. For reservations, please call +65 6914 1800, email to [email protected], or click here.