Hotel Review: Four Seasons Resort Chiangmai is a Paddy Field Paradise in Mae Rim, Thailand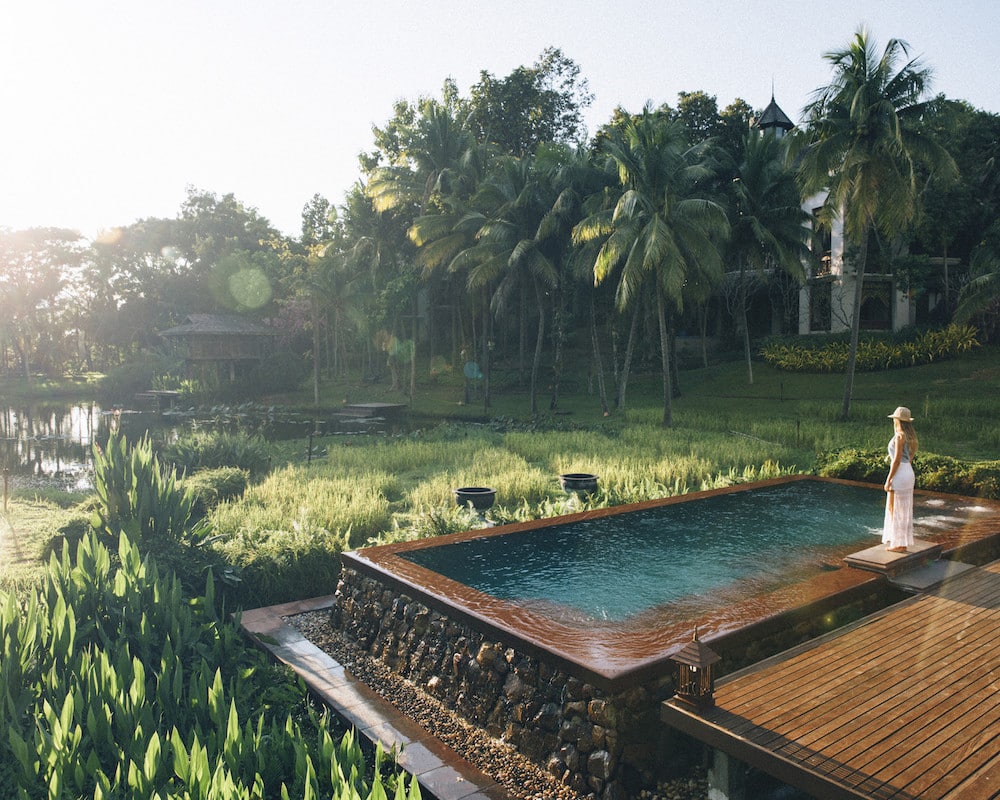 PUBLISHED September 21st, 2019 08:00 am | UPDATED May 18th, 2020 07:19 pm
Chiang Mai might be the largest city in northern Thailand, but it certainly doesn't come close to the scale of metropolis Bangkok (though one might argue its coffee culture superior). It doesn't surprise us then, that we'd find a property like Four Seasons Resort Chiang Mai just half an hour's drive from the city centre in Mae Rim. It is supposed to be the land of misty mountains and colourful hill tribes, after all.
Location and Space
And spotted the misty mountains we did, as Four Seasons Resort Chiang Mai overlooks the Doi Suthep Mountain range from its 13-hectare grounds set within the Mae Rim Valley. Filled with lush landscaped gardens, rice terraces with two small lakes, lily ponds, and waterfalls, we've never felt so inclined to stay in (as opposed to going out to explore). Those who do, however, won't be disappointed by more natural attractions and some of Chiangmai's famous temples.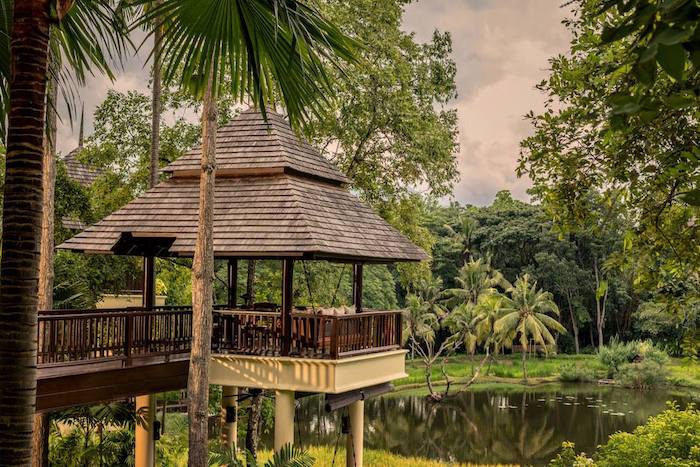 The layout of the resort is reminiscent of a Thai village, with pavilions surround a working rice farm – paddy fields and scarecrows included. But what makes it an even better throwback is the evident influence of the Lanna style in the work of the architects and the interior designers. For those unfamiliar with history of the region, the Lanna Kingdom ruled northern Thailand for more than three centuries from AD 1292, and there are similarities in culture with the Burmese, Chinese, and Indians. Across the property, you'll find Lanna school paintings in the lobby, and the use of rich silk, hand-woven cotton, and wood carvings that are endemic to the heritage-rich region. Despite this tightrope of a walk between old and new, the hotel never feels dated or heavy.
Rooms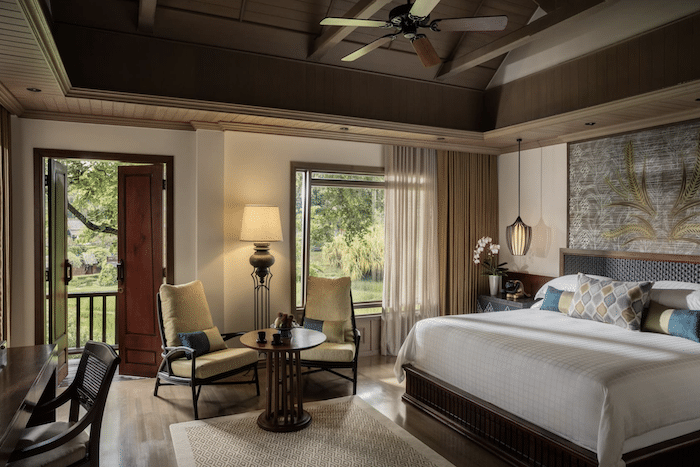 There are only 98 keys for so much space, and the bulk of them are the Pavilions – one-bedroom suites with views of either the gardens or the rice fields. There are no more than two Pavilions in one structure (upper and lower), and the entrances are designed in such a way that guests don't have to meet their neighbour if they don't wish to. Like the others, our Upper Rice Terrace Pavilion rings in at 70 square metres and sports a private outdoor living space with a wooden swing bench that's perfect for watching the sun set on the rice fields.
Four Seasons Chiangmai has been expanding on their wellness programme over the years, which meant we found a tasty snack of coconut-chia seed pudding and a carafe of mint-infused water waiting in the room upon entering. If you need to stay connected, the WiFi is better than decent, though we found it impossible to watch Netflix on their very nice Samsung television screen. Still, binge-watching Mindhunter on a Macbook Pro while lying in luxurious linens and too-comfortable bed wasn't bad.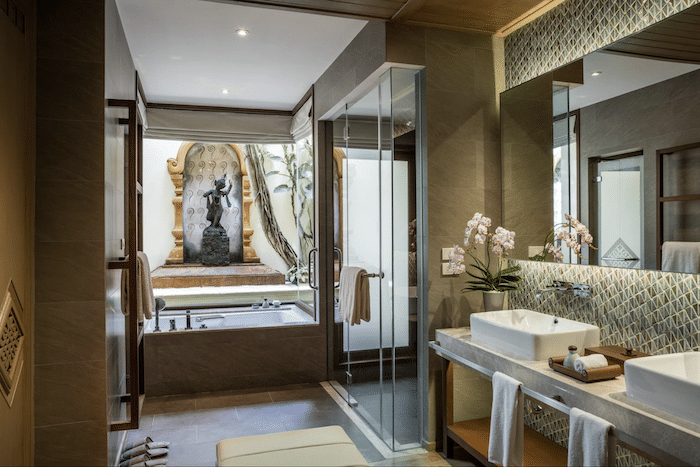 If you've a weakness for great bathrooms, you'll love the walk-in wardrobe and bathroom combination. Not only is there a bathtub equipped with loofa and rose scented bath salts, there's a separate shower and toilet, two vanities, and a fancy dressing area with a cushioned benched so you can get dressed comfortably and in style. Those who care about the environment will appreciate the limited use of single use plastic in the rooms; bath amenities are refilled in ceramic bottles and cotton pads in zip lock bags. Even the access cards are made of wood!
Food and Drink
Besides serving the daily breakfast buffet, Khao – 'rice' in Thai – trades in contemporary northern Thai food with the occasional detour into Burmese and Yunnan cuisines. One of the highlights of our dinner at Khao was being asked what type of rice we'd like to go with our dinner; they have six varieties and it's a great opportunity to try riceberry, a unique dark purple grain that's gluten-free, nutrient-dense, and touted as the next superfood.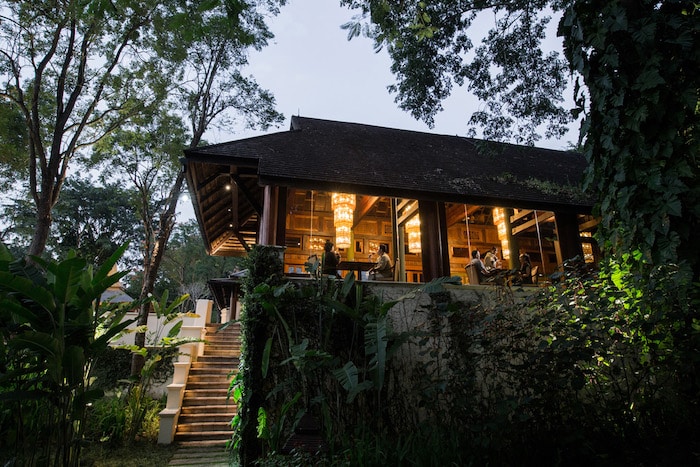 The starters were particularly good – the Som Tum Poo Nim (THB 545), where deep fried soft shell craft and green papaya was dressed in a suitably funky dressing of fish sauce and dried shrimp, as well as the fragrantly herbed Thai Beef Salad (THB 995) prepared with an extravagant serve of Angus Tenderloin. With our palates assaulted by the first two dishes (in a good way), it was hard to detect the hickory smoke in the lovely sweet-sour profile of the Slow Cooked Pork Leg Soup (THB 590). The Green Curry Beef (THB650) had excellent flavour but was so clean that I'd sooner think of it as a broth. Still, we mopped up every last drop with our riceberry and sticky rice.
Facilities and Activities
There are two swimming pools at Four Seasons Resort Chiang Mai, and the one by the health club and Ratree Bar with a view of the rice fields is adults only (happy news for honeymooners). The health club is also the place to go to change into their farming outfits if you'd like to take part in complimentary activities like rice planting and water buffalo bathing (say hi to P'Tone and P'Tae!).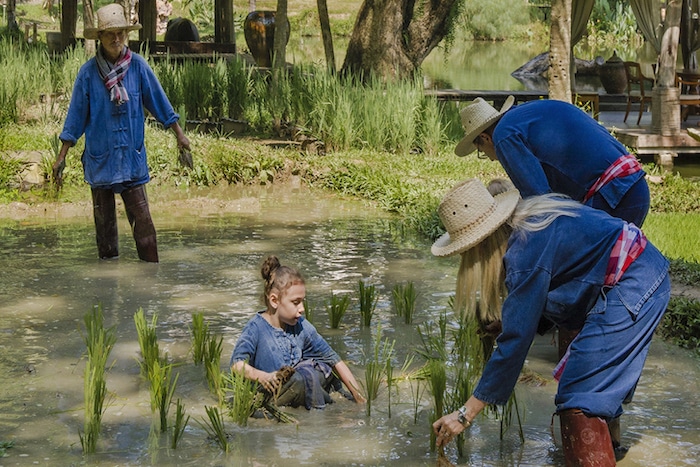 If you're in the mood for some real R&R, drop some Thai baht at The Spa. Decked out like one of the 22 Lanna-style private residences at the resort, there are seven treatment rooms large enough to cater to couples. I opted for one of their signature treatments, the Oriental Blend Massage (THB4,800 for 90 minutes). Based on the theories of energy meridians, it combines the Thai pressure point technique with kneading and circular movements to releases tension. The post-treatment experience was also fantastic, as the relaxation area caters snacks like dried mango, pumpkin seeds, unsalted cashews, and goji berries to go with ginger tea.
On Hospitality
It would be remiss for us not to point out how great the hospitality was at Four Seasons Resort Chiang Mai. Although we didn't notify the hotel of my husband's birthday that passed during the stay, they cared enough to print and frame a photo of us (found off Facebook, nothing hinky) and had it sent with a big chocolate cake to the room. The next day, Housekeeping found our cooler box of booze, and bothered filling it with ice to keep the contents cool without asking. If all Four Seasons properties are like this, you can bet we're looking forward to our next stay.
Four Seasons Resort Chiangmai is located at 502 Mae Rim-Samoeng Old Road, Chiang Mai 50180, Thailand, p. +66 53 298 181. Garden Pavilions start at THB 18,000 (US$590) per night.