SHIMA – An old dining player in Japanese Teppanyaki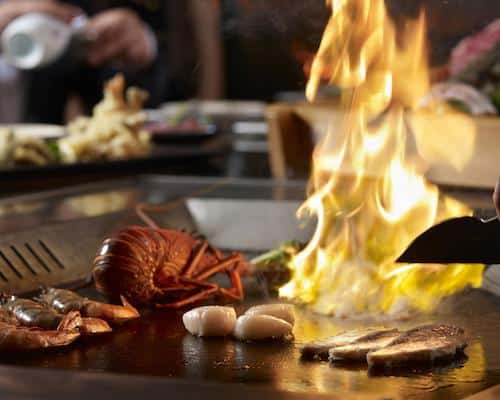 PUBLISHED August 13th, 2014 10:00 pm | UPDATED May 19th, 2017 04:15 pm
Where others have traded restaurant staff for automated dispensers and electronic ordering chits amid today's labour crunch, Shima has remained a tradition-loving stalwart at Goodwood Park Hotel, keeping to classic Teppanyaki's unpredictable, manpower-intensive service model.
The 34-year-old establishment has recently attempted to up the ante with a re-furbished interior, but truth be told, it still appears stuck in the 1990s. It doesn't help that kimono-clad and bow tie-strung servers jolt around with commands rather than recommendations for dipping sauces, and that poor rather than dim lighting makes the slightly smoky air seem like a period drama fog has transcended.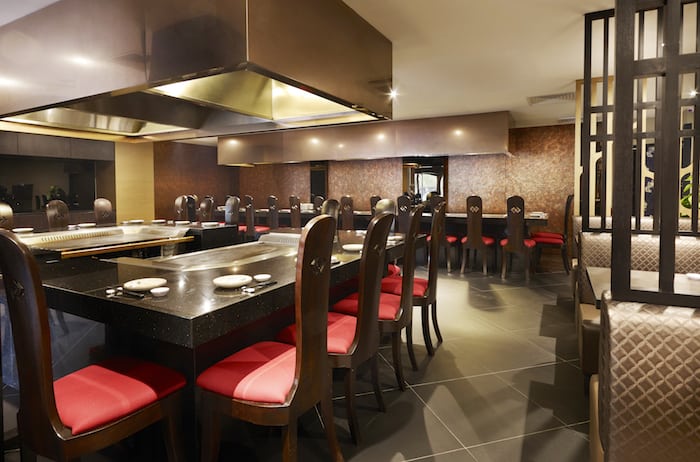 Nevertheless, Shima proves with its food why it's still one of Singapore's better torchbearers of griddle cuisine. Head straight for the uber value-for-money weekday buffet lunch ($49.90) that is bound to send your tastebuds to haven and throat to hell, or the Shima Deluxe set ($90-$200, depending on choice of main course) that will offer you a decent repertoire of Executive Chef Michael Koh's table-side creations. No fancy cartwheels or utensil acrobatics, just honest flavours with ingredient integrity and provenance as key starting point.
Norwegian Salmon lightly poached in a rectangular foil of 'secret sauce' is the softest we've had, almost flaking instantaneously on the tongue. The soya-based broth is tangy and sweet, almost too good to be true (and too flavourful to go without rice). Vietnam-sourced Tiger prawns are thoughtfully de-shelled, with a wonderful sear etched by the blistering heat of the time-tested cast iron grill. The creamy garlic sauce with which they are coated steals the show with its mentaiko-like richness that is a perfect foil for the lean prawns.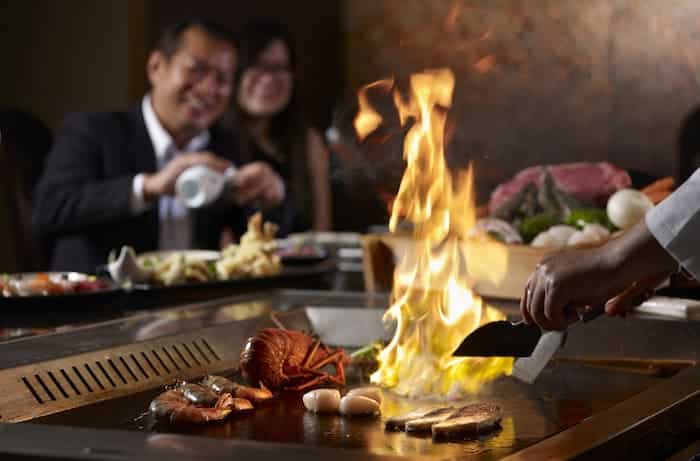 Next on our favourite list, but not too far behind, is Shima's Teriyaki chicken. Before you write it off as another pedestrian Japanese menu-filler, this iteration has a slight spicy backbeat and surprisingly good texture from sesame seeds, proving that simple touches of spice or condiment can take a perfectly common dish to another level.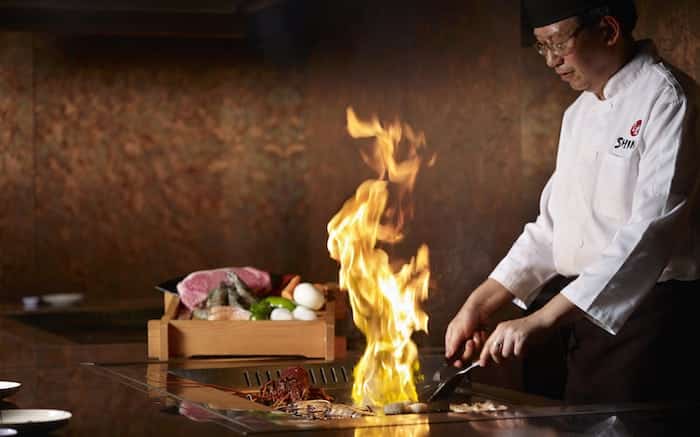 Technique, though, is far more indispensable – and grilled beef seasoned with nothing more than salt and pepper speaks volumes of the skills and experience that Shima's Teppanyaki chefs wield. Our favourite is without doubt Shima's US Ribeye with its tight, salty caramelisation outside and a alluring pink hue within. The Australian and Japanese Wagyu might have been rendered with the heat knob accidentally turned two notches down, a slight pity given their top-notch marbling.
Little kinks here and there aren't fatal flaws – Hokkaido scallops that are a tad small for our liking, oysters burdened with too much garlic and garlic fried rice with some tough grains within. With the animated Teppanyaki chefs bantering with ease and sharing interesting anecdotes, what more with some really outstanding dishes conceived, forgiving these minor blips is a breeze. Even its dated interior starts to exude an old-world charm. Go figure.
Read more at Quality Japanese Seafood at Ishinomaki: Review and Boruto: Inventive Japanese Tapas and Sake Bar Along South Bridge Road