Secret Bars in Singapore: Cool Hidden Speakeasies That Serves Amazing Cocktails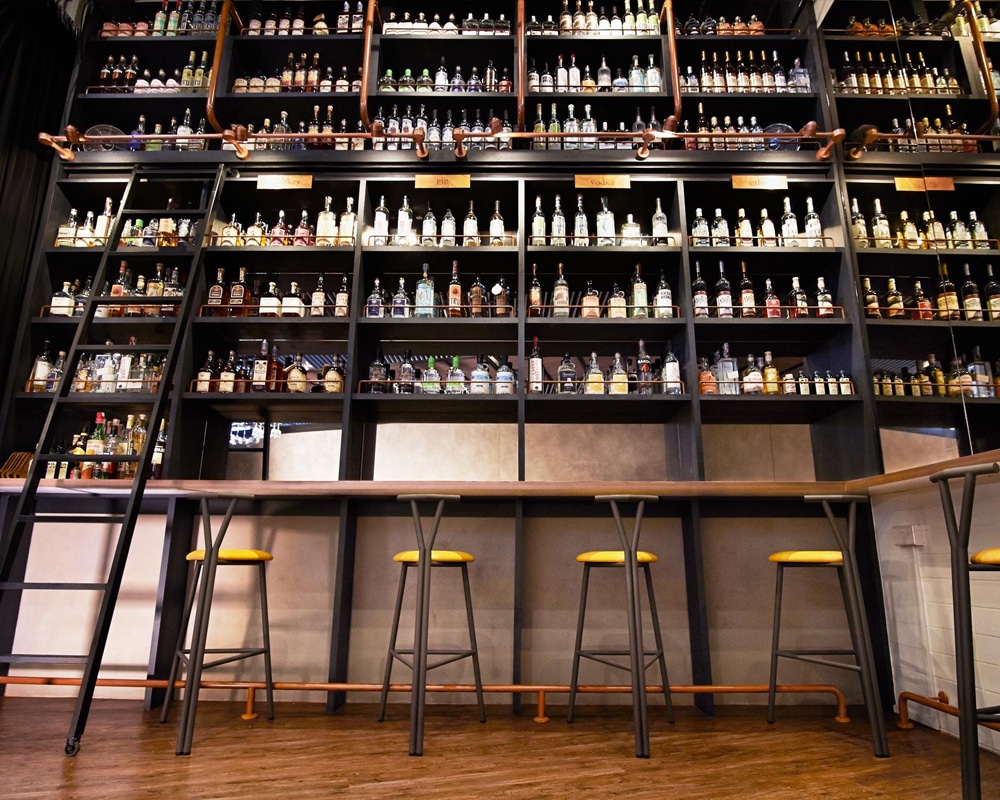 PUBLISHED June 9th, 2016 10:00 am | UPDATED May 18th, 2020 04:26 pm
There's nothing quite like stumbling upon a new hidden gem, is there? Aside from the sense of adventure and escapism in this concrete jungle of Singapore, it's always good to be rewarded for your efforts by a refreshing and tasty cocktail in an oh-so cool atmosphere.
It's certainly no secret (pun intended) that speakeasy and hidden bars are all the rage now, but do you know just how to find them? Check out our list of 12 real hidden gems with cool locations and equally awesome cocktails. Enjoy!
Operation Dagger is truly a hidden bar. No signage (just a simple vampire-esque symbol near the door), a dark corridor and stairwell that lead to the labyrinth of cool drinks in unmarked bottles. The complex cocktails can be hit and miss, but the hits are usually homeruns. Their signature Hot and Cold ($23) is off the menu, but so many regulars ask for it that they can prep it at any given time.
Operation Dagger is located at 7 Ann Siang Hill, Singapore 069791, p. 6438 4057. Open Tue-Sat 6pm – 12am. Read more about Operation Dagger here. 
Stroll through the foliage tunnel filled with fairy lights and you reach The Rabbit Hole, a gin sanctuary tucked in the middle of lush Dempsey Hill. Take your pick from a well-curated selection of 15 gins, categorised into five different flavours profiles – such as Floral & Elegant and Complex & Unexpected – for your ease. Each gin is paired with distinct garnishes that allow you to experience the full flavours of the spirit, together with a selection of tonics (including The Rabbit Hole's own housemade tonic). Absolutely stunning in the evenings, the garden also serves tasty bar bites such as a charcuterie platter and crêpes.
The Rabbit Hole is located at 39C Harding Road, Singapore 249541, p. 6473 9965. Open Tue-Fri 6 – 11pm and Sat-Sun 6pm – 12am. Read more about The Rabbit Hole here.
Tucked away behind Hua Bee's Mee Pok… and hidden further behind Bincho's tiny Japanese restaurant is the nuclear bunker that is Bincho bar. On the drinks front, this bar has an impressive selection of rare Japanese whiskies along with some cool contemporary Japanese-style cocktails.
Bincho at Hua Bee is located at 01-19, 78 Moh Guan Terrace, Singapore 162078, p 6438 4567. Open Tue-Sun 12pm – 3pm, 6pm – 12am. 

Hidden behind a curtain inside an unassuming ramen shop, The Horse's Mouth is a firm favourite with bar veterans and a usual stop for us when we're in Orchard Road. With its hidden sliding-door entrance, chic decor, and lovely bar, Horse's mouth is still a hidden gem. And do we have to say that ramen and cocktails are a winning combination as far as those go?
Horse's Mouth is located at The Forum (B1), 583 Orchard Road, Singapore 238884, p. 6235 1088. Read more about Horse's Mouth here. Open Mon-Thu 6pm – 12am, Fri-Sat 6pm – 1am.

I think the name says it all. Hidden in the basement of Ocean Finance Centre, The Secret Mermaid is somewhat enigmatic. Maybe because after hours, once the rest of the office workers have abandoned the building, The Secret Mermaid remains buzzing, serving up its patrons a selection of rare and unique American spirits. Great place for somewhere a little off the beaten track.
The Secret Mermaid is located at 10 Collyer Quay, B1-08 Ocean Financial Centre, Singapore 049315. Open Mon-Fri 5pm – 11pm. Read more about The Secret Mermaid here.
Ignoring the fact that the food at IZY is utterly superb, it may come as a welcome shock that hidden behind a curtain at the back of the restaurant is a rather luxurious and surprisingly spacious bar. Stocking a bar full of Japanese whiskies and other spirits, it would make a great spot for a post-dinner cocktail or dram.
IZY Dining and Bar is located at 27 Club Street, Singapore 069413. Open Mon-Fri 12.30pm – 2pm, Mon-Fri 5pm – late.

We love Spiffy Dapper; and we know a lot of other people do. This self-styled dive bar with exquisite cocktails is brilliant. Located on the second floor of an Amoy Street shophouse, The Spiffy Dapper offers a solid drink for its incredibly diverse clientele of hipsters, students, backpackers, bankers and everyone in between.
The Spiffy Dapper is located at 73 Amoy Street, Singapore 069892, p. 8722 4953. Open Mon-Fri 4pm – 12am, Sat-Sun 8pm – 12am. Read more about The Spiffy Dapper here.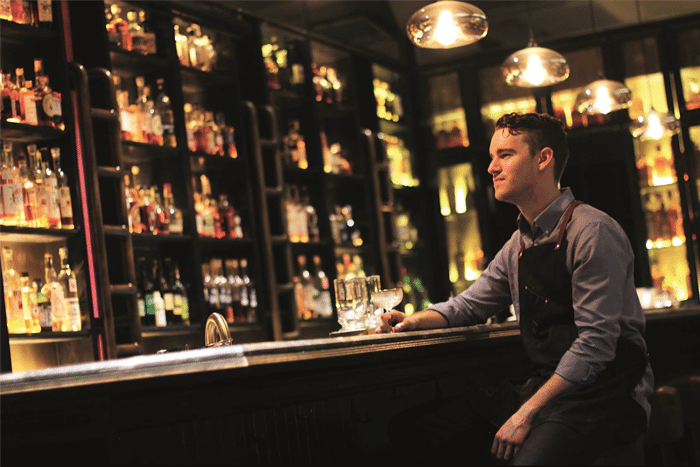 Whilst 28 HongKong is no longer the new 'speakeasy' style bar on the block, its recent accolades like Asia's Best Bar and Best Cocktail Bar in Singapore means it's got a band of loyal followers and a helluva reputation to boot. Great staff, music, bar snacks (the Truffle Mac & Cheese Balls are a fan favourite) and of course world-class cocktails – always a pleasure to visit on a night out.
28 Hong Kong Street is located at 28 Hong Kong Street, Singapore 059667, p. 6533 2001. Open Mon-Thu 5.30pm – 1am, Fri-Sat 5.30pm – 3am. Read more about 28 Hong Kong Street here.
Having recently moved to Haji Lane from its original Waterloo location, Anthony Zhong's Shin Gi Tai is better than ever. Ascend the stairs to the second floor (right above KOI Izakaya) and find a list of classics with a twist to choose from, such as an Old Fashioned made with cognac and Grand Marnier, or Osmanthus Gimlets. Plus, they serve stellar Japanese-influenced bar bites like chicken katsu sandwiches and shisamo tempura with chips.
Shin Gi Tai is located at 9 Haji Lane, Singapore 189202, p. 9768 4132. Open Mon-Sat 6pm – 12am.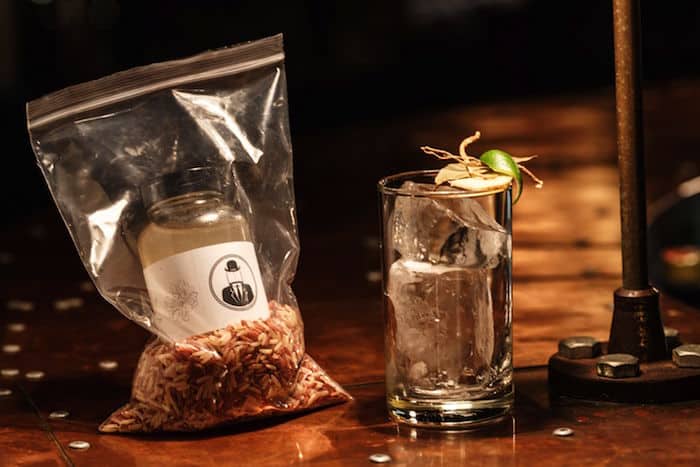 One of the first few speakeasies to open up in Singapore, The Library is a password-only that's still a firm favourite for many a veteran barfly. Hidden behind a bookshelf, expect your senses having to readjust as the bright red lights and giant sliding mirror door plays havoc on your visual perception. And then you arrive at The Library Bar. Get the password on their Facebook Page or Twitter.
The Library is located at 47 Keong Saik Road, Singapore 089153. Open Mon-Fri 6pm – 1.30am.
Cheekily hidden behind a heavily graffiti-ed construction hording, Bitters & Love is another great cocktail gem with its second home along Telok Ayer (they were previously at North Canal Road). Tell the boys what type of spirits and flavours you want and let them handle the rest, or order from a menu of cocktails sporting Singaporean influences like the Kaya Toast ($23).
Bitters & Love is located at 118 Telok Ayer Street, Singapore 068587, p. 6438 1836. Open Mon-Sat 6pm – 12am. Read more about Bitters & Love here.
One of the older whisky bars in Singapore, and home to regular Jazz nights, B28 is a great place to stop for a drink. It's smart, sleek and a bit posh (especially with quite the collection of Cuban cigars). It's also craftily hidden off Ann Siang Road down a dark alley and behind a thick entrance door. The only major downside of B28 is that the prices are a fair bit higher than the typical cocktail bar.
B28 is located at 28, Ann Siang Road, The Club Hotel (Basement), Singapore 069708, p. 9298 8863. Mon-Wed 5pm – 1am, Thu-Sat 5pm – 2am.