Why You Should Skip Bali And Go To The Gili's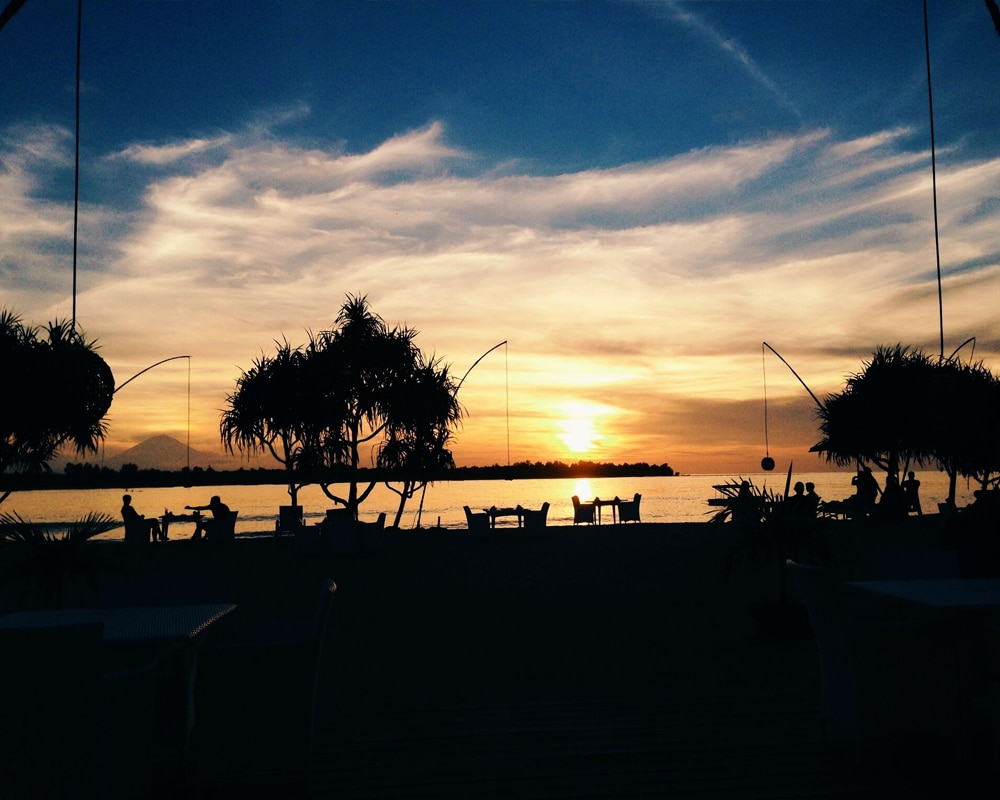 PUBLISHED June 8th, 2016 07:00 am | UPDATED November 28th, 2019 06:30 pm
Just off the coast of Lombok, you'll find crystal clear, turquoise waters teeming with incredible sea life, as well as three small islands that are only a hop, skip, and jump away from Bali.
Think of Bali in the 1970s, but with many of the modern amenities modern travellers have become accustomed to: Wi-Fi, hot showers, fresh water, espressos, and the like. Gili Trawangan, Gili Meno and Gili Air have resisted much of the modern trappings that Bali has succumbed to, so a visit to one of the islands will allow you to enjoy a considerably more laid back vibe.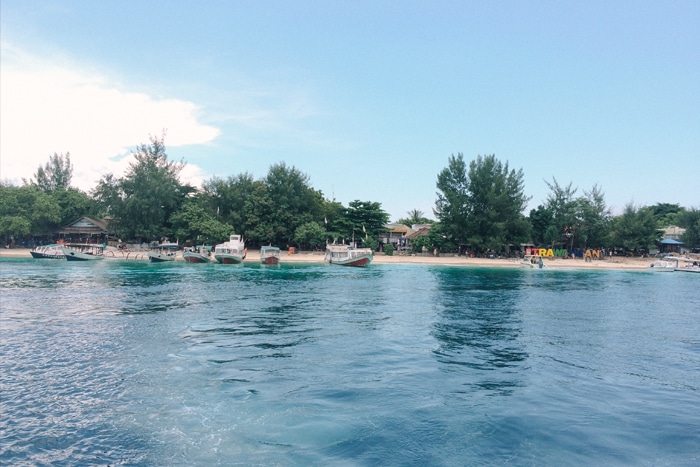 With an abundance of palm trees, enough restaurants to satisfy any craving, pristine sandy beaches prime for relaxing, and no motorised vehicles to disturb you. Although these three sleepy islands have featured on the Banana Pancake Trail (the well-trodden and constantly growing routes around South East Asia travelled by backpackers) for a number of years, they are growing in popularity as travellers look for ways to enjoy an island paradise away from busy Bali.
A Viable Alternative to Bali
On the Gili's, you'll find no loud honking of horns at all hours of the night, pollution from vehicles, or near misses with motorbikes as you cross the street. While the diving in Bali is good, the coral and sea life has been threatened as a result of the tourist trade. The Gili's have an abundance of tropical sea life and live coral, and the conservation is supported by the Gili Eco Trust.
The Trust facilitates beach cleaning, recycling, regeneration and conservation of the reef. While not fantastic by global standards, it's definitely a step up in comparison to other parts of Indonesia. The beaches in the Gili's are also just as good. As a bonus, you won't have many crowds or the pushy vendors that reside on many of Bali's beaches. Hire out glass bottomed boats inclusive of snorkelling gear from IDR 80,000, and keep an eye out for the abundant sea life in the water.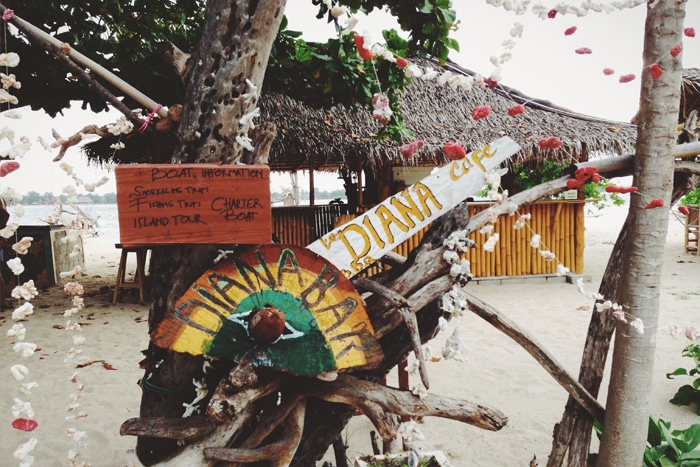 Bali draws travellers in search of solitude and tranquility, and some looking for wild parties (which they'll find in Kuta!). Both worlds coexist in the Gili Islands too, where you can enjoy a drink at an Irish bar, enjoy the beats at the local reggae bar, and then head back to your quiet bungalow. The Bon Fire bar in Trawangan's West lights a bonfire at the beach each evening, complete with dazzling fire dancers.
Admittedly, the Gilis won't be able to match up to Bali in terms of restaurants since the latter is host to some of Indonesia's best. However,  you'll find a local food scene good enough to satisfy your cravings. Seafood is the island specialty, and you can enjoy it fresh every evening on the main street's restaurants. Plus, the day's pasar seni (art market) turns into a delicious food market in the evening and is the perfect spot to find cheap eats.
Both Bali and the Gili Islands have an abundance of accommodation for all budgets. You'll find rooms with full facilities, such as the Gili T and B Homestay which offers air conditioned rooms, breakfast, hot showers,and free Wi-Fi, with prices starting from IDR 250,000.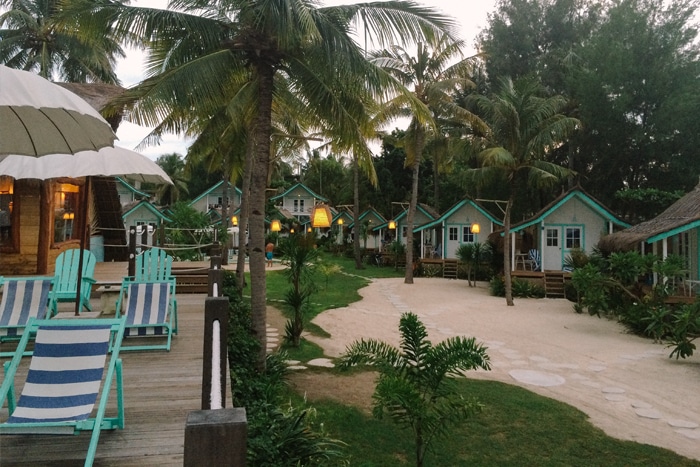 Many of Indonesia's tourist hotspots require at least two flights or a long drive, and Bali has the advantage of being accessed through direct international flights. Although the Gili Islands doesn't have access to an airpot, they can be visited in as little as two hours from Denpasar airport.
Weather is good in the Gili's for most of the year – generally dry and hot during the day, and cooler in the evening. The rainy season runs from November to April, so you'll find cheaper prices if you can brave a little rain. Peak tourist seasons run from July to August and December to January, so we recommend planning your trip either outside of or on the fringe on these dates.
[button color="blue" size="normal" alignment="none" rel="follow" openin="newwindow" url="http://www.tkqlhce.com/click-9211920-13787533″]Luxury villa rentals available on Elite Havens[/button]
The Gili Islands
Gili Trawangan is the busiest of the three islands, with a permanent population of about 800 residents. It is the perfect location for travellers seeking a little fun, and is well-known as the Gili's party hot spot. Don't let that put you off though, as Trawangan offers genuine relaxation, and some of the best and most stunning beaches in the region.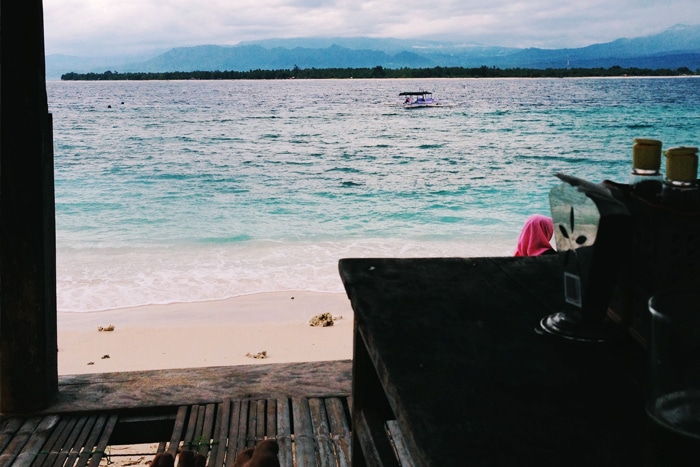 The eastern side of the island (where you'll alight by boat) is the most developed, and has an abundance of restaurants, bars, diving schools, and a mixture of decently priced accommodation. Although it's cheaper to stay in this area, expect loud noise to filter through your door from the nightlife!
A quieter alternative is the western side of the island (although most accommodation is luxury resort style), thus many travellers settle for the north or south of the island. You can see most of the island on foot in about two hours, and bicycles can be rented.
Gili Air is quieter than Trawangan, offering tranquility, relaxing beach life, and true peace and quiet. Often thought of as a mix between Trawangan and Meno, you'll find either a quiet spot to retreat to, or a party if you want one!
There are a few bars and restaurants by the water where you can watch colourful sunsets while sipping a Bintang, though you won't find as many of the loud parties that dominate Trawangan's nightlife. There are plenty of quiet spots to pull up a hammock and get through a good book. Enjoy some of the island's brilliant diving or snorkelling, or try your hand at free diving.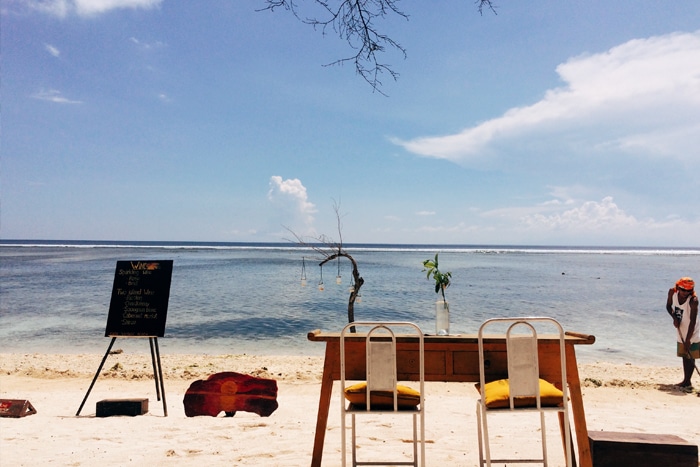 Gili Meno is the smallest of the three islands, and offers pristine white beaches, turquoise warm water, and many snorkelling opportunities close to shore. Relax in your hammock to the sound of birds in the island's bird sanctuary, and wander along a private stretch of sandy beach.
The facilities on Meno are basic – electricity is spotty, and you will find some restaurants and guesthouses cooking with fire. Enjoy a stroll around the circumference of the island, which can be done in a quick 90 minutes, and keep an eye out for one of the 400 residents that call the island home. Don't miss snorkelling at Turtle Point, which offers your best chance of sighting a turtle in the Gili's, or diving Wreck Point, where 43 metres below the surface you'll discover the remains of a sunken ship.
Getting to the islands
Waters around the islands are calmest in the morning, and you'll find nearly all ferries and boats stop well before dark.
Terawangan, Meno and Air can be reached by speedboat and regular passenger boat from Senggigi, Lombok. Speedboats fit ten people and a return trip can be purchased from IDR800,000 to IDR1 million; and you'll find yourself there in a quick 20 minutes. Regular passenger boats cost about IDR 10,000 per person.
Fast ferries run regularly from Bali to Trawangan, leaving Serangan at 8.00am and 10.00am each day.
Photos courtesy of Sharmaine Khoo.