The Fullerton Hotel's Iconic Chocolate Buffet Is Back, and It's More Chocolatey Than Ever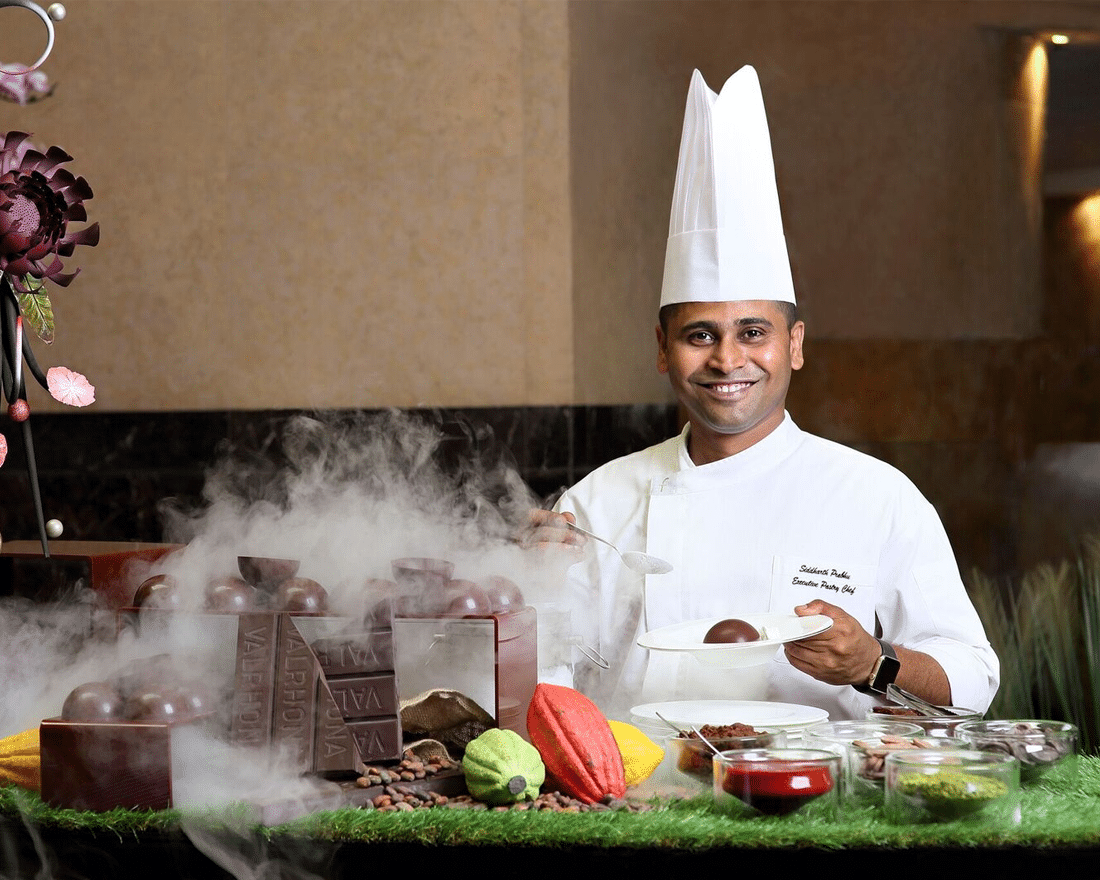 PUBLISHED April 7th, 2018 07:00 am | UPDATED April 8th, 2018 04:11 pm
There are few words in the dictionary that oozes more seduction than "chocolate". Throw in "free-flow buffet", and we're salivating. Is it the result of many childhood days reading about Willy Wonka and his magnificent chocolate factory? Perhaps, but that is fiction. The legendary Chocolate Buffet at The Fullerton Hotel in Singapore, though, is real – endless streams of lava goodness from the Chocolate Fountain, cakes, tarts, sorbets, and all.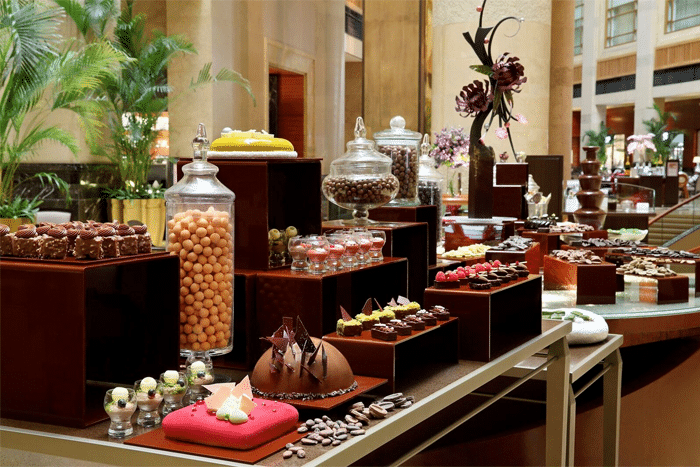 After supplying tens of thousands of extreme chocoholics with their cocoa fix for more than a decade, the famous weekend buffet has made a highly-anticipated comeback in late March (Fridays and Saturdays from 8pm), and suffice to say, it's bigger and better than ever. Here's what to expect from this edible wonderland, courtesy of the hotel's new Executive Pastry Chef Siddharth Prabhu.
Get 'smoking' at the Live Nitro Station
Get up close to a spectacular theatric display as liquid nitrogen is used to instantly (and should we say, flamboyantly) freeze liquid chocolate into a perfect ball. It's a beautiful combination of culinary arts and science, and the result? Break the sphere open with a spoon to reveal a basket of Valrhona 70% chocolate sponge, crumble, espuma, and meringue in a kaleidoscope of chocolatey textures.
All-new savoury items made with chocolate
Savoury items are an entirely new edition to the Chocolate Buffet, so you can now fill up on a light dinner before munching on the array of desserts. Look forward to the tasty Wagyu Beef and Peruvian Chocolate Poblano Chilli wrapped in crunchy empanada pockets, or Baked Ocean Trout Quiches with ivory white chocolate. Better still, don't miss out on the juicy Cocoa and Spice-rubbed Baby Pork Ribs or equally hearty Bitter Sweet Chocolate Lime Arancinis, stuffed with tasty risotto.
Sample from 12 varieties of premium Valrhona chocolate
If you're wondering what kind of chocolate Chef Siddharth uses for his novel creations, look no further than the Valrhona tasting table, which boasts 12 varieties of quality chocolate varying in intensity and flavours – from white to dark and everything in between. These come in small bite-sized coins so you can sample the delicacy in its purest form. For example, there's the Jivara Lactee 40%, a mild chocolate varietal with notes of caramel, vanilla, and a hint of malt, or the Abinao Feve 85% – dark, sophisticated, with an intense aroma and tinge of bitterness.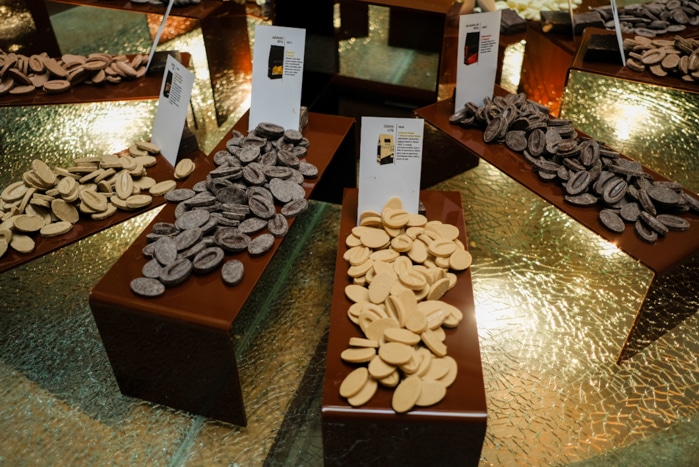 DIY your own hot chocolate
Sugar, spice and everything nice. Only instead of super-powered girls, you get a piping hot cup of rich, luscious Chocolate Drink, made to your precise specifications on the spot. At this fun station, choose from six types of premium Valrhona chocolate and your choices of fragrant spices, including cardamom, chilli, zesty orange, and anise.
Boozy chocolate cocktails to get the night going
More liquid desserts comes in the form of boozy cocktails ($25++ a glass) like the decadent Toblerone Martini, which features vodka, butterscotch, milk, Kahlua, and chocolate sauce, as well as the fruity Berry Into You, a gin-based concoction with strawberry puree, Malibu rum, lemon, sugar, and soda.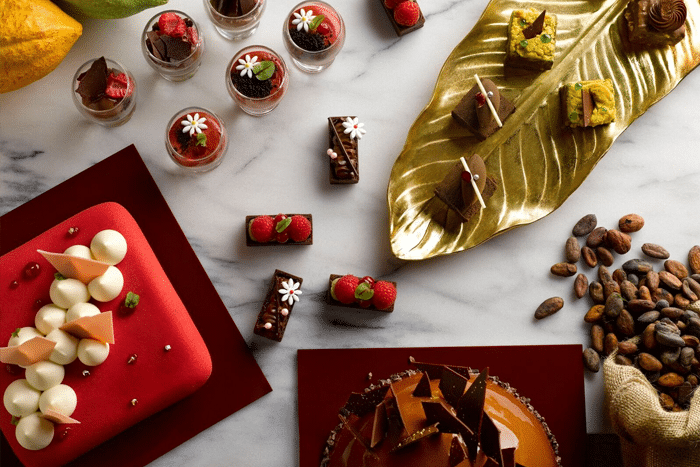 Now, how's that for an indulgent chocolate pampering?
The Courtyard's Chocolate Buffet is available every Friday and Saturday, 8pm – 11pm at The Fullerton Hotel Singapore. Priced from $45++ per adult and $22++ per child (between 6 and 11 years); add-ons for alcoholic beverages are available.
For reservations, please call +65 6877 8911 / 8912 or book here.