10 Questions with Sim Sze Wei, Singapore Bacardi Legacy Winner 2018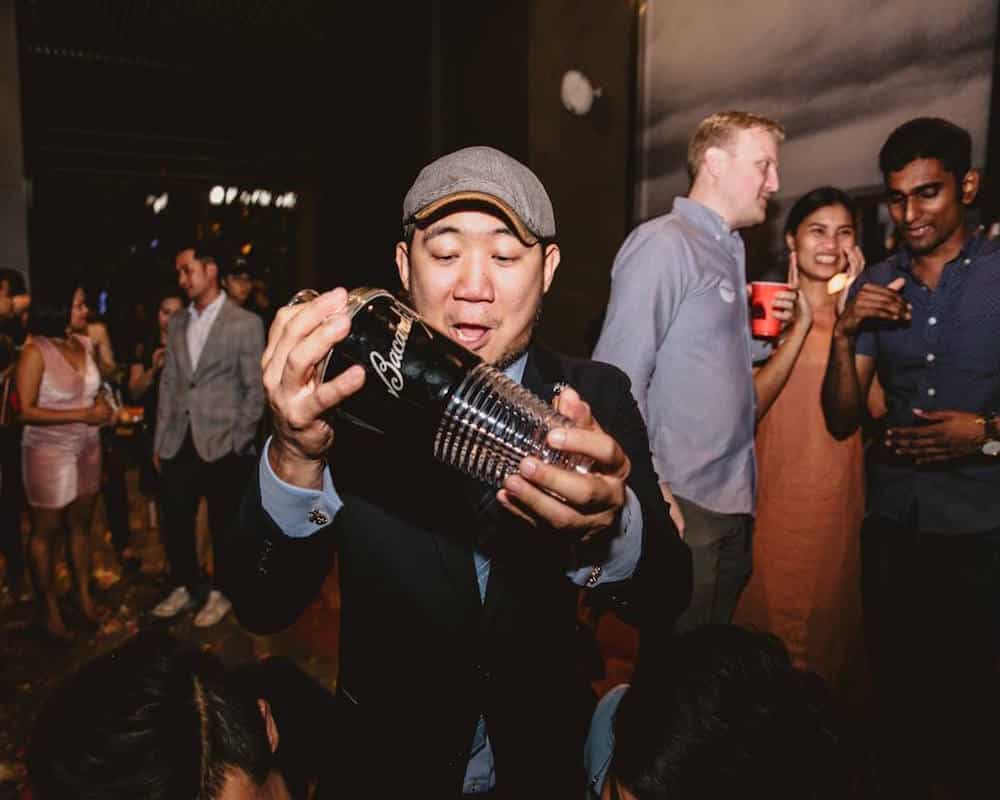 PUBLISHED April 6th, 2018 06:00 am | UPDATED May 18th, 2020 04:55 pm
Global cocktail contests are no joke. In the case of the annual Bacardi Legacy Cocktail Competition, participants could end up with naught after months of hard work and a whole lot of rum. Fortunately, for ATLAS Bar's Assistant Head Bartender Sim Sze Wei (affectionately known in the industry as Sim), his competition cocktail Golden Eight beat out Martin Villareal from Chihuly Lounge and Benedict Poh from Employees Only for Singapore's laurels. We catch up with him before he heads to the Global Finals in Mexico City later this month.
Hi Sim, congratulations on winning Bacardi Legacy Singapore 2018! We know that your cocktail, Golden Eight, is inspired by your decade-long journey from banker to bartender. Tell us more.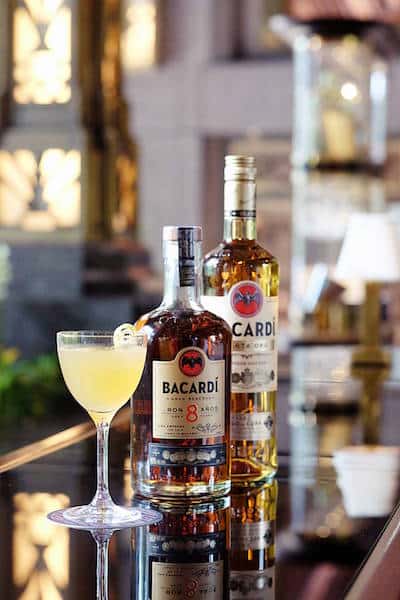 Thank you, I am extremely honoured to be representing Singapore at the Bacardi Legacy Global stage.
For me, the transition from working in a corporate world to the F&B industry has been nothing short of amazing. The opportunity to work alongside the best in the industry at ATLAS Bar is truly a chance in a lifetime. It was certainly daunting at the start, after only being in the industry as a part-time staff for 5 years waiting tables and as an apprentice at Ah Sam's Cold Drink Stall, but the joy of living and breathing what I love daily made the transition easy, especially with the incredible support from the management and my Head Bartender Roman Foltan.
In the beginning, it was challenging as I was not accustomed to the high volume and standards at ATLAS, and I was close to giving up. However, my passion for bartending and love for the bar and the team overrode that and motivated me further in doing more for the bar and the team. To this date, I believe that I have achieved all the goals that I've set for myself when I first decided to leave the banking industry. Representing Singapore is beyond my wildest imagination, but I am grateful for all the support from a lot of people in the industry, both regionally and globally.
My journey with Bacardi Legacy is not the end, but the start of greater things! Just like Golden Eight, I believe that we are heading towards a new golden age for this industry and I hope to bring it forward with Golden Eight.
Golden Eight is an equal parts cocktail of Bacardi Ocho, Bacardi Carta Oro, Benedictine DOM, and citrus sounds relatively simple. What was your starting point?
Bacardi Legacy is a cocktail competition that challenges the bartenders to create a cocktail that is delicious and easily replicable around the world. I started to think of modern classic cocktails such as the Paper Plane – equal parts of bourbon, Aperol, Amaro Noino and lemon juice – created by Sam Ross from Attaboy, New York, and the Jasmine Cocktail (equal parts of gin, Campari, orange liqueur and lemon juice) that was created by Paul Harrington, the author of Cocktail: The Drinks Bible for the 21ST Century.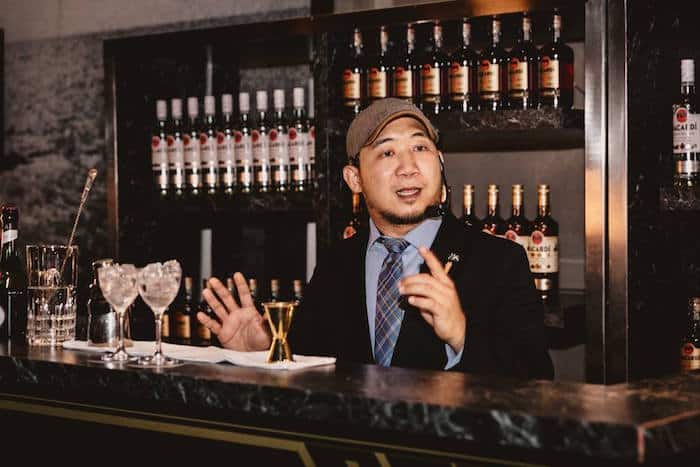 I then asked myself, what makes a modern classic cocktail? There should be no homemade ingredients to ensure consistency, an easy to remember recipe, and a delicious cocktail that is suitable for all. I worked with different back bar ingredients available and decided on using Benedictine D.O.M., and what better way to showcase Bacardi's product then by balancing the Bacardi Ocho and Bacardi Carta Oro in harmony? It seemed easy to use lime for a rum cocktail, but when I was doing my research, I remembered the quote, "When life gives you lemons, make lemonade".
It made me realized that life has never been easy for me when since I embarked on this journey as a bartender, so it came naturally for me to try using lemon, and it balanced the cocktail perfectly with equal parts of all the ingredients. After that I began researching on equal parts rum sours classic, but to my surprise, I could be making history with this equal parts rum sours as there is currently no precedent!
How do you think Golden Eight reflects your legacy?
I believe that Golden Eight is not just a legacy for myself, rather it is a legacy for anyone and everyone who has a passion for their dream. Believe in it and work hard towards it; and everyone should have the equal opportunity to succeed no matter what gender, race and background. Hence the campaign of Equal Parts, Equal Opportunity – where I would like to create a community for the people who love the industry (from bar people to consumers) to give back to the underprivileged, as they did not have the best start to their life but with the right motivation and opportunities, they can step away from their current situation and make life better for themselves and future generations.
Atlas is probably the most awe-aspiring bar in Singapore. Does it ever get old, working there?
This is probably one of the most common question asked by our guests at ATLAS, (besides how we get the bottles from the top of the tower) and my response to that has always been "I come to work here every day and I am still shocked and awed-struck by the beauty of this venue and the passion of hospitality my colleagues show daily in any situation". So, to answer your question, it never gets old!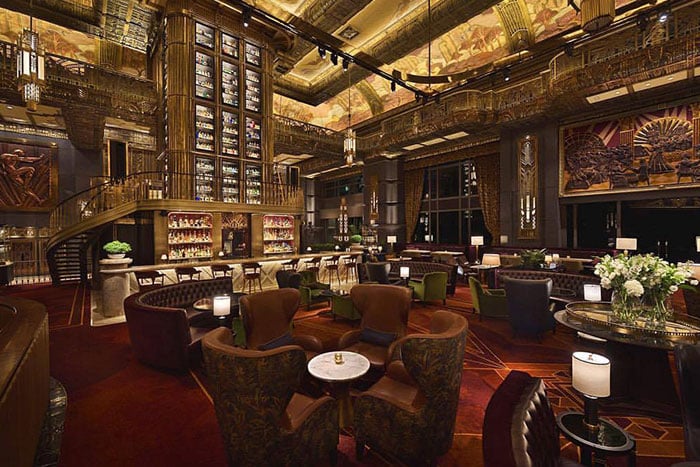 What are the three must-try cocktails at Atlas?
The ATLAS Martini is definitely one of the three must-try cocktails at ATLAS. It's a martini that converts a non-martini drinker to a martini drinker. It has the familiarity of a sour cocktail, yet at the same time possesses the usual dynamic of a classic martini. Guests should also try the Young Churchill, a drink that is inspired by Winston Churchill's love for cigar, scotch whisky and chocolate. It is a complex cocktail with smokiness, bitterness and savoury-ness, coming together into a balanced old fashioned styled cocktail.
Last, but definitely not least, the number one must-try is none other than the Golden Eight – a powerful cocktail that is refreshingly and harmoniously balanced with notes of honey, saffron and chamomile. To top it off, every Golden Eight sold will see S$2 of the proceeds donated to Beyond Social Services, so we can all do our part for the underprivileged children of Singapore, as they are the future generation of Singapore.
What's your go-to cocktail classic?
A Dry Martini; my personal favourite would be the Star of Bombay dry martini with lemon twist, stirred not shaken. A martini is a very personal cocktail that is deceivingly simple with 2 ingredients. But when done right,  the piney, floral and spicy notes of the Star of Bombay will be expressed in the right balance and with the perfect texture of the cocktail throughout the whole process of drinking it.
What is a great night out like for you?
In the past, I would describe a great night as bar hopping, meeting friends and new people around the bars in Singapore. However, now I prefer to chill at a live jazz band bar with my "partner-in-crime" chatting about our week and enjoying live jazz music with a nice cold bottle of white wine or bubbly.
Tell us about some of the bars that have impressed you.
In Singapore, the bar community has been growing fast and there has been hits and misses in the new openings. And then FANCY (35 North Canal Road) happened. The bar takes on a minimalistic approach for both their interior and cocktail programme. Their first menu, Pollen, focuses on flowers as the inspiration behind the cocktails, and they used smart and refined techniques to create a visually simple yet appealing cocktails with the right balance and flavours. Pair that with two of my favourite talented bartenders – Sin Kim Shin and Jayden Ong – and their amazing hospitality, it's one of the best openings in Singapore's bar scene.
Outside Singapore, the Dry Martini by Javier de las Muelas in Barcelona has given me one of the greatest learning experiences with their impeccable hospitality. Being alone at the bar could definitely be quite intimidating for some, but if you are in Dry Martini, they will ensure that you feel right at home with their hospitality and amazing cocktails. The team at Dry Martini reminded me that hospitality is providing a consistent experience for anyone; even that one awkward quiet guest sitting alone at the bar is just as important as a group of beautiful guests or big spending guests.
You worked with Sunday Punch so consumers could enjoy Golden Eight in the comfort of their homes. How was the bottling process like?
Founders of Sunday Punch, Mark and Jen are amazing people who have unconditionally supported my initial request to list my cocktails amongst their incredible list of signature bottled cocktails. They did everything based on our discussion from bottling to label design and distribution to retail outlets like Artichoke and Summer Hill, and I want to thank them for the wonderful support! During bottling, we used lemon citric syrup instead of lemon juice to ensure the shelf life of the cocktail, and make slight adjustments to the recipe to recreate the flavour profile of the original Golden Eight.
The Bacardi Legacy Global Finals is happening soon in Mexico City. How are you preparing for it?
Aside from the day to day operations at ATLAS Bar, Singapore, I am also planning on the whole campaign for Golden Eight with listings around the world, as well as activities for our Singapore bar industry folks to come together to give back to the community, by engaging them with social services work for the underprivileged children and elderly. At the same time, I will also be refining my presentation for the Global Finals in Mexico City. With that, I will do my best to achieve top ranks for the Bacardi Legacy Global Finals, and make Singapore and the industry I love proud!
The Bacardi Legacy Global Finals is happening 25 April to 1 May 2018. Good luck, Sim!