How To Wear Men's Jewellery & Accessories And Where To Buy Them In Singapore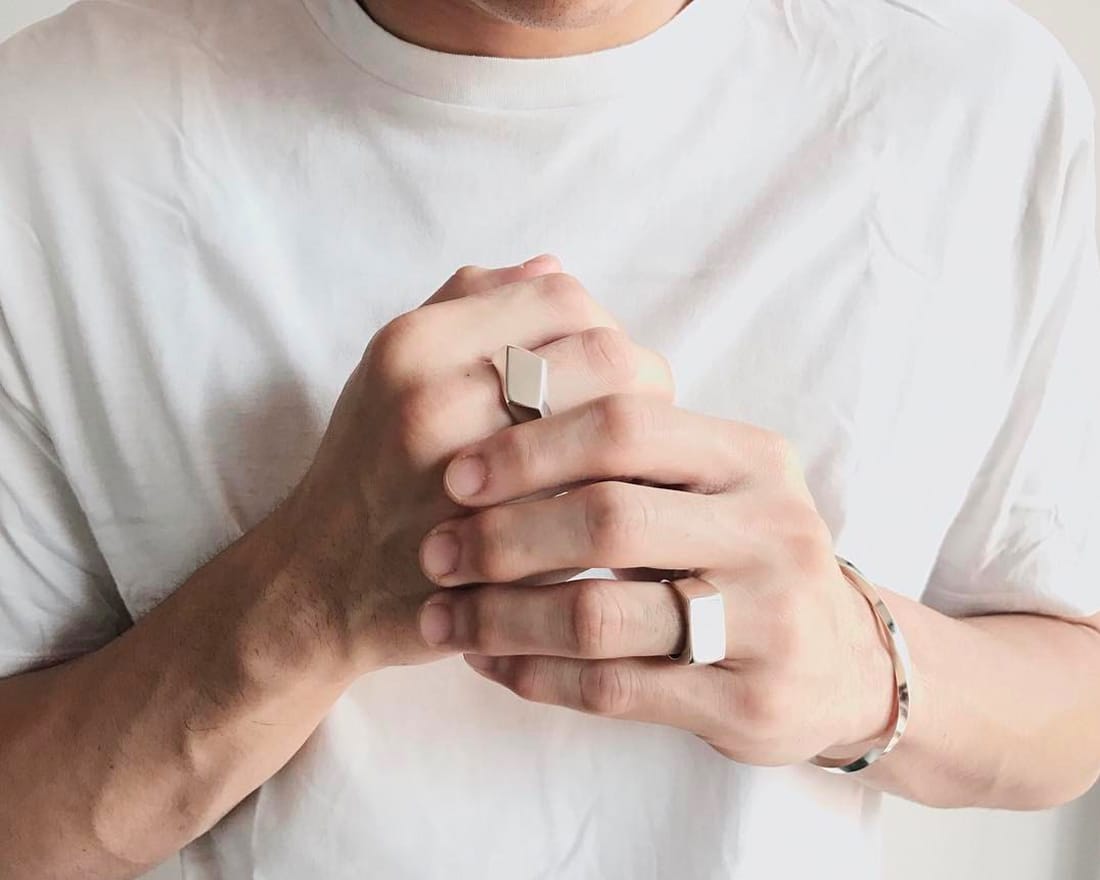 PUBLISHED January 23rd, 2020 06:30 am | UPDATED May 18th, 2020 04:43 pm
Clothes are one thing, but jewellery and other accessories for men? Not many men in Singapore are that interested in wearing more than just a watch or the obligatory wedding band, but what if we told you that when executed properly, jewellery can be a foolproof and 'masculine' way to add character to your outfits? In this guide, we teach you how to match different pieces to the occasion and tell you the best brands to shop them from.
Watches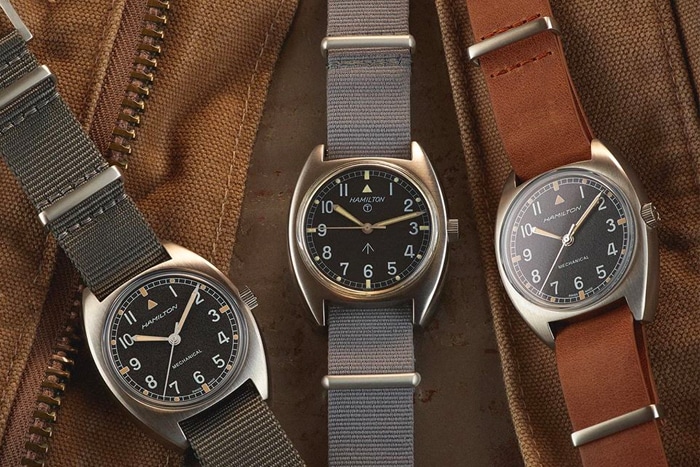 Watches are as functional a piece of jewellery as you get, even if you're on the "but my phone can tell the time too" train. They accentuate your outfit and look great with anything, and generally, the simpler the watch design, the dressier it is. Metal straps are best worn with suits and jackets, or for anytime you want corporate-up your outfit. Go for leather straps for a classy and versatile effect that works with literally any type of attire. Colourful fabric or cloth bands like NATO straps are increasingly seen everywhere, and look great with street and casual wear. Oh, and we almost forgot plastic straps – save those for the gym please!
Where to get them: Check out Gnomon Watches at Millenia Walk for mid-tier European brands (Steinhart, Ball, and Hamilton) and a large range of quality leather straps and NATO straps. Aside from luxury watch boutiques like The Hour Glass and Sincere Fine Watches, one of our favourite places to scour for watches in Singapore is The Bencoolen, which houses over 10 watch shops across the price spectrum.
Bracelets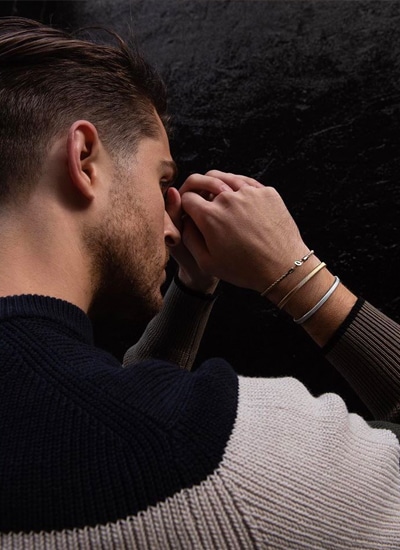 Bracelets for dudes used to be a big question mark until the editors of men's magazines, fashionistas, and hipsters alike started stacking them up on their wrists. The problem is, there's a dizzying spectrum of colours, styles, materials to choose from, so plenty of men simply give up trying. Depending on the occasion, you'll have to carefully select your pieces to avoid looking like a confused try-hard. In general, there are three styles of bracelets:
Wrapped
These are long pieces of fabric, leather rope, or metal chain that are wrapped around your wrist and fastened with a hook or lobster clasp. More commonly seen on skaters and streetwear enthusiasts, this laid-back and rugged look is otherwise a little out of fashion these days.
Beaded
Gone is the time when beads were only associated with prayer and religion. Beaded bracelets usually comprise semi-precious stones and metal charms that are strung together with an elastic cord or clasp closure. Their shiny nature lends a moderately classy feel and are plenty versatile, allowing you to wear them on most occasions.
Cuffs
A typically thick circular strip of metal that has an opening on one end to slip the wrist through. Leather versions are less common and are usually fastened with a lobster or magnetic clasp. These are a tad more elegant than the other options, and draw attention to your otherwise bare wrist.
Where to get them:
While MIANSAI and Kiel James Patrick used to be famous for their wrapped anchor bracelets, they've seen expanded their range to include a pretty variety of nautical-inspired cuffs and charm bracelets. On the local side of things, Citystate Beads makes customisable bead bracelets with a modern touch, while Stale & Co hammers out tough cuff bracelets, among other things.
Necklaces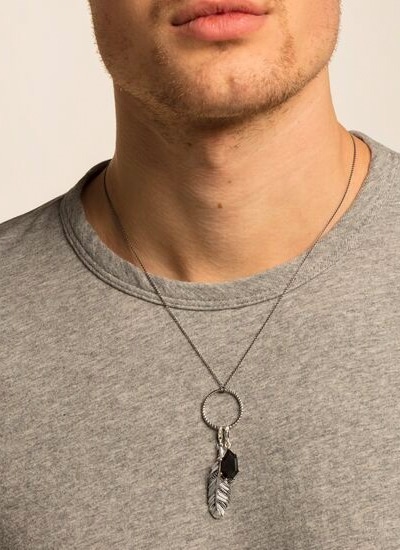 The great thing about necklaces as accessories is that they're easy to hide under your clothing until it's time to show 'em off. Leaving the office for a romantic dinner date? Simply loosen your top button and there it is. Unless you're into gangsta rap, less is more when it comes to necklaces. Silver and stainless steel chains and pendants are always subtle classics, but the ostentatious contrast of gold might work for you sometimes. For a a classy timeless look, pair your necklace with black or dark grey clothing to achieve a classy, timeless look. Just make sure they don't dangle too low – a good gauge is about eight inches above your navel.
Where to get them: We love the iconic skull motifs and sterling silver necklaces at Thomas Sabo, along with some decent accessories from ALDO. If you have a huge budget, there's no reason not to aim big and go for luxury pieces, like the Santos de Cartier chain necklace.
Cufflinks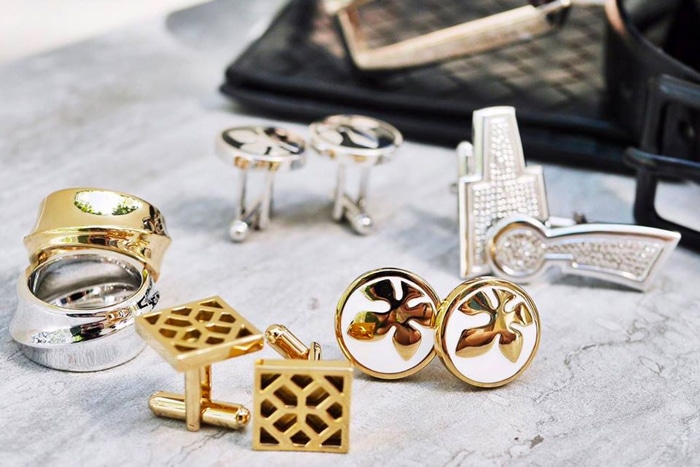 Anyone who calls themselves a well-dressed man should have at least one shirt with French cuffs. Gold and silver cufflinks in simple designs are considered the most formal, and mostly worn for events with a strict dress code. We recommend silk-knot cufflinks for more casual occasions – they are extremely pretty and come in many colours. There are also novelty cufflinks in the form of skulls, rocket ships, and what not, which make for great conversation-starters at parties. Plus, cufflinks are the only category in jewellery exclusively made for men.
Where to get them: RISIS, the Singapore brand known for its orchid-inspired brooches and pendants, also makes tasteful cufflinks that celebrate the national flower – how about checking out some of their tie-bars while you're at it? When in doubt, department store brands like Goldlion and Marz Thomson are safe bets that still look like a million bucks.
Rings
Engagement and wedding rings are one thing, but rings as fashion statements are another altogether. Don't worry about right hand versus left hand, and just choose whichever finger looks best – even your thumb! We don't recommend wearing more than three rings spread out across both hands, and even that's going to be a little striking. For more formal occasions, you're best off with a single "statement" ring on one hand and nothing else.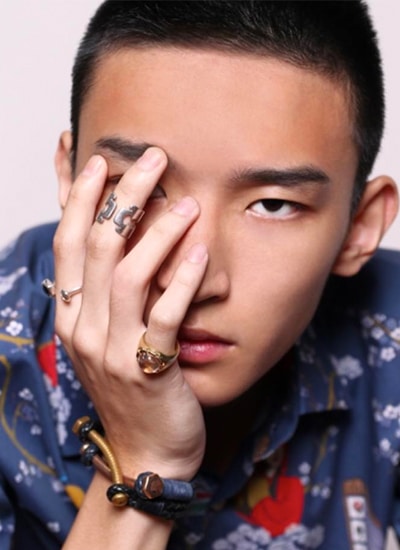 Where to get them: Local jewellers State Property takes the dainty black Akoya pearl and transforms it to an understated signet ring that's available in white, yellow, and rose gold.  Speaking of signet rings, we know plenty of men who have gotten theirs customised by Carrie K. If you want to go expensive, take a look at Bvlgari's Roman-inspired rings with their chunky frames and understated confidence.
Now with all this, we hope you guys are better informed about how to wear male accessories and jewellery. Remember to always keep it simple and save the 'bling bling' for a costume party. But then again, jewellery is all about individual expression and finding out what's right for you.
Top Image: Stale & Co