Restaurant Review: TONO Cevicheria Serves Up Peruvian Cuisine at DUO Galleria, Singapore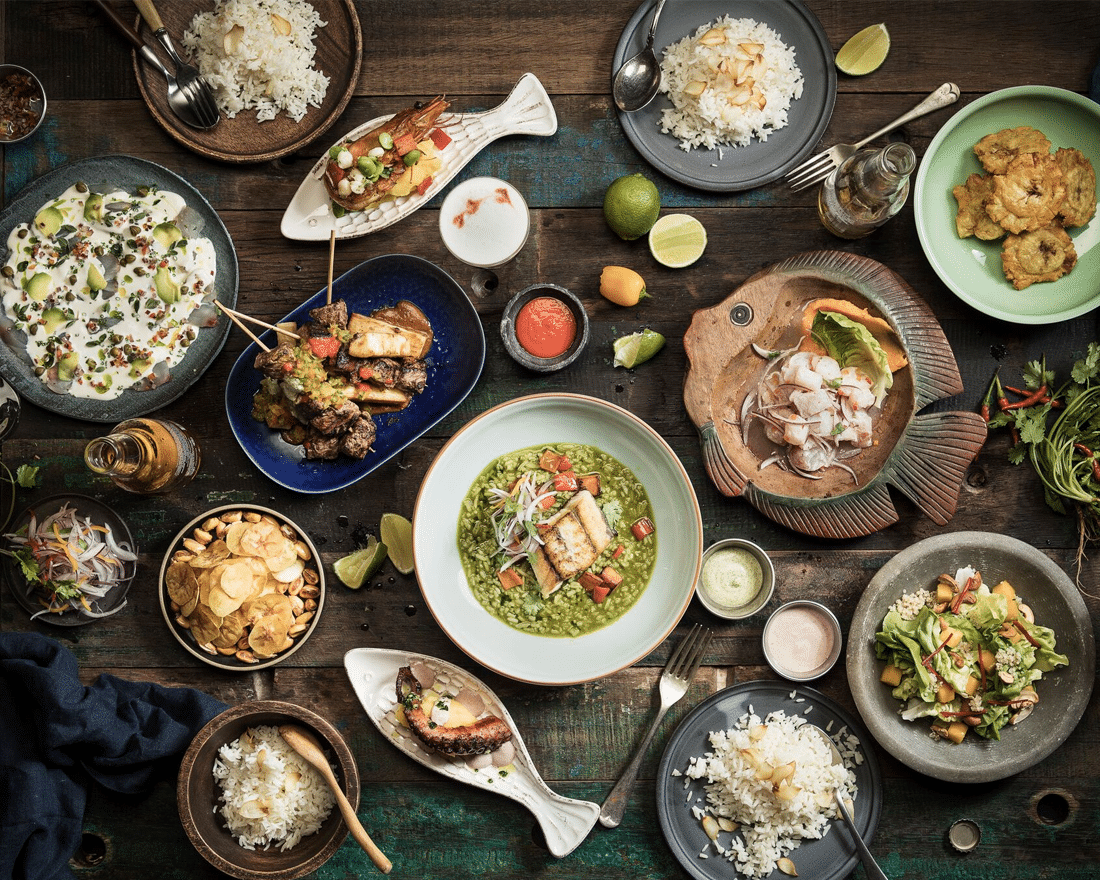 PUBLISHED August 16th, 2017 06:00 am
Have you tasted tiger's milk before? Because it is spectacular. I don't mean the literal lactation of the large cat but leche de tigre, the Peruvian citrus-based seafood marinade that has elevated the ceviche to become one of the world's favourite raw seafood dishes alongside sushi and crudo. It is a winning trifecta of citrus (typically lime), chillies, and onions, and any compromise of that balance is glaringly noticeable.
---
See our roundup of the best Mexican and Latin American restaurants in Singapore, as well as some awesome Spanish tapas spots in Singapore.
---
What you get at TONO Cevicheria, of course, is top notch ceviche. It isn't the first Peruvian concept in Singapore, not since Chef Hajime Kasuga's Tiger's Milk bar-grill concept blew into The Club Hotel two years ago, but calling it the first proper cevicheria here is a valid proclamation. While the older establishment showcases Peruvian classics with a local twist, TONO is earthier, more immersive, more authentic. It is also more sensual, owing to the buoyant party animals, I mean service team, of Latin Americans and Singaporeans.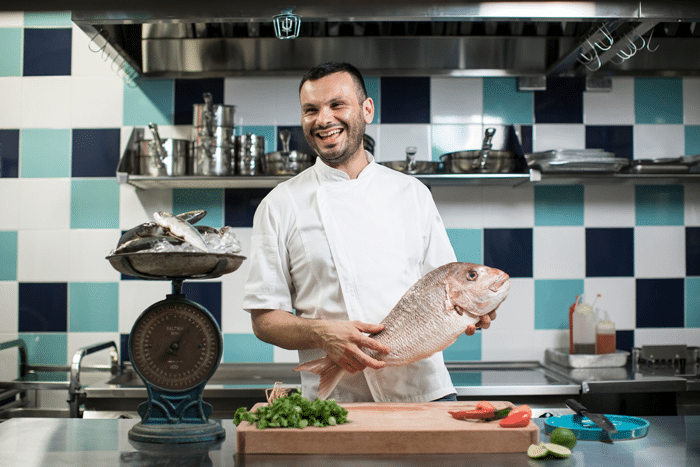 The Peruvians are great nationalists and fiercely love their country, so it's only apt that TONO is the brainchild of Peruvian Chef Daniel Chavez, co-owner and chef of the successful OLA Cocina del Mar. All the chefs of TONO, including the executive chef Mario Malvaez, have been trained in Lima, and they use Peruvian ingredients as well as those found around Singapore and the region. Their fish of choice? Sustainable line-caught fish from New Zealand.
With this they make a rather delicious Tono ($28), the restaurant's take on a classic ceviche, laced with the mild heat of smoked aji amarillo pepper tiger's milk and served with chilli charred ginger, lettuce, and fish meat. Crispy food is greatly enjoyed in Peru, hence the addition of fried baby calamari for additional texture. If you're a purist, try the traditional Clasico ($25) ceviche, found in nearly every in Peru. It features the catch of the day, criolla (sliced onions), sweet potato, a basic tiger's milk, and an addictive plate of toasted corn: canchita.
When the Japanese went to Peru on the promise of jobs in the late 1800s, many decided to stay, start families, and integrate with society; leading to a new fusion cuisine that is both spicy and umami-laden. The Nikkei ($24) has certainly evolved with the times, but its roots are the same – raw yellowfin tuna dressed with soy, mirin, hondashi, sesame oil, and a fragrant tiger's milk with leek and onions. Some mashed avocado and purple potato chips prepared in-house, make for a refreshing touch – it is an honourable dish, and my top pick of the day.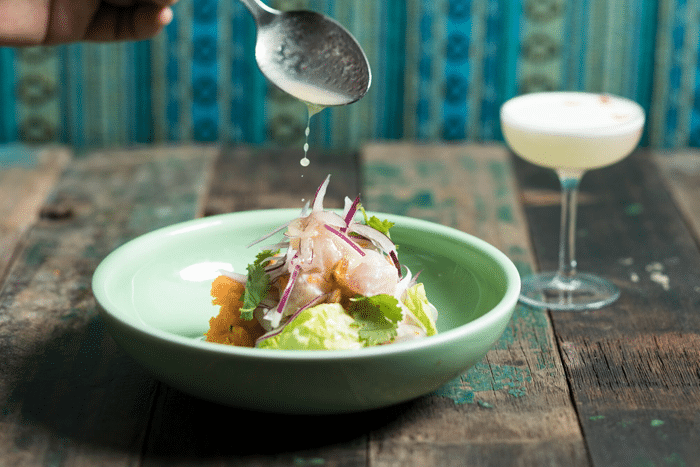 But it is not all straightforward Peruvian cooking at TONO. Bold Southeast Asian flavours, which share similarities with ceviche's crisp elements, are showcased in the Yellow Pituco ($24), yellowfin tuna thinly dressed with a tangy chilli vinaigrette and sliced together with colourful red and white quinoa and plantain chips.
Causa is a unique Peruvian potato dish that makes for a scrumptious light meal. Here, the Escabeche Causa ($22) takes two types of chicken – one shredded and mixed with mayo, another grilled with panca chilli – and mixes them with a beautiful sweet and sour escabeche sauce, and potato mash. It's a wet mixture, but it tastes fantastic. The same goes for the Lima ($22), made instead with crabmeat, tobiko, and tartar sauce.
Mario continues to execute dish after with equal precision and skill, the meat of the Anticuchos skewers ($22 for chicken, $23 for beef) marinated for 24 hours with aji panca, red wine vinegar, and garlic chunks before being grilled on a plancha. There's a stimulating chalaquita sauce made with a little tomato, pepper, and white tiger's milk. He puts things like white wine, aji amarillo, tomatoes, and Peruvian chicha de jora (corn cider) into an aromatic Sudado de Pescado ($34) fisherman's stew as well, served just off a rolling boil. And yes, there's a lot of fish.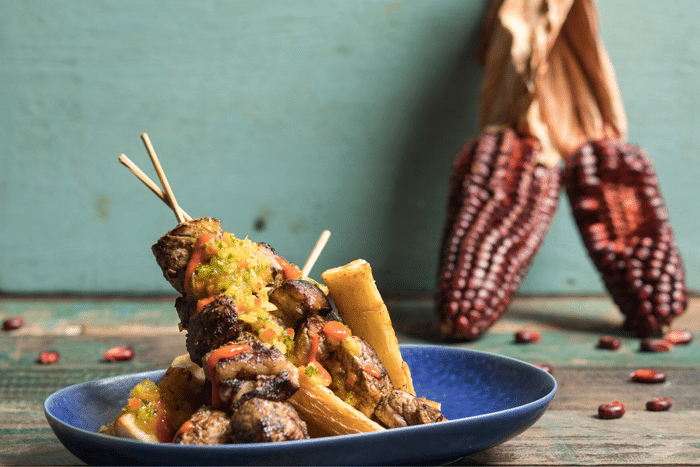 You can find two Peruvian cocktails: the classic Pisco Sour ($15) – pisco, fresh lime, egg white, angostura bitters – that stars all around South America, and the increasingly trendy Chilcano ($14), that delicious drink with pisco, fizzy ginger ale, and Amargo Chunco bitters that utilises variety of Amazonian barks and herbs.
There are several postres, or desserts, to choose from. The Tres Leches ($12) cake is interesting, even if I couldn't quite appreciate the ultra-rich trinity of condensed milk, coconut milk, and fresh milk. But the Combinado ($12) – bomba rice pudding cooked with vanilla and mazamorra (ground purple corn boiled with pineapple, cloves, star anise, quince, and apple) is a thick glob of deliciousness. They are served with grapes and apple cubes – heavenly.
The stubborn sun in Singapore isn't going anywhere, so for better or worse, there is solace in eating copious amounts of ceviche over bottles of pisco in the cheerful place that is TONO – with crisp white shirts and loosened ties during the week, and perhaps t-shirts and shorts on the weekends, glasses raised and ready to party.
TONO Cevicheria is located at TONO Cevicheria is located at 7 Fraser St, #01-49/50 Duo Galleria, Singapore 189356, p. +65 6702 7320. Open Mon-Fri 12pm – 2.30pm, 6pm – 10pm, Sat 6pm – 10pm. Closed Sun.
Photos courtesy of DAPHOTOGRAPHER