5 Places Where You Can Appreciate Art and Enjoy a Decent Meal at the Same Time in Singapore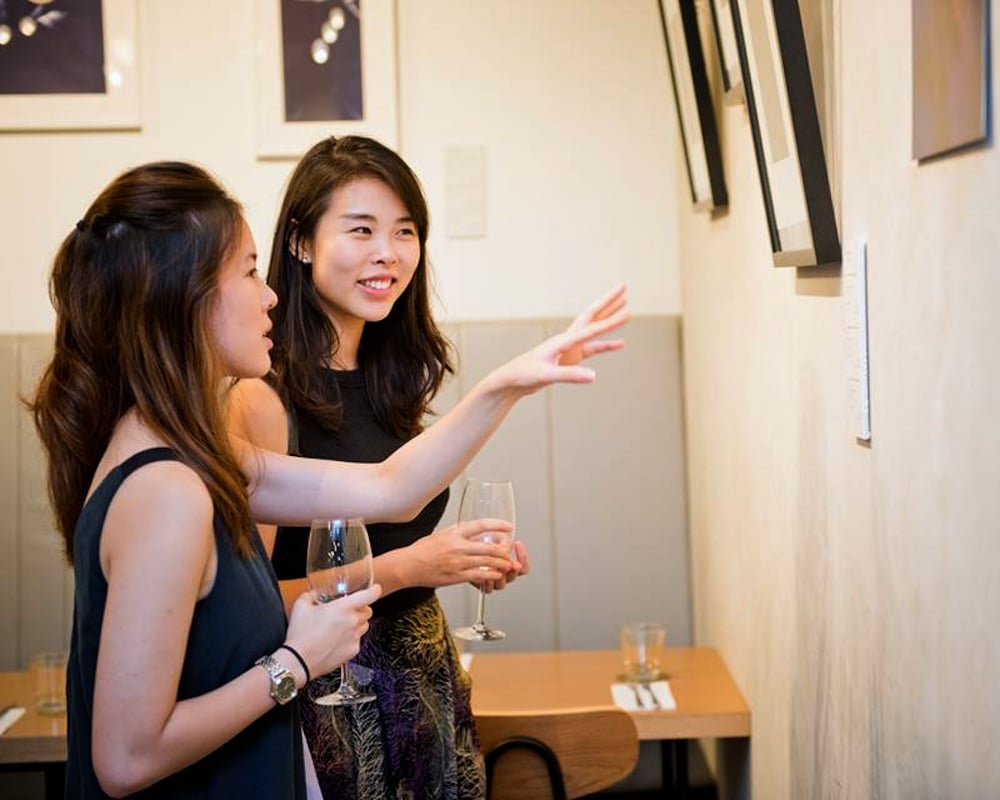 PUBLISHED March 5th, 2019 06:00 am | UPDATED March 26th, 2019 04:44 pm
Who says the visual arts belong to formal, white-walled gallery spaces, in which no food is allowed? While several artists have challenged the limitations of gallery exhibits in Singapore, rarely are we able to enjoy art over a cup of coffee, much less over brunch or dinner. So we've curated a list of restaurants and cafes that also showcase good art, where you can indulge in the best of both worlds to your hearts content.
SPRMRKT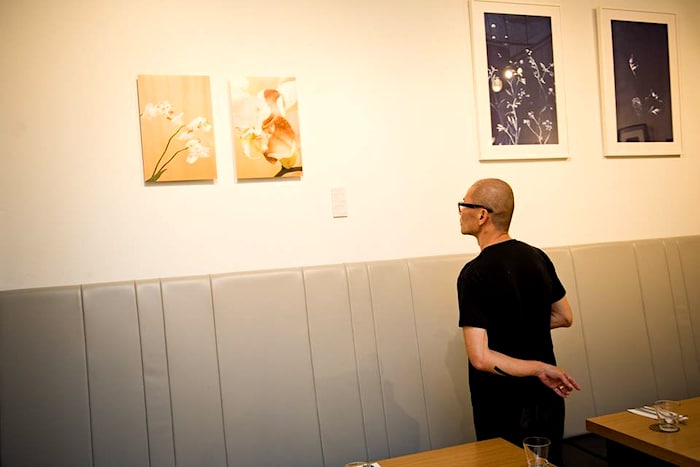 SPRMRKT seamlessly brings together food and art under several roofs with two outlets located at Cluny Court as well as Robertson Quay. Not limited to local pieces, SPRMRKT showcases artworks from across Southeast Asia, with their most recent collaborative experience revolving around Cambodian culture. Other artists that have adorned their walls include Jodi Tan – showcasing a mix of colourful prints and wooden sculptures – and Weixin Quek Chong's lithographs of nature, all of which can be enjoyed while tucking into SPRMRKT's lip smacking all day breakfast menu.
SPRMRKT is located at 501 Bukit Timah Road, 02-13 Cluny Court, Singapore 259760, p.+65 9736 4170 and 41 Robertson Quay, Singapore 238236, p.+65 9736 4032. For outlet's opening hours, refer to their website here.
Flor Patisserie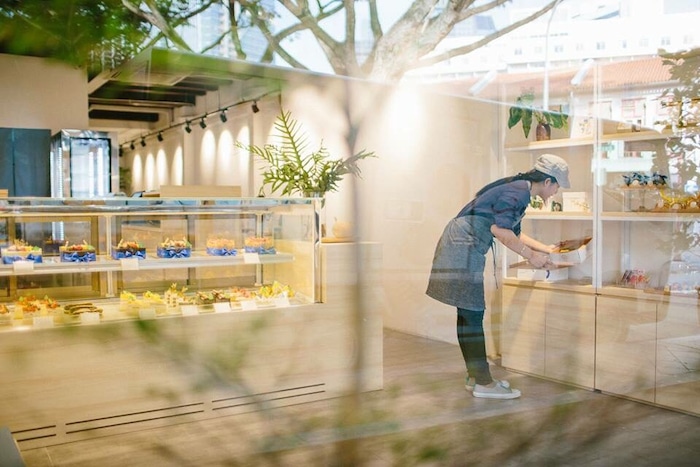 The ever-cosy Flor Patisserie recently opened up their café space located at Duxton Hill to double up as a gallery to support local artists in Singapore. All the pieces on display are up for sale at pretty affordable price points, offering an alternative platform for Singaporean artists to sell their works on top of it being exhibited. The soft and whimsical nature of his work complements the minimalistic, brightly lit space of the bakery, as well as Flor's fresh and airy Japanese-inspired French pastries.
Flor Patisserie is located at 2 Duxton Hill, #01-01, Singapore 089588, p.+65 6223 8628. Open daily 11am – 9pm. 
Telok Ayer Arts Club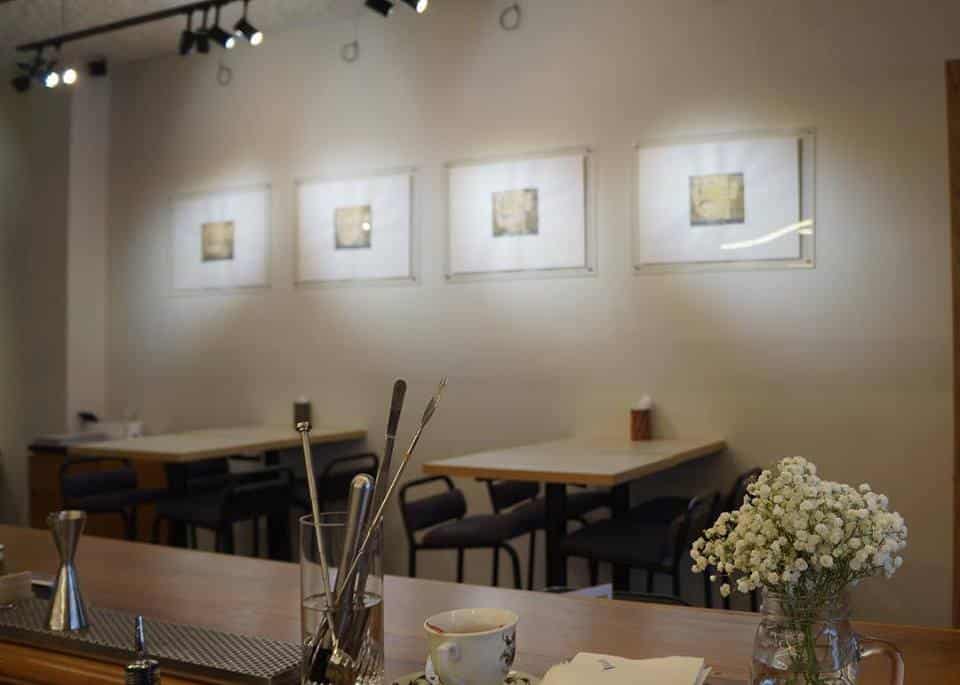 Fashioned as a fresh take on Singapore's iconic community centres, Telok Ayer Arts Club brings to the table a highly diverse multi-use venue that brings art, music, food, and drink together in exciting and creative ways. With frequent rotations of exhibits, showcasing various visual art pieces with an exclusive arts menu to match, Telok Ayer Arts Club becomes like a living space that organically grows and is moulded by its various interactions with the community. Their recent exhibit featuring Dawn Ng's performative works highlight just how dynamic the space is, pushing the boundaries of what an audience can experience within a single location. See our full review here.

Telok Ayer Arts Club is located at 2 McCallum Street, Singapore 069043, p.+65 6221 0712. Open Mon-Sat 11am – 11pm. Closed on Sundays. 
Grids & Circles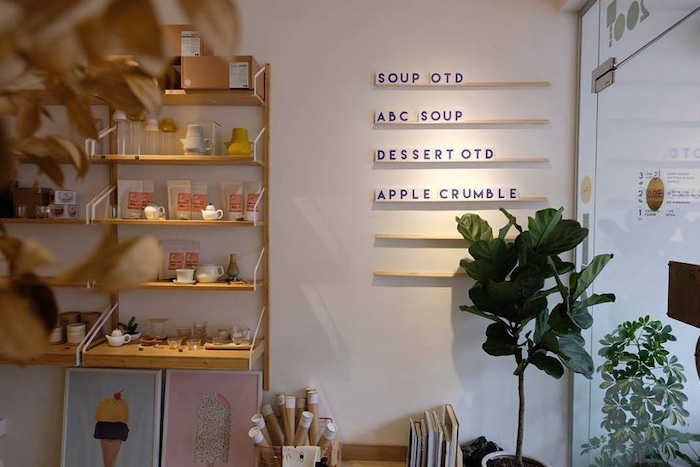 If Grids & Circles' playful name and pastel color scheme doesn't already incite creativity within you, head upstairs to their second floor – the main events and gallery space – to see what they have in store. If you're planning a visit soon, you'll be pleasantly surprised to find circular canvases of mixed medium works lining their walls created by several contemporary emerging artists; an exhibit held in conjunction with Singapore Art Week and Art Seize. To top it off, Grids & Circles also offers a quirky retail space and a creative menu of wholesome and filling foods, making it the perfect get away from the mundane to retreat into your own imaginative musings.

Grids & Circles is located at 200 South Bridge Road, Singapore 058749, p.+65 6935 3548. Open Mon–Thu 7.30am – 5pm, Fri 7.30am – 10.30pm, Sat 8.30am – 10.30pm, Sun 8.30am – 5pm. 
Kult Kafé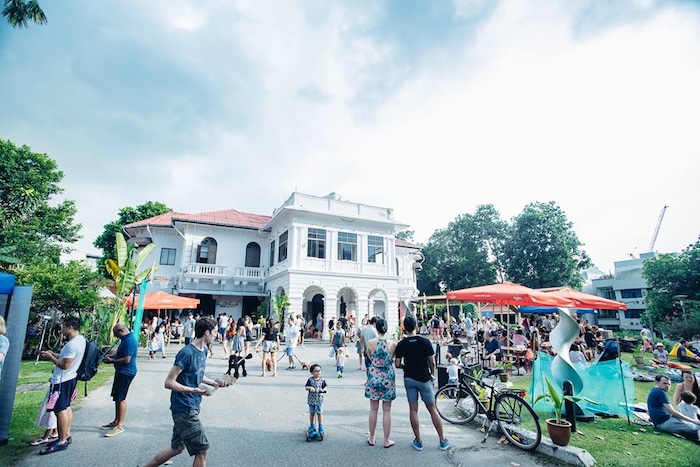 Kult Kafé is not only neighbour to Kult Studio & Gallery – a gallery featuring curations heavily influenced by subcultural art  – but this happening bar also hosts its own regular art and music events. Come Sunday and its surrounding greenery will be filled with festivities, and even sometimes movie screenings, live bands, DJ sets, and poetry performances. Apart from the various happenings hosted in its idyllic Colonial-era mansion, Kult Kafé also boasts a range of specialty house Kultails, featuring classic boozy beverages with creative local twists.
Kult Kafé is located at 11 Upper Wilkie Road, Singapore 228120, p.+65 9389 2185. Open Tue-Sat 5pm – 12am, Sun 3pm – 12am. Closed on Mondays. 
Top Image: Weixin Quek Chong's exhibition at SPRMRKT, Cluny Court