Dining Cheat Sheet: Hotel Restaurants Doing Deliveries and Takeaways During Singapore's Circuit Breaker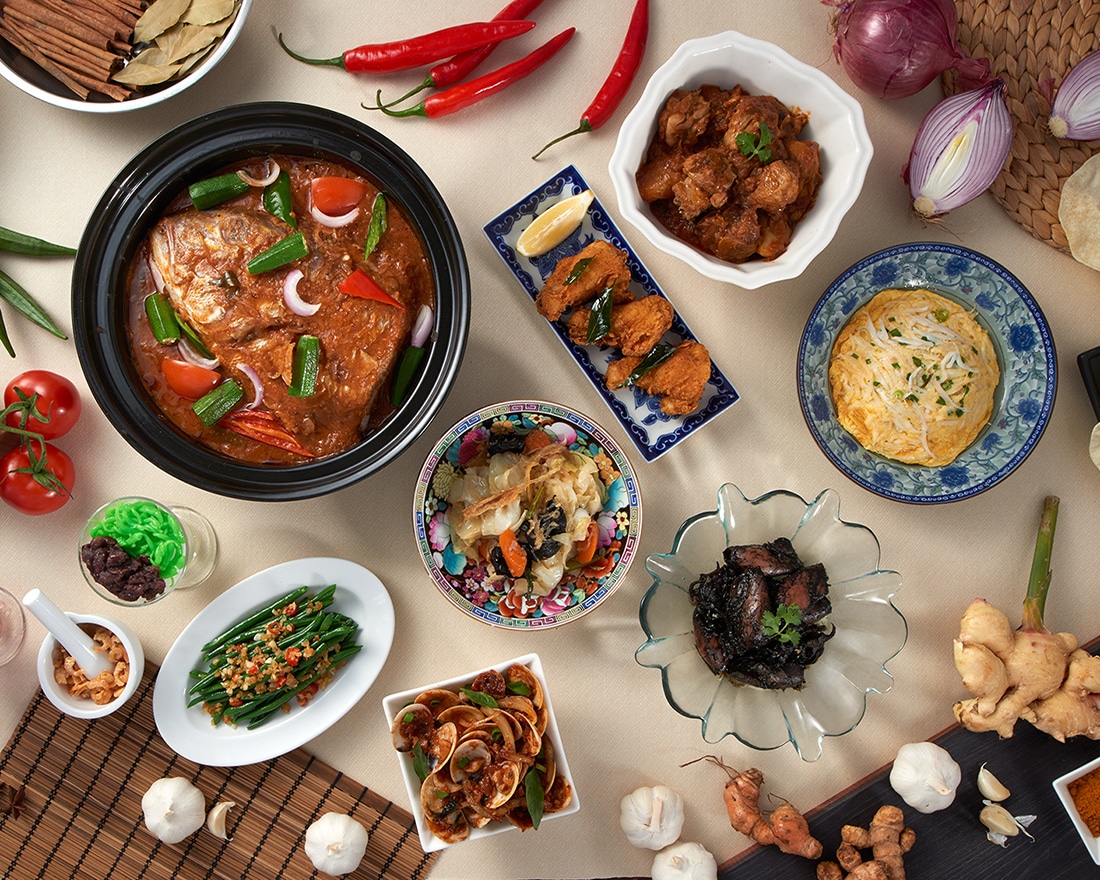 PUBLISHED April 18th, 2020 05:00 am
COVID-19 may have temporarily pulled the shutter on our best-loved F&B haunts, but thankfully more than a handful of these restaurants, cafes and bars are still pushing out bundles of goodness through speedy deliveries and takeaway right to your doorstep. As much as we love the independent outlets, we can't forget hotel-owned restaurants either – they've been our go-to for many family dinners, gatherings with friends, and bottomless brunches. Here are some of our favourites:
Western
Basilico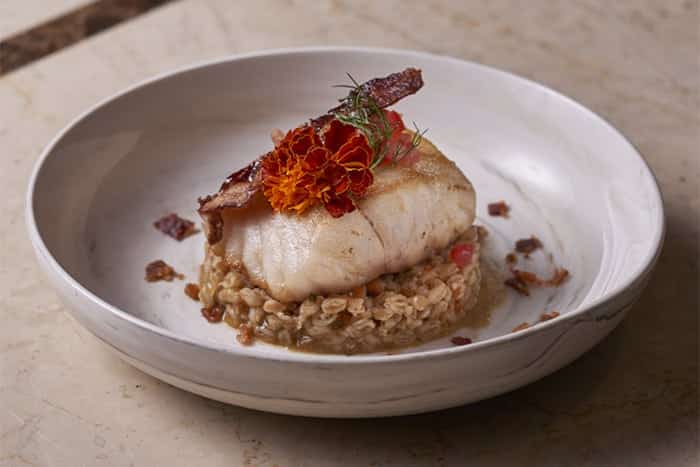 Get rid of your work from home blues with a luxurious gourmet meal from Basilico. This Italian restaurant delivers a selection of alluring signatures such as the Oven-baked Focaccia with Black Summer Truffle and Robiola (S$32), Lasagna alla Bolognese made with premium wagyu beef (S$40), and sumptuous spreads of antipasti, pizzas to your door. For a sweet finish, desserts like the cherry wine-laced Ferrovia Cherry Cake (S$11) and the gloriously intense Amadei Chocolate Cake (S$12) await to be devoured. Buon appetito! See our review here.
Basilico is located in Regent Singapore, 1 Cuscaden Rd, Level 2 Regent Singapore, Cuscaden Rd, Singapore 249715, p.+65 6725 3057, e.diningreservations@regentsingapore.com.sg. Delivery and takeaway hours are 12pm–9.30pm daily. Check out their menu here.
Dolce Vita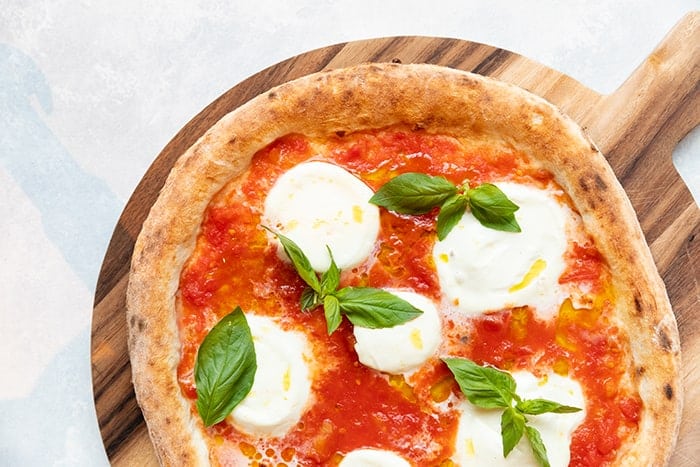 Dolce Vita has got your back with classic Italian dishes that use only the freshest of produce and premium seasonal ingredients. Take a gastronomic trip to Italy and back with their modern twist on the alluring flavours of authentic Italian cuisine – think Cured Wagyu Carpaccio with paper-thin slices of tender beef (S$18) and Tagliatelle Tartufo (S$18) slathered with a potent black truffle cream sauce with smoky roasted mushrooms. An Italian meal isn't complete without tipple – wash it all down with a bottle of Chardonnay (S$42 per bottle) or a bittersweet Milano Torino (S$18 per bottle). See our review here.
Dolce Vita is located in Mandarin Oriental Singapore, 5 Raffles Avenue, Marina Square, Singapore 039797. Delivery (available at an additional S$15) and takeaway hours are 11am-9pm daily. To place an order contact +65 6885 3500 or email mosin-dining@mohg.com or order online. Check out their takeaway menu here.
SKIRT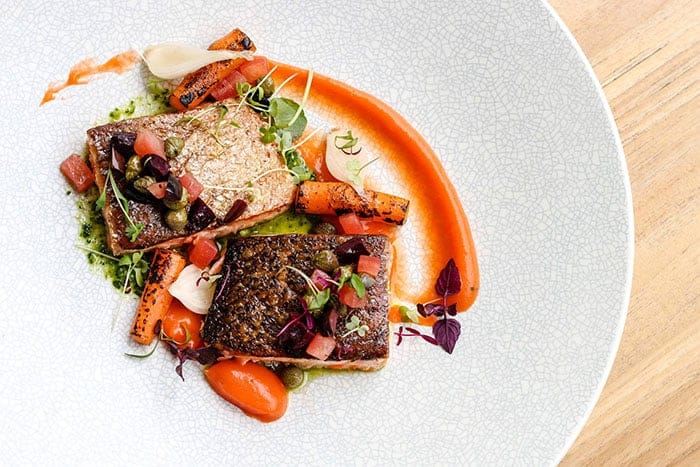 Elevate your home dining with flame-kissed premium cuts, hot off the grill. SKIRT's modern European cuisine with a distinct Asian overtone is showcased through enticing appetisers like the Grilled Octopus (S$26) brushed with a nutty sherry vinaigrette and impeccable mains like the Iberico Pork Tomahawk (S$46). Vegetarians can get in on the action with pink Himalayan salt-flecked Blistered Padron Peppers (S$14), Char-grilled Broccolini (S$12) and Charred Sweetcorn Ravioli (S$28) in an aromatic burnt butter sauce.
SKIRT is located in W Singapore-Sentosa Cove, 21 Ocean Way, 098374. Takeaway hours are 11am–10pm daily. Order online or call +65 6808 7288 30 mins prior to self-collection. Check out their takeaway menu here.
Asian
Akira Back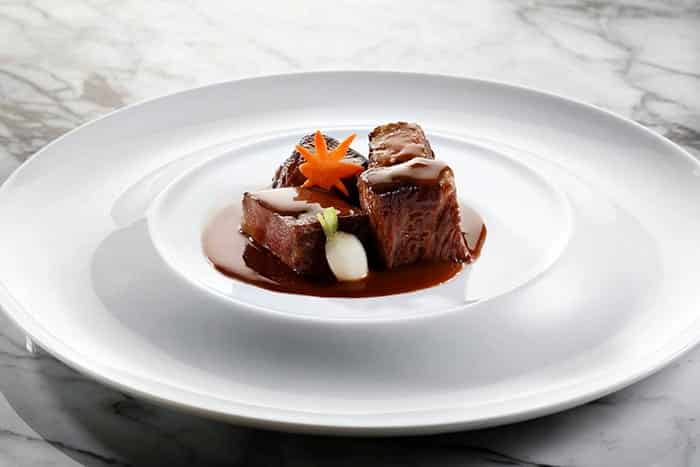 Celebrity chef Akira Back's eponymous restaurant is bringing its charred delights to your home. Dive into modern Japanese fare with unique Korean accents through culinary creations like toothsome hand rolls, hearty rice bowls and smoke-kissed mains. Can't make up your mind? Get one of their special combo sets like Best of Both Worlds (S$45), which includes a Mushroom Pizza on a crisp tortilla base topped with umami aioli, micro shiso and truffle oil, as well as and a roll of your choice. Enter the promo code DINEWITHJW20 to enjoy a limited time discount of 20%.
Akira Back is located in JW Marriott Singapore South Beach, 30 Beach Road, Level B1M, 189763. Order online here.
Keyaki Japanese Restaurant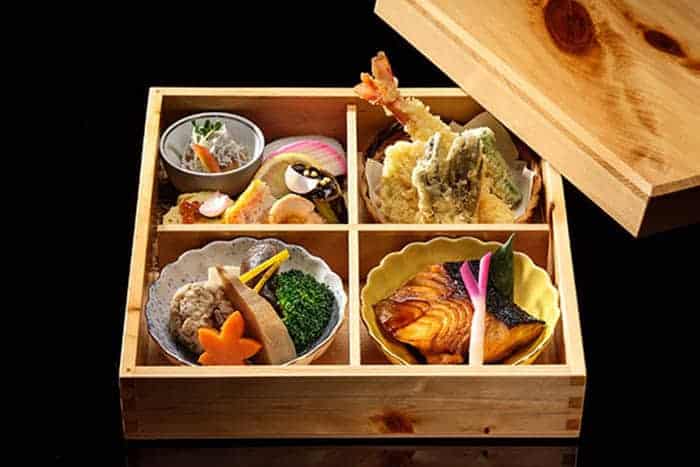 Craving Japanese grub? Enjoy freshly sourced, authentic Japanese delicacies like sushi rolls, Beef Steak Jyu (S$40.66) and Seafood Teppan Bento (S$29.96) from Pan Pacific's Keyaki, at home. What's more, you can get complimentary delivery with orders (received at least two hours in advance) above S$100 or pick up the goodies yourself via drive-through at the hotel's main entrance. Apply discount code TAKEAWAY25 to enjoy 25% off. See our review here.
Keyaki is located at  L4, Pan Pacific Singapore, 7 Raffles Blvd, Singapore 039595. Self-collection and delivery hours are 11.30am-10pm. Check out their menu here.
Mitzo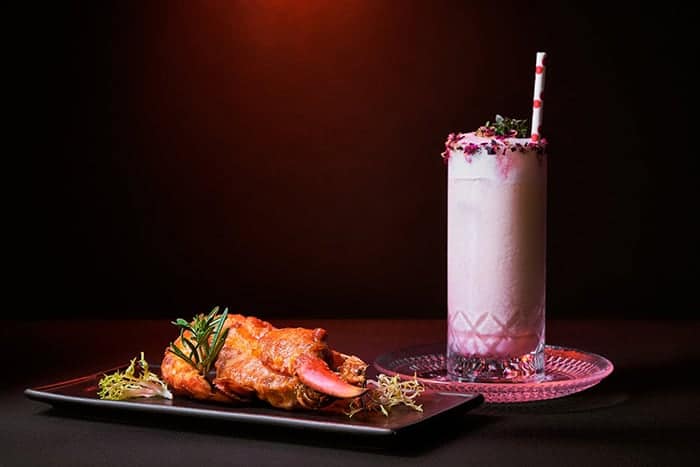 Ever thought about pairing your most-loved Cantonese delicacies with a tipple or two? Mitzo is way ahead in the game, reinventing Chinese dining through the marriage of contemporary Cantonese cuisine and artisanal cocktails. And now you can take home this unconventional dining experience. Savour indulgent dishes like Tulip Greenlip Abalone (S$108) or Mitzo Premium Steamed Dim Sum Platter (S$28) as you guzzle Mitzo's Old Fashioned (S$21) or an Oriental Julep (S$21) infused with herbal tea – the possibilities are endless.
Mitzo is located in Grand Park Orchard Hotel. Takeaway hours are 12pm–2pm, 6.30pm–9pm daily. Place your orders here.
Table Restaurant by Rang Mahal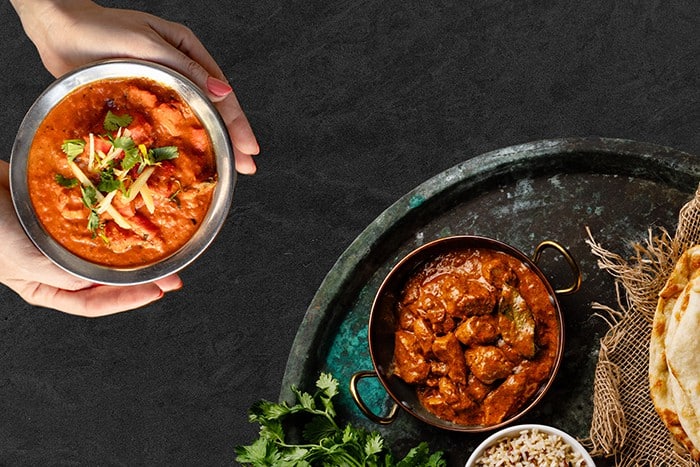 Titillate your tastebuds with the exotic flavours of Indian gourmet fare from Rang Mahal. All-time faves including Murg Tikka Dhaba Biryani (S$26) with spiced chicken morsels and burst-in-your-mouth Chowpatty Ki Pani Puri (S$14) await to spice up your circuit breaker. For a fuss-free option, nourish your body and soul with hearty set meals such as Chaat & Curry (S$25) and The Full Meal (S$45). A tasty meal calls for tasty tipples – wind down with a glass or two of Oxford Landing's Chardonnay (S$55 per bottle) or Cabernet Sauvignon Shiraz (S$55 per bottle). Don't forget to apply the promo code YAY20 upon checkout for 20% off all your bill.
Table Restaurant is located in Naumi Hotel, 41 Seah St, Singapore 188396, p.+65 6403 6005, e.rangmahal@rangmahal.com.sg. Delivery and takeaway hours are 11am–10pm daily. To place an order visit rangmahal.oddle.me. Check out their delivery menu here. 
Shang Palace
Known for their homely Cantonese fare, Shang Palace has introduced a special a la carte takeaway menu, so that you can revel in delicious flavours as if you were dining in. Relish tantalising gems like Barbecued Iberico Pork Loin Glazed with Honey Sauce (S$72.75) and satiating one-dish meals such as Braised Ee Fu Noodles and Wild Mushrooms with Black Truffle Oil (S$38.50) that will have you reminiscing of your grandma's cooking.
Shang Palace is located in Shangri-La Hotel Singapore, 22 Orange Grove Rd, Singapore 258350. Open for takeaway 12pm-2.30pm (last order 2pm), 6pm-9pm (last order 8.30pm). To place orders contact +65 6213 4389, email dining.sis@shangri-la.com or order online. Check out their menu here.
Spice Brasserie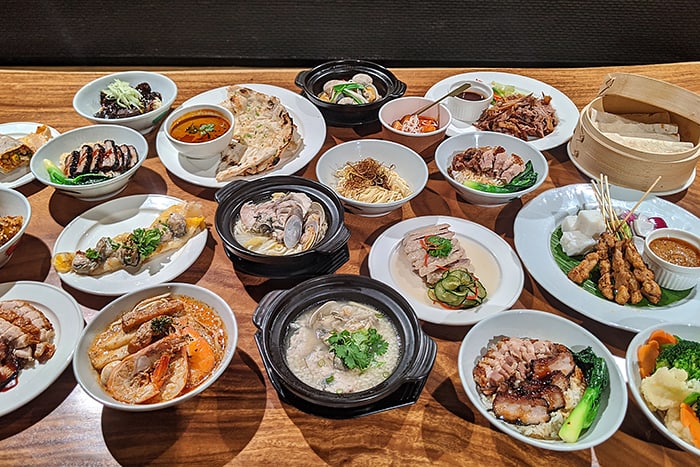 If you can't make up your mind on what to eat, look no further than  Spice Brasserie to immerse yourself in a melange of flavours. From Taiwanese Braised Pork Noodles (S$7.80) to Assorted Naan with Goan Fish Curry (S$8.80), pamper yourself with Asian Street Food galore without burning a hole through your pocket. Grab your goodies via drive-through or from the restaurant at your convenience.
Spice Brasserie is located in PARKROYAL on Kitchener Road, 181 Kitchener Rd, Singapore 208533, p.+65 6428 3160, e.spicebrasserie.prskt@parkroyalhotels.com. Self-pickup hours are 11am–9.30pm daily. Check out their takeaway menu here.
Tiffin Room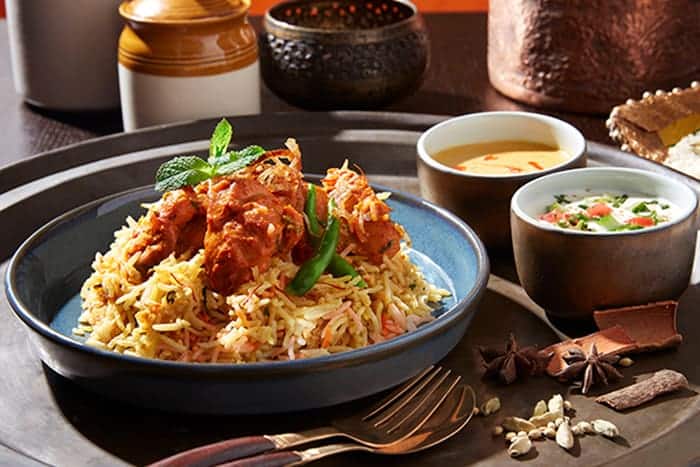 Recreate the royal Maharajah experience at your own dining table with Tiffin Room's Grab & Go menu. Expect a finely-curated symphony of authentic North Indian dishes like Lucknowi Murgh Biriyani (S$28) comprising of fragrant basmati rice alongside a medley of vegetables smothered in rich Salan gravy and Rann-E-Tiffin (S$46) – dark rum-infused tender Welsh lamb leg. Simply order 45 minutes in advance and drop by Raffles Boutique to collect it. What's more, from now till 30 April 2020, enjoy a S$10 discount with a minimum order of S$40.
Tiffin Room is located at Grand Lobby, Raffles Singapore, 1 Beach Road, Singapore 189673, p. +65 6412 1816. Open daily 12pm–2pm and 6.30pm–10pm. Check out their Grab & Go menu here. 
White Rose Cafe
What better way to bond with your loved ones than over tasty food? Bring home White Rose Cafe's #StayHome Fish Head Curry Family Set Meal (S$50, serves up to 4) that brings together a delicious combination of crowd favourites such as their fish head curry, silver fish omelette, chap chye, and crispy papadum. Still hungry? Pile up the add-ons (S$12 each) like Stir-fried Spicy Clams and Beef Rendang, or a box of buttery Mini Chicken Pies (S$14 for a box of 4). What's more, DBS/POSB, UOB and HSBC card members can snag a wickedly good deal of 1-for-1 Asian Favourites from the a la carte menu.
White Rose Cafe is located in York Hotel, 21 Mount Elizabeth, Singapore 228516. Takeaway hours are 12pm-10pm daily. All takeaway specials are valid till 31 May 2020. To place your order, contact p.+65 6737 0511 or e.whiterosecafe@yorkhotel.com.sg. Check out their menu here.
Xin Cuisine Chinese Restaurant
Bring Xin Cuisine's contemporary Cantonese dining experience into your home as they roll out deliveries and takeaways for their a la carte menu. Tuck into heartwarming soups, delicious stir-fried dishes and flavourful roasts like Xin's Signature Home-style Roast Duck with Tea Leaves (S$58 for whole portion; S$32 for half). Love dim sum as much as we do? Then, you will adore their innovative selection of handmade dim sum, from Chef's Special Baked Abalone Puff (S$8.80+ for three) to creamy Custard Bun with Salted Egg Yolk (S$6.80++ for three). If you're looking for a quick mid-day refuel, get any of their Bento boxes at 25% off, for a convenient one-dish meal.
Xin Cuisine Chinese Restaurant is located in Holiday Inn Singapore Atrium, 317 Outram Rd, Singapore 169075. Delivery and takeaway hours are 11am-9pm Wed-Sun. To place an order contact +65 3138 2531. Check out their delivery menu here. 
International
Azur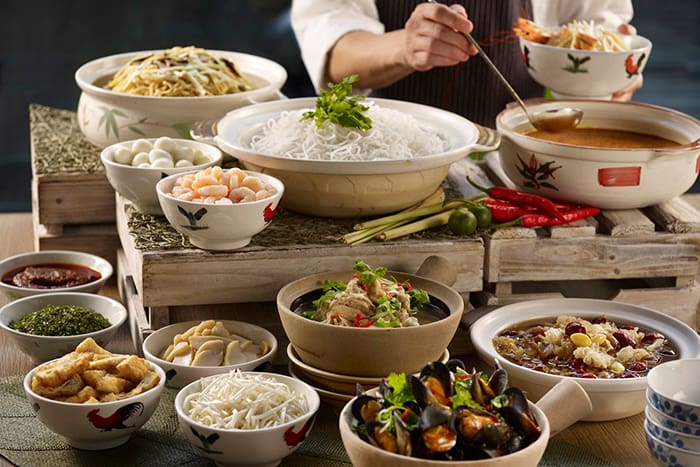 With the 50% off and one for one specials (with selected credit cards) on their takeaway menu, Azur at Crowne Plaza Changi Airport is one for the east-siders. Their refreshed la carte menu features a broad selection of scrumptious Western and Asian delicacies. Nosh on elevated local delights like Slipper Lobster Laksa (S$28) and the feisty Nonya Satay (S$17 per half dozen) or sink your teeth into a succulent Grilled Australian Angus Beef Rib-Eye (S$48). Thirsty? Perfect your meal with libations from their extensive menu of beers, wines and cocktails.
Azur is located in Crowne Plaza Changi Airport, 75 Airport Blvd, Terminal 3 Singapore Changi Airport, 819664. Takeaway hours are 9am–9pm daily. To place an order call +65 6823 5354 or send a text to +65 9336 3125 via WhatsApp. Check out their a la carte menu here.
Crossroads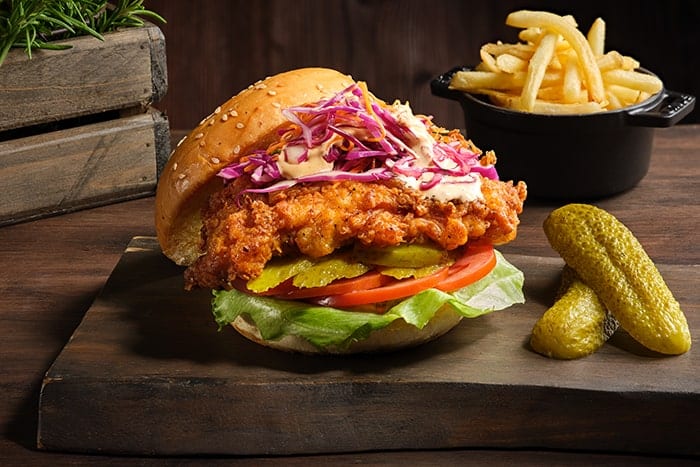 Skip the confusion that making dinner plans for your family entails, with Crossroads' varied offerings – from gourmet Western to Asian grub – that will satiate all. Whether you want signature local eats like seafood Char Hor Fun (S$28) or an indulgent, juicy Angus Burger (S$32) with luscious black garlic aioli, they've got it all. The best part? Enjoy 30% off when you take away these a la carte delicacies. Solo diners aren't left behind either, with Crossroads' S$15 nett Takeaway Specials (valid till 31 May 2020) that includes a complimentary drink alongside a scrumptious meal of your choice.
Crossroads is located in Singapore Marriott Tang Plaza, 320 Orchard Rd, Singapore 238865, p.+65n 6735 5800. Takeaway hours are 10am-10pm daily. Drop by Crossroads to place your order or pre-order at p.+65 6831 4605 or e.mhrs.sindt.fb.reservations@marriotthotels.com. Check out their menus here.
Grand Hyatt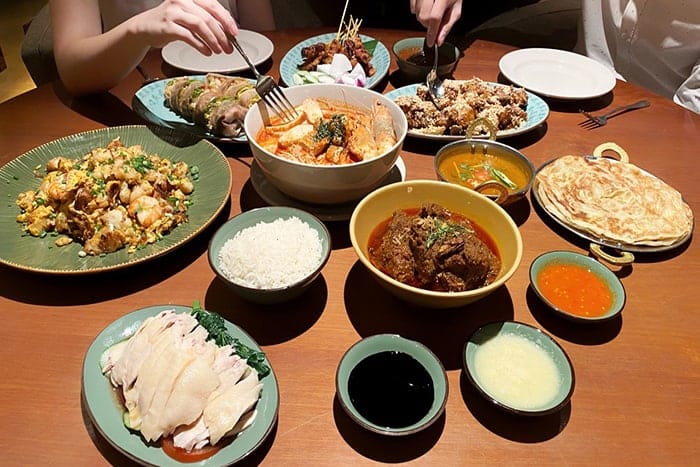 Journey through Singapore's diverse food culture as you chow down hearty meals with an array of S$10 Meal Box options from Grand Hyatt. Experience the best of their restaurants with 10 of their crowd-favourites, running the gamut from Asian delicacies like Wok-Fried Black Pepper Mottainai Lamb to Italian comfort foods like Beef Bolognaise & Macaroni with Cheese. Sharing with your family? Their pre-packaged portions (1kg) of offerings like Chef Solanki's Butter Chicken (S$22) and hand-kneaded pizzas make for easy-sharing take-home options.
Grand Hyatt Singapore is located at 10 Scotts Rd, Singapore 228211, p.+65 6738 1234. Delivery and Takeaway hours are 10am-9pm daily. Place orders 3 hours in advance by calling p.+65 6887 5492. Check out their menu here.
The Knolls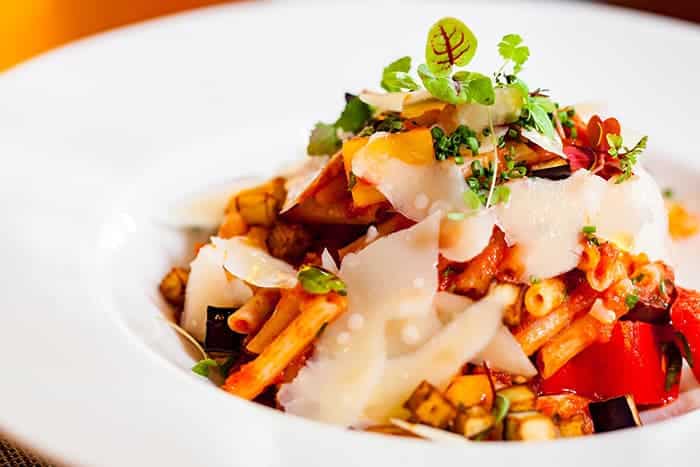 To suit our eclectic palates, The Knolls will be departing from its usual Meditteranean-inspired offerings to introduce a burst of local and western flavours through its newly-launched takeaway menu. Polish off dishes like Lamb Rendang (S$38), Wagyu Beef Tenderloin (S$58) and Seafood Wrap (S$35) or feast on sharing sets like The Capella Gourmet (S$115 for 2 pax, S$208 for 4 pax), that includes Korean style grilled short rib, mango glazed-spicy chicken wings, lemon meringue tart and more.
The Knolls is located in Capella Hotel Singapore, 1 The Knolls, Sentosa Island, 098297. Takeaway hours are 12pm-10pm. Contact +65 6591 5046 to order in advance. Check out their menus here.
Kwee Zeen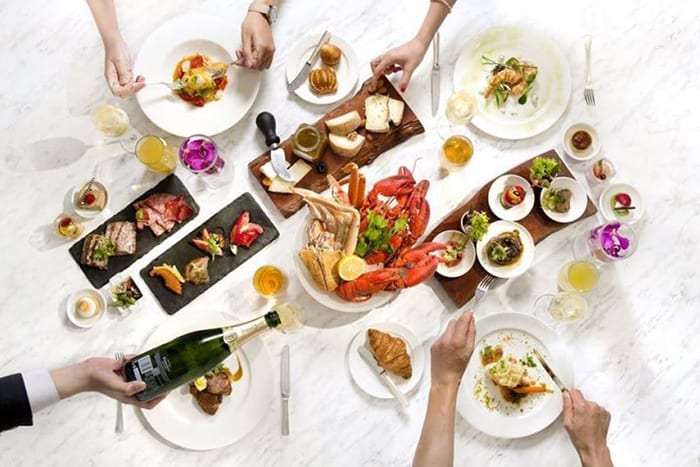 Be spoiled for choices with sumptuous pan-Asian specialties and exquisite French fare from Sofitel's Kwee Zeen. Dig into the flavour-packed Singapore Laksa (S$24) or get your tastebuds tingling with their luscious Butter Chicken (S$20). Cool off with sweet treats like the decadent Hazelnut Royaltine (S$13) comprising delicate layers of feuilletine, creamy praline paste and chocolate sponge. Be sure to enter the code citynomads during checkout to get 25% off your order with a minimum spend of S$50!
Kwee Zeen is located in Sofitel Singapore Sentosa. Takeaway hours are 11am-9pm daily. Ala Carte orders to be made 45 minutes in advance. For orders contact +65 6708 8310 or email H9474@sofitel.com. Check out their takeaway menu here.
Top Image: York Hotel