Japanese-French Restaurant Lewin Terrace Launches Shomi Summer Menu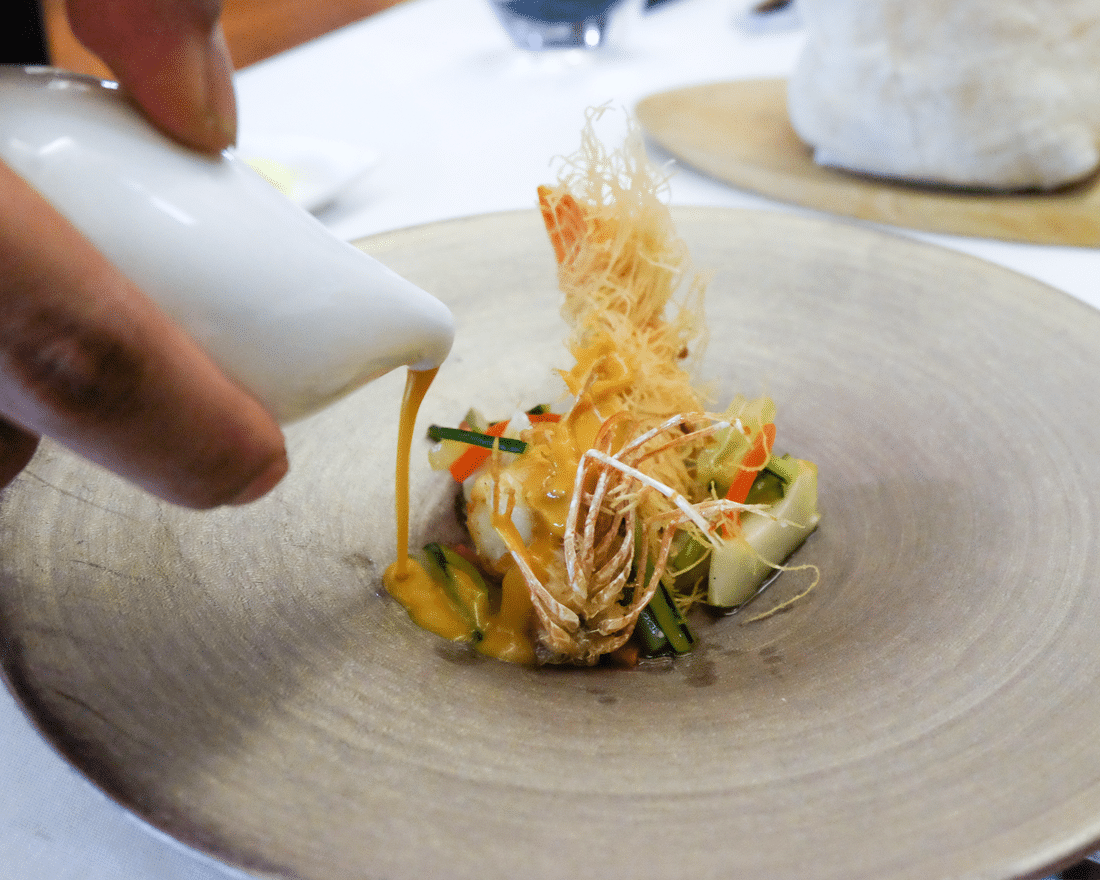 PUBLISHED July 3rd, 2017 01:00 am

Japanese-French fusion restaurants might not be a dime a dozen, but they're also not  unheard of in Singapore these days. While the term typically refers to French cooking smacked with Japanese sensibilities – think matcha pâte feuilletée, uni gratin, miso-glazed chicken – it's not uncommon to see Japanese dishes influenced by French techniques as well.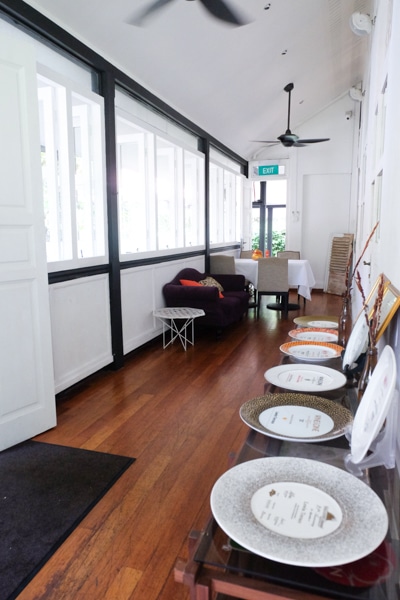 There's the one-Michelin-starred BÉNI where Japanese reinterpretations of authentic French cuisine come to the fore, the cafe Kumoya where you'll find éclairs and madeleines spiked with yuzu, and then there is Lewin Terrace, where both French and Japanese techniques are combined into the produce-driven menu. We first visited the latter three years ago just after its opening and now, we've returned to check out the new summer offerings.
At a count of 82 seats spread over an air-conditioned indoor space, alfresco area, and a tiny bar, Lewin Terrace is neither a large nor a high volume restaurant by any definition. relatively small restaurant by most definitions. Housed inside a stately black-and-white bungalow on Fort Canning Hill, it's scarcely decorated to retain the quaint mood developed through decades of colonial rule. Wooden floors, padded seats, and square tables with plain tablecloths are pretty much it. French windows look out into the lush park, while framed illustrations of flora (that I suspect are native to the island) line the walls. The minimalist aesthetics are a Japanese trait, though the romantic quality is convincingly French – a reason why so many couples book out the place for wedding ceremonies.
The head chef, Hiroyuki Shinkai, is no stranger to classic French cooking. Formerly sous chef at the aforementioned BÉNI, he cooked for years in the kitchen of Hotel Murano in Paris, Tokyo's three-star Michelin restaurant L'Osier, and was also part of the opening team at Le Salon Jacques Borie in Shinjuku. And the skills and knowledge that he picked up, along with an avant-garde culinary attitude, are evident in his enchanting five-course Shomi Summer Menu.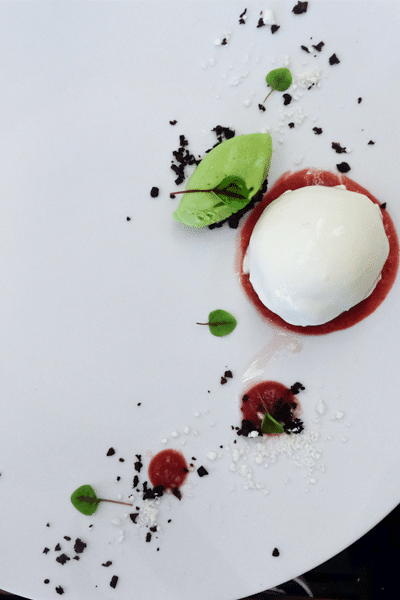 We start with the amuse-bouche Omotenashi, the intangible essence of Japanese hospitality. Creamy corn soup – which has the thick texture of custard at first glance – is subtlety sweet and easy to consume, the corn flavour rich and invigorating. On top are bits of unassuming lobster jelly that hold the distinct essence of, you guessed it, lobster meat.
"Amera", a dish featuring the egg-sized Japanese amera tomatoes wrapped in fresh burrata cheese, looks more like dessert than it does an entrée. A scoop of basil sorbet and flecks of powdered lemongrass completes the picture, and I am thankful for it. Perhaps why the Japanese and French get along so well is their shared strive for a kind of high aesthetic that puts emphasis on artistry. Anyhow, it's a brilliant palette opener if I ever saw one, filled with juicy and stimulating umami goodness.
There's the "Kadayif" – angel prawn wrapped with shredded Middle Eastern filo pastry to produce a crunchy bite, reminiscent of the crispy vermicelli often found in zi char spots. An accompanying laksa sauce is a clear influence of local flavours, presenting a beautiful tangy sweet bouquet with hints of coconut.
The Japanese sea bass dish "Suzuki" is named after a species of Asian bass native to the Pacific Ocean waters near Japan, and while it's usually used for sashimi or sushi due to its fragile nature, Chef Shinkai masterfully steams the fish to release a sweet aroma and flavour that forms a trinity together with the accompanying okra and ginger fennel sauce. The bite? Flaky and succulent.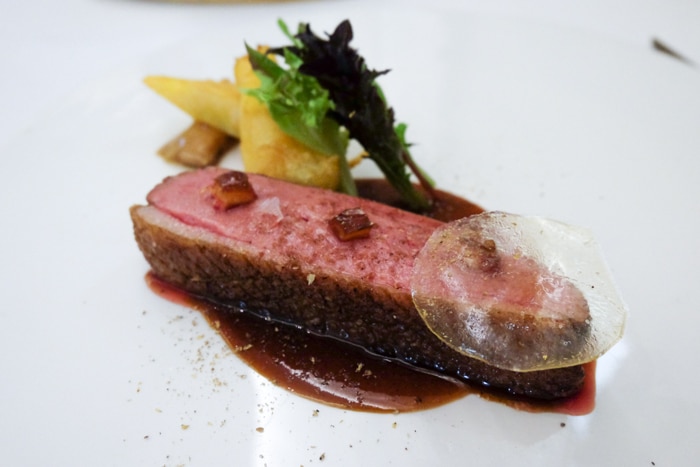 A cut of rotisserie-grilled Challan Duck makes up the main course. These free-range French fowls, raised in the Vendée region, are particularly famous for their lean and tender flesh – and they are gorgeously paired with truffle sauce and some tempura mango, which duck always works well with. There's also a beautiful 'crystal' potato chip for garnish, though that's pretty much all it is.
At this point, you can opt for a cheese plate of three kinds at an additional $10, or go straight to the Summer Dessert and close off the meal. It's great to look at, with a dollop of cherry ice cream, almond crumble, some light sponge, white chocolate, and fluffy fresh cheese. Supplement this with a cup of complimentary Japanese tea, and you're all good.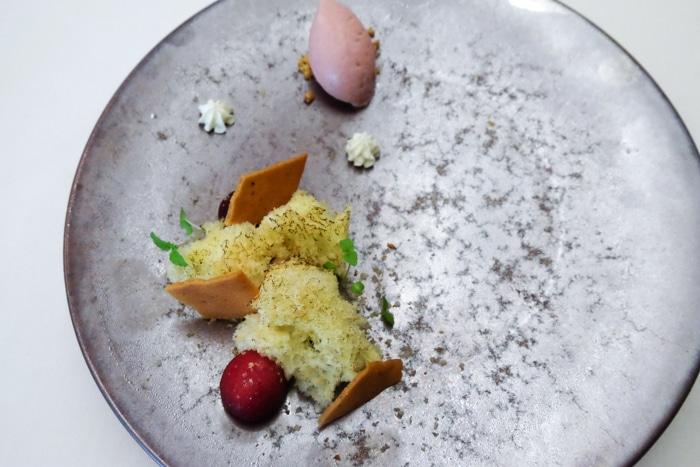 I need to commend the service at the restaurant too. The attentive and knowledgeable staff effortlessly explain each dish in detail each dish when serving, and are tactful not interrupt any conversation you might be having with your dining companion. Together with the culinary team, a meal here is elegant and a great delight. If Lewin Terrace is Chef Shinkai's canvas, his food is his art.
The Shomi Summer Menu is available until the end of August 2017, and is priced at $128++ per person. Lewin Terrace is located at 21 Lewin Terrace, Singapore 179290, p. +65 6333 9905. Open Tue-Sun 12pm-3pm (last order 2pm), 6.30pm-11pm (last order 9.30pm).
Check out more contemporary cuisine at Blue Lotus: New Age Chinese Cuisine at Sentosa Cove.