Restaurant Review: Ginza Rokukakutei Offers Michelin-Starred Japanese Kushikatsu at Bras Basah, Singapore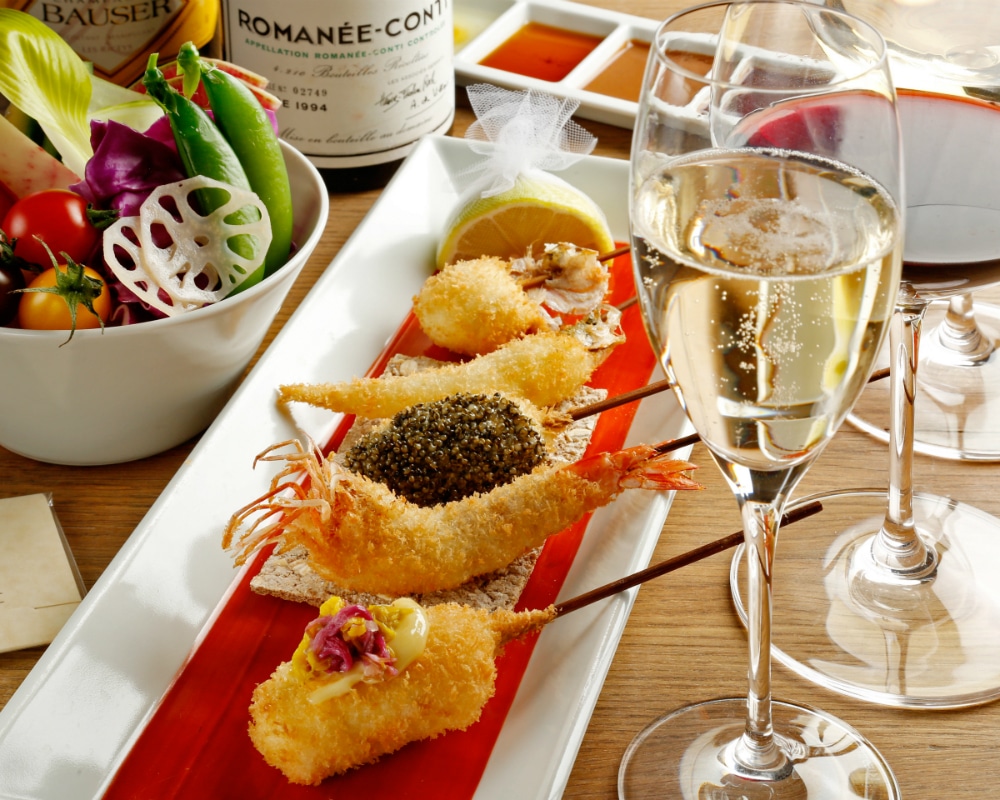 PUBLISHED August 24th, 2017 06:00 am
The first thing you'll notice when you step into the sleek interiors of Ginza Rokukakutei, at Odeon Towers in Bras Basah, Singapore, is the massive metallic range hood that hangs over the main counter. Shiny and imposing, the structure seems almost like a futuristic chimney – or possibly an intergalactic portal – amidst the unassuming, wooden accents that adorn the Japanese restaurant. This curious spot is exactly where all the magic happens; it is where the chefs flaunt their incredible kushikatsu skills.
---
For more Japanese skewers, see our review of Birders, an izakaya along Tras Street in Singapore serving up impressive yakitori, or grilled chicken skewers.
---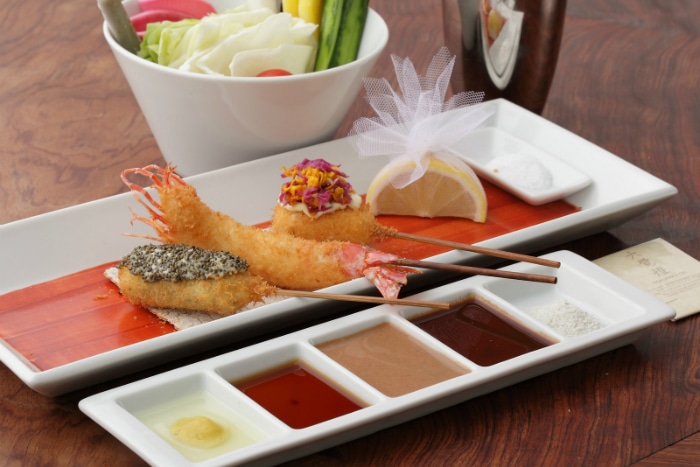 The first overseas outpost of one of Japan's most renowned kushikatsu restaurants (it was awarded a Michelin star in 2009) is about as authentic as it gets. Here, right underneath the eye-catching range hood, skewers of meat, fish, and vegetables, are deep-fried to golden-brown perfection, before being served alongside dipping sauces.
You could, perhaps, imagine it as 'tempura on a stick', although food purists will point out that kushikatsu differs fundamentally from tempura. Unlike the latter, it does not use a batter base of water, flour, and egg. Rather, ingredients are simply coated in panko, offering an additional crispiness that tempura sometimes lacks. A bite into the light piquant Angel Prawn, which opened our dinner, and we are instantly sold.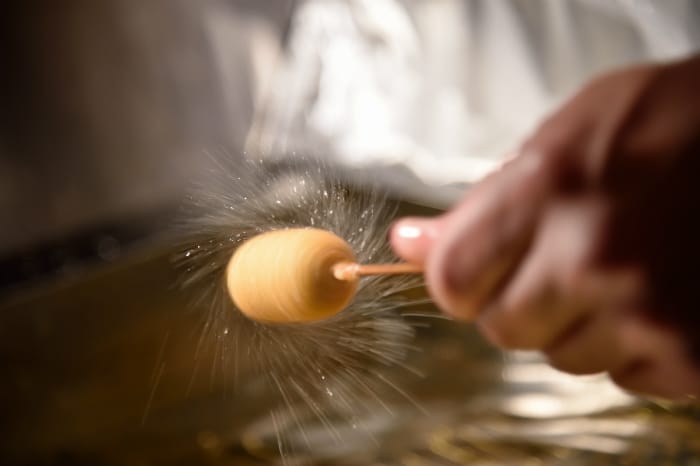 At this joint, the chef has yet another trick up his sleeves. Should you be lucky enough to get a seat right by the main counter, you might be able to spot Chef Hideyuki Tanaka performing his signature move – a rapid spinning of the skewers – as he prepares your food. This ensures that excess oil will be coaxed out with the centrifugal motion, leaving the fried kushikatsu sticks fluffy and not greasy. You'll be glad for this technique after your meal, for did I mention that the restaurant only serves two omakase menus: the first at $134, with a whopping 20 skewers, and the other at $288, featuring 15 skewers with one glass of champagne, two whites, and two reds?
From the lightest of seafood flavours to our final, cheese skewer of the night, our 15-course menu gradually progresses from mild to heavy, as is generally expected of omakase meals. Each stick is personally delivered to our plates and arranged to point at one of six different sauces, an indication of which to dip the skewer in. If you're adventurous enough, no one will stop you from experimenting with other pairings.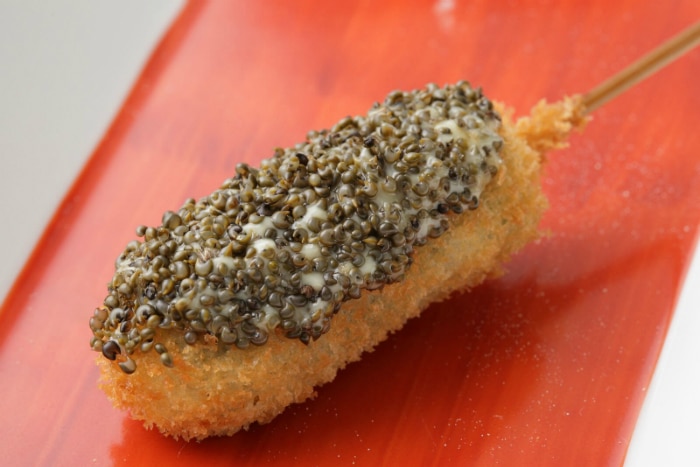 Admittedly, going in with one's stomach empty and grumbling, the first few skewers will taste especially good. The Wagyu Beef, paired with red wine reduction sauce, was juicy and almost worthy of comparison to the best gyukatsu, whereas the remarkably divine Salmon with Picked Chrysanthemum was absolutely refrehsing. Worth mentioning is also the Chicken Breast and Perilla with Mountain Caviar "Tonburi", which blends the oddly earthy yet luxurious aroma of caviar with the mintiness of perilla perfectly, to create an exquisite harmony of flavours.
Nevertheless, the meal falters ever so slightly towards the end, when your appetite has been satiated but the food just doesn't stop arriving on your plate. At this point, the sweet only gets sweeter and the salty gets saltier, such that what began as the ideal meal could become a dizzying blur of flavours when you start to eat beyond your means. Thankfully, there is an option for diners to stop at any number of skewers once they feel full, with charges being amended accordingly, so you'll still be able to leave with an excellent dinner experience.
New and refreshing, with undeniably impeccable standards, a meal at Ginza Rokukakutei is an experience one should have at least once in their lifetime. If you can forget the hefty price tag that comes with it, you'll be treated to the best of Japanese kushikatsu.
Ginza Rokukakutei is located at Odeon Towers, 331 North Bridge Rd #01-04, Singapore 188720, p. +65 6266 1077. Open daily, 4pm – 11pm.