Wine & Dine at Palio Restaurant Resorts World Sentosa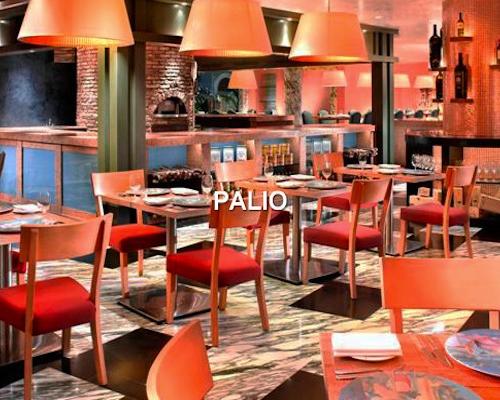 PUBLISHED December 5th, 2011 10:03 am | UPDATED February 28th, 2021 06:49 am
It was with great pleasure that last week I attended a lush 5-Course Winemaker Dinner at Palio Restaurant in Resorts World Sentosa Singapore.
If you haven't had a chance to visit Palio, it is located at Hotel Michael on Sentosa. It is not the easiest place to find…in a nutshell, when you arrive at Sentosa gateway, turn right, then go all the way until you get to where all the hotels and Casinos are located, then keep a good lookout for the sign for Hotel Michael. It's the last hotel in the row. Once you're outside the hotel, Palio is pretty easy to find.
So, it has to said, I am somewhat of a sucker for Italian food, and seriously, who isn't? It's easy to see why it's one of the world's most popular cuisines. The meals oozes with Italian culture…Truth be told, whenever I eat Italian, I have to restrain myself from plunging into a realy bad Italian accent where I'd sounds more at place as an extra on the Sopranos.
Upon entering Palio, you can really see the effort that has gone into the design and atmosphere of the place. One thing I personally love was the open-style kitchen. What this means of course is that guests can walk by and take a gander at the Chefs at work, rolling dough, tossing pizzas etc etc. Good show! Although a very large restaurant, there seem to be a number of private areas, which is what us wine-diners had for ourselves.
After being seated, the local importer and our host for the night, Giovanni of Amphora Wines gave a brief introduction to Professor Piero Mastroberardino (Yes, when he's not making world renowned wine, he's a University Professor and Writer!).
The winery was established in 1750 by Pietro di Berardino (he adopted the title of Mastro, which eventually merged with Berardino) and officially registered in 1878 by Cavalier Angelo Mastroberardino, whose grandson, Antonio (of the ninth generation), is widely acknowledged as one of the grand masters of Italian winemaking. Over the course of two decades, the Mastroberardinos acquired vineyard land in various areas of Campania and Irpinia. Beginning in the 1960s, they chose to isolate the best areas in the latter territory, rendering them the subject of intense study. This agenda demonstratively contrasts with the bulk efforts undertaken by other winemakers in response to the economic devastation wrought by World War II. The quality efforts of the Mastroberardinos were championed by Antonio, who voraciously defended the area's ancient varietals, earning the title of 'true viticultural archaeologist' from renowned wine writer Hugh Johnson. It is now Antonio's two sons, Piero and Carlo who now run the winery.
After a wonderful introduction, and with my tummy rumbling with Pavarotti renditions, the first course arrived, a beautifully presented Beef Carpaccio topped with Truffle scented Gorgonzola fondue. This was in turn paired with Mastroberardino's White Falanghina Sannio 2009, a Roman grape. It had a quality, light golden colour, and from first swirl, I had a feeling I was going to like it. Floral aromas presented as did peach and pear, a little citrus in the mouth and a nice, tart finish, which was surprisingly long. As for the beef, the quality of the meat was obvious, the truffle flavors were fantastic in their own right, but slightly overpowered the subtly of the beef in my opinion. Nonetheless, the matching with the fine was fabulous and really accentuated the depth of flavors of both wine and cuisine.
Next up on the menu was "Fegato d'Oca" (Pan fried duck liver 'foie gras' on toasted Ciabatta with grape compote and balsamic caramelized pearl onions. This paired with the White Fiano 2009. On first approach, I didn't like this wine as much as the first – much lighter on the nose and the finish was a little shorter. Having said that, after some 'air-time' the flavors really started to come out and the wine developed a wonderfully light creaminess to it. They say actions speak louder than words..I quickly noticed that I'd finished draining this glass entirely whilst the first still had wine remaining. For the Fegato d'Oca, I was impressed with the texture balance, the subtly of the flavors and the delicacy. It paired well with the wine and brought out a nice sweetness when combined. Usually I would think more of a sweet-wine pairing with duck liver, but this was a pleasant surprise.
The third course of the night was sublime. Not to sing the Chef's praises too much 😉 but upon finishing this dish, I promptly left the table and personally thanked the Chef. It was a Carnarolli Risotto served with Cod morsels, candied orange zest and thyme scented eggplant caviar, and paired with the Rose' Lacrimarosa. THIS was my highlight of the night. What made the risotto so good? For a start, if you've ever made risotto, you will know it's actually quite a hard dish to master. And this plate in front of me was nothing short of perfection – creamy, rich, fragrant, excellent balance of flavors. The Cod pieces and the Eggplant were an excellent choice of ingredients as well. As for the wine, it is commonly complained amongst expats in Singapore that good Rosé is hard to find. This is one rosé I would drink again, and again…and again. With a beautiful salmon-pink colour, and aromas of strawberries and fresh-cut flowers, this wine was dry, pleasant and very drinkable. (Oh, and it's less than $40 a bottle, retail).
For the main event, was a Wagyu Beef Ribeye steak "Tagliata" style, served with Rosemary crushed Potatoes and bluberry sauce. The wine paired with it, which for me was THE wine of the night, was the Red Naturalis Historia 2005. The beef dish was quite small, but superbly flavored. What impressed me the most was the softness of the meat, beautifully cooked, it hardly needed cutting. The bluberry flavoring made a nice, if somewhat strong addition, although when I tried the food with the wine served, I understood the need for the strength. This Red Naturalis is a quality wine but it is a big boy. To start, the nose is extraordinary! Rich, dark currents, balanced with an earthiness. I will be bringing home a few of these for sure.
Finally up to finish was a traditional espresso and of course, Tiramisu (Venetian style). It was delicate, light and fluffy. A gentle finish to a fantastic meal.
To find out more information about Palio, you can contact them on 6577 8888 or email the Restaurant Manager (Ezan Ishak) on [email protected]. For your Italian wine needs, you can speak directly with Giovanni on 8282 3402, or email [email protected]
Finally, a special thanks to Chef Davide for preparing such wonderful food.