Restaurant Review: Basque Kitchen by Aitor Serves Up a Surf n' Turf Tasting Menu on Amoy Street Singapore
PUBLISHED March 19th, 2019 06:00 am | UPDATED March 26th, 2019 05:43 pm
Bordering Spain and the North Atlantic, it's no surprise that Basque Country has a strong culture of grilling and seafood. Above Amoy Street's Basque Kitchen by Aitor, the grill-inspired menu offers up both surf and turf, with Chef Aitor serving up simple and delicious comfort food that reflects the warm Basque Country flavour profile with his sleek new Josper-made Basque grill.
The first floor hosts group seating by the open-concept kitchen; upstairs, the 10-seater private dining area is decked out in classy interiors, right next to the bar stocked with over 100 Spanish wines.
Our five-course tasting menu ($98++ per person, minimum four to dine) started off with several delightful appetisers: fresh fried Irish oysters, savoury grilled eel, and gooey croquettes stuffed with cheese and Bayonne ham. Real props have to go to the generous and warm portions of sourdough; I traded up my calorie count for a second serving, but it was worth it. The bread is so tender and aromatic that it could put up a good fight against some other dishes — but more on that later.
The first course is a shredded Mud Crab in chilled tomato water. It's a refreshing start, and the smokiness of the crab contrasts well with the sweetness of the tomato, though I think there was a missed opportunity to incorporate a little more textural excitement.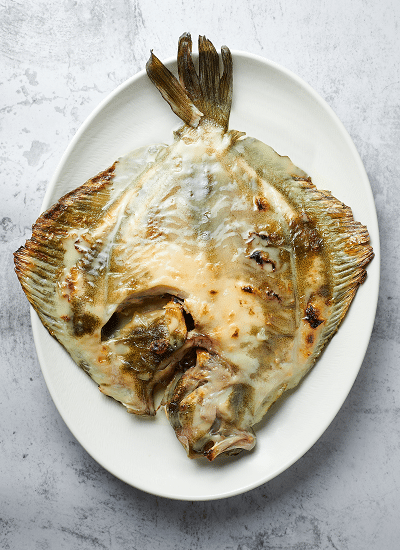 At Basque, fresh seafood and simplicity is the name of the game. The Kokotxas (pronounced like "Kokochas") was our introductory meeting with Basque's pil-pil sauce — a traditional Basque sauce used in many of the dishes here. Here, Aitor features delicate Hake chin in a variation of pil-pil, one using black garlic for a sweeter finish. Roasted whole over a charcoal grill, the Turbot is also served dressed in pil-pil, made from the more traditional garlic oil. I would have liked a deeper heat from the guindillas chillis, but at least the sauce is delicious and doesn't overpower the fish or its char in the least.
Eager to show off some variety for meat lovers, Aitor serves up their Txuleta — charcoal-grilled Angus Prime Rib with a side of mash. The beef was decent but didn't really hit a home run for me, with a texture that was tougher than anticipated. If I could refer back to the introduction, the aroma and char on the meat just didn't leave me swooning for seconds like the bread did.
The five-course tasting menu wraps things up with a delightful cheese platter: a smokey Idiazabal, hints of red wine in the Murcia al Vino, and a proper stinky blue Valdeon, with a side of bread (oh, the bread) and sweet quince paste. Basque Kitchen definitely does right by its fish. If you're into simple comfort food, it's the place for you. Overall, the highs definitely outweighed the lows, and it's worth visiting for a taste of Spain.
Basque Kitchen by Aitor is located at 97 Amoy St, Singapore, 069917, p.+ 65 6224 2232. Opening hours are 12pm — 2.30pm, 6pm — 11pm from Mondays to Fridays, and 6pm —11pm on Saturdays. Closed Sundays.