Restaurant Review: Quince Bangkok is the Epitome of Casual Restaurants with Fine Food at Siri House Bangkok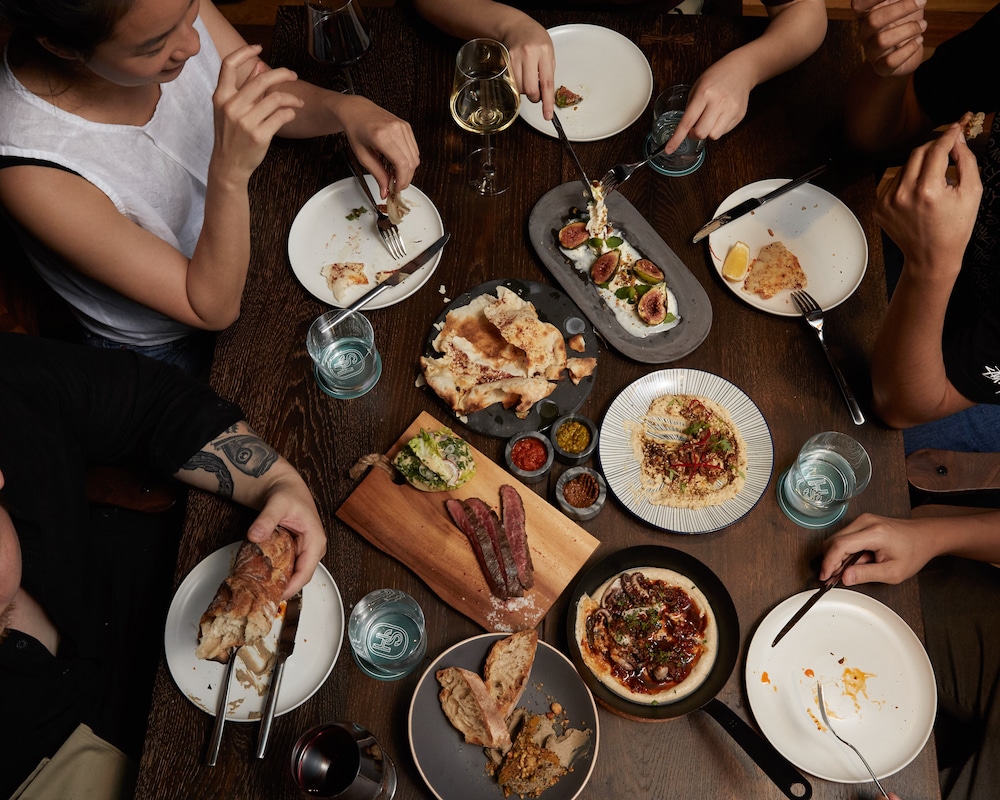 PUBLISHED October 16th, 2019 06:00 am | UPDATED May 18th, 2020 07:10 pm

Behind the glitzy malls of Ratchaprasong in the heart of Bangkok, Siri House sits on the tree-lined street of Soi Somkid, within walking distance from the Chit Lom and Ploen Chit BTS stations. Launched in March in the wake of Siri House Singapore, this is where Thai luxury property developer Sansiri gathers and showcases all the elements of a Sansiri living environment – cool people, design, art, and food and drink. The last is where throwback-to-the-60s bar Jacqueline and produce-driven Mediterranean restaurant Quince come in.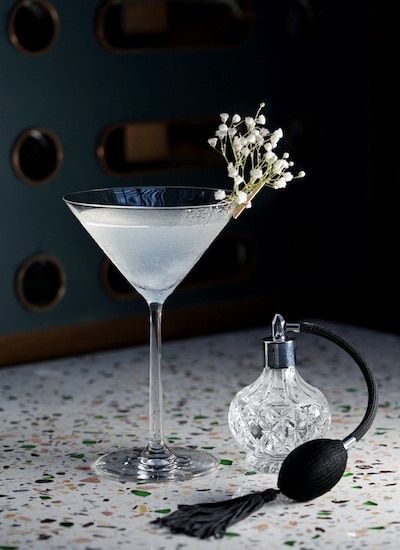 With an outdoor terrace that'll be lovely during Bangkok's short winter, former First Lady Jacqueline Kennedy lent her name and a touch of her style to the space on the second floor. The terrazzo-topped wraparound bar and wood on the walls contrast nicely with plush, jewelled toned furniture for a more casual vibe, which jibes with the cocktail menu created by Iron Balls Gin's Carson Quinn.
If you're celebrating an occasion, you'll find the right cocktail in A Day in Newport (THB 360) that's inspired by the day the Kennedys got married. On the sweet side, we're not surprised it's one of the best sellers with its combination of gin, Cointreau, lavender, and lychee. The slightly dry finish is result of a final pour of Prosecco so stir gently if you prefer it more evenly distributed. For Negroni and dirty martini fans, you'll find a sort of hybrid with Paparazzo (THB 340). The addition of olive brine to the classic recipe gives it a savoury edge that's not unwelcomed.
Want something more spirit forward? Opt for the Jackie O (THB 340), Jacqueline's take on the stirred Vesper martini. With 50ml of base spirits, the fruitiness of the lychee and lime certainly blunts the sting of vodka and gin on the palate and the throat, making it one of the easiest versions around to drink.
Those familiar with the Bangkok dining scene will know that Quince has been around a lot longer than its stint at Siri House, for it was one of the pioneers of the wave of casual yet well-heeled restaurants when it opened on Sukhumvit 45 in 2012. Despite swopping out the farmhouse flair for sleek interiors and chandeliers with the move, the kitchen is still headed by Chef Charlie Jones, who has also worked in Singapore's Esquina and Maggie Joan's throughout his decade-long career.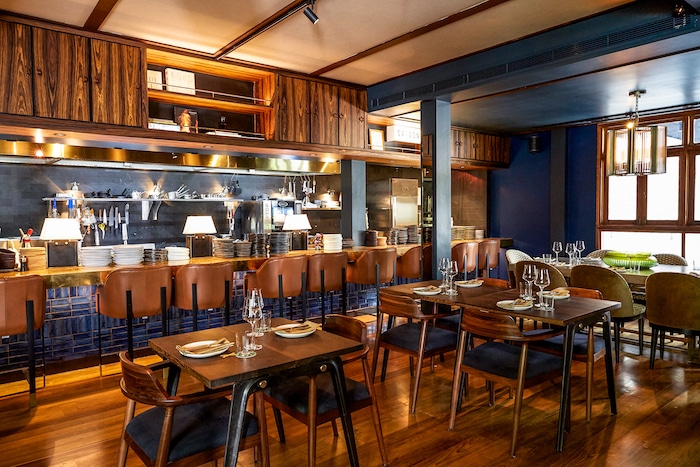 The style of the menu at Quince is simple, with starters, salads, cheese, mains, and sides all on an A4 page. Everything sounds good, so take your time to decide over a glass of natural wine (they work with Wine Garage). We opted to sit at the counter in front of the kitchen, and watched our order of Crab Salad & Brioche (THB 380) salad being plated up prettily with layers of buttery brioche toast, meaty chunks of crab, and pickled cucumber ribbons. It's pretty green-tasting even with the nam jim fromage and ash powder, so if you prefer a heartier start to your meal, hit the Black Truffle Chicken Liver Parfait (THB 390) instead.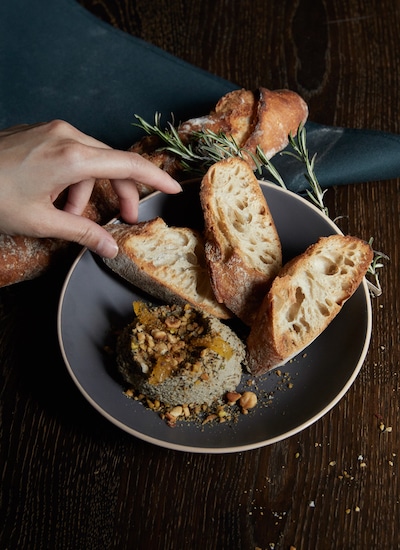 Accompanied by Amantee's sourdough, the earthiness of the creamy chicken liver is balanced by the tart fruitiness of mandarin jelly and sweet, crunchy nut brittle. There was nothing to nitpick about this dish. The Cacio e Pepe styled Truffle Spaetzle (THB 610) however, was too soft for our liking though the flavour was beautiful – we like the sharpness from the parmesan. It might be the result of using fresh pasta versus dried, but those who like their pasta al dente might not enjoy it as much. The best part though, is guests can truffle it up further with Australian Black Perigord winter truffles with at THB 90 per gram.
The 400-day aged Stanbroke Wagyu Onglet Steak (THB 980) was not outstanding – we wish it carried more char but this problem seems to be consistent across Bangkok – but did the job of satisfying our craving for red meat. Despite the marbling score of 6-7, the medium rare cut was quite beefy. The trio of condiments – whisky mustard, nam jim, and tarragon mustard – is also no afterthought.
Sole is seasonal so the Lemon Sole (THB 280 per 100g) might not be available by this time, but it's classic combination ofbrown butter, lemon, capers, and fresh parsley works well. The fish was cooked perfectly and the croutons added a nice textural contrast. It got oily after awhile so this is one dish to enjoy as quickly as possible.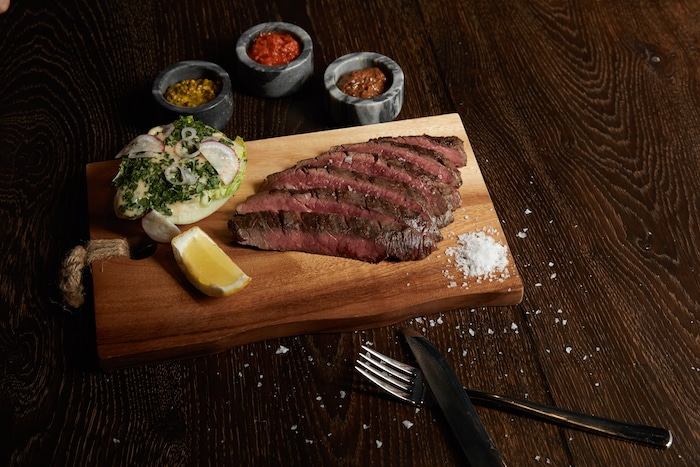 For dessert, we'd highly recommend the Burnt Blood Orange & Milk Ice Cream (THB 240) after such a gut-busting evening with food and drink. The slightly bitter but airy honeycomb, juicy fresh orange wedges, and tart yuzu curd balance each other and the creamy ice ceam out. Those who count chocolate amongst their sins, go for the Chocolate and Hazelnut (THB 210) for all things cacao, from Vietnamese chocolate mousse and chocolate sorbet to complementary elements like salted hazelnut purée and cocoa soil.

(Quince)

(Jacqueline)
Quince Bangkok is located at No.14/2 Soi Somkid, Lumphini, Pathum Wan District, Bangkok 10330, p. +6694 868 2639. Open 6pm-12am daily. Jacqueline is open 6pm-1am daily.