Restaurant Review: Kilter Avenue's HRVST Brings Vegan Food To OUE Downtown Gallery, Singapore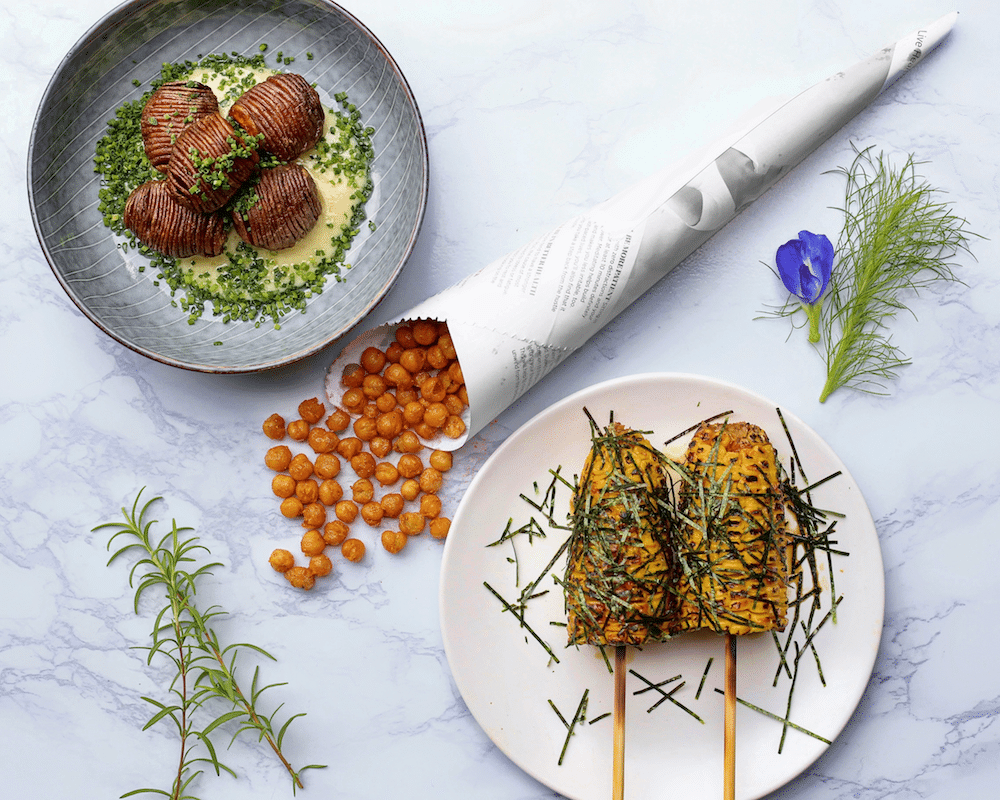 PUBLISHED March 29th, 2018 06:00 am | UPDATED March 26th, 2019 05:20 pm
OUE Downtown Gallery's
lifestyle gym
 Kilter Avenue is looking to shake things up with
HRVST
, their restaurant and bar serving a full menu of
vegan
starters, mains, and bar snacks right in the heart of the CBD. Rather than seeking to convert diners, HRVST aims to encourage a more mindful attitude when it comes to food and its effects on the body and the environment by serving completely guilt-free and 
healthy
food that causes no harm to the environment or animals.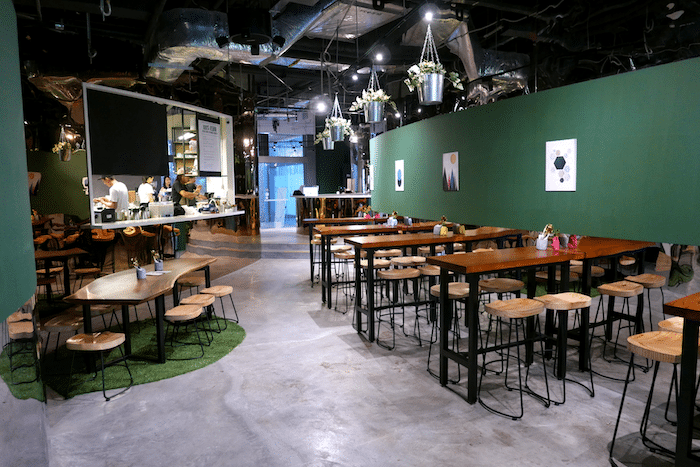 HRVST
 is helmed by partner head chefs, Addis Tan and Dylan Choong, who have between them close to 20 years of kitchen experience, most recently in Tippling Club, Esquina, and Cheek by Jowl. 
Living a life of work and pleasure centred around food, there are two things in particular that have bothered them: the superior image of meat dishes over vegetarian ones and the difficulty vegans face when introducing or being proud their choice of cuisine. With HRVST, they want to be the vegan
restaurant
that vegans bring their non-vegan friends to and blow their mind with how delicious vegan food can be!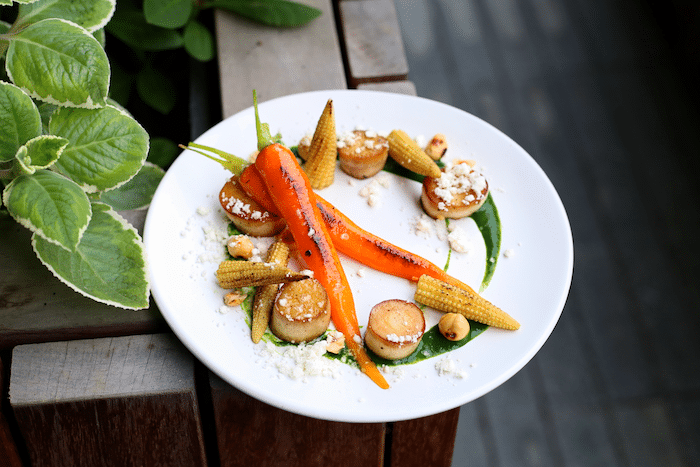 The appetiser of King Oyster ' Scallops', Spinach Puree, Baby Carrots and Baby Corn, Toasted Hazelnuts, Lemon Zest and Garlic Snow ($12) arrived looking like an abstract art painting, beautifully plated with the vibrant colours of the baby carrots, baby corn and spinach puree. The garlic snow, made from extracting garlic oil from cooked garlic and then using tapioca starch for the 'snow' effect, adds the perfect contrast. Soft and 'meaty', the sweetness of the king oyster mushroom 'scallops' is balanced by the subtle savoury tones of the spinach puree and garlic snow. That said, everything on the plate was clean and fresh so you can taste the natural flavours of what you are eating.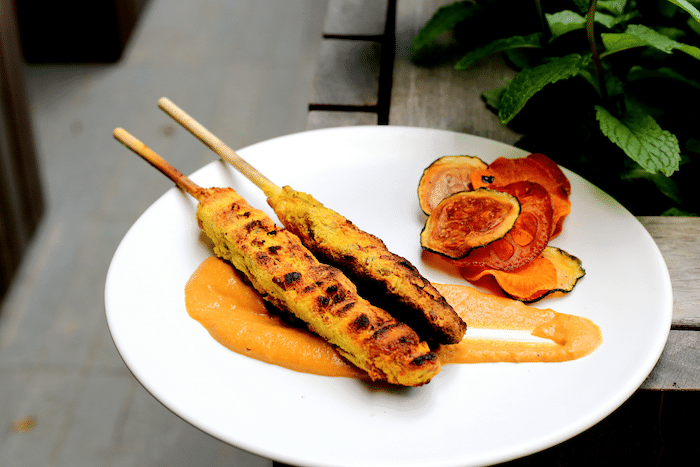 The one thing about vegan food that is difficult to look past for meat eaters like myself is the texture. The Soy Satay with Peanut Sauce and Veggie Chips ($10) is the go-to option if that is the case with you. The soy satay held its shape well such that it was easy to forget it wasn't actually chicken and the delicious spiced flavours of the marinade came through. The peanut sauce was a tad sweet but is fine when paired with the satay. The crisped zucchini, lotus, and carrot slices were very easy to snack on while having a conversation.
Garnished with basil flowers plucked from their outdoor edible garden, the Sourdough, Nut Spread, Orange Glazed Grilled Tofu, Broccoli and Cauliflower Florets, Pickled Yellow Zucchini Ribbons ($14) looks
incredibly appetising. The stand-out ingredient of this dish has to be the house-made nut spread. A combination of walnuts, almonds and hazelnuts, this creamy, tasty nut spread will become a mainstay in my kitchen once it's made available for purchase. While I found the orange glaze was too subtle for such a sizable slab of grilled tofu to be eaten with the sourdough, the combined flavours come through. And the portion is definitely sizeable enough to fill you up.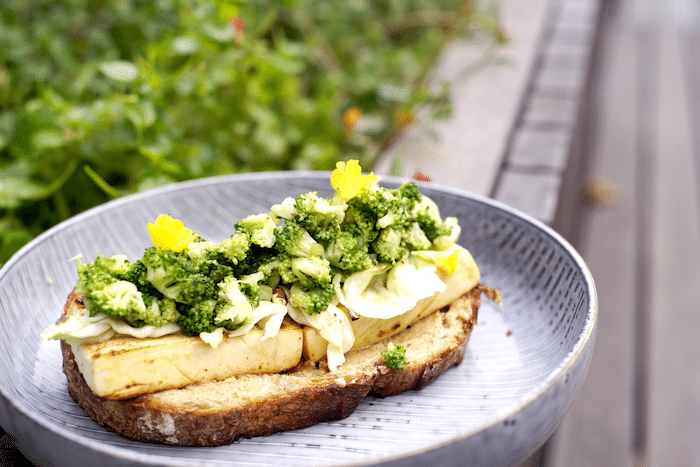 That said, the best option for a hearty post-workout meal is the Pumpkin Gnocchi, Tomyum Broth, Shimeji, Baby Corn, Coriander Oil and Japanese Cucumber Ribbons ($16). The tomyum broth has a creamy luscious consistency and a lovely spicy flavour. Those with small appetites might find it difficult to finish the pumpkin gnocchi, so we're looking forward to more carb options to go with the delicious tomyum broth like sweet potato noodles.
Dinner ended on a sweet note with Matcha Ice Cream and Blood Orange Puree, Poached Plums and Pistachio ($8). The poached plums compliment the coconut cream-based ice cream perfectly. A delicious guilt-free treat that works…even if you didn't go to the gym.
HRVST is located at Kilter Avenue, #05-01, OUE Downtown Gallery, 6A Shenton Way, Singapore 068815. Open Mon-Fri 11am-2.30pm, 5.30pm – 11pm, Sat 9.30am-3pm.