Restaurant Review: table65 Brings Casual Fine Dining To Resorts World Sentosa, Singapore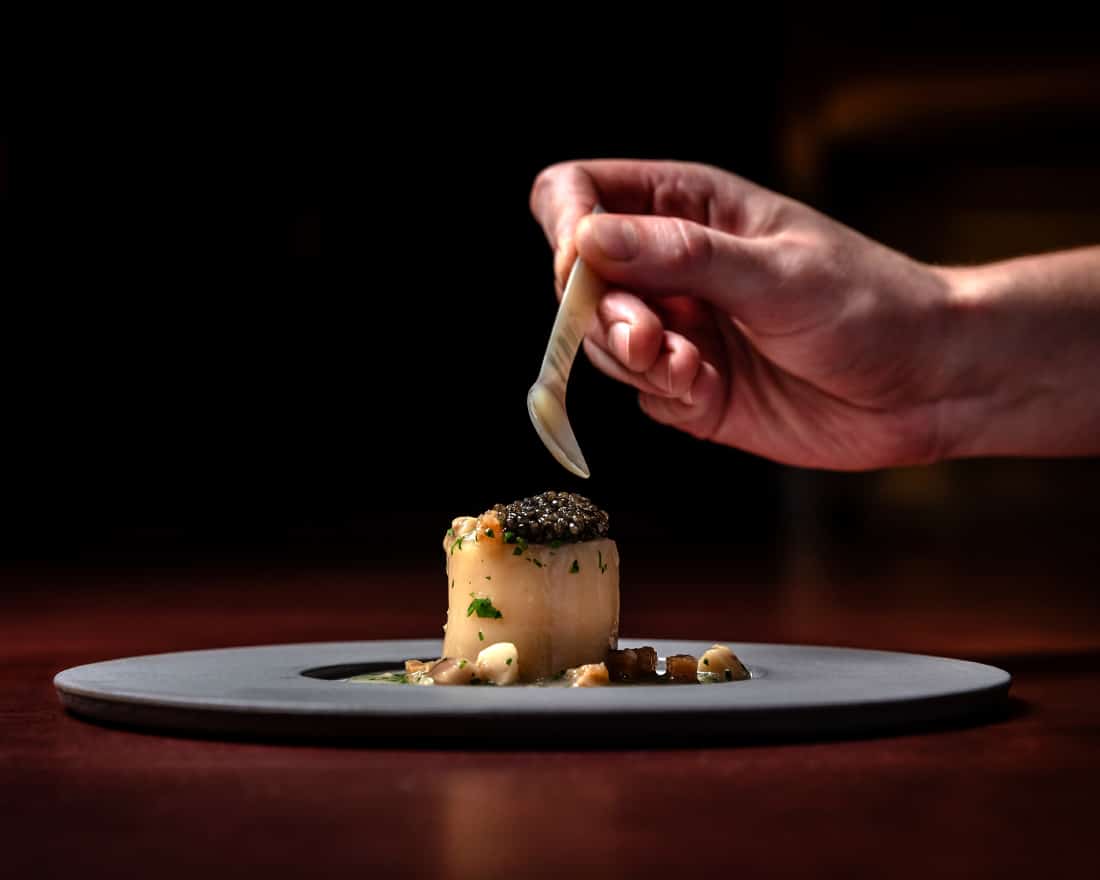 PUBLISHED February 26th, 2019 05:00 am
"This place looks like a spa," is our first thought as we step into table65, which rose from the space of the now-shuttered Joël Robuchon Restaurant in Resorts World Sentosa. The dim establishment is flushed with warm hardwoods and lush greens, and sectioned into two distinct spaces: a minimalistic bar with exceptionally nice glassware, and an open kitchen — the style of choice for new restaurants these days.
This is where Dutch Chef Richard van Oostenbrugge, who helms the venture, and dreams up novel modern European cuisine with French and Japanese leanings. He takes a cue from his other restaurant, 212, in Amsterdam, where the idea is to eliminate fine dining's stuffy formalities to focus on flavours, with a touch of interaction thrown into the mix. 212 was crowned its first Michelin star just last December, so it's probably not as unrealistic as it sounds, right?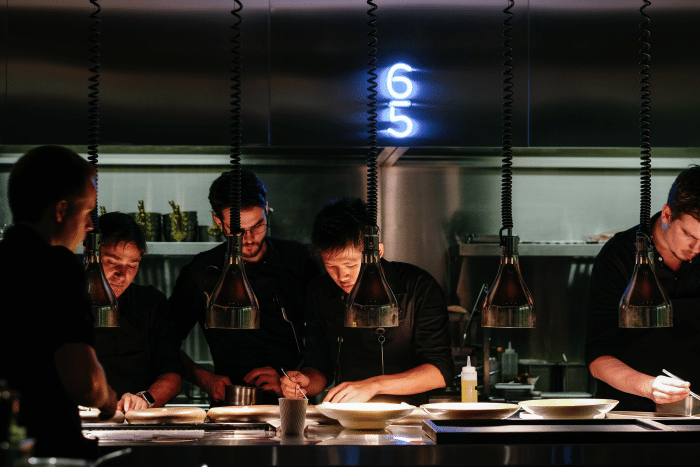 Its name is interesting because most of the dining space is a tall U-shaped table that wraps around the kitchen to accommodate about 30 guests. Every move in the kitchen is scrutinised, and the chefs prepare, serve, and explain each course in front of us. We see caviar being layered and winter truffles shaved table side, which is quite a gratifying sight. Like dining at home, cutlery is cleverly concealed into a drawer at our seat so we can take whatever we need for each course. Every now and then visual projections shine down on our plate from overhead, which is the kind of thing we've seen before at Stellar's new Plénitude Suite. Is it needed? Not really, but it's entertaining to watch.
table65 offers an a la carte menu with prices between $29 and $89, or like us you can go for the tasting menu: five courses for $148 and eight courses for $218. First to arrive was an appetiser of fish done three ways, and they look sharp from the get-go: jelly of tomato consommé with marinated anchovy, and cured mackerel topped with creamy tarragon and tomato-strawberry vinaigrette. It's an extraordinary amount of work for just three mouthfuls, but it pays off.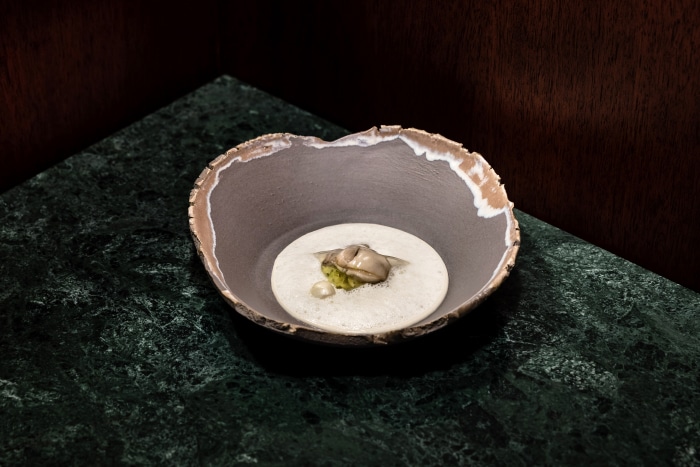 Like at his other restaurants, Chef van Oostenbrugge's penchant for open fires and smoking is easy to notice. An indulgent starter of Veal Tartare 'Os À Moelle' drenched in clam juices and Beluga caviar from Iran is concealed inside faux bone marrow jelly that's made from a concentrated stock of smoked herring bone, and it's spectacular. He also makes a complex sauce with barbecued salted lemon to use on a 'ravioli' of Belon Oyster. Filled with briny veal shank and hazelnuts, each mouthful is rich and meaty.
Turbot is served in an umami-laden broth of smoked eel and smokey oxidised wine. The flat fish, freshly-poached for a firm bite, is blanketed in cold kohlrabi (a type of German turnip), sauerkraut, and generous amounts of shaved black truffle. Then comes an outstanding Langoustine that's easily the best part of the meal. Cooked in duck fat, dusted with coarsely-ground coffee, and complemented with dashi-based Albufera sauce, this fabulously-balanced dish is mildly acidic, bitter, and silky smooth. Some shaved katsuobushi on top lends a smoky complexity and texture to complete the dish.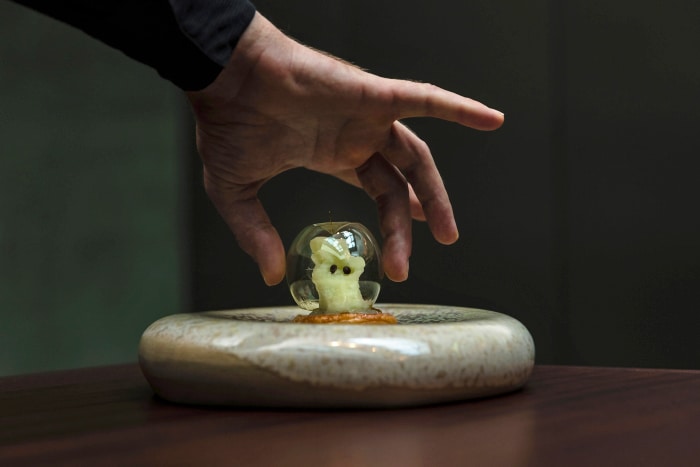 But not everything were clear gastronomic spectacles. The Roasted Duck, which utilises locally-sourced duck from Toh Thye San Farm, is accompanied with a traditional Mexican cumin mole sauce and sauce royale reduced from different parts of the bird. It looks pretty, but didn't pack quite the flavoursome punch as other creations on the menu.
To end the meal, Chef van Oostenbrugge brings out his iconic Apple, created years ago at his first restaurant Bord'eau. Crack the sparkling candied shell to get at the ginger-poached Granny Smith apple, which sits on a nice puff pastry and crunchy walnut crumble. There are other desserts too, like the Birch, combining the woody notes of birch cream with toasted wood-infused gel and sweetened birch water sauce.
By now we're unable to eat another bite, but that's okay, because we just had the best meal of the month. Free-spirited and refreshingly confident, table65 is a fun place to have dinner at. Maybe, this is the year where we progress beyond fussy fine dining.
table65 is located at Resorts World Sentosa, 8 Sentosa Gateway, Singapore 098269, p. +65 6577 7939. Open Thu-Mon 6pm – 10.30pm, by reservation only.
Top Image: Veal Tartare with Bone Marrow