The Coolest Hipster Cafés and Restaurants In Canggu, Bali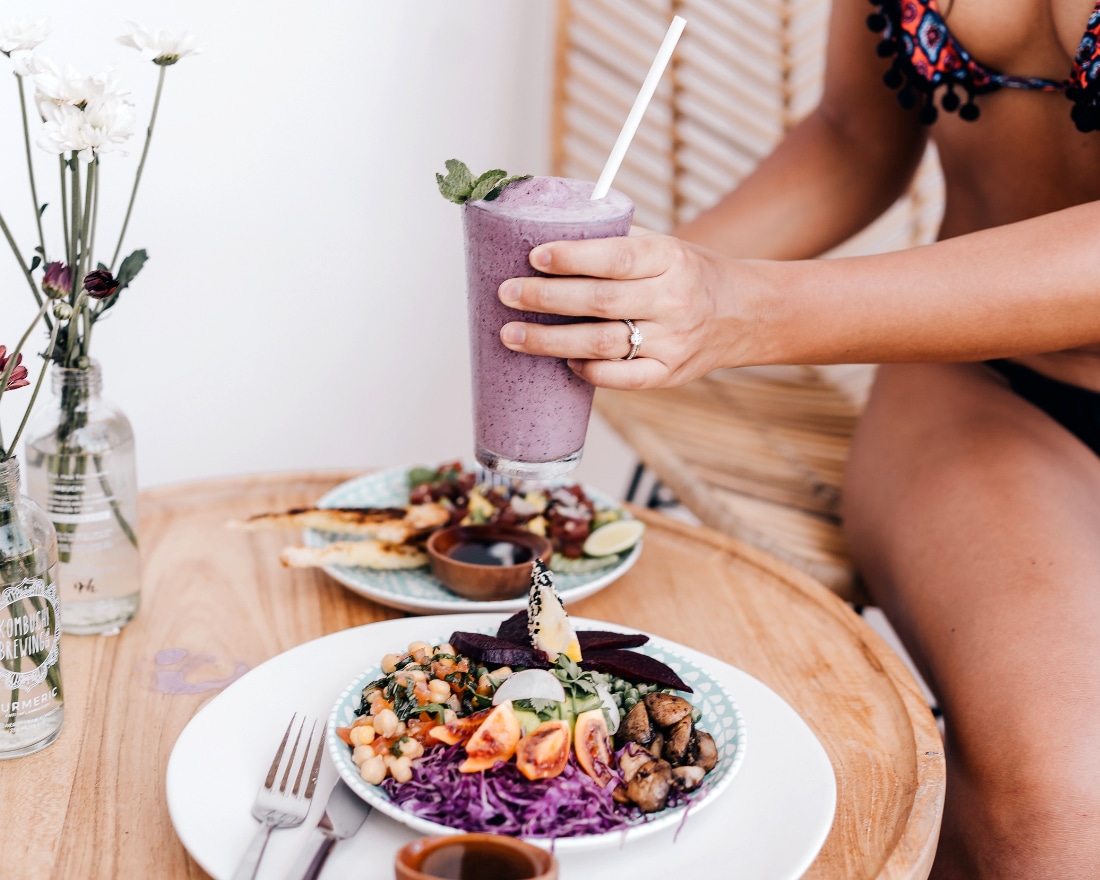 PUBLISHED April 22nd, 2019 08:00 am | UPDATED May 18th, 2020 05:34 pm
Further up north from the bustle of Seminyak lies Canggu, a large coastal stretch home to some of Bali's best beaches for surfing. Generally more laid-back than the former, you'll find expansive rice paddy fields and old Balinese villages – oh, and plenty of hipster-worthy eateries too. If you're on the lookout for a cooler and less mainstream Bali experience, you'll want to check out these 12 voguish cafés and restaurants in and around Canggu.
Eat Me Café

Beach vibes, chill music, and an open air pool right outside. These are just some of the things you'll find at Eat Me Café — part of the brand new Alternative Beach Club in Canggu that launched in January this year. With a penchant for locally-sourced ingredients, their deliciously-curated menu sees highlights like the Smoked Salmon & Rye with dill cream cheese, the vegetarian Falafel Salad, and a twice-cooked Organic Spring Chicken that's glazed with an addictive secret sauce. Later, you'll probably want to laze out on one of their day beds with a signature cocktail in hand. Our pick? The Pulp Fiction with Scotch, blood orange juice, and lavender tea.
Need a place to stay? The folks behind Eat Me Café recently opened the brand new Kosone Hostel in March.
Eat Me Café is located at Jalan Batu Bolong No. 78, Canggu, Bali, p. +62 362 9069 622. Open daily 7am – 10pm.
Missibu Cafe
Pink, pink, and pink is the colour of the day (well, every day) at Missibu Cafe. This picture-perfect cafe at the edge of Canggu serves up Indonesian classics that's been elevated to hipster standards, like bright bowls of healthy-ish Nasi Goreng without puddles of oil and Rendang made with prime beef. On the drinks front, their signature arak (a local spirit produced from coconut, sugarcane, and sometimes red rice) cocktails and speciality coffee are bound to satisfy.
Missibu Bali is located at Tamora Gallery, Jl Pantai Berawa No.99, Canggu, Bali, p. +62 812 4943 1313. Open daily 8am – 10pm.
Crate Cafe

Crate Cafe is easily one of Canggu's coolest coffee joints, and is usually packed at most times of the day. But this industrial concrete cafe isn't just for coffee – it's also an art gallery that puts the spotlight of emerging Balinese artists, as well as a retail space housing local labels like Rue Stiic and The Bali Tailor. As for food, you'll want to dig into their super smoothie bowls, toasties, hearty brunch favourites, and vegan creations like Tofu Tempeh Wrap and Shrooms on Toast.
Crate Café is located at Jalan Canggu Padang Linjong, Canggu, Bali, p. +62 81 238 943 040. Open daily 6am – 5pm.
[button color="blue" size="normal" alignment="none" rel="follow" openin="samewindow" url="http://www.tkqlhce.com/click-9211920-13787505″]A hand selection of luxury Bali villas with customised personal service. Book now.[/button]
The Savage Kitchen

The Savage Kitchen is a health-driven restaurant that describes its cuisine as 'wild food' revolving around Mother Nature's freshest ingredients. Far from serving boring old brunch dishes, their Avo Toast comes with labneh cheese and watercress and their streaky bacon is chargrilled then served on freshly-baked sourdough. Come dinner, expect Glazed Lamb Shoulders, Sweet Potato Gnocchi, and Slipper Lobster Spaghettini to spice things up. They also has a great bar with inventive cocktails and a decent wine list.
The Savage Kitchen is located at Canggu Plaza, Jalan Canggu Club, Canggu, Bali, p. +62 819 1641 4541. Open daily 6.30am – 11pm.
Peloton Supershop

This might be a vegan joint, but it's one even voracious meat eaters should try. Peloton Supershop plates up a plethora of colourful and imaginative plant-based meals that comes in all shapes and textures. And yes, it's more than just salads. Perpetual favourites to order include the Vegan Nasi Campur, Raw Lettuce Tacos, Brekky Burrito and Creamy Lasagna — best eaten with organic coffees and Ayurvedic teas. As far as clean eating goes, Peloton is at the top of its game, and you'll wonder how something so healthy for you can taste so good.
Peloton Supershop is located at Jalan Raya Pantai Berawa, No. 46, Canggu, Bali, p. +62 813 3761 9335. Open daily 7.30am – 10pm.
Cloud 9

A picturesque stop along the famous Canggu shortcut, Cloud 9 is great for people-watching and seeing the occasional car slip into rice fields (the shortcut is an extremely narrow path) that the café overlooks. This makes hanging out here a joy during harvesting season, with cool breezes and lush greens as you lie back on beanbags over healthy juices and crepes. Their gourmet burgers are stuffed with things like low-fat meat, fish, nuts, and cereals, so you can eat all you want without any guilt.
Cloud 9 is located at Jalan Subak Canggu Canggu Kuta, Canggu, Bali, p. +62 812 3823 6185. Open daily 8am – 11pm.
Musubi

Japanese cooking and Western brunch come together at the trendy Musubi — opened by the same folks behind Seminyak's Rayjin Teppanyaki and Kajin Sushi Bar. Here, ex-Rockpool Sydney chef Rui Yamagishi serves up a creative menu of crunchy Beef Sushi Burgers, Smoked Salmon Nori Tacos, and Prawn Katsu Baos. Oh, and a Miso Caramel Milkshake too, if you like unusual drinks. Our favourite? The Gyoza-Stuffed Fried Chicken, which is simply oishii!
Musubi is located at Jalan Pantai Berawa No.99, Berawa Corner, No. 6/7, Canggu, Bali, p. +62 812 3653 0799. Open daily 11am – 9.30pm.
Gypsy Kitchen+Bar

Run by a group of fun-loving French-Canadians who've had much success with their restaurant in Montreal, Gypsy Kitchen+Bar is a quaint bistro by day and a much tipsier hangout by night. This beautifully-designed establishment is headed by famous Québec chef Robin Filteau-Boucher, who whips up great green pea soup, tuna steak, and if you're game, something called Everything From The Sea: think sushi rolls, catch of the day, shrimp salad, and fried mahi mahi. Grab a fresh cocktail while you're at it.
Gypsy Kitchen+Bar is located at Jalan Munduk Catu No. 1, Canggu, Bali, p. +62 812 3067 0056. Open daily Tue-Sun 8am – 10pm.
JI Restaurant Bali

Fulfil your dream of dining inside a temple at JI Restaurant, where Chinese and Balinese cultures intertwine in a bag of dark wood furniture, old Balinese carvings, and majestic antiquities. The food, on the other hand, leans towards Japanese cuisine: Scallop Sushi with wakame salad, Kyushu Nigiri with Indonesian basil, Mekatoro Nigiri with avocado ceviche sauce, and a selection of tasty robatayaki. When you've finished eating, head to the rooftop and watch the ocean with a glass of sake from the cellar.
JI Restaurant Bali is located at Jalan Pantai Batu Bolong, Canggu Beach, Canggu, Bali, p. +62 812 3965 2695. Open Mon-Sat 4.30pm – 11pm, Sun 11am – 11pm.
Deus Cafe Canggu

A retail store chock full of things for surfing, custom motorcycles, and hearty grub to feed that hipster in you, this is the place to get your shopping and café fix at the same time. From Beef Rendang Curry and spicy Balinese Pizza to signature Pulled Pork' Babi Guling' Rolls, there are many who travel out to the high hills to find their beloved recipes — best paired with fine coffees, wines, and an assortment of more unique beers. After sunset, there's music and other entertainment, and we can safely say the Deus team also throws amazing parties.
Deus Ex Machina is located at Jalan Batu Mejan No. 8, Canggu, Bali 80361, p. +62 811 388 150. Open daily 7am – 12am.
Finns Beach Club

Seminyak might be home to beach club royalty Potato Head, but Canggu's Finns Beach Club is nothing to scoff at. Sitting in front of Berawa Beach's famous surf break, expect comfy lounge chairs, fancy cocktails, curated beats, and yummy snacks (try the nachos!) all day long. With the mantra of "simple food done well", Finns offers a mix of local and fusion cuisine in their bamboo beach club restaurant. Or try the sashimi and tempura at their Sushi Bar, where the freshness and flavours are said to be the island's best.
Finns Beach Club is located at Jalan Pantai Berawa, Canggu, Bali, p. +62 361 844 6327. Open daily 9am – 12am.
One Eyed Jack

One Eyed Jack is an intimate izakaya (an informal Japanese-style gastropub) in the heart of Canggu. With an ex-Nobu chef helming the kitchen, you can look forward to a quality mix of classic Japanese fare and contemporary dishes on small plates alongside copious amount of sake and Japanese whisky. Go for the Tuna Tartare with nori chips, crispy Soft Shell Crab Bao Sliders, and very aesthetic platters of sashimi and sushi.
One Eyed Jack is located at Jalan Pantai Berawa No. C89, Tibubeneng, Canggu, Bali, p. +62 819 9929 1888. Open daily 5pm – 10.30pm.
Top Image: Eat Me Café