Bottomless Brunch of the Month: Australian Brunch Plates at Salted & Hung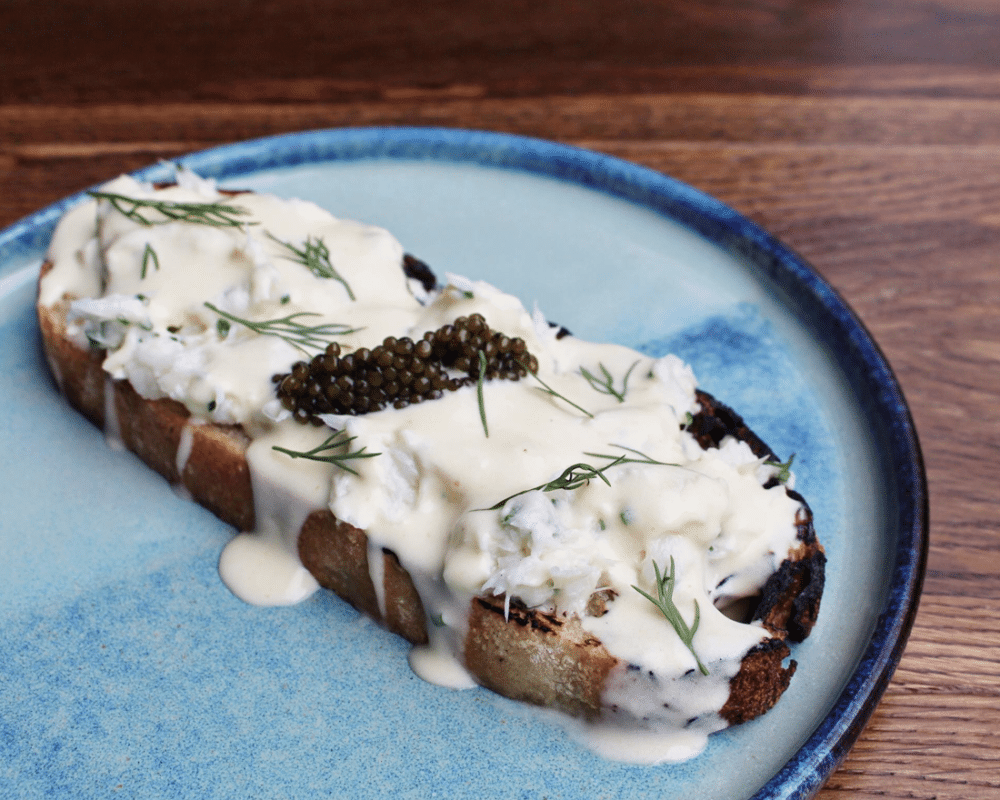 PUBLISHED June 29th, 2017 08:43 pm | UPDATED August 7th, 2019 03:39 pm

"I wish we ate lunch here instead," says the Australian tourist sitting next to me at the counter of Salted & Hung, with his right hand around a Chop Shop Pale Ale and his eyes on our steak and eggs. I could hardly blame him, since he watched us tuck into every single plate put in front of us with gusto.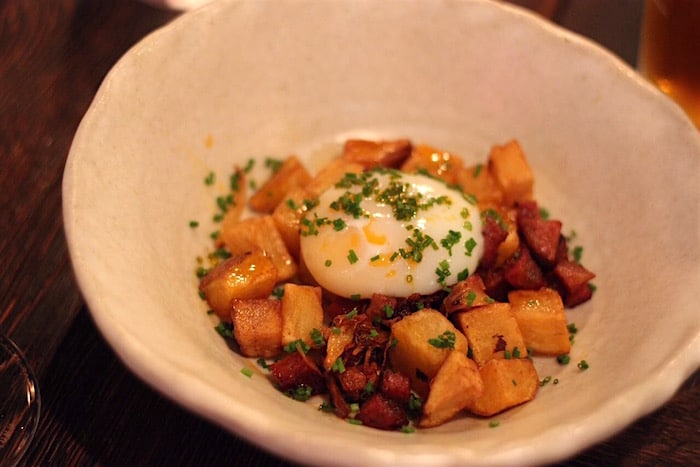 Having just celebrated their first anniversary, Salted & Hung also recently launched their weekend brunch. Priced at $58++ per person, Chef Drew and his team will serve up 12 small and large plates (inspired by classic brunch and breakfast dishes) prepared a la minute as well as put together a small charcuterie and antipasti buffet, set up in a cosy corner of the restaurant. For a boozy brunch, top up $30++ for two hours of free-flow beer, prosecco, and housepour wines.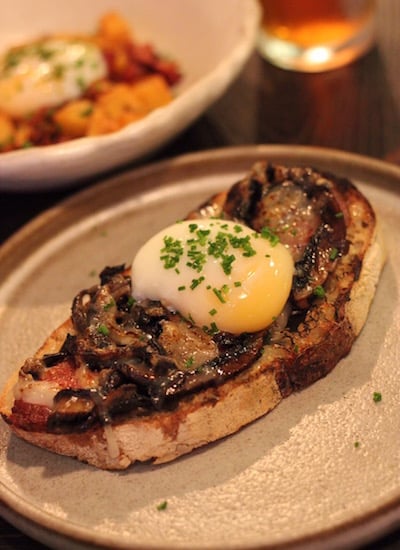 Given what fun we had with the beer-pair tasting menu the last time we were at Salted & Hung, we ordered almost everything on the menu. Although the kitchen was bustling with activity by the time we arrived, the first small plate took less than a glass of prosecco (I drink fairly quickly) to reach us.
Hash lovers will enjoy the nicely spiced egg, potato & chorizo topped with a sous vide 63-degree egg, but if I can't have them all, I would prioritse the portobello & egg on toast and the smoked halibut & caviar crostini.
The char on the portobello mushroom takes this seemingly simple dish to another level and the latter is surprisingly light, making it a nice break from all the robust flavours (especially with the charcuterie bar just behind us). We liked how the bread soaked up all the sauce, giving it a bouncy texture that is a joy to savour.
Since Chef Drew makes his own charcuterie, there's no reason to not go crazy at the small buffet counter. Alongside the duck prosciutto (my favourite of the three types available), venison loin (still slightly gamey after the curing process), and the most mainstream-friendly pork Coppa, the counter also yielded kale salad, egg white frittata, and roasted bell peppers for folks who want a more balanced diet.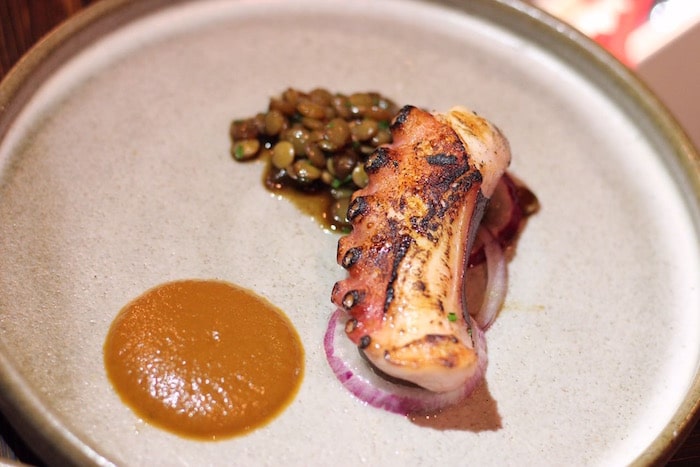 We stopped ourselves from going back to the bar for the fourth time when the larger plates arrived, starting with the chicken thigh, jus gras & black garlic mayo. Another simple dish executed well with the highlight undoubtedly being the black garlic mayo cooked with stock and vinegar.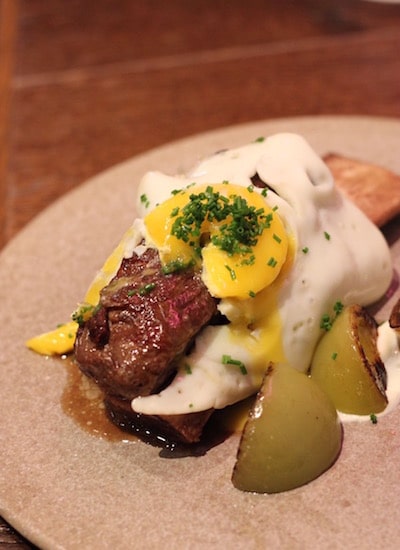 Incredibly sinful is the bacon chop, roasted pineapple. Roasted with Sailor Jerry spiced rum, the tangy fruit helps cut through the fat of the meat and complements the maple glaze at the same time. Despite the amount of fat, the bacon chop didn't feel overly oily in the mouth. We just have one request when it comes to this dish – more pineapple please!
Those looking for some diversity in the mains will find seafood in the grilled Fremantle octopus, lentils & caponata. Firm and not overly chewy, the deliciously charred morsel goes well with the sweet and tangy caponata (a Sicilian eggplant salad) puree. There was also a turbot dish that we didn't manage to try.
Carb lovers will enjoy Chef Drew's take on the lasagna, because who can say no to Wagyu ragu, homemade pasta & beef fat crumbs, and pumpkin purée? The al dente sheets of pasta were perfect vessels for the flavourful oxtail ragu, perfumed with the fragrant beef fat crumbs.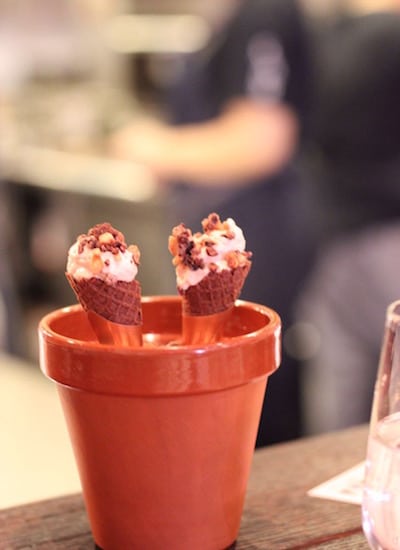 The last savoury dish, and one of the highlights of the menu, was the steak, eggs & tomatoes. Sous vide at low temperature for a solid 48 hours, the Angus beef short rib is then lightly smoked with apple wood and mesquite before going on the grill, giving it more complexity than what you usually get. I loved the charred pickled green tomatoes served on the side as well.
Desserts are kept small and relatively light. We recommend the peanut butter cornetto which, despite its size, takes a lot of preparation as each cone is filled with a well aerated peanut cream and topped with chocolate balls, cocoa nibs, roasted peanuts, and chocolate biscuit. For something more refreshing, the hibiscus semifreddo looks and tastes good, especially with those berries macerated in Pedro Ximenez sherry (a naturally sweet dessert wine made from overly ripe grapes).
Just over $100 per person after taxes and service charge and a menu full of quality plates, Salted & Hung's weekend brunch, available Saturday and Sunday, is definitely one of the most value for money boozy options in town – 'nuff said.
Salted & Hung is located at 12 Purvis Street, Singapore 188591, p. +65 6358 3130. Open Tue-Fri 11.30am-2.30pm, 5pm-10.30pm, Sat 11.30am-4pm, 6pm-10.30pm, Sun 11.30am-4pm. Closed Mon.

Top Image: Smoked halibut & caviar crostini