Best Steaks in Singapore: The Finest Restaurants and Eateries For Premium and Affordable Beef Cuts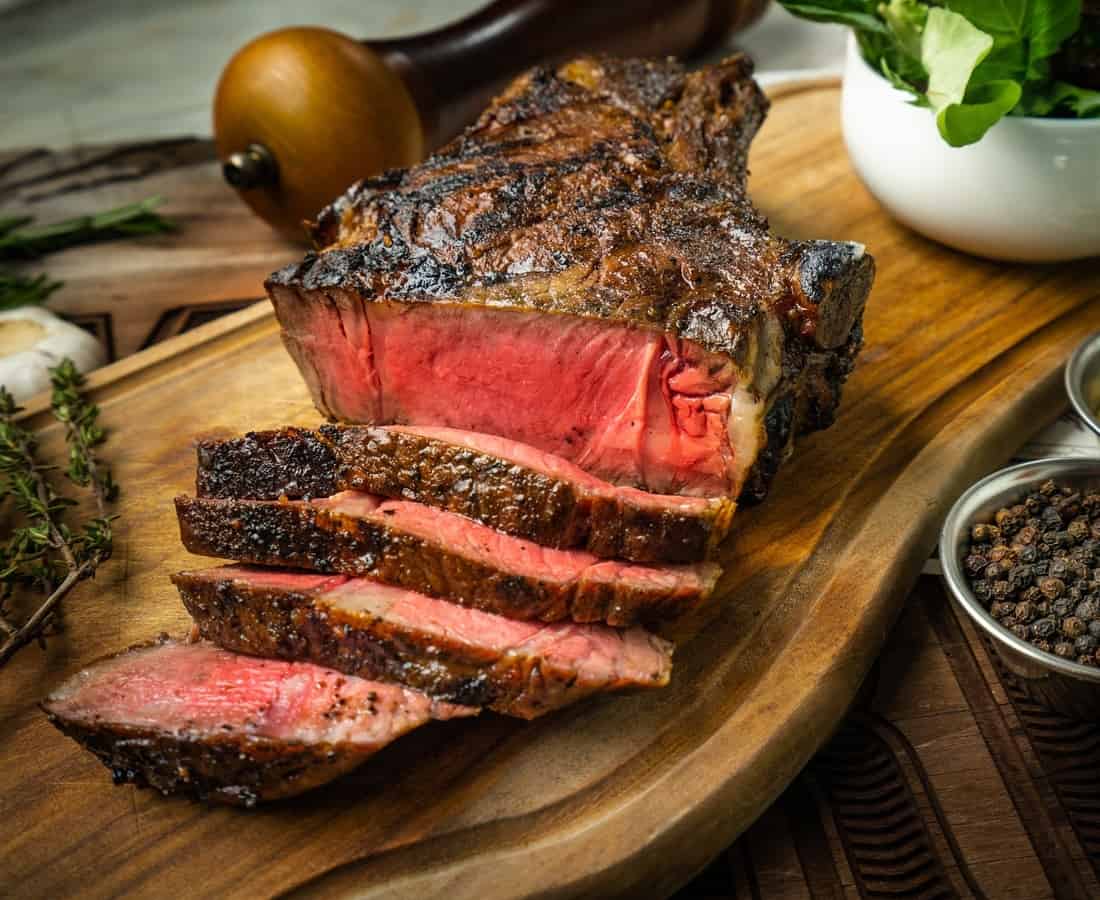 PUBLISHED March 5th, 2021 10:00 am | UPDATED March 16th, 2021 10:28 am
Maybe it's our caveman instincts, but we can think of few things in life better than biting into a juicy, marbled hunk of beef. Whether you're partial to tomahawk or T-bone, here's our cut of what we reckon to be the finest joints sizzling up steaks in Singapore. Divided into premium and affordable picks, this carnivore's handbook has something for all budgets.
Premium
Gemma Steakhouse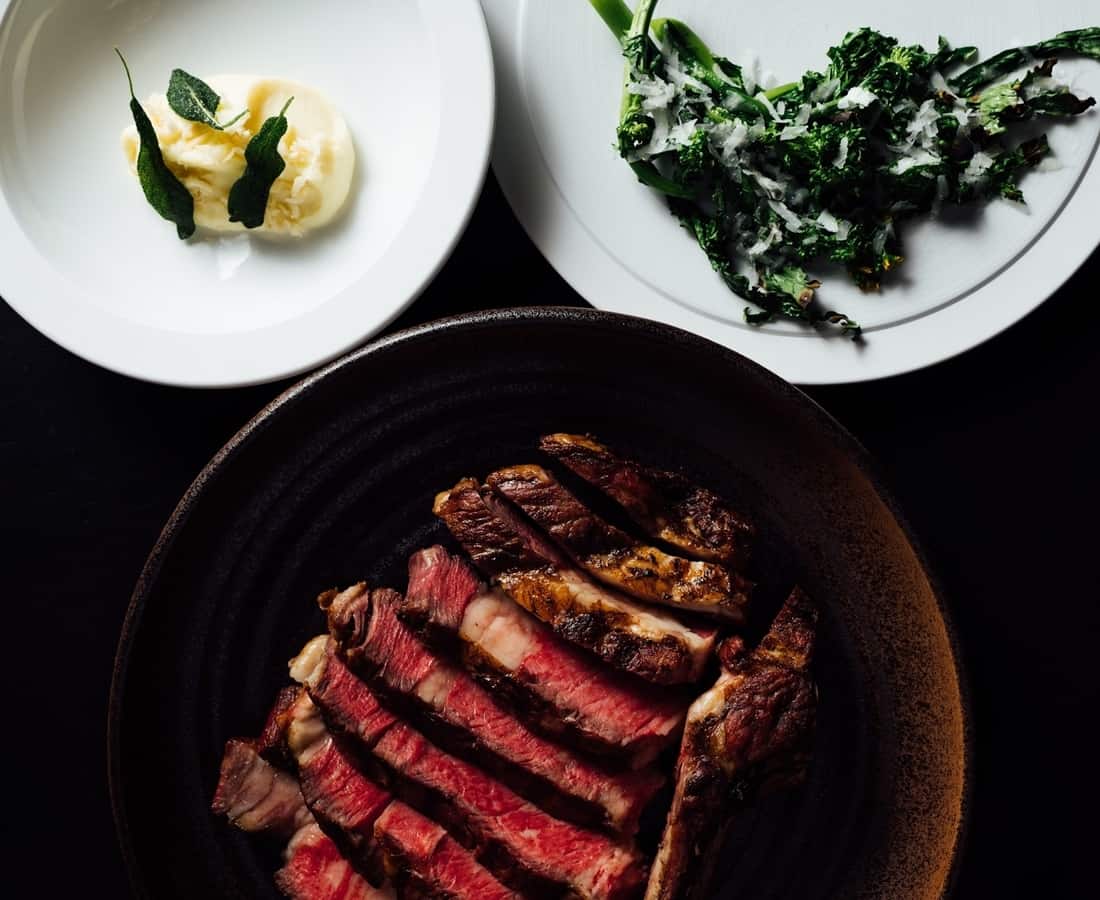 Another stellar Italian concept from the ilLido Group, Gemma joins the rare few restaurants to serve up bistecca alla fiorentina in Singapore. Taking cues from the summer traditions of Mediterranean steakhouses, this terracotta-chic spot has a luscious range of seafood creations, pastas, and of course, large-format steaks done right. The star of the menu? The T-Bone Fiorentina Steak (S$25 per 100g), a massive 30-days dry-aged marvel seared to a crusty char in their Josper oven and drizzled simply with olive oil. You won't regret a side of fabulously fluffy Whipped Agria Potato (S$16) either. Check out our review here.
Gemma Steakhouse is located at 1 St Andrews Road, #05-03 National Gallery Singapore, Singapore 178957, p. +65 8787 0977. Open Tues-Sun 12pm–2.30pm and 6.30pm–10.30pm. Closed Mon. 
Fat Cow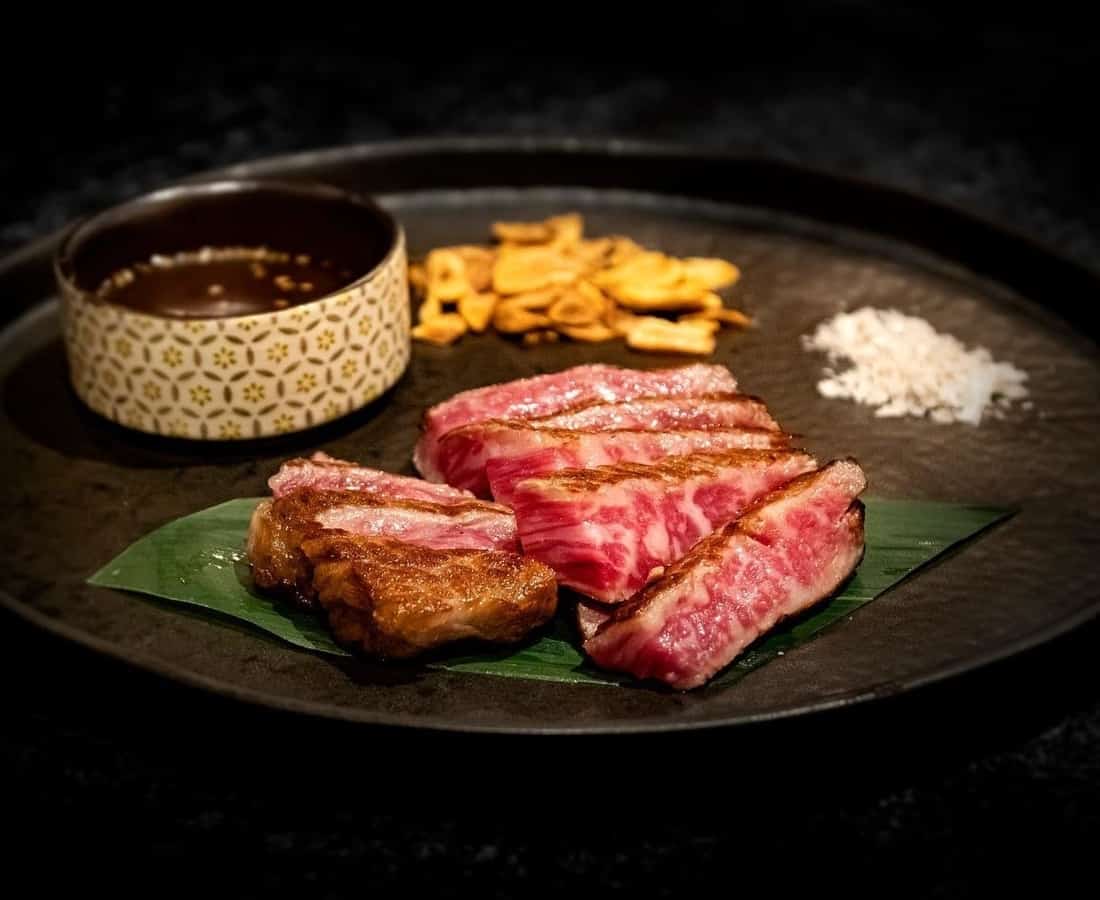 It's all in the name – this Japanese steakhouse serves up well-marbled wagyu beef alongside an elegant selection of sashimi and rice dishes. Customization is central to the experience here – you can custom-order your steak right down to your preferred weight and preparation method, from shabu shabu to sukiyaki. There's no overstating the splendour of the Hida A5 Wagyu (S$188 for 150g), an intensely marbled slab with melt-in-the-mouth sweetness, nor of Fat Cow's signature – the rich, musky 21 Days Dry-Aged Nagasaki A5 Wagyu Striploin (S$168 for 500g). Check out our review here.

Fat Cow is located at 1 Orchard Blvd, Camden Medical Centre #01-01, Singapore 248649, p. +65 6735 0308. Open daily 12pm–3pm and 6pm–10.30pm.
Butcher's Block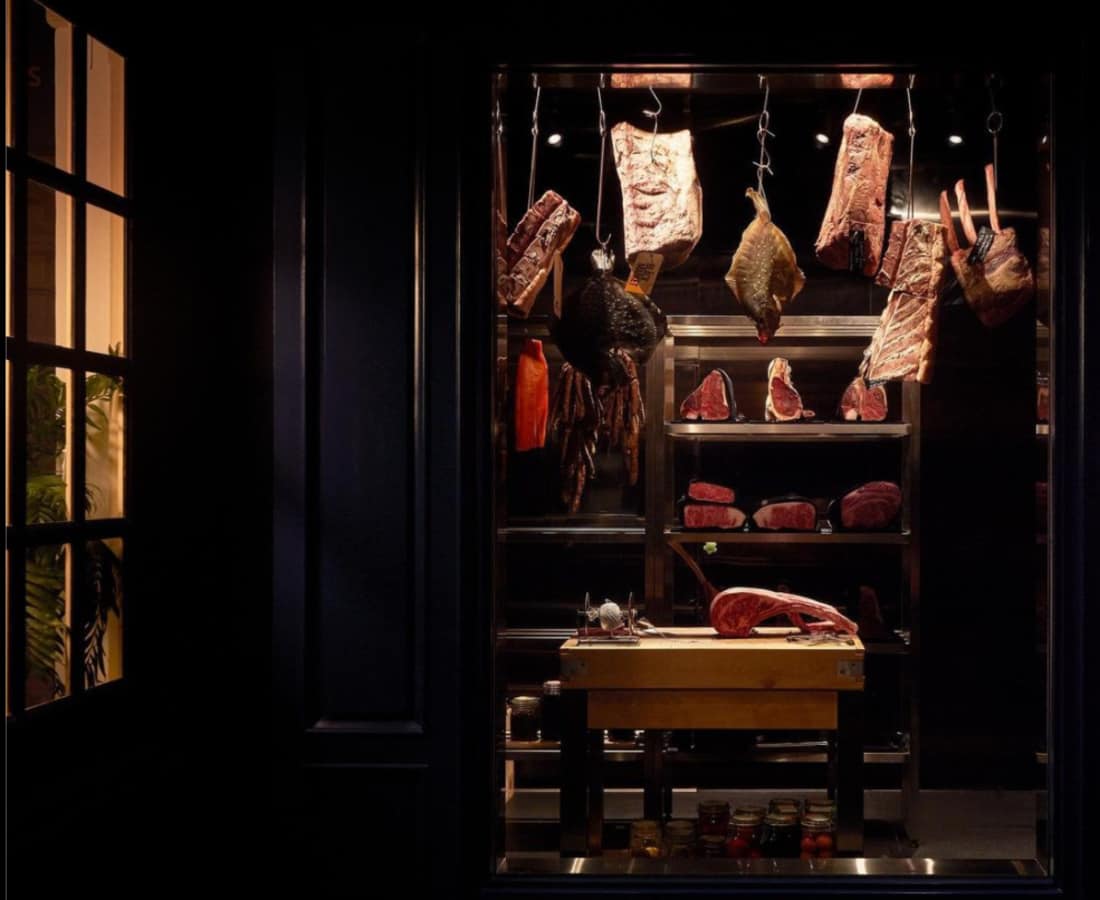 Decked in cobalt blue paneling and glinting gold accents, Butcher's Block is way more chic than your usual dark-hued chophouse. Along one wall stretches a gleaming, hundreds-strong display of natural wines; the opposite wall frames an open kitchen, where Chef Rémy Lefebvre sears up sustainably-sourced steaks over a wood fire. For sharing, there's a well-marbled Rangers Valley Wagyu WX MBS 7 Côte de Boeuf  (S$299 for 1.2kg) that practically melts on the tongue; for smaller cuts, think the flavourful Angus Grass-Fed 28D Dry-Aged Irish John Stone sirloin (S$118 for 450g). Check out our review here.

Butcher's Block is located at #02-02 Raffles Arcade, 328 North Bridge Rd, Singapore 188719, p. +65 6337 1886. Open Wed-Fri 6pm–9.30pm, Sat-Sun 12pm–2pm and 6pm–9.30pm. Closed Mon & Tues. 
Bedrock Bar & Grill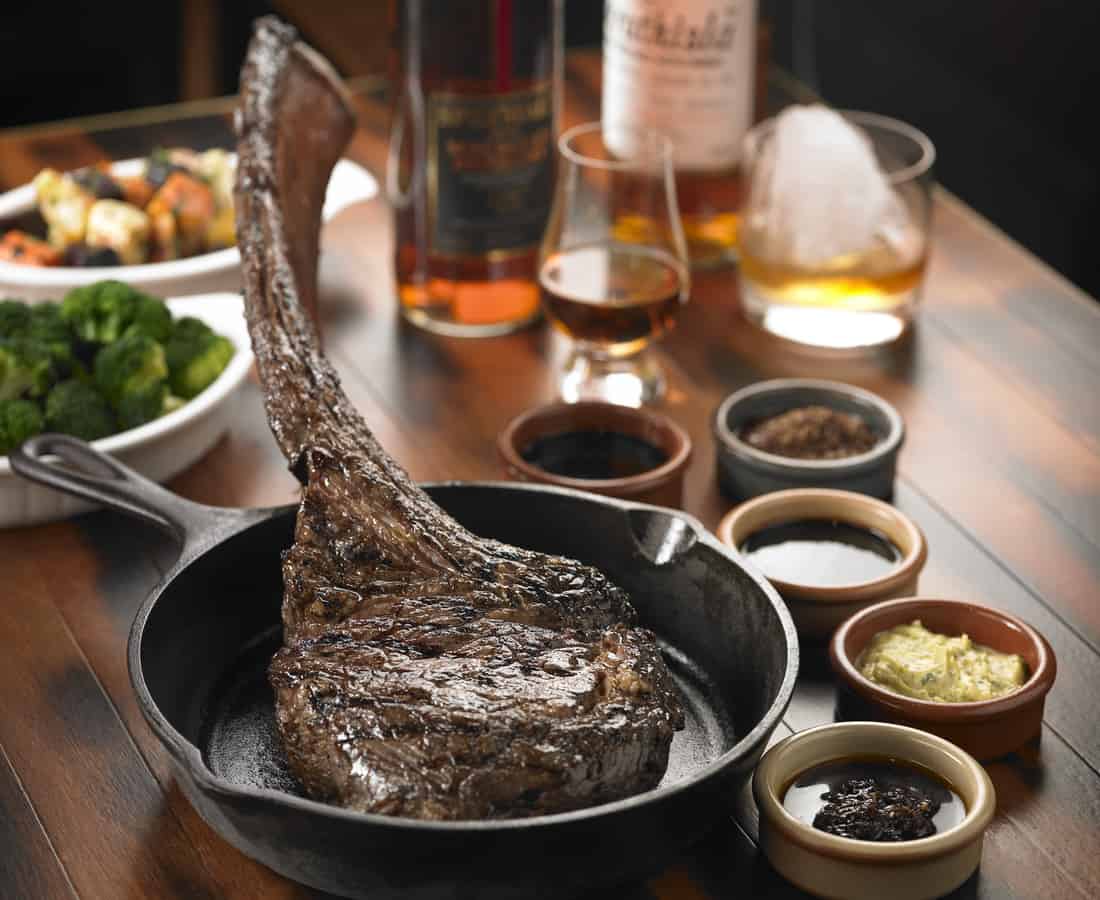 The first restaurant in Singapore to introduce the tomahawk back in 2009, the award-winning Bedrock Bar & Grill is a name that any self-respecting carnivore should know. Perfect for any occasion, you'll find an array of grain- and grass-fed steaks here, each sizzled to smoke-kissed succulence over an applewood-fired grill. Needless to say, their Tomahawk Steak (market rate based on weight) is the star of the show – a perfectly charred, grain-fed wagyu ribeye best enjoyed with their homemade wholegrain whiskey mustard. Like your meat with more carbs? The Signature Bedrock Black Pepper Steak Rice Bowl (S$58++) on the three-course set lunch menu boasts tender wagyu petit filet on a bed of beef drippings garlic rice and buttery foie gras. Yum.

Bedrock Bar & Grill is located at Pan Pacific Serviced Suites Orchard #01-05, 96 Somerset Rd, Singapore 238163, p. +65 6238 0054. Open daily 12pm–3pm and 6pm– 10.30pm.
Ruth's Chris Steak House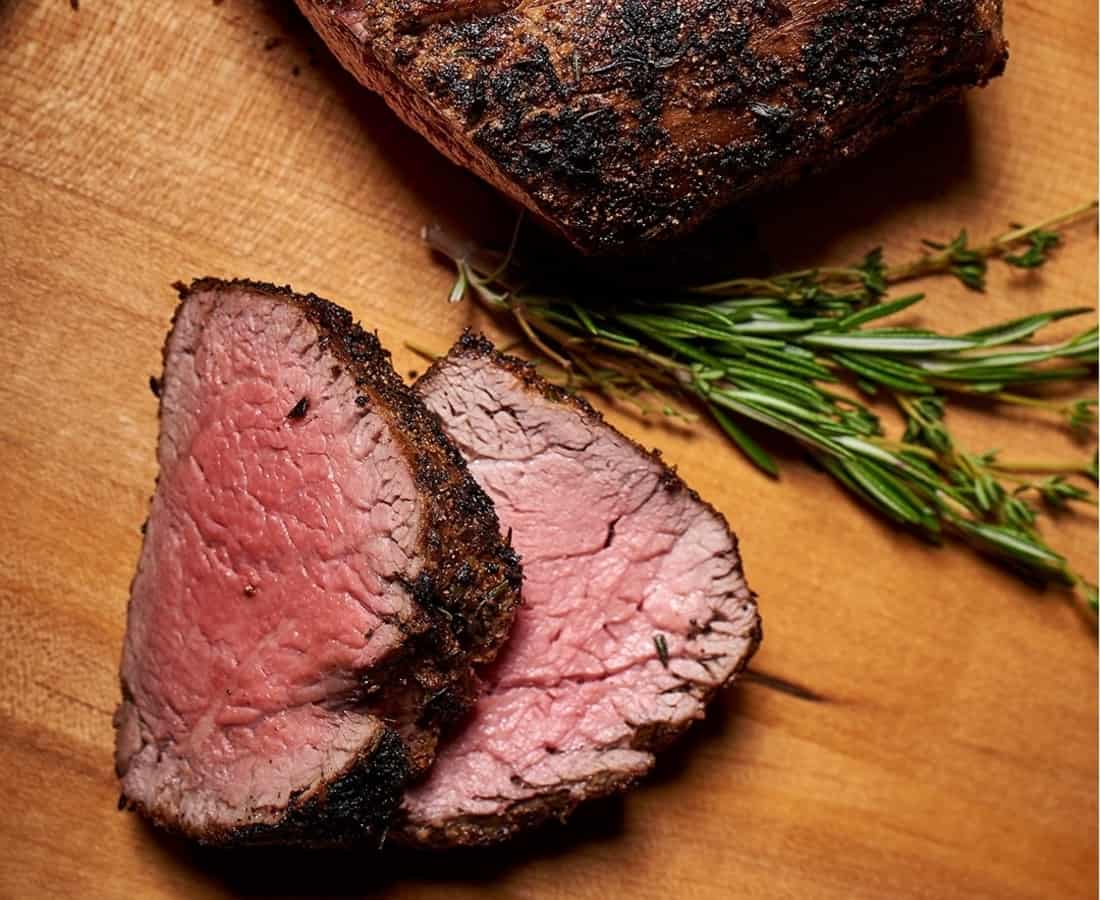 An outpost of the famed New Orleans chain, Ruth's Chris specialises in custom-aged USDA prime beef, broiled sizzling at 980 degrees celsius. For smaller eaters, the eight-ounce Petite Filet is a succulent marvel cut from the centre of the tenderloin, while those aiming for gains can beef up with the hefty Ribeye – a fine piece of meat that's at the pinnacle of juiciness and marbling. If you'd like something between the tenderness of the former and the richness of the latter, opt for the T-Bone steak instead. Check out our review here.

Ruth's Chris Steak House is located at Level 4, PARKROYAL COLLECTION Marina Bay, 6 Raffles Blvd, Singapore 039594, p. +65 6336 9093. Open daily 11.30am–3pm and 5.30pm–11pm.
Bistecca Tuscan Steakhouse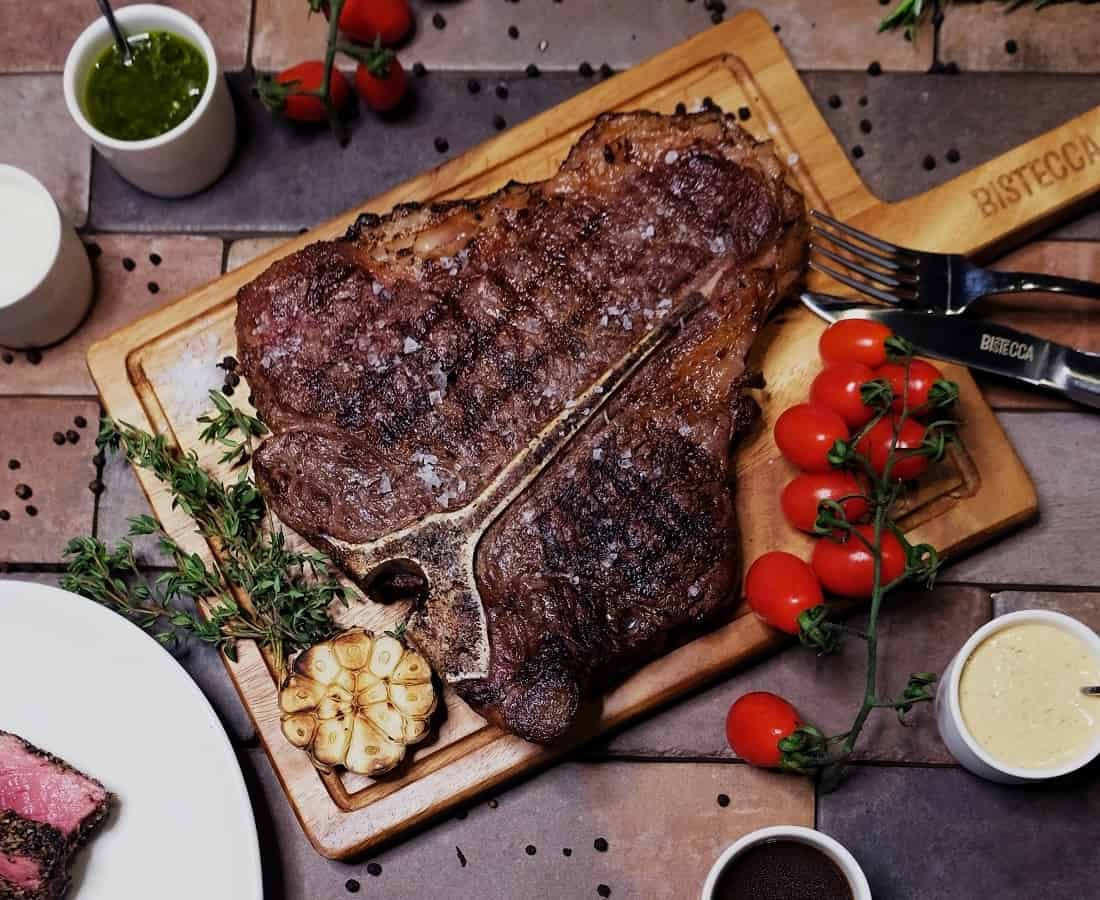 Traditional Tuscan feasting is the name of the game at this steakhouse, particularly the meaty pride and joy of Tuscan cuisine: Bistecca alla Fiorentina (S$198 for 1.1kg). This superbly thick T-bone steak comes seared Tuscan-style over a wood-fired grill, producing a well-charred slab with a juicy red centre. If you aren't up for sharing, they've got individual cuts too, from luscious Hanger steak (S$54 for 200g) to Tenderloin (S$69 for 200g) with a marbling score of six.
Bistecca Tuscan Steakhouse is located at 26 Mohamed Sultan Rd, Singapore 238970, p. +65 6735 6739. Open Mon 6pm–9pm, Tues-Thurs 12pm–2pm and 6pm–9pm, Fri-Sun 12pm–2pm and 5.30pm–9pm. 
Affordable
New Ubin Seafood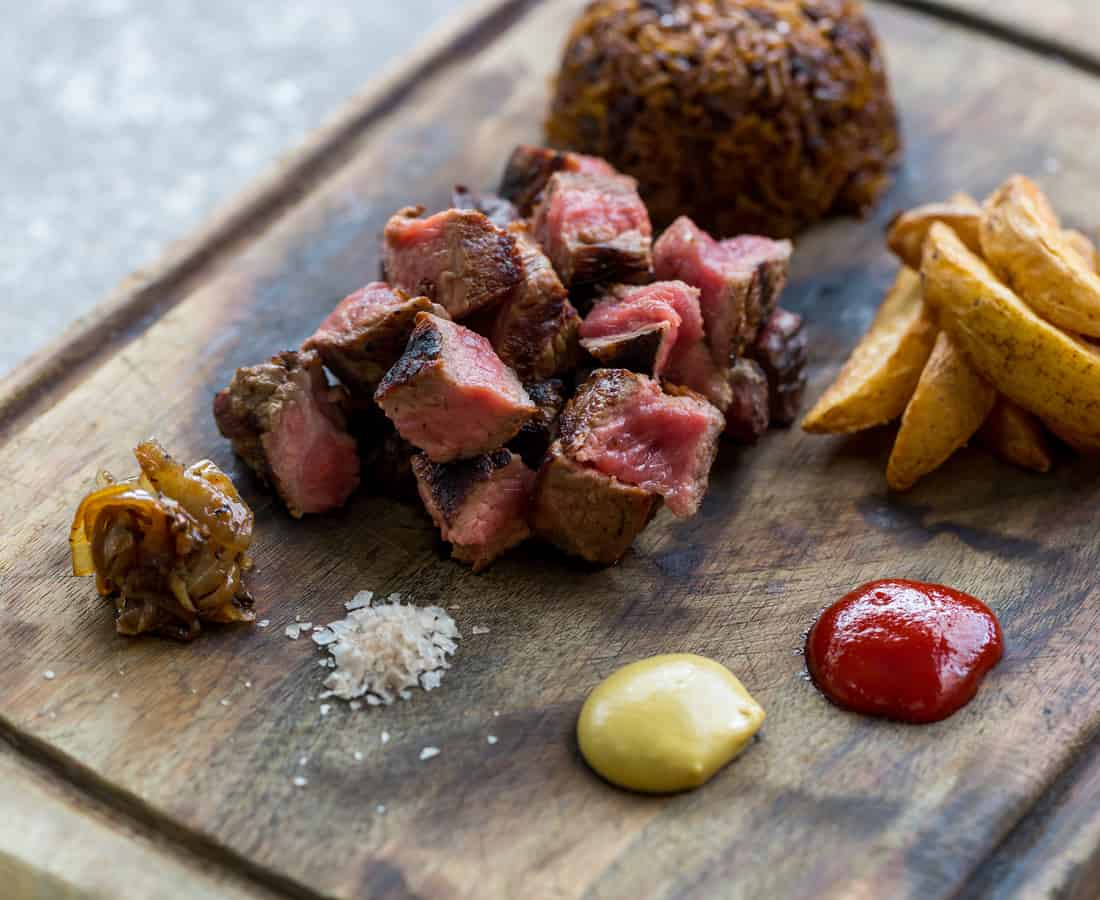 New Ubin Seafood may be more of a tze char spot (albeit an upscale one), but they sure know how to do a mean steak. There're no frills here – only an unpretentious wooden platter of USDA Black Angus Ribeye (S$85 for 500g), perfectly charred and seasoned with salt and pepper. In true Asian style, it's served alongside what they've dubbed 'heart attack' fried rice – a nod to the sheer decadence of the beef drippings it's fried in. Get some of their juicy St. Louis Grilled Pork Ribs (S$38 for half-rack) or Premium NZ Lamb Rack (S$9.50) for a seriously meaty feast.
New Ubin Seafood has outlets in CHIJMES, Tampines Industrial Crescent, and Zhongshan Park. For more location info, see here. 
The Market Grill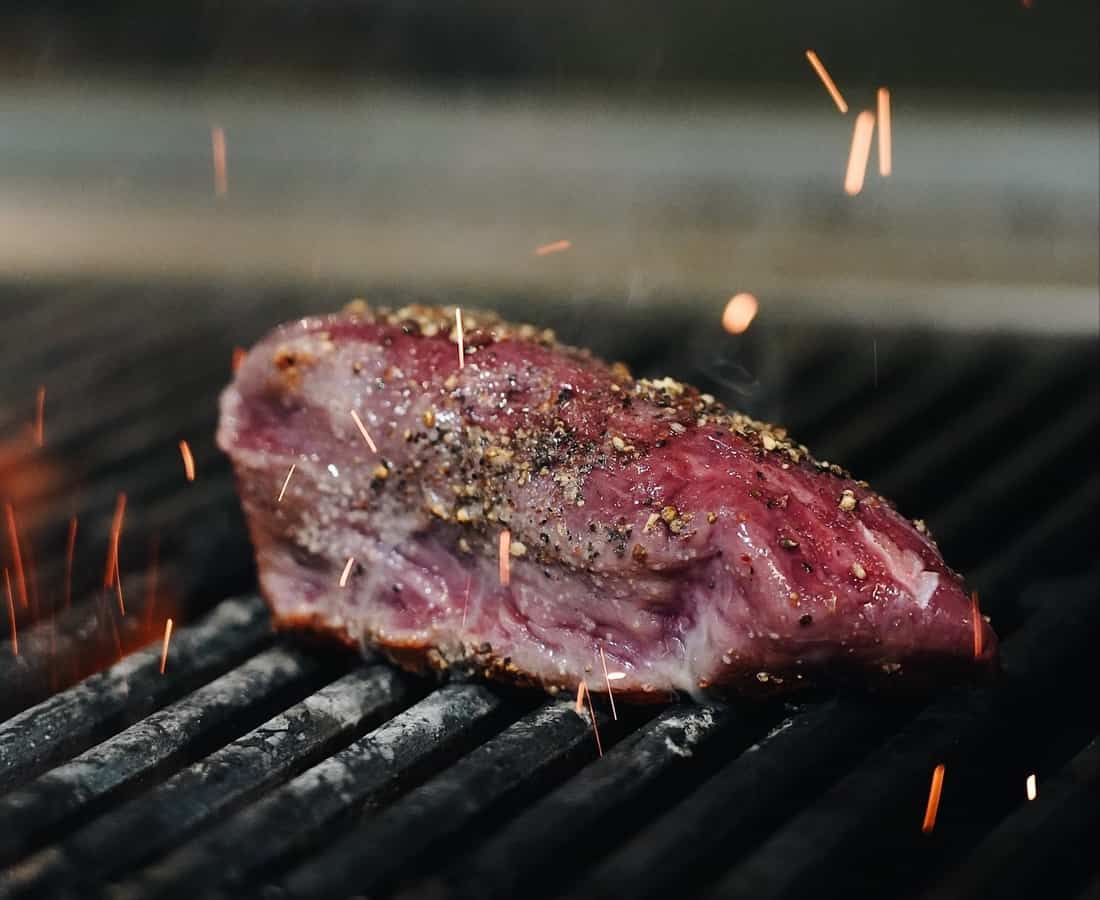 A surf 'n' turf specialist in the heart of the CBD, The Market Grill does a range of both prime and secondary cuts. For S$40, you'll get a satisfying 220g of 200-days grain-fed Black Angus Rump Cap, an underrated yet robust piece of beef with a juicy cap of fat. Another cut we love is the 400-days grain-fed Jack's Creek Wagyu Tri Tip (S$47 for 200g), a tender triangle of meat from the bottom sirloin with a marbling score of 7. Amped up with their punchy chimichurri, it's spectacular.

The Market Grill is located at 208 Telok Ayer St, Singapore 068642, p. +65 6221 3323. Open Tues-Sun 11.30am–2.30pm and 6pm–10pm. Closed Mon.
Le Bistrot du Sommelier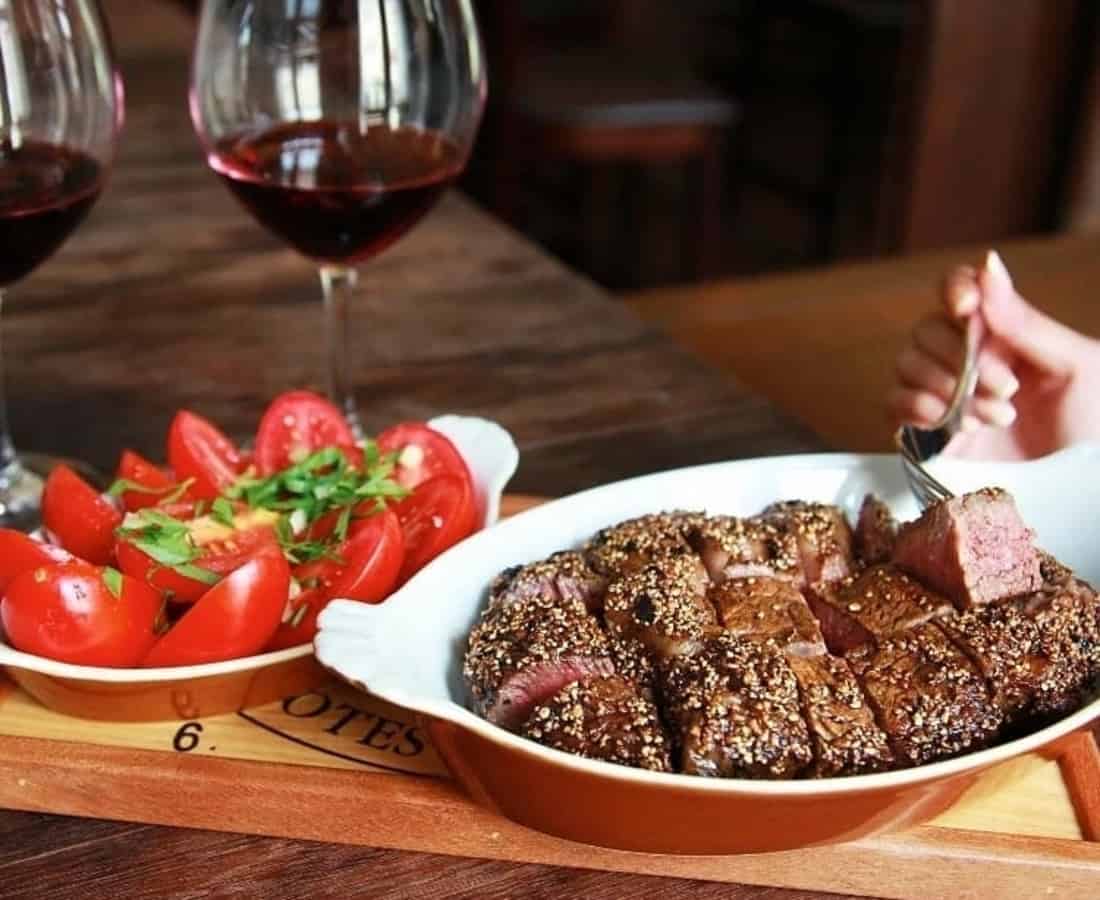 This Parisian-style bistro oozes French charm, and so do its beef dishes. The steak-frites here knows how to treat both our wallets and our tummies right – priced at an affordable S$34, the Onglet de Boeuf Aux Échalotes features the largely forgotten hanger steak pan-seared to a tender medium-rare. It's served with shallots and a fragrant garlic confit, along with a generous heaping of crisp fries. Meanwhile, the oven-roasted Côte de Boeuf Angus Rôtie Au Four (S$158) is hefty enough to feed four, and even lovelier paired with some of their natural wines.

Le Bistrot du Sommelier is located at 53 Armenian St, Singapore 179940, p. +65 6333 1982. Open Mon-Sat 12pm–10.30pm. Closed Sun.
boCHINche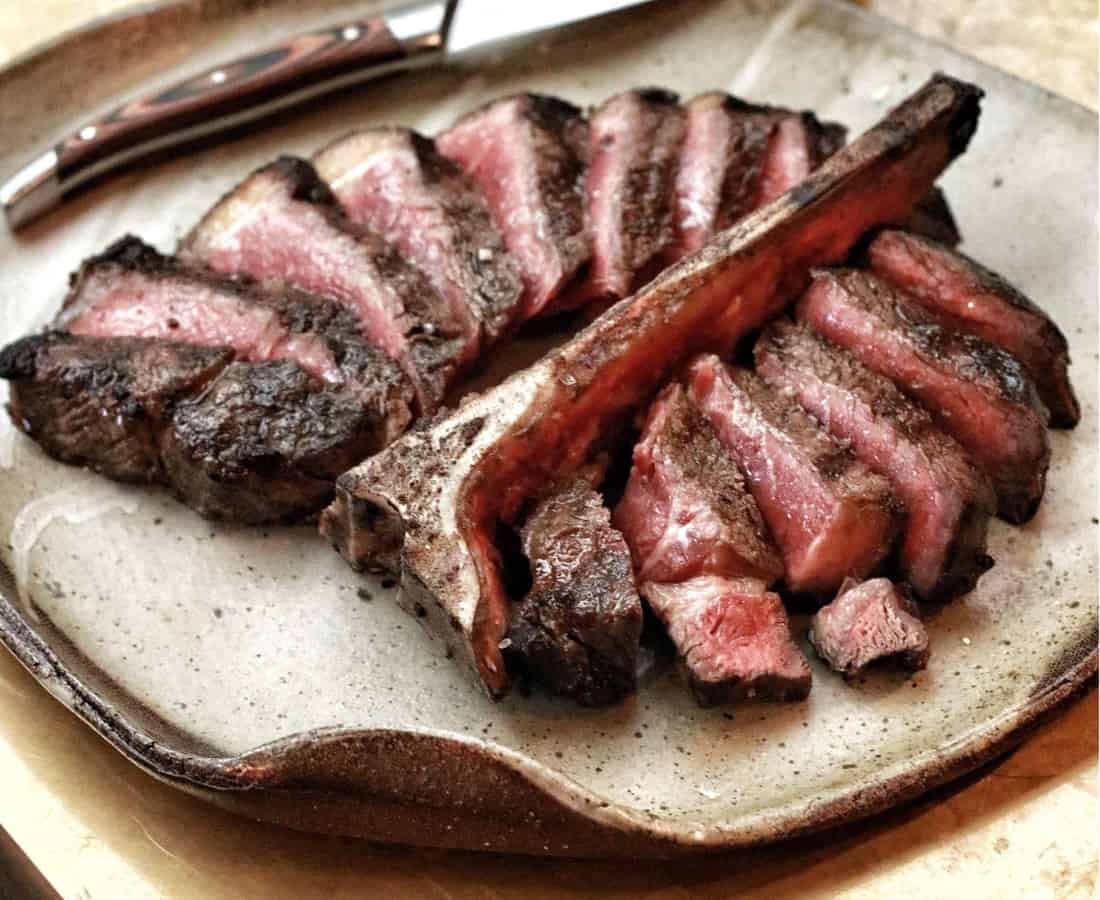 One of Singapore's few Latin American restaurants, boCHINche dishes up inventive Argentine nosh in small plates style – from 45-day-aged beef tartare to a decadent aged beef and foie gras burger. Snag a seat by the open kitchen to watch the team searing up grass-fed Argentinian and Australian meats on their wood-and-charcoal grill. The juicy Ojo de Bife ribeye steak (S$60) is a crowd favourite here, but for a serious flavour bomb, we recommend the  beautifully marbled 35-day-aged Wx OP Rib (S$26 per 100g).

boCHINche is located at 115 Amoy St, #01-02, Singapore 069935, p. +65 6235 4990. Open Tues-Fri 12pm–2.30pm and 6pm–10.30pm, Sat 11.30am–3pm and 6pm–10.30pm, Sun 11.30am–3pm. Closed Mon. 
Ryan's Kitchen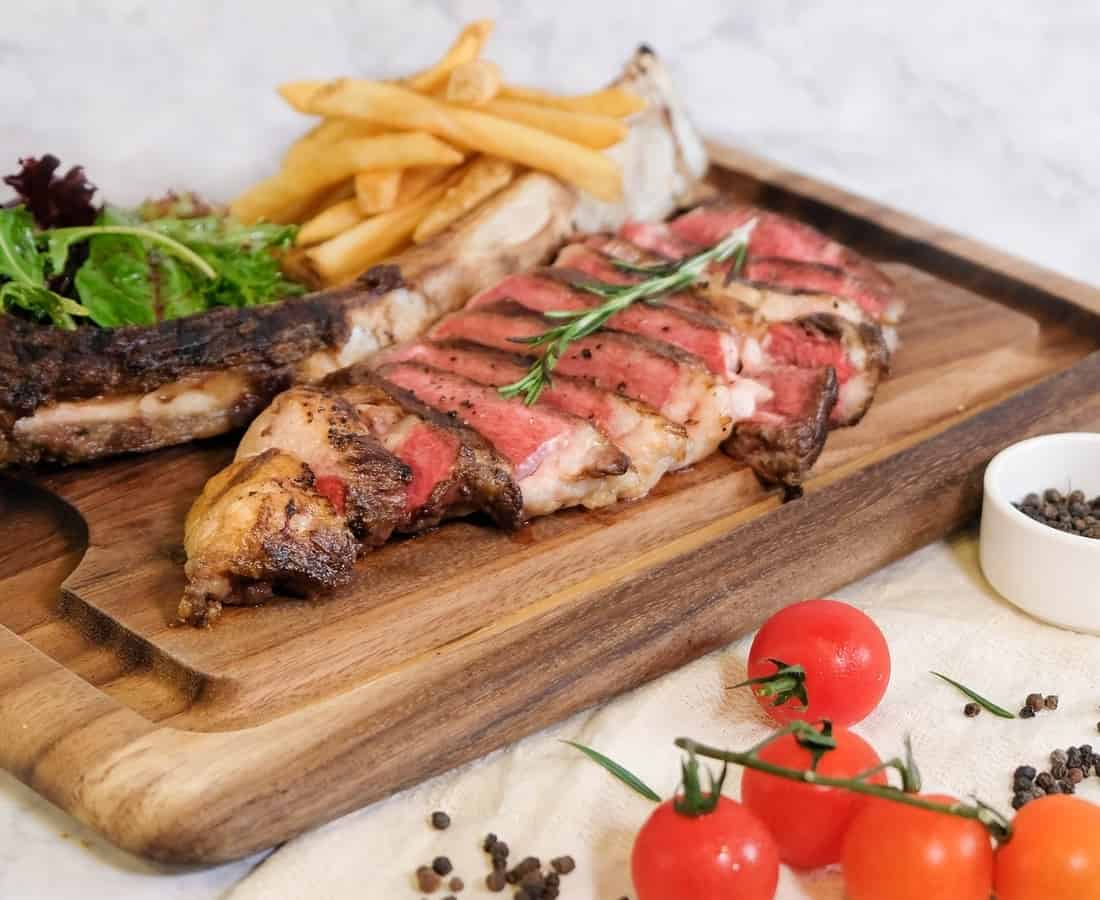 Set beside specialty grocer and butcher Ryan's Grocery, Ryan's Kitchen does meats the organic and ethical way. Their dine-in menu features two steak options, both starring free-range Five Founders Carbon Neutral-certified beef. The 100 Days Grain-Fed Sirloin Steak (S$24 for 200g) is a lean yet succulent flame-grilled cut, while the 100 Days Grain-Fed Ribeye Steak (S$32 for 200g) is broiled to a delicious char. If you'd like to select your own cut of meat, hop over to Ryan's Grocery first to browse their butchery before having it grilled on the spot at the café. Check out our review here.
Ryan's Kitchen is located at 1 Kim Seng Promenade, #B1-146 Great World, Singapore 237994, p. +65 6767 0118. Open Mon-Fri 11am–9.30pm, Sat-Sun 10am–9.30pm. 
Les Bouchons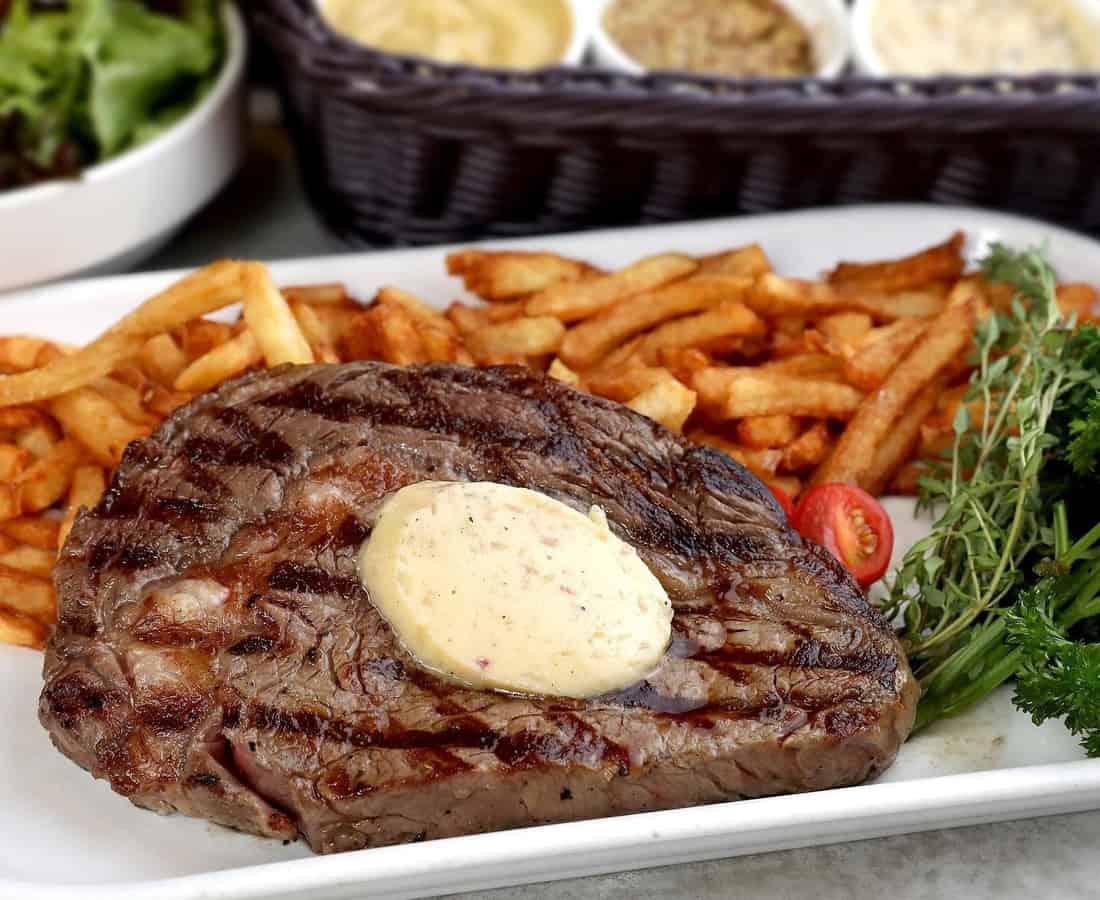 Les Bouchons dubs itself the 'king of steak frites', and that's really not too much of an exaggeration. For one, the crisp, fluffy fries here are free-flow; for another, their herb-rich 'vigneron' butter never fails to get us drooling. Opt for the flavourful Grilled Angus Sirloin Steak with Herbs (S$40) or, for something richer, the Grilled Black Angus Ribeye Steak with 'Vigneron' Butter (S$43). If you're with another voracious carnivore, tuck into the Giant Côte de Bœuf (S$118) – a king-sized Angus Prime Rib which is more than enough for two.
(Les Bouchons Ann Siang)

(Les Bouchons Rive Gauche)

Les Bouchons has branches in Ann Siang Road and Robertson Quay. For more location info, see here. 
Top Image: The Market Grill