8 Veteran Tailors Supporting Singapore's Menswear Scene For Generations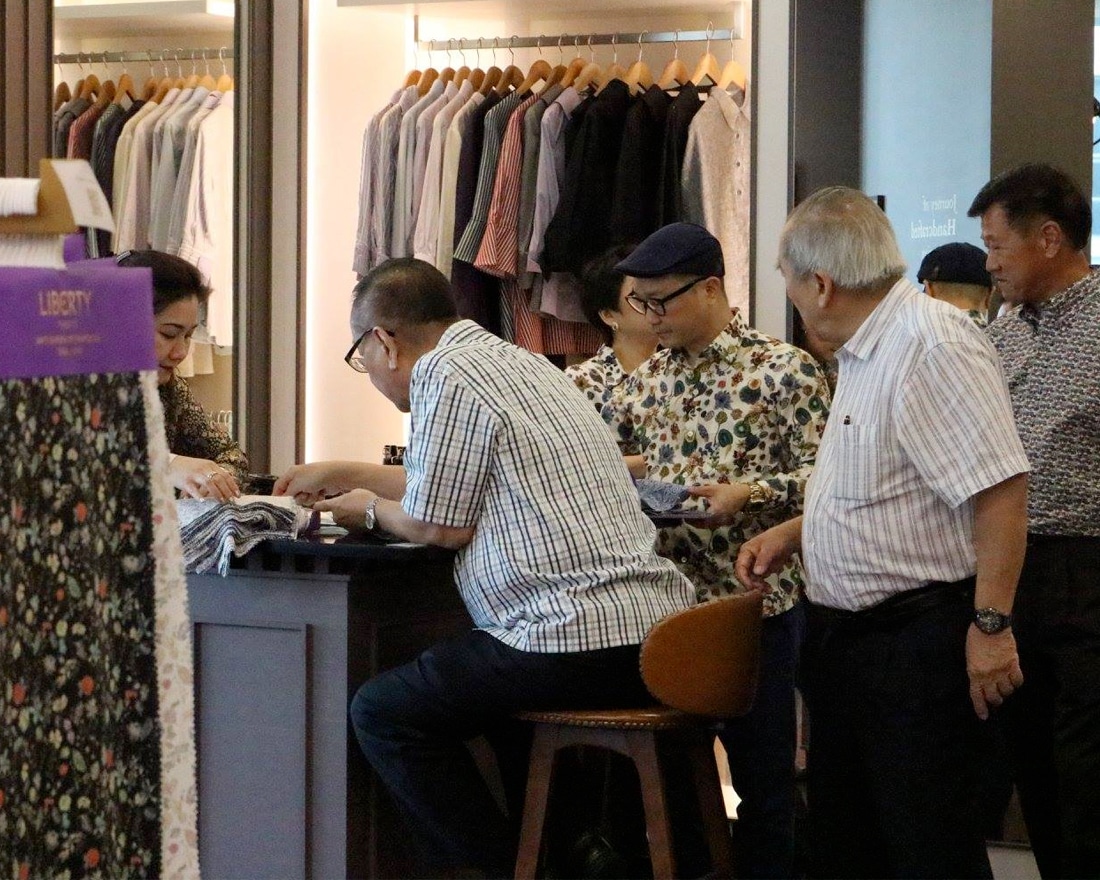 PUBLISHED October 15th, 2019 06:00 am | UPDATED May 18th, 2020 04:43 pm
We previously wrote about making a suit in Singapore, where those new to the game can find affordable tailors. Many of them are relatively young and decidedly made-to-measure, and a couple of them even outsource their work to other countries. In contrast, these are the established tailors you want to commission for reliability and consistency in Singapore. When it comes to experience and reputation, there's no beating them.
Hwa Seng Textiles

Hwa Seng Textiles started out in 1960 by supplying textiles to other Singaporean tailors, but they've since ventured into providing their own tailoring services as well. Their master tailor — affectionally known as Shifu — has been in the industry for more than 50 years, and can expertly advise you on fabrics and pairings. You can even get bespoke denim jeans made here! Interestingly, Hwa Seng Textiles uses a state-of-the-art Computer CAD System to record each client's measurements and preferences to ensure consistency. A basic suit with Italian fabrics run anywhere between S$800 to S$1,000.
Hwa Seng Textiles is located at 2 Sims Close, #07-12 [email protected], Singapore 387298, p. +65 6345 5154. Open Mon-Sat 11am – 7pm. Closed Sun. Book an appointment here.
Ehkay Corner Tailor

If you've ever taken the stroll between Somerset and Dhoby Ghaut, chances are you've passed the longstanding Ehkay Corner Tailors, which opened in the 1980s. Now helmed by the founder's son Dinesh Nandwani and his wife Hina, they've since upgraded the shop with the trendiest designs and fabrics over the year, while keeping its traditional of top-tier service and tailoring. It's also one of the more affordable tailors in Orchard, making it a choice pick for young grooms. A polyester suit starts from S$260, though we recommend topping up a hundred bucks or two for a full-wool suit to save yourself from this weather.
Ehkay Corner Tailors is located at #01-57 & #01-01 Orchard Plaza, 150 Orchard Rd, Singapore 238841, +65 9747 2177. Open Mon-Sat 10am-9pm, Sun 11am – 7pm. Book an appointment here.
Dylan & Son
Dylan & Son is a two-generation classic bespoke tailor, but you probably guessed that from its name. Dylan Chong, who took over his father tailoring business of 30 years, has a penchant for English sensibilities and Italian flair. He's all about the overall balance and proportions of your body silhouette, so he probably won't agree to make you a super skinny suit. Dylan also cuts every single trouser commission himself, while an in-house jacket cutter is assigned to each client. Two-piece suits here start from S$2,000, which is a fair price for such expertise.
Dylan & Son is located at 161B Telok Ayer St, Singapore 068615, p. +65 6221 1852. Book an appointment here.
CYC Made to Measure

If the late Minister Mentor Lee Kuan Yew can make a suit here, so can you. With its founding dating back to 1935, CYC The Custom Shop has made clothing for legions of distinguished men. Now in its third generation, they've only gotten better throughout the years with their superior craftsmanship and highly personalised customer service, so much that they've developed a sharp signature style. Made-to-measure suits start from S$910, while a shirt and trousers go from S$119 and S$165 respectively.
CYC Made to Measure is located at 13 Stamford Rd, #02-11/12, Singapore 178905, p. +65 6298 2001. 
The Prestigious. Bespoke Tailors

The Prestigious itself is a fairly young brand, but the 71-year-old master tailor behind it, Thomas Wong, has long outfitted ambassadors and royalty over his five decades in the tailoring business. Housed along Boat Quay, he leads a sizeable team of tailors and apprentices to measure, fit, draft, cut, and construct the pieces. In true Savile Row style, all commissions are crafted in-house by your personal tailor, and you'll have access to rarer materials such as European silks, and Italian horsehair canvas. Prices heavily depend on your choice of fabric, but expect to pay around S$4,000 for a full-bespoke suit and upwards of S$200 for individual shirts and trousers.
The Prestigious. Bespoke Tailors is located at 62B Boat Quay, L3, Singapore 049850, p. +65 6705 6708. Mon-Sat 10am – 6pm. Book an appointment here.
Kevin Seah Bespoke

The 43-year-old Kevin Seah hasn't been running his own shop for decades, but then again, he first started out as an apprentice in tailoring when he was just 17. He's since made waves in the local and regional menswear scene, with a long waiting list full of fashionistas in the know. Believing in cutting and canvassing his suits by hand, Kevin Seah produces garments that are particularly suited for Singapore's tropical weather, while maintaining a sartorial style. With suits starting from $3,000, you'll get to pick from over 40,000 fabric samples available.
Kevin Seah Bespoke is located at 5 Jalan Kilang, #03-01, The Mill, Singapore 159405, p. +65 6532 2018. 
Mohan's Custom Tailors
One of the oldest tailors on the list, Mohan's Custom Tailors is one of Singapore's few remaining authentic bespoke tailor creating suits, shirts and other custom clothing by hand. With a five-step tailoring process from measuring and pattern-making to several fitting sessions, there's no wonder why it's the tailor of choice for many embassies and corporations like Volvo, Nokia, CitiBank, and Electrolux here. Get your two-piece suit within days from as low as S$600.
Mohan's Custom Tailors is located at #02-73 Far East Plaza, 14 Scotts Rd, Singapore 228213, p. +65 6732 4936.
Joe's Tailoring
Joe's Tailoring is named after Joseph Koh, who opened this family-run business in 1983. A favourite among senior corporates in the CBD, the shop even counts American singer Peter Cetera among its fans for the quality of his craft. Utilising premium fabrics from Italy and the UK, suits start from S$850 and are completely tailored in-house with great attention to detail — think hand-rolled lapels. Joe's also stocks umbrellas from Ombrelli Maglia, English Goodyear-welted shoes by Joseph Cheaney, and gentleman suspenders.
Joe's Tailoring is located at #02-11/12/13, GSH Plaza, 20 Cecil St, Singapore 049705. 
Top Image: CYC Made to Measure