Restaurant Review: Explore Ireland's Bounteous Produce with Cure Singapore's New Nua Irish Cuisine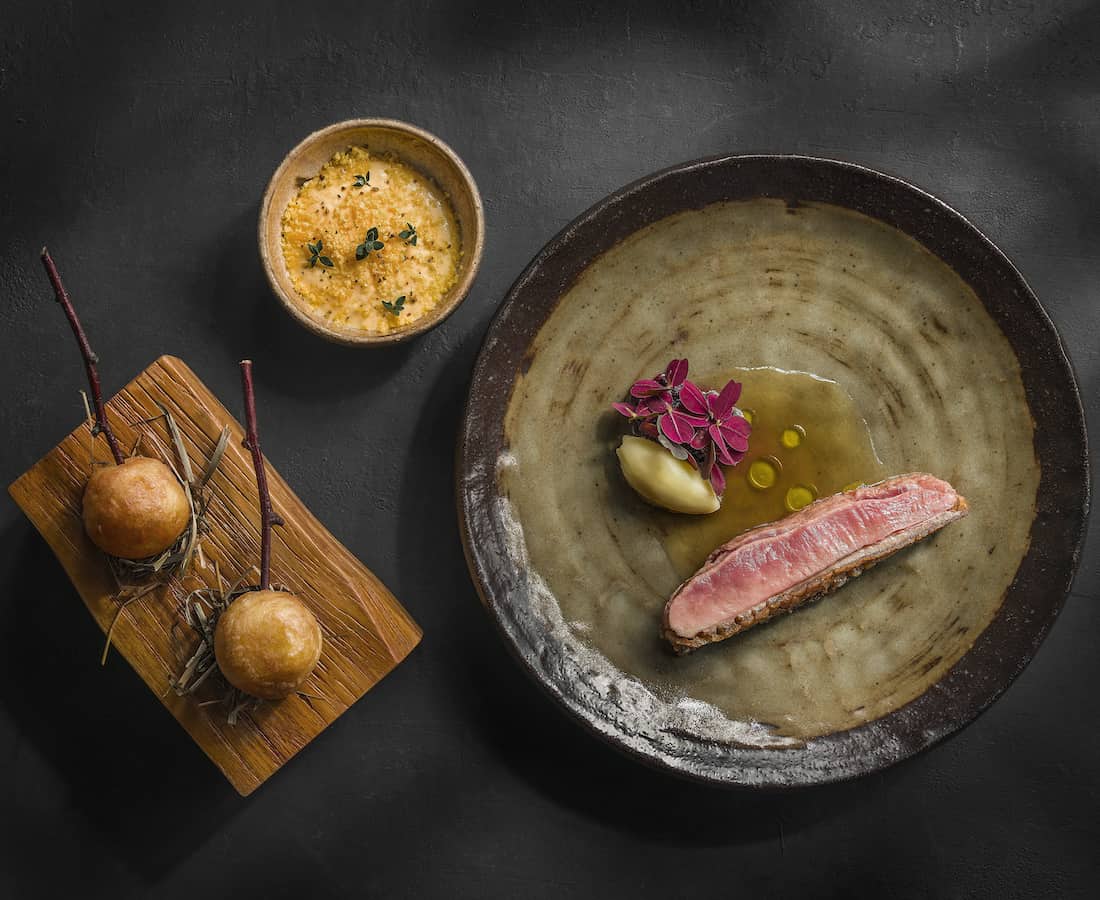 PUBLISHED December 20th, 2020 06:00 am | UPDATED December 29th, 2020 12:23 pm

With four restaurants locally under his Cure Concepts, including the recently opened Catfish, Chef-Owner Andrew Walsh is one of the few Irish lads that puts his motherland on the map in Singapore. After five years on Keong Saik Road, he finally returns to his heritage at the flagship Cure Singapore with the Nua Irish menu. Translating to 'Irish' in Old Gaelic and 'new' in the modern language, look forward to a gastronomic exploration of Ireland's rustic coastlines and sprawling grasslands, which definitely evokes major FOMO in this no-travel season.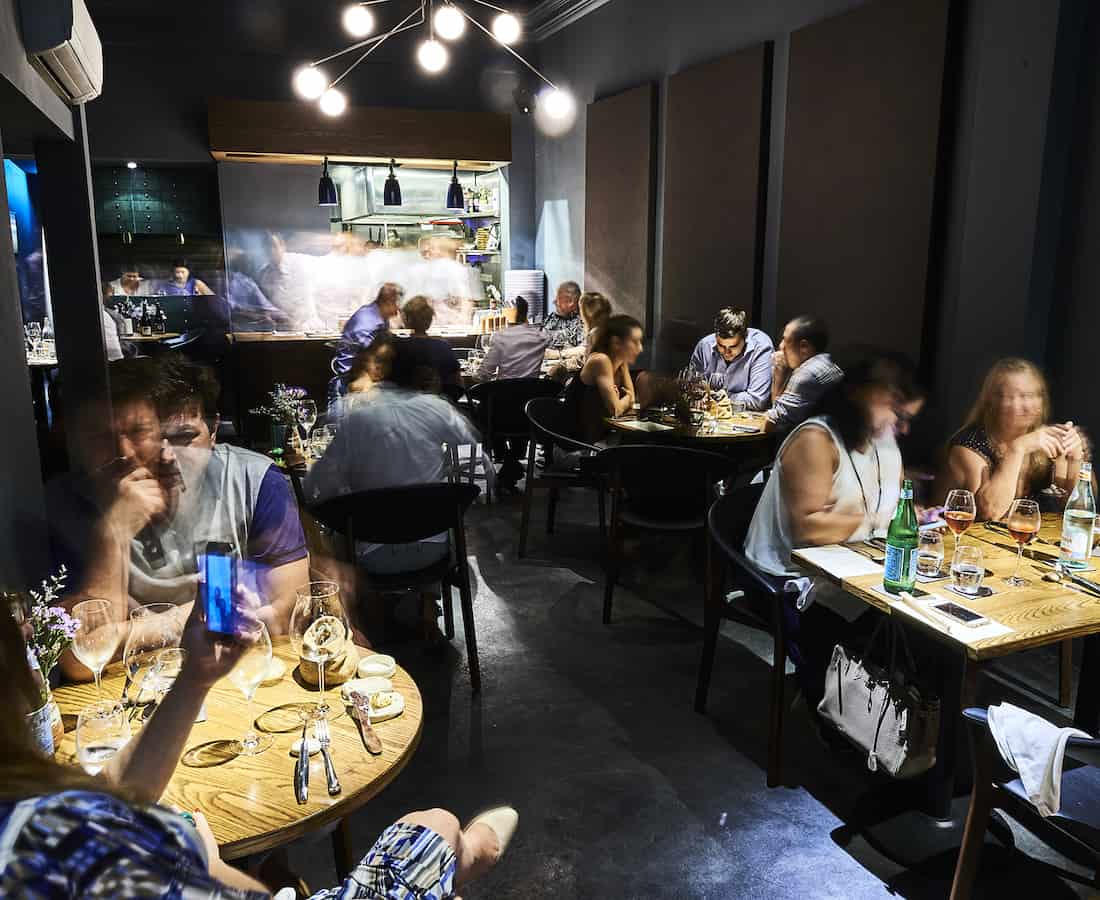 Served with a deliciously savoury caramelised onion and bacon butter and a gulpful of Guinness on the side, the Soda, Stout & Treacle Bread is a fitting start to our full dinner menu (S$198++ per person). A nod to the country's staple that dates back to the late 1830s, Cure's version is glazed with sticky treacle, a stout-fermented honey mix and a shower of oats. A lovely meeting of bitter and sweet.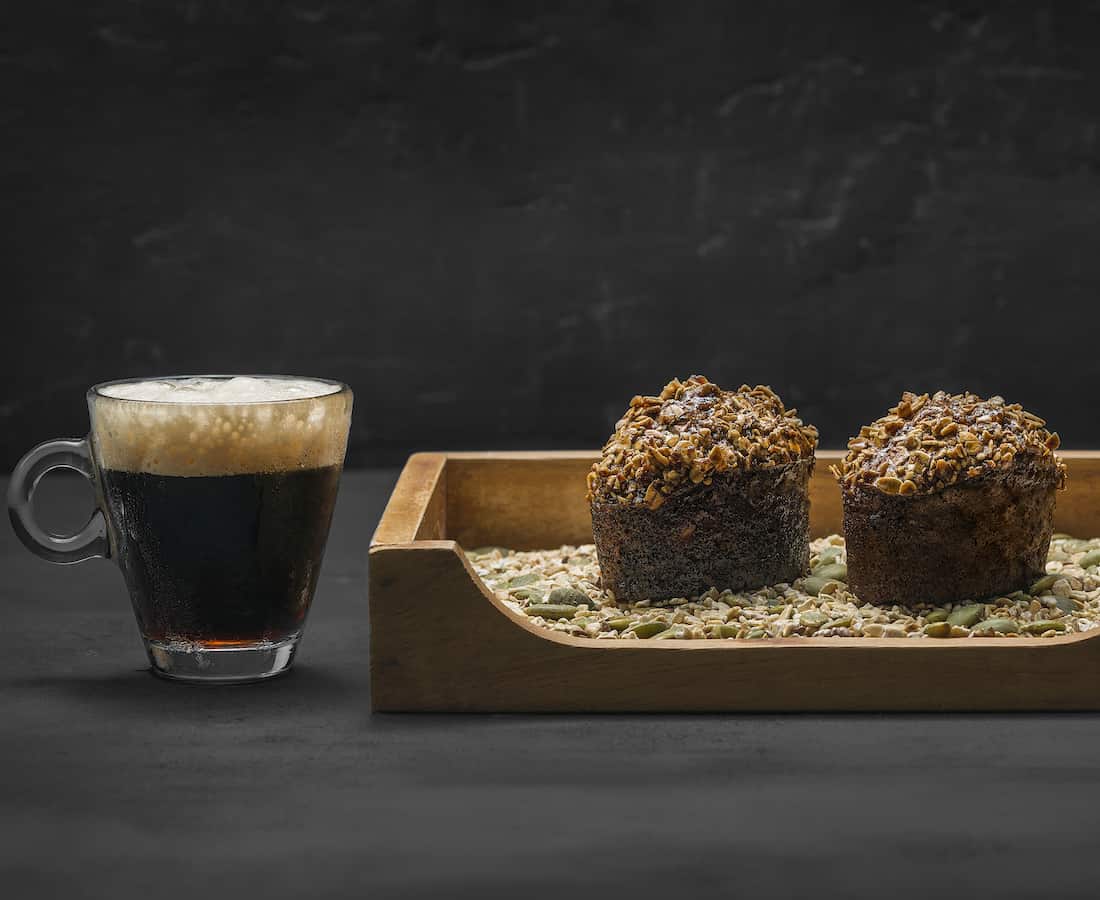 The next three snacks arrived in quick succession, including a Potato Crisp Sandwich – Chef Andrew's take on his childhood guilty pleasure elevated with potato terrine and parmesan cheese custard – and a curious relative of the parsnip in the Baked Salsify. Pan-fried in butter, the tender root veggie makes a sweet, and aromatic mouthful with embellishments of bergamot gel, moringa leaves and hazelnut.
On boozy beverages to complement the meal, Cure is offering an optional wine pairing at S$140++ per person. One could also opt for their Irish-inspired cocktails like the refreshing Zesty Irishman, a floral concoction flavoured with rose, apple, and cucumber, or the Irish on a Gargle ($23) – a whisky-based tongue in cheek reference to the Irish accent, accentuated with melon, sage, and honey.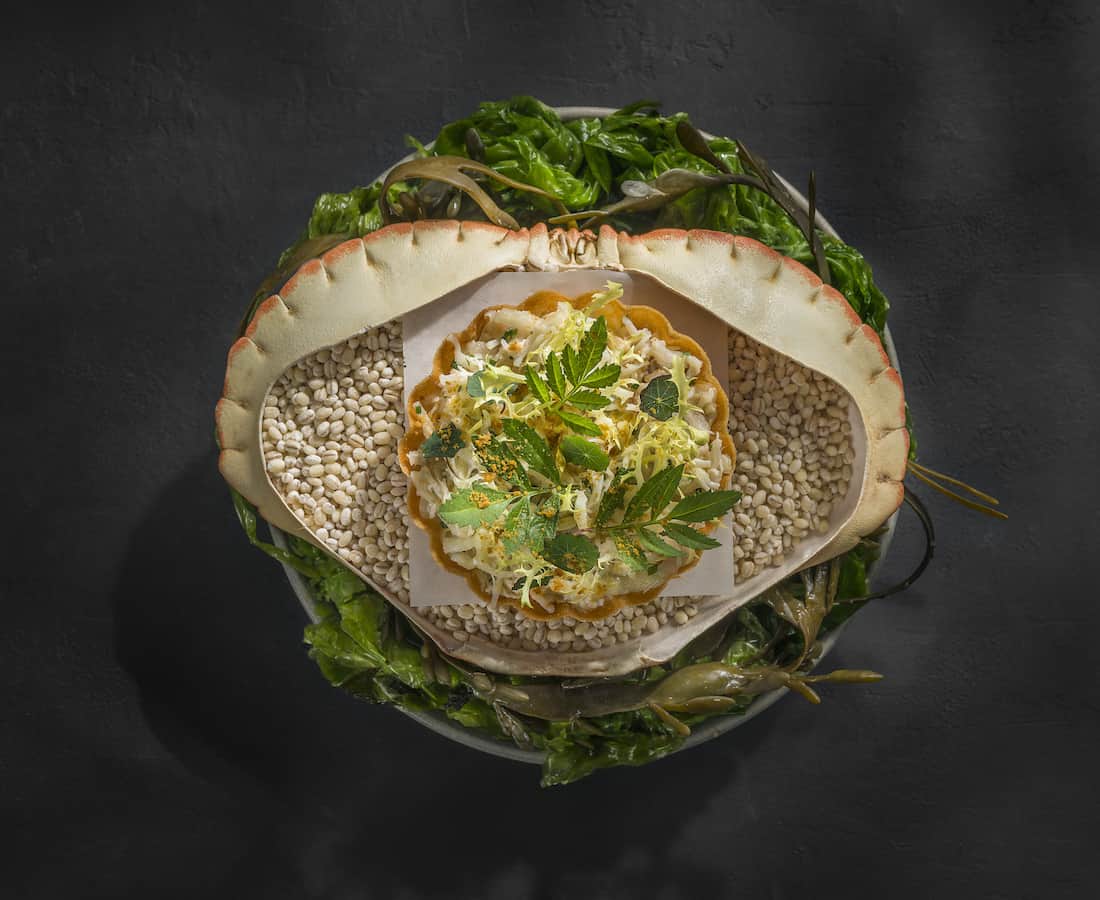 With long, unspoiled coastlines, it's no surprise that Ireland is home to spectacular seafood. We're introduced in our first main to Irish Brown Crab wild caught in the country's waters. Prettily presented in the shell of the eponymous crab, we get well-balanced flavours between the sweet crab flesh, sour cream, and the nutty brown butter tart. Yuzu-dressed greens add freshness and textures whilst a sprinkle of crab brain powder lends a tinge of umami.
Another fine seafood specimen follows in the meaty, handpicked Gallagher Speciale Oyster. Pre-cut into smaller pieces for easier eating and lightly grilled on binchotan to bring out the best of its sweet and fresh marine flavours, it's served warm with miso beurre blanc, dill oil, and smoke herring roe.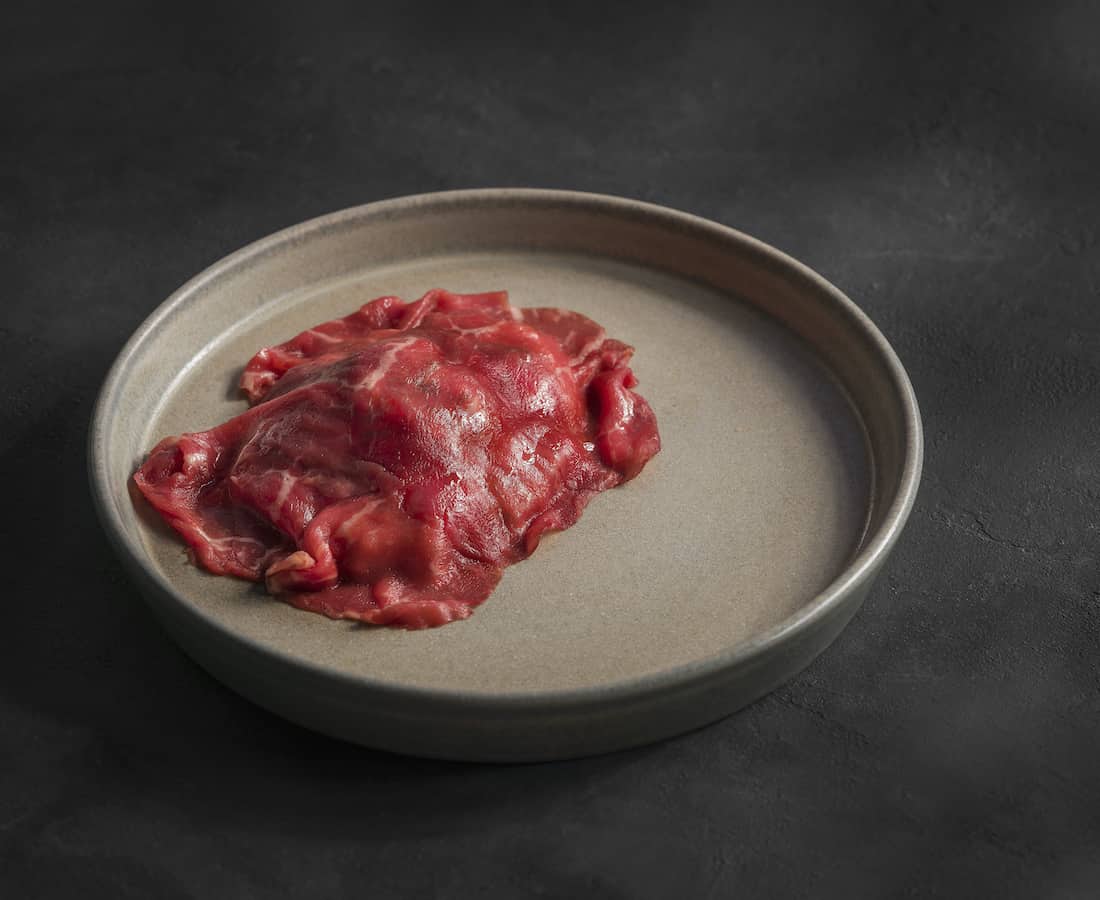 We get another throwback to Chef Andrew's childhood with A Porridge of Grains.  This luxurious rendition 30-odd years laters features an organic egg yolk and silvers of beautifully beefy dry-aged tenderloin from John Stone in Ireland's Longford County. The Irish Cashel blue cheese in the porridge of koji rice and barley ingeniously bridges the dish with the wine paired, a biodynamic orange wine Kalleske Plenarius 2017 from the Barossa Valley.
Harvested off Shetland Isle, Irish Blue Mussels showcases its distinctively earthy note in a chowder infused with cider mussel stock, root vegetables, and parsley oil. This light-handed take on the Irish chowder gets a delicate acidity from lavender sorrel leaves.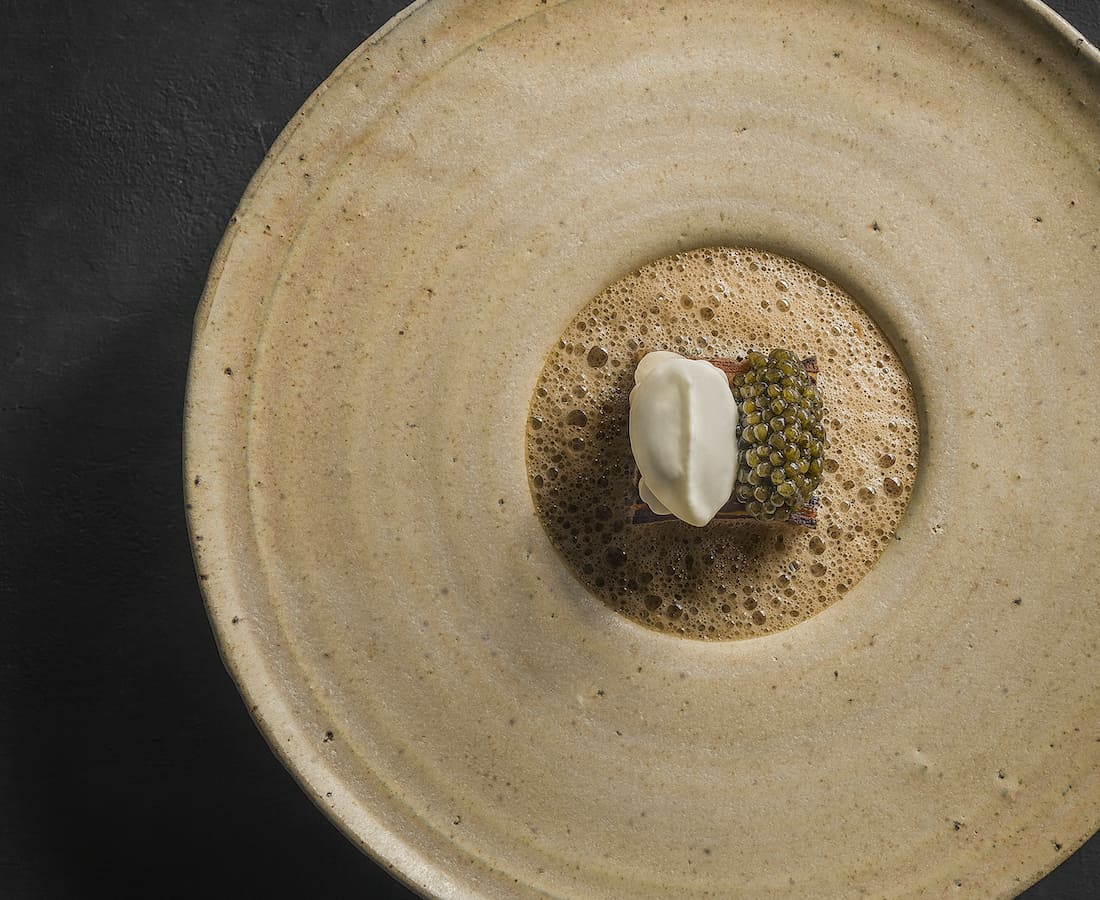 We then finally get to the Potato – even the most ignorant would have heard of the Great Irish Famine in the 1840s when natural potato blight struck. A tale rags and riches if there ever was one, the humble carbohydrate and seaweed is paired here with N25 caviar and cep mushroom foam. Interspersed with horseradish clotted cream and hazelnuts, it was robustly flavoured and filling despite its comparative simplicity in elements.
Last but not least, the five-day aged Silverhill Farm Duck, and served four ways, feels like it could be a full meal on its own, particularly when paired with a bright, fruity Joel Gott Oregon Pinot Noir 2017 with velvety tannins. Duck breast is pan-seared and put on binchotan, then served with duck broth, topped with a compote of Teeling whiskey, blueberries and red currants. Duck leg confit is shredded and used to fill doughy takoyaki – ball-shaped Japanese snacks usually filled with octopus – alongside an espuma of duck fat, salted egg, and juniper berries.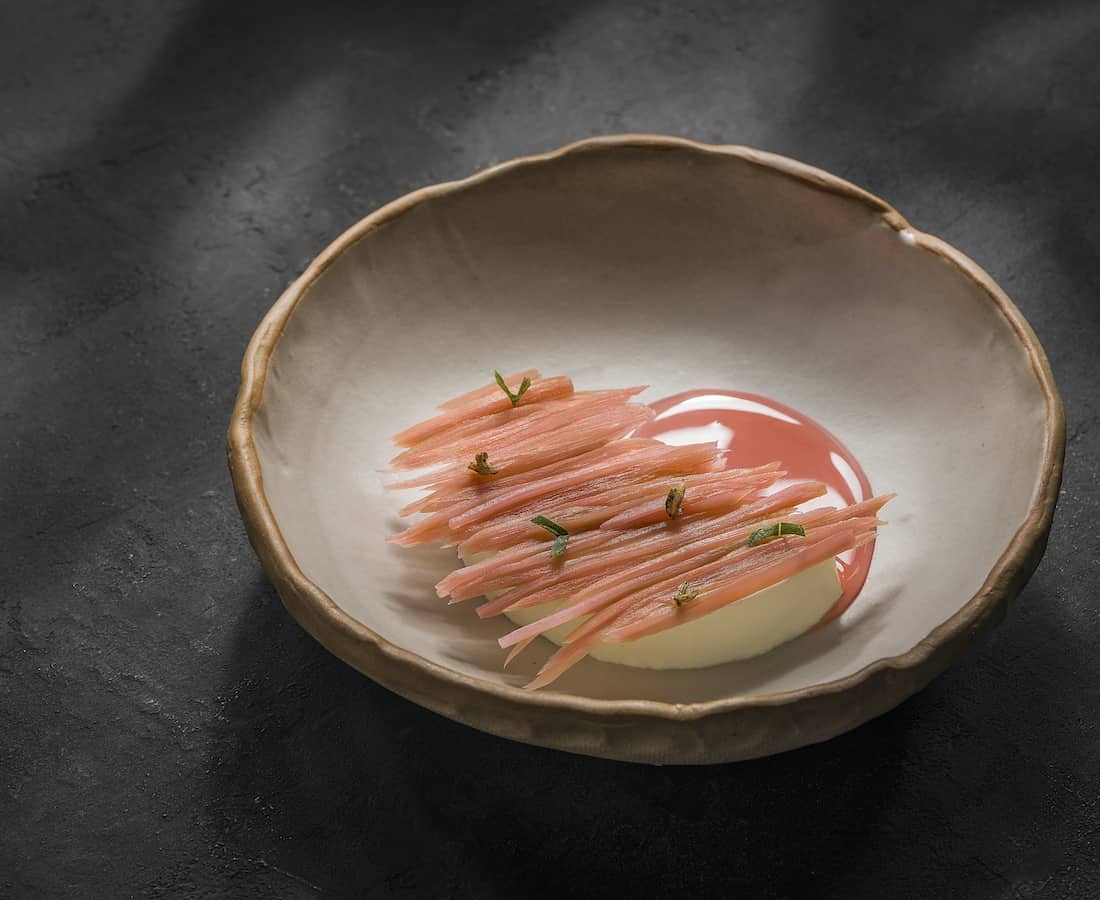 After the waist expanding savouries, you'd hardly expect five parts to dessert. There's a cheap thrill in "panning" for Irish cream chocolate bonbons painted with edible gold in the Lucky Gold & Chocolate Pot, while Childhood Memories of Peat sees smoked milk ice cream filled charcoal poori (a type of Indian fried bread) presented in a rustic wooden box. The smokiness lingers long after, and it's the Avonmore Buttermilk with fermented rhubarb that helps to cut it.
Personally, the jus was overly tart, but the buttermilk mousse made with the top milk brand in Ireland was delicious enough on its own. Ireland's cattle and dairy continued to display its prowess in the Cooleeney Farmhouse Cheese Selection. Dished out with apple & onion chutney and lavash crackers, that Cashel Blue is a must-have, as well as the oh-so-creamy Tipperary Brie.
As oat cookies and Irish cream concocted in-house with Jameson whisky were polished off, our last thought before the food coma hit was, what else will Chef Andrew present in Nua Irish volume two?

Cure is located at  21 Keong Saik Road, Singapore 089128, p. 6221 2189. Open Mon-Tue 6pm-10pm, Wed-Sat 12pm-2pm, 6pm-10pm. Closed Sundays.
Top Image: Silverhill Farm Duck, Native Berries, Salted Duck Egg