Where to Eat & Drink in Ann Siang, Singapore: Sharing Plates, Barbecue, Cocktails and More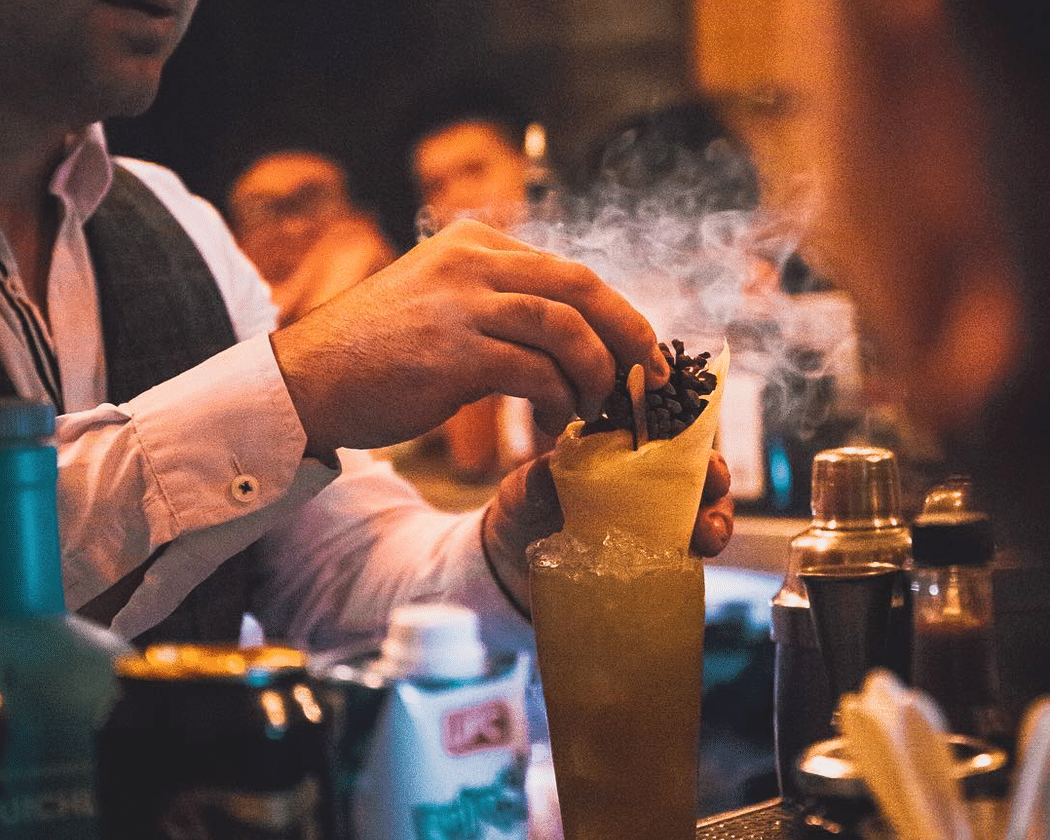 PUBLISHED January 18th, 2018 07:00 am | UPDATED May 18th, 2020 04:24 pm
For the coolest bar and restaurant options, the Telok Ayer area is definitely a must-go for foodies. Along with the popular Amoy Street and Club Street, Ann Siang Road and Hill in Singapore boasts a fine array of restaurants on the hill of the same name for visitors and locals alike to settle their cravings. From yakiniku to roasts, and cocktails after, our guide to Ann Siang offers you some of the best options to try.
The Coconut Club

The Coconut Club may sound and look hipster, but be assured that their speciality, the unofficial national dish Nasi Lemak, is as good as they come and absolutely unpretentious. At $12.80, a plate here is not cheap, but what you get is a fragrant collection of old crop Thai Jasmine Rice that's creamy and fluffy (it's been cooked in coconut milk), expertly-fried chicken thigh with lemongrass, galangal, and turmeric, a perfect fried egg, and mind-blowing spicy sambal. To round off your meal, get a bowl of Cendol ($3.80) – a milkier version than what we're used to, but with a generous portion of quality gula melaka, it's heavenly.
The Coconut Club is located at 6 Ann Siang Hill, Singapore 069787, p. +65 6635 2999. Open Tue-Sun 11am – 3pm, Tue-Sat 6pm – 9.30pm. 
Lolla

Combining the freshest ingredients of the season with Mediterranean flair gives you the dishes at Lolla, a small-plates restaurant focusing on sharing amongst friends. Featuring both a counter area to watch the chefs do their magic and a communal seating set up in the basement, the restaurant makes a cosy spot to try out unique concoctions such as the Sea Urchin Pudding ($23++/$43++) and Smoked Scarmoza with Pineapple Compote ($19++) that will make a meal at Lolla a gourmet adventure. Not sure what to order? Go for the tasting menu instead – read our review here.
Lolla is located at 22 Ann Siang Rd, Singapore 069702, p. +65 6423 1228. Open Mon-Sat 12pm – 2.30pm, 6pm – 11pm, Sun 10.30am – 3pm. 

Operation Dagger
Marked by a nondescript sign in a back alley of Ann Siang, Operation Dagger is the place for experimental cocktails concocted by owner-bartender Luke Whearty. The bar, which recently placed 24th at The World's 50 Best Bars 2017, is all about pushing boundaries and using ingredients in its entirety. Imbibe exquisite creations like the G.O.A.T, a rather bizarre tipple made by distilling goat's cheese with gin and mixing it with dry sherry, honey and fermented pineapple, best paired with a Burrata dish from the grub menu. Other drinks include the Peas & Flowers (with peach-infused gin) and nutty Macadamia. Read our review here.
Operation Dagger is located at 7 Ann Siang Hill, Singapore 069791, p. +65 6438 4057. Open Tue-Sat 6pm – 12am. 
Nutmeg & Clove

Classic cocktails get a Singapore twist at locally-inspired bar Nutmeg & Clove (30th spot on Asia's 50 Best Bars 2017). This season, the menu is based on the William Farquhar Collection of Natural History Drawings, with 12 common herbs, fruits, flowers, and spices selected to bring something unexpected to the floor. Try the Midnight Flings ($22) with blanco tequila, chrysanthemum, osmanthus, and housemade Tongkat Ali bitters, or the equally impressive Call Me Old Fashion ($22), which elevates the classic Old Fashioned with coconut fat-washed cognac, suze, coconut, pandan sugar, and tea bitters. Read our review here.
Nutmeg & Clove is located at 10A Ann Siang Rd, Singapore 069789, p. +65 9389 9301. Open Mon-Thu 6pm – 1am, Fri-Sat 6pm – 2am. Closed Sun. 

Boca

Helmed by Chef Jervis Ng, who's been trained under the tutelage of award-winning Portuguese chefs, BOCA introduces classic Portuguese home-style cooking with authentic flavours to the Singapore foodie scene. The first floor sees an open-kitchen with bar seating for pesticos (small plates), the second offers a full-dining experience, and the third features an exclusive wine cellar for enthusiasts to indulge in Portuguese wines. Star dishes here include the Traditional-Style Roasted Suckling Pig (which you need to order four hours in advance) and a heaping pot of Steamed "Bulhão Pato" Clams in white wine sauce.
Boca is located at 8 Ann Siang Hill, Singapore 069788, p. +65 6221 0132. Open daily 12pm – 12am.

Oxwell & Co
ChopeDeals: Save 10% off at Oxwell & Co.
The perfect way to spend a Sunday is over British yorkies and roast, and you can get them at Oxwell & Co. With four options for beef, pork, chicken and even vegetable-based pie available, you're spoilt for choice when you tuck in with a drink in hand – go for the restaurant's specially curated gin and tonic menu, with signature tipples including the famous Pina Colada and Gin and Chronic. On regular days, you'll find Fish and Chips, the Oxwell Burger, and plenty more on the a la carte menu. Read our review here.
Oxwell & Co. is located at 5 Ann Siang Rd, Singapore 069688, p. +65 6438 3984. Open Mon 4pm – 12am, Tue-Sun 12pm – 12am.

Yen Yakiniku
Never get the barbecue smell on your clothes again if you make Yen Yakiniku your go-to Japanese grill spot in Singapore. The top-notch ventilation ensures the smoke doesn't linger to stay on your person even as the mouth-watering smell of grilled meat wafts up. Serving up thin slices of beef (think A5 wagyu oyster blade, striploin, and chuck) with just a pinch of salt and pepper, it's comfort with good food at its finest as the chefs do the cooking for you on the spot. During lunch, you can also look forward to an array of scrumptious donburis.
Yen Yakiniku is located at 15 Ann Siang Rd, Singapore 069695, p. +65 6221 6380. Open Mon-Sat 6pm – 12am. Closed Sun.

Coriander Leaf Grill
An offshoot of Coriander Leaf in CHIJMES, the grill alternative nestled within multi-concept 12 Ann Siang serves up both traditional and contemporary cuisine from Asia. Fired on the charcoal grill are dishes for a filling meal such as Cobia King Fish with spicy green harissa and pickled onions ($24++), as well as the Portobello Mushroom ratatouille in basil pesto ($21++). When you've food like this, nothing hits the spot like the accompanying assortment of cocktails, fine wines, and beers on offer.
Coriander Leaf Grill is located at 12 Ann Siang Rd, Singapore 069692, p. +65 6222 7276. Open Mon-Fri 11am – 2.30pm, 6.30pm – 10.30pm; Sat 6.30pm – 10.30pm. Closed Sun.

Catchfly

Located within multi-concept hub 12 Ann Siang (which includes indie cinema Screening Room), Catchfly is aptly named for the flower that blooms only when the sun goes down. Helmed by head mixologist Liam Baer, who's hopped from bars in New York to Bangkok before joining the speakeasy, some of his best includes whisky cocktail Honey Badger ($22; rosemary-infused bourbon, lemon, ginger, yellow chartreuse, honey) and It's Not The R, It's The Sea ($23; rums, mezcal, passionfruit and coconut cream, five-spiced macadamia orgeat, lime, toasted rice). Read our review here.
Catchfly is located at 12 Ann Siang Rd, B1, Singapore 069692, p. +65 6222 7183. Open Mon-Thu 6pm – 1am, Fri-Sat 6pm – 3am. Closed Sun.

PS. Cafe

Looking for something more casual? The popular PS Cafe has a home in Ann Siang, where you can grab some brunch and juice to relax during the weekends. Crowd favourites include the PS. Club (roast turkey, bacon, chicken, fried egg, cheddar) and the brunch staple Croque Monsieur (Smoked ham, Montreux gruyère, rustic bread), both of which pair well with their homemade juices. For something harder to wash the food down, try one of their five variations on Bloody Mary.
PS. Cafe is located at 45 Ann Siang Rd, #02-02, Singapore 069719, p. +65 9797 0648. Open Mon-Wed 11.30am – 11pm, Thu 11.30am – 12am, Fri 11.30am – 1am, Sat 9.30am – 1am, Sun 9.30am – 11pm.
Tiger's Milk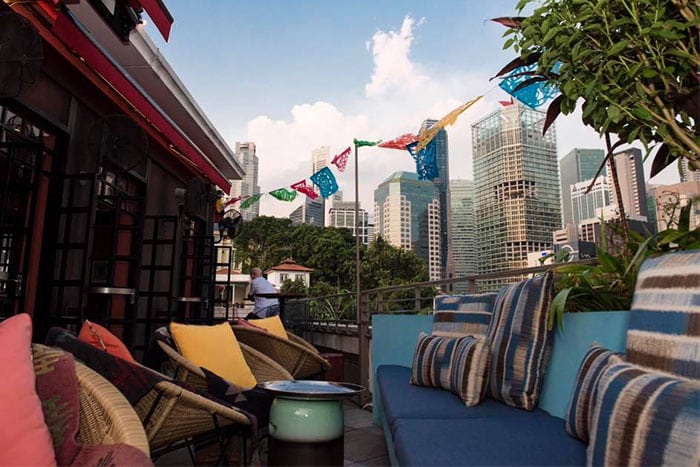 The first Peruvian cocktail bar in Singapore, Tiger's Milk (named for the ingredient leche de tigre in Peruvian cuisine) is a spot to escape the busy working world after hours. Featuring a central ceviche bar (where they serve delicious pisco cocktails) and an open parrilla grill, watch the chefs at work preparing sharing dishes such as Tiger's Milk Trio ($29; tuna nikkei, classic seabass with aji amarillo, seafood mixto with aji rocoto) and Chicken Hearts skewer ($8; marinated in harissa paste and soy glaze).
Tiger's Milk is located at 28 Ann Siang Rd, Singapore 069708, p. +65 6808 2183. Open Mon-Sat 5pm – 12am. Closed Sun.

Top Image: Nutmeg & Clove