A Dining Guide To Sapporo, Japan: Beer, Sashimi, and Soup Curry in Hokkaido's Capital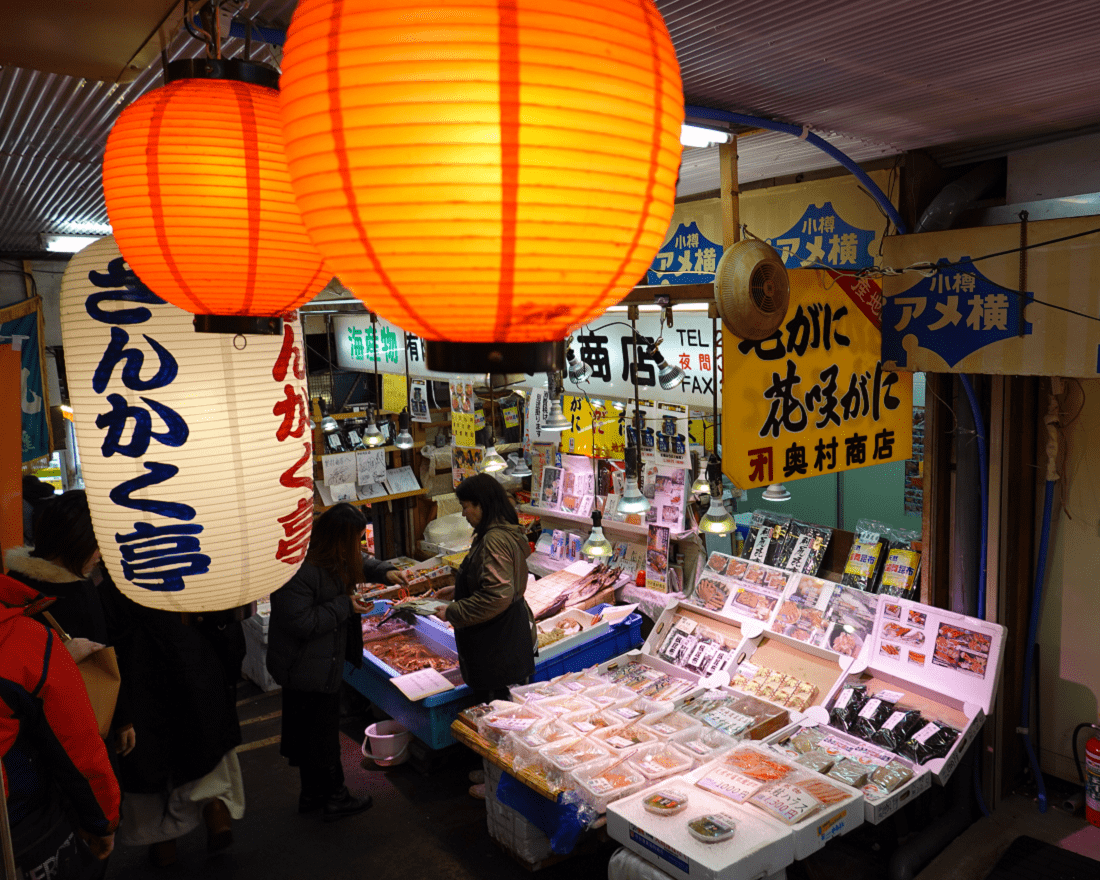 PUBLISHED April 27th, 2020 06:00 am | UPDATED May 19th, 2020 12:15 am
As with most of the island of Hokkaido, the capital city of Sapporo is blessed with fresh air and pristine waters that make it an agricultural paradise and source of premium beer, seafood, and cheese. Snow festivals and skiing aside, there's much to see (and eat) in Japan's fifth largest city.
Restaurants
Soup Curry at Medicine Man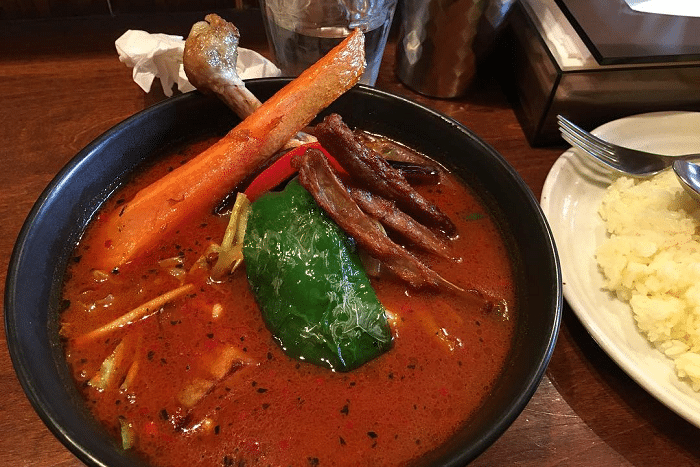 For those who've never had soup curry – think of it as a thinner, more drinkable version of your regular curry with rice (albeit spicier). Soup curry regularly features a host of whole vegetables and meat, and can range from the uber mild to spicy hot. Medicine Man's tiny shop can be found by Sapporo's Nakajima Park, and is famous for a specialty stock which can be purchased prepackaged (great for those who love food souvenirs). Wherever you have it, generous portions of soup, rice and meat make for a comforting and affordable meal on frigid winter nights.
Medicine Man is located at South 12, West 10-1-18, Chuo Ward, Sapporo City, p. 81 11 552 5456. Opens Mon-Fri 11.30am-3pm and 5pm-10pm; Sat-Sun 11.30am-9pm. Closed on Tue-Wed.
Hokkaido Crab Buffet at Nanda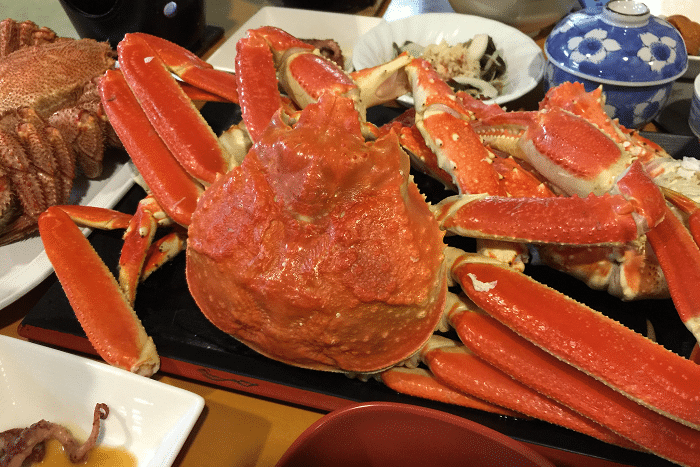 With famous seaside towns a dime a dozen in Hokkaido, seafood and crab buffets are omnipresent in Sapporo – usually identified by gigantic plastic crabs that hang above the entrance in place of shopfront signage – so you can save yourself a trip to nearby Otaru. Because everyone knows the best way to enjoy fresh seafood is with an ice cold beer, many buffets also offer all-you-can-drink alcohol. For JPY4780 in 100 minutes, Seafood Buffet Restaurant Nanda presents a range of seafood, crabs yakiniku and even wagyu beef.
Seafood Buffet Restaurant Nanda is located at Ciber City Bld. B2F Nishi Chome Minamijyo Chuo-ku Sapporo City Hokkaido, p. +81 11 532 7887. Opens daily, 11am-4pm and 4pm-10pm.
Traditional Onigiri at Meidai Nigirimeshi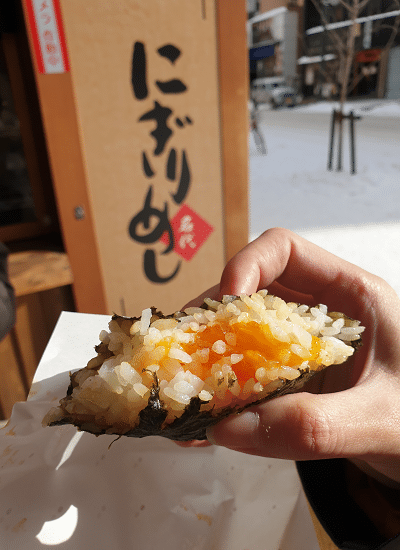 7-11's pre-wrapped could do in a pinch, but they can't hold a candle to Meidai Nigirimeshi's famous rice balls. Made fresh daily, every onigiri here is a ball of fluffy goodness.
Located right by Susukino Market and open 24 hours a day, families, salarymen and students alike regularly patronise it – just about as local of an experience as you can get.
Their takeaway window offers all forms of rice balls, from the basic salted Shio-nigiri to novel flavours like Salmon Butter.
Rice balls can be purchased at the window, but if you've got the time to spare, there's also the option to enter the actual restaurant round the corner to dine in on for oden or pork miso soup.
Meidai Nigirimeshi is located at 4 Chome Minami 6 Jonishi, Chuo Ward, Sapporo, Hokkaido 064-0806, Japan, p. +81 11 512 1616. Open 24 hours everyday.
Yakiniku at Jingisukan Daruma Main Shop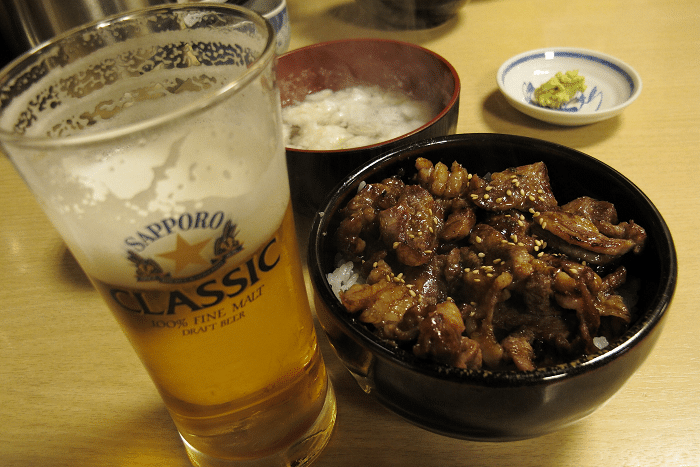 The word Jingisukan is a direct translation of the great Mongol emperor, Gengis Khan himself. We're a little fuzzy on the details of its origin, but Sapporoites have been chowing down on what they've assumed constitutes the great conquerer's favourite dish: lots and lots of meat. Often seen grilled yakiniku style, mutton is traditionally used and served on special hot plates with a secret dipping sauce. Jingisukan Daruma Main Shop is one of many jingisukan restaurants in the city, and has more than 60 years of heritage behind it.
Jingisukan Daruma Main Shop is located at 4 Minami jo Nishi, Crystal Bldg. 1F, Chuo, Sapporo 064-0805, Hokkaido, p. +81 11 551 8844. Opens daily, 5pm-3am.
Fresh Oysters at Gotsubo Oyster Bar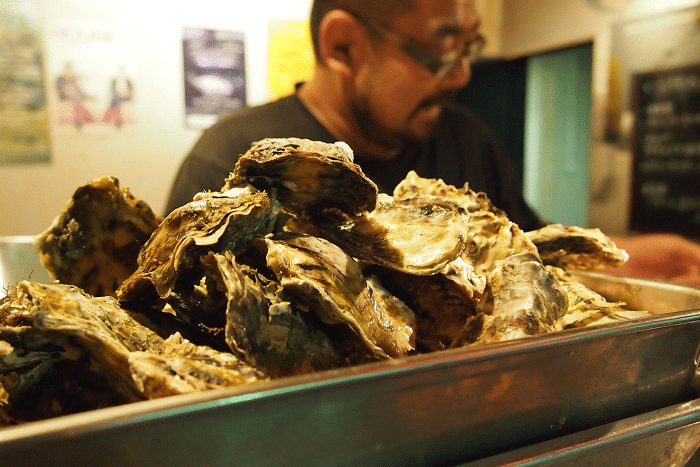 Get juicy oysters on the cheap cheap at Gotsubo Oyster Bar where the plump nuggets are sold at only JPY105 (US$1) a pop. As the name suggests, the oyster bar is more of a roadside stall than a full-fledged restaurant. Grilled in ponzu sauce or simply raw with lemon, it's only natural for a city so close to oceanic paradise to churn out quality seafood at such an insane price. With only five seats inside, this ritually crowded establishment usually requires customers to stay on their feet.
Gotsubo Oyster Bar is located at 3-6-8 Minami 6jo | Base 01 Bldg. 1F, Chuo, Sapporo 064-0806, Hokkaido, p. +81 11 551 7220. Opens daily, 6pm-2am.
Bars
Beer Inn Mugishutei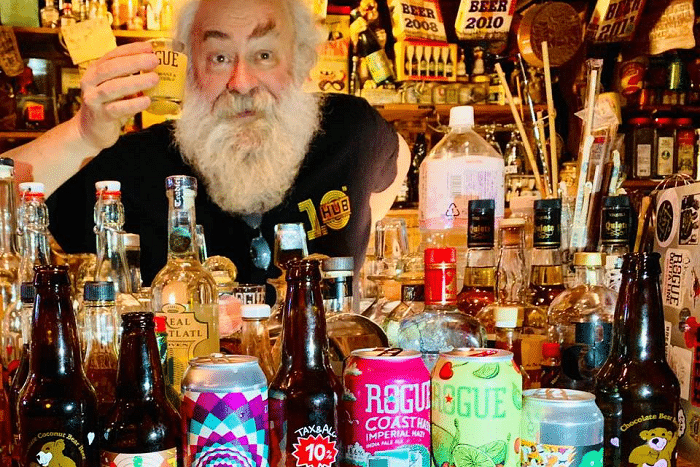 Seafood and Sapporo go hand-in-hand (both the beer brand and the city). So much so that we'd be hard-pressed not to include one of the city's biggest beer halls. In fact, Beer Inn Mugishutei claims to have the largest selection of beer in Asia, with over 300 brands worldwide in stock. Beers go from as low as ¥600 a glass, and there're also a selection of pies, burgers, and even sea urchin ice cream.
Beer Inn Mugishutei is located at Onda Building B1, South 9 West 5, Chuo Ward, Sapporo, Hokkaido, 064-0809, Japan, p. +81 11 512 4774. Opens daily, 7pm-3am.
The Bow Bar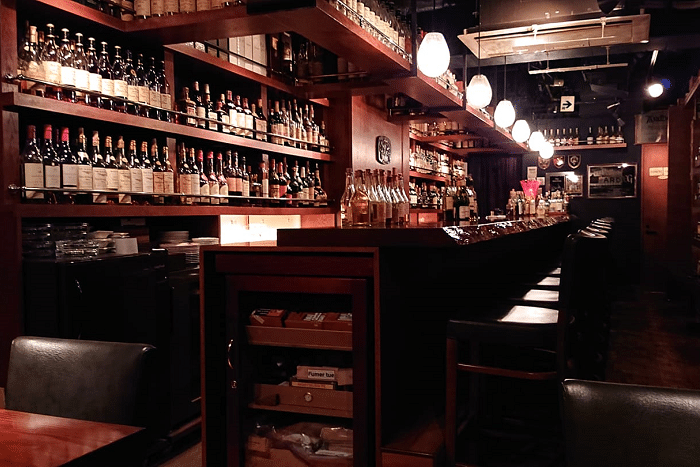 Not feeling the fizz? The Bow Bar stocks a massive collection of whiskies – some old, some rare, all of them well preserved under the keen eye of owner and bartender Junya-san. Hit him up for a chat about your favourite whiskies and he'll be more than happy to offer some expert advice – he might even break out the Argmagnac. And if you like a bite to eat, we hear his missus' chocolate cake is a real stunner, too.
The Bow Bar is located at Japan, 064-0804 Hokkaido, Sapporo, Chuo Ward, Minami 4 Jonishi, 2 Chome 8F, p. +81 11 532 1212. Opens Mon-Sat 7pm-1.15am.