A Food Guide to Basque Country: From Pintxos Platters to Pil Pil Aplenty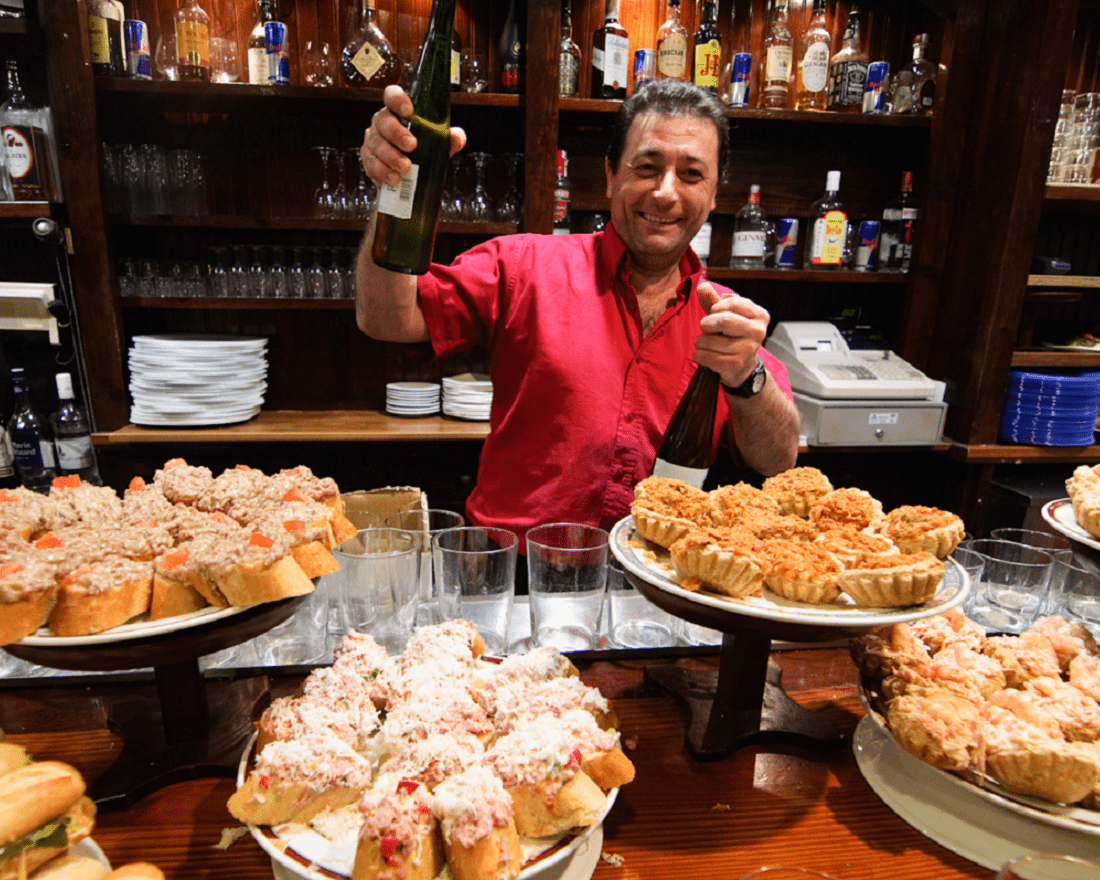 PUBLISHED October 29th, 2019 07:00 am
With the highest per capita concentration of Michelin star restaurants in the world, Basque cuisine certainly does right by themselves. In Singapore, there's Amoy Street's Basque Kitchen by Aitor (a recent inductee into the Michelin Guide's good books), TXA Pintxo Bar, and restaurant UNA at The Alkaff Mansion.
But if you're looking for a truly authentic experience, the only conceivable next step is to make your way to the actual Basque Country. Straddling the border between northern Spain and southwest France, the region's passion for distinctiveness shows – from developing its own language and culture, to its very strong antipathy for Spanish conquest, to, of course, the food. We got in touch with gourmet guide Eskerne Falcon of Discover San Sebastián, to show us how.
Eat
Get Neck-Deep in Kokotxas and Seafood in Getaria
A distinct characteristic of Basque cuisine is its penchant for restrained seasonings to highlight the natural flavour of the ingredients. Kokotxas de Merluza is a classic example of this. Flanked by the cool waters of the Atlantic, cold-water fish like hake and cod are a common catch. They possess a highly sought-after section of meat around where is, in essence, the "throat" of the fish. This off cut under the gills, the Kokotxas, is plump, delicate, and gelatinous, and comes served in a variety of ways: in salsa verde, pil-pil sauce, or simply grilled over coals.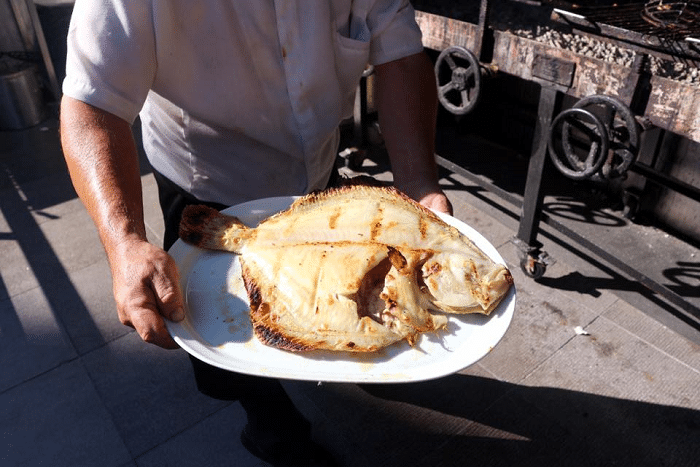 The stunning portside town of Getaria is the perfect place to try Kokotxas. It's home to the famed Restaurant Elkano, currently standing at number 30 on the World's 50 Best Restaurants. Cod throats here come in three varying textures, and there's also what some say is the best red mullet and the turbot you can get in the region.
If You Haven't Bean to Tolosa…
The fabled Basque tolosa bean, better known as Alubias de Tolosa, is a light, buttery, beloved legume that resembles little dark purple to black kidney beans, and grow between mid-May and mid-October. While most Basques (like Eskerne) harbour fond childhood memories of home-cooked Tolosa beans, few towns have been inundated with renown quite like Tolosa itself.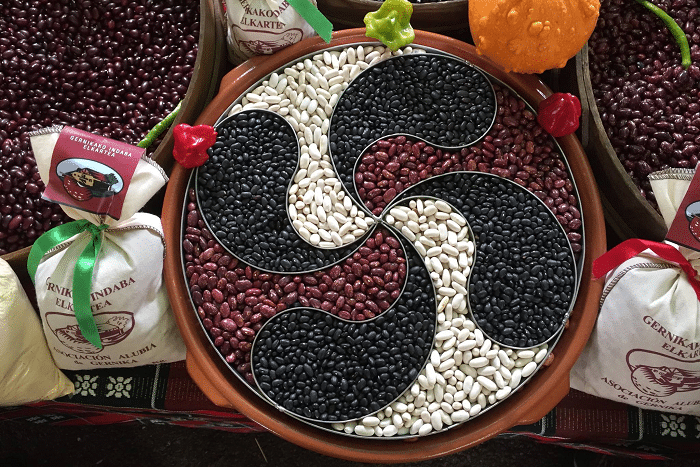 The beans are perfect when simmered into stews cold autumn day, and you can get them pretty much anywhere, but stop by Tolosa during the babarrunaren astea or "week of the bean" to watch all businesses in the tiny town grind to a startling halt to make way for festivities that include cooking competitions, communal meals, street performances and concerts, all dedicated to the emblematic bean.
Baked Spider Crab in San Sebastián
Txangurro a la Donostiarra very literally translates to "Spider Crab in the way of the Basques". The traditional dish from San Sebastián capitalises on the crab's succulent meat and deep flavour, and its shell is stuffed with onions, tomatoes, leeks, brandy and parsley, before being topped with bread crumbs and baked in the oven.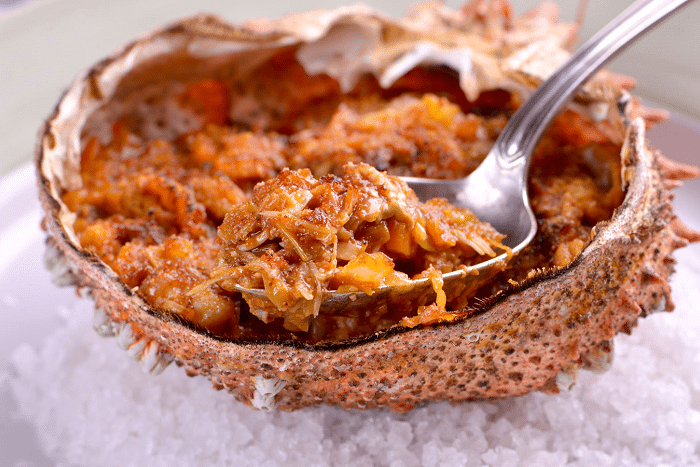 Restaurante Pollitena in the Gipuzkoa province of San Sebastián is a traditional Basque restaurant, serving a four-course menú del día that highlights the rustic forms of traditional hearty Basque classics like fish soup and baked spider crab, with an outstanding reputation for grilled meats like chuleton and entrecot.
Get in on the Salted Cod Craze in Bilbao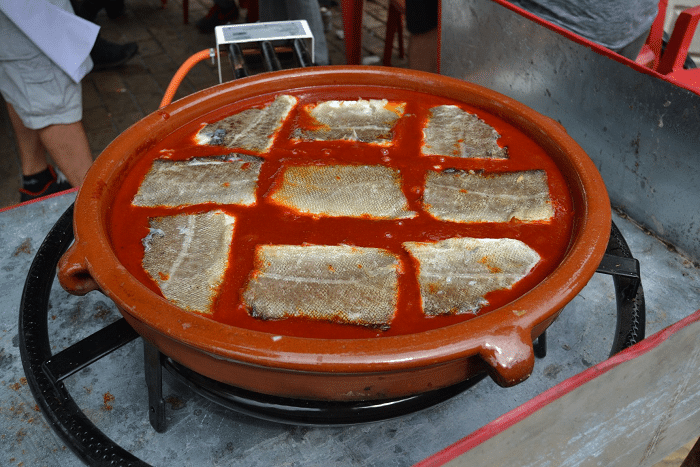 The Basque Country has been long credited for bringing salted cod, or bacalao, back into trend. Bacalao al pil-pil is the most common way to eat it, made with salt cod, garlic, and olive oil. Pil-pil sauce (the name takes after the noise that the cod skin makes when it fries in the pan) is made with the constant agitation of olive oil and fat from the salt cod, forming its distinct flavour and emulsification. The titanium clad, de facto capital of Bilbao specialises in this dish, and you can get it, as well as the red-sauce variation, Bacalao a la Vizcaína, in most restaurants.
Pintxos, Pintxos, Pintxos!
Pintxos are just a distinct Basque version of the Spanish tapas, traditionally served on a stick, though modern styles frequently veer away from it. And as with many confusing silent customs in the North, some sources say pintxos need to be ordered at the bar, while others say to just take what you see and pay accordingly.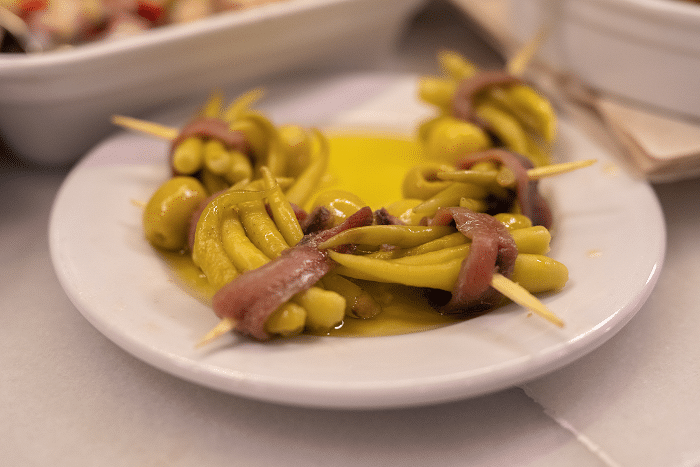 But we trust a local like Eskerne to know her way around the tricky trust system in Spanish bars. "Both are correct! I always think that is good to see how locals do things wherever you go. In San Sebastian, we go to the bar and ask for a drink. If we want to take a pintxo from the counter, I will recommend to take one at the time. You could also order something just made from the kitchen in most of the bars. After you eat you will ask how much it is, they will ask you what you got and after paying you will move to the next."
The list of things to try is endless, but Eskerne has a few choice bars to frequent in San Sebastián. "Each bar that I go to, has something that I love. Just to put an example, if I want a smoked salmon or an anchovy, I will go to Bar Martinez or La Cepa. And if I want green beans with cod fish or pork rib, I will go to Casa Urola or Borda Berri. "
Drink
Petritegi Cider House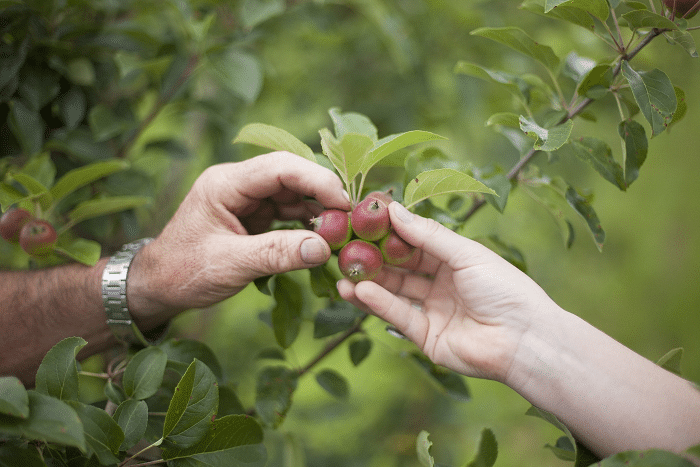 Located in the sprawling Gipuzkoa countryside, Petritegi uses traditional wooden presses to make cider with locally-grown apples. Originally made purely for family consumption, popularity of the sparkling juice soared and the house of Petri began selling to the Gipuzkoan fishing fleet, to individuals and local cider houses. Today, the cider house hosts taste tours, family experiences, and even the odd concert from time to time.
Gaintza Winery
The Gaintza Winery specialises in making Txakolí, a unique white wine made only in Basque Country. Spritzy, dry, and characteristically citrus-forward, it's only natural that the great wines in the region backed by the Atlantic Coast go so well with seafood. And it's also the perfect way to put Eskerne's favourite toast into practice: Osuna!
Looking for a guide? Check in with Eskerne at Discover San Sebastian.