Bottomless Brunch in Singapore: Tasty Seafood Plates and Free-Flow Mimosas at Humpback
PUBLISHED September 14th, 2017 07:00 am | UPDATED August 7th, 2019 03:39 pm

After tucking into massive feasts at Ash & Elm and Beach Road Kitchen the last couple of months for this particular column, it was quite a relief to peruse Humpback's smaller a la carte Sunday brunch menu. The Bukit Pasoh restaurant is known for its incredibly fresh oysters, creative small plates, and solid cocktails, so we just knew we had to come back for brunch with the launch of their free-flow Mimosas at $38++ per person. Made with fresh orange juice and crisp, youthful Torresella Prosecco Extra Dry (Veneto, Italy), the refreshing brunch cocktail classic is enjoyable between savoury bites of their delicious coastal-inspired cuisine.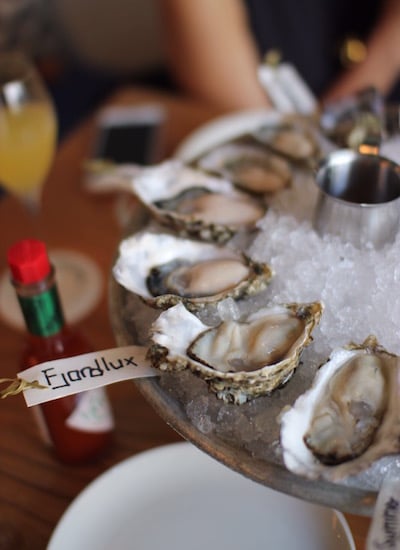 Humpback specialises in Northwest Pacific oysters, most of them hailing from the waters around Washington state in the USA, and they go at half price on Sundays (and Mondays) so it really doesn't hurt to start with half a dozen oysters or more. They usually have three to four different types of oysters on the menu that range from the petite and fruity Kumamoto ($3 each) to the savoury and briny Fjordlux ($3 each). Just bear in mind that the owners prize freshness so they won't have the same types of oysters all the time.
Sunday brunch without eggs just feels like prosessco without bubbles so we made sure to order up the Omelette, oysters, bacon, mushroom ($18); also, because, who doesn't love oyster omelette? The fried oysters in this dish are the very same that you can have raw and fresh – they're mostly shellfish whose shells are chipped and not fit to be presented on a platter. Topped with caramelized onions and sour cream, the icing on this cake is definitely the still-crunchy dried cep mushrooms, which add another textural dimension to the dish after being rehydrated and cooked in beef jus.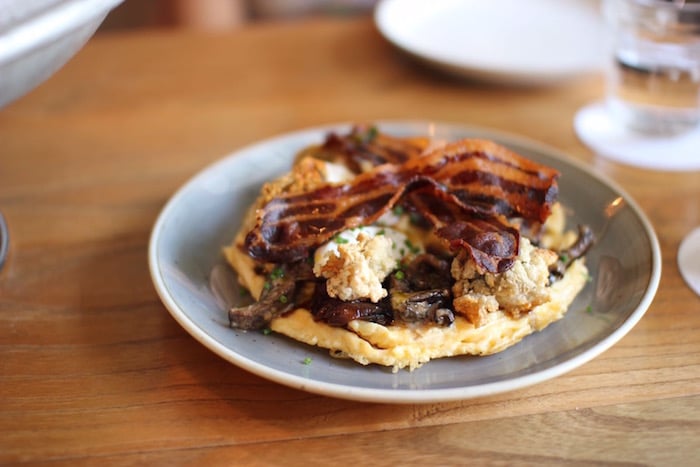 Another unique dish that's only available during the hours of Sunday brunch is the Seafood Sausage ($18). Sitting on a bed of chorizo purée enhanced with fish stock and pimento pepper, the sausage consists of sea bass, cod, and two types of prawns. The texture and flavour is quite reminiscent of seafood in dim sum so it strikes that chord of familiarity while presenting a twist since it's served with chickpeas and beurre blanc (an emulsified butter sauce).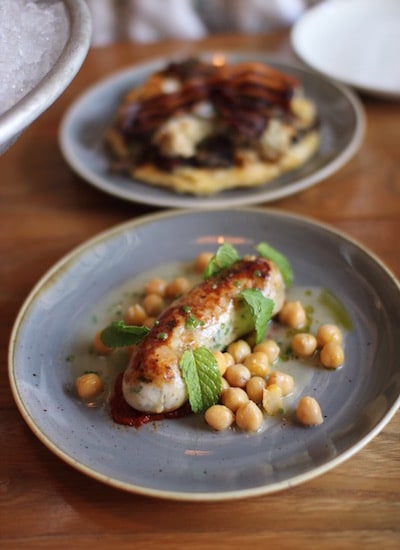 Humpback also has, hands down, one of my favorite lobster rolls on the island. At $45++, it might not be the most affordable but the effort than Group Chef Polo Seah put into perfecting it is worth the money. The lobster is poached for six minutes and roasted for one minute in the oven thereafter. It's then tossed with tobiko, garlic aioli, and thinly sliced onions before filling the void of a buttery brioche bun. The result? Moreish, tender morsels of lobster that will never smack of overcooking. Paired with golden fries, this dish pretty much made my Sunday.
If you're heading to Humpback with a group of friends, the Buttermilk Fried Chicken ($10 for small, $18 for large) makes a great sharing plate. Brined and seasoned between the deep fryer, we were quite surprised with the portion because the small is three pieces and the large is five pieces of chicken. Served with sriracha for a spicy kick.
For those who still have room for dessert, Humpback's arsenal of sweet treats might be small but they cover all bases. We've tried the Churros ($10) and the Cotton Cheese Cake ($12) on a different occasion, and we enjoyed them, but we took the opportunity to try the Flourless Chocolate Cake ($11) this time. The texture is rather nostalgic, harkening back to the chocolate cake that we get in heartland bakeries. The tinge of bourbon makes it more adult, though we thought it could have used a little more sea salt upon serving.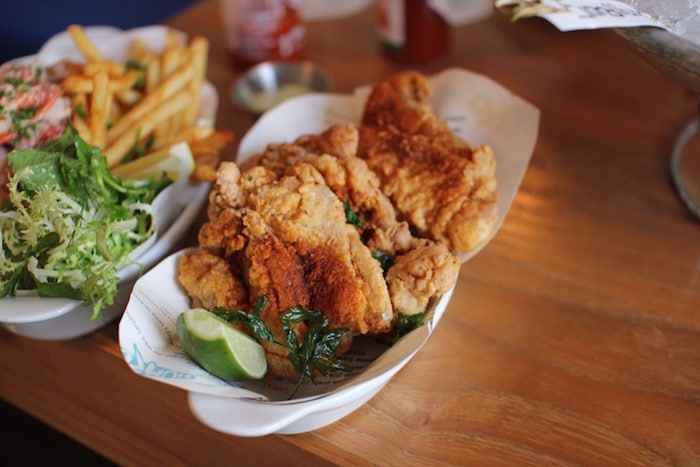 The best part about dong a bottomless brunch at Humpback is that the operators do not slap a time limit on the unlimited Mimosas, so you can look forward to a leisurely Sunday brunch without having to rush the drinks. Of course, aside from the free-flow, diners can also order one of the a la carte brunch cocktails. Priced at $17++ each, we enjoyed the signatures such as the Thyme Bellini and the Elderflower Cooler. Principal Bartender Cherrie Soh changes the brunch cocktail menu now and then to keep things fresh for their regulars, and that's definitely a sign of a good bar.
Humpback is located at 18 Bukit Pasoh Road, Singapore 089832. Brunch is available on Sundays, 11am-3pm. Last orders at 2.30pm.